iShares Nasdaq Biotechnology ETF (IBB) was good for a 0.3% gain within the last three trading days, while the Lucky Seven netted a 2.6% gain. The Lucky Seven portfolio assumes an investor made a $1000 investment, to begin, in each pick. So, the portfolio began with $7,000.
Lucky Seven
The Lucky Seven is a swing-trading biotechnology portfolio of seven stocks listed in a way to reflect top picks and risk tolerance. The first three picks are the top picks (in no particular order). Risks are increased the further away a stock sits from #4 (the least risky stock).
1. Viking Therapeutics (VKTX)
Price: 4.25 / Gain 3.3% / $1033
Madrigal Pharmaceuticals (MDGL) is expected to release liver biopsy data for a thyroid receptor agonist of its own this Spring. This should move Viking's price either 15% up or down, in response. However, a market recovery and technical momentum should be key for significant short-term appreciation. On May 4 Viking's shares crossed up on its moving average convergence divergence (MACD) and is eyeing a move towards its 100-day simple moving average of $5.
2. Omeros (OMER)
Price: $14.79 / Gain 10% / $1100
Omeros netted the largest gain in the last 3 trading days.
Omeros expects to report 1Q earnings this week.
3. Novocure (NVCR)
Price: 27.75 / Gain 1.2% / $1012
Novocure's upward move appears to be stagnating a bit; however, the market patiently awaits full Mesothelioma data.
4. Exelixis (EXEL)
Price: 21.77 / Gain 2% / $1020
I am anticipating Exelixis to bounce off its 50-day SMA and head back over $24/share - as long as the market is stable.
5. Array Biopharma (ARRY)
Price: $13.75 / Gain 2.3% / $1023
I will pen an article on Array later this week. It appears primed for a significant move up in the near-term as its MACD turned positive for the first time since early February.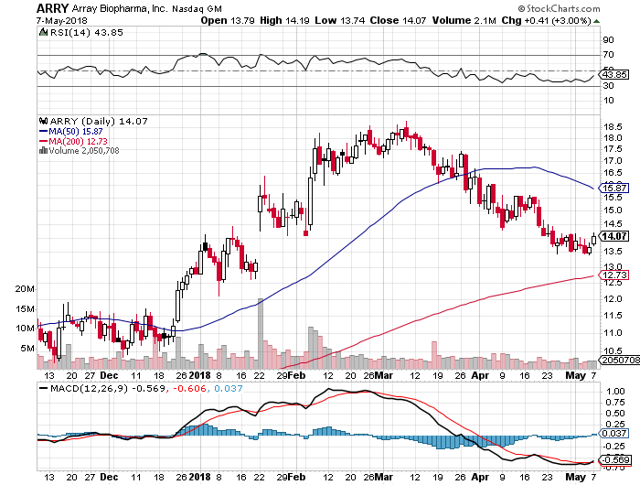 Chart courtesy of StockCharts.com
6. Avid Bioservices (CDMO)
Buy / Initial price: $3.50 / $986
Synlogic depreciated 1.4% over the past 3 trading days and is appearing weak, technically, in the near-term. Although its future is very bright and I consider it a long-term investment, it isn't setting up for a near-term appreciation, which is required to be included in the Lucky Seven. Thus, I have removed it from the Lucky Seven and replaced it with Avid.
Avid Bioservices is a contract development and manufacturing organization (NASDAQ:CDMO) that provides biomanufacturing services for a number of clients. Their market cap is south of $200 million and they are expected to pull in $50-55 million in revenue this year - in line with years of continued growth. They also recently announced an effort to expand existing production and clients.
I plan to pen a thesis article soon.
Because Synlogic went down 1.4%, we only have $986 to spend on Avid shares.
7. Global Blood Therapeutics (GBT)
Price: 44.75 / Gain 1% / $1010
We moved Global Blood to #7 to reflect its greater risk ahead of phase 3 HOPE data. However, because voxelotor (1) earned Breakthrough Therapy Designation, (2) is a hematology drug, and (3) is targeting an orphan disease in Sickle Cell, the risk for phase 3 failure is greatly reduced. We anticipate positive phase 3 results could move the share price upwards of 40%, while negative data (perceived or actual) could cause losses exceeding 50% They posted Q1 earnings on May 7:
We remain on track to announce top-line clinical data from Part A of our Phase 3 HOPE Study in the first half of this year.
On the financial side, they reported cash, cash equivalents and marketable securities of $544.6 million. They posted a net loss of $41.5 million for the quarter. With no debt and a $2.25 billion market cap, voxelotor is being valued ~ $1.7 billion.
Bench Notables
a. Conatus (CNAT)
Conatus is up over 10% since my update article. However, at this time we believe there are more prudent, riskier (oxymoron) options.
b. Immune Design (IMDZ)
We are still looking for the technical breakout.
Portfolio Summary
Portfolio value: $7,184 (+2.6%)
Hold 'n Forget
While the Lucky Seven is a swing-trading portfolio, I also present my long-term investment ideas. Long-term investment ideas may also present themselves in the Lucky Seven if I feel they present a good swing opportunity. They are listed in order of risk (least to most).
a. Exelixis (EXEL)
b. Neurocrine Biosciences (NBIX)
Buy / Initial price: $83.59
c. Novocure (NVCR)
d. Synlogic (SYBX)
e. CohBar (CWBR)
Buy / Initial price: $6.29
Perhaps bouncing off key technical indicators or in light of building anticipation for NASH news (e.g. partnership), CohBar shares are trading over 30% than they were just last week. I wrote a thesis article, focusing on its NASH opportunity, in early February.
Author's note: For further insight into biotechnology stocks, please follow Biotech RN.
Disclaimer: The intention of this article is to provide insight, not investment advice. One must consider one's own financial standings, risk tolerance, research, etc. before making a decision to buy shares in a company. Many of my articles detail biotechnology companies with little or no revenue. These stocks are, therefore, speculative and volatile. Even when prospects seem promising, there is no predicting the future. Losses incurred may be significant.
Disclosure: I am/we are long OMER, GBT, VKTX, EXEL. I wrote this article myself, and it expresses my own opinions. I am not receiving compensation for it (other than from Seeking Alpha). I have no business relationship with any company whose stock is mentioned in this article.
Editor's Note: This article covers one or more microcap stocks. Please be aware of the risks associated with these stocks.