Tesla's (TSLA) Q1 2018 earnings report was bad, as was expected. Model 3 production remained off target. Free cash flow worsened significantly, standing at -$1.13 billion to -$0.84 billion year-on-year.
Cash dwindled to $2.7 billion with customer deposits accounting for 35.5% of that. Working capital, or assets minus liabilities, has sunk to -$2.27 billion amid the record net loss of $710 million.
To top it off, it was revealed this week that the revenue gains from $2.035 billion to $2.561 billion year-on-year were actually largely from an accounting change that increased it by $299 million.
Tesla's 2025 5.3% bond, issued in August 2017 and raising $1.8 billion, fell back down to a mere 87.75 cents on the dollar.
Ouch. It is almost understandable why Elon Musk got rough with analysts on the call. These are worrying signs for which there is no good spin.
Musk spent the past few days apologizing for his conduct on the call amid the uproar it sent across a company for which it almost seems unreasonable not to question. Musk also this week bought an additional $9.85 million in Tesla stock to show his belief in the stock, and specifically that a short squeeze was incoming due to a variety of technical supply-and-demand reasons.
Yet all of this taken together paints a far more worrying picture for Tesla than just the immediate financials. The fact is that Tesla is at a worrying financial state, whether in terms of cash or income or all these other listed metrics, at a time when it should be beginning to gain strong growth as competition may hamper its ability to get out of its current predicament in the future.
Furthermore, this negative situation may begin to shake some of the policy and regulatory benefits, including both tax incentives and subsidies on both the company and customer side, that have been so essential behind much of Tesla's liquidity, ability to raise capital at lower prices, and indeed very existence the past few years.
If Tesla cannot perform at this point, and with other competitors offering the benefits in terms of renewable production and job creation that policymakers seek, combined with Tesla's bad public relations situation, we may see some of these subsidies increasingly pulled away as they already have been in some places. Once that happens, Tesla's financials could collapse precipitously into heretofore unventured territory.
A Historically Bad Quarter When Income, Production, and Revenue Should Be Looking Up
The fact remains that Tesla's bad financial situation at the moment is looking less likely like the dark before the dawn, but rather as potentially the beginning of a long slog for the company that stands at a $50 billion market capitalization despite never posting profits all these years.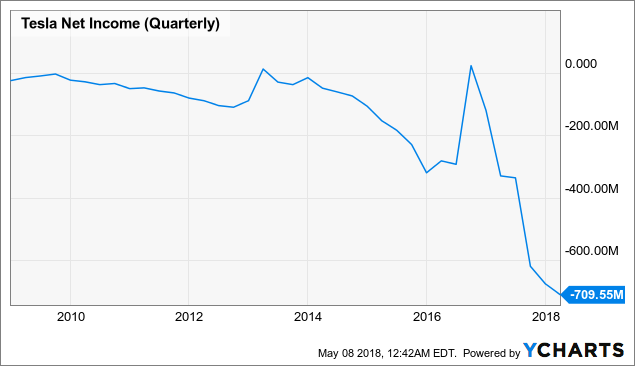 Given Tesla's current financial situation, it likely will have to raise capital again soon. Given market mood on Tesla right now, it likely will be quite expensive, sending Tesla into a deeper spiral. The burn is projected to almost double in Q2 2018 due to the increase in Model 3 production. Yet the story remains the same despite a time when it should be changing - Tesla creates more products only to lose more money.
Tesla is also facing increasingly heavy competition that has crept up on it over the years while it has been focused on its own inward development and production problems as well as Musk's active personality. The electrical car space no longer sees Tesla as a behemoth worldwide as other manufacturers, large and small, begin to disrupt the rising industry across the world.
The shorts were wrong about Tesla until mid-2017, when Tesla's seemingly endless Amazon-like rise made its inflection point and began to embrace a downturn.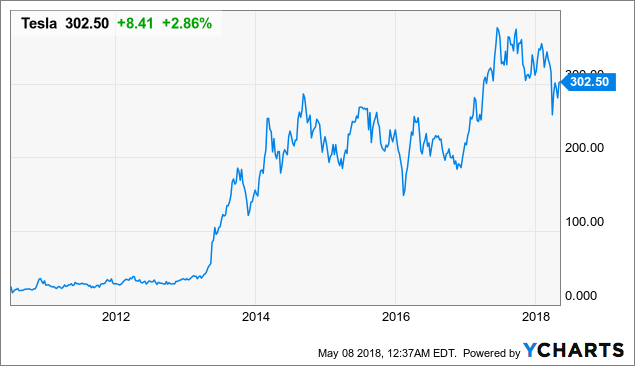 Tesla is not completely out of the running yet, but at a time when the company should have matured and begin posting lessening losses or cash flow, or some other improving metric, the fact that it doesn't is worrying.
It also is worrying that its CEO provides little concrete positive hope for the company besides mocking those who question it, as of all people he would be the one to know the nature of the company's potential positive upturn. While "believing" may work in Disney movies, for a large and mature public corporation like Tesla it doesn't.
Quarter's 10-Q Filing Confirms Worries
There were originally some bright spots in Tesla's earnings report, such as the aforementioned increase in revenue and even an increase in vehicle profit margin to 18.365% compared to 16.997% and 15.462% in Q4 2017 and Q3 2017, respectively.
However the recent 10-Q report filed with the SEC has revealed that much of those bright spots that may ease the negative trajectory and situation set by the quarter are not in fact "real" changes in Tesla sales or margins but rather due largely to accounting changes.
Specifically it was due to recognizing leases with partners where the customer has the right of return still as revenue, as well as beginning to allow the cumulative sales impact on equity to be accounted for.
The 10-Q also requires the company to disclose to regulators worries it believes are impending for it. Tesla lists a variety of risks and information surrounding each, many of which are standard, theoretical, or boilerplate, but the most interesting ones are:
"We have experienced in the past, and may experience in the future, delays or other complications in the design, manufacture, launch and production ramp of new vehicles and other products such as Model 3, our energy storage products and the Solar Roof, which could harm our brand, business, prospects, financial condition and operating results."
"We have experienced and may continue to experience delays in realizing our projected timelines and cost and volume targets for the production and ramp of our Model 3 vehicle, which could harm our business , prospects , financial condition and operating results."
"The markets in which we operate are highly competitive, and we may not be successful in competing in these industries. We currently face competition from new and established domestic and international competitors and expect to face competition from others in the future, including competition from companies with new technology."
"Servicing our indebtedness requires a significant amount of cash, and there is no guarantee that we will have sufficient cash flow from our business to pay our substantial indebtedness."
Ironically, Tesla essentially presents, as it had to, the fundamental case against itself at the moment in the 10-Q. Its combination of delayed production, worsening income and losses, even with a tiny increase in margin after the accounting change is removed, shows the company may have missed its mark as other competitors roll into the field.
Tesla also faces another impending worry soon amid all this too - a change to the regulatory regimen that has so benefited it over past years and which could lead to enormous disruption.
Tesla's Regulatory Support May Begin To Decline With Enormous Impact
As Tesla begins to continue to spin its wheels, metaphorically, there also is another potential looming black swan that could very significantly affect Tesla's cash bleed even more - the slow removal of incentives.
Tesla profited well from the sale of ZEV and GHG regulatory credits in Q1 2018, amounting to $80.3 million for an increase of $62.9 million year-on-year.
On a more complex level however, Tesla benefits from a variety of tax breaks and incentives, both on the company and customer side, across the world that has supported much of its investment, production, and sales as of far. A study back in 2015 put this number at $4.9 billion by then, and while no specific study has been done since it likely has grown massively.
The impact of these benefits vary, but in some places are significant as in Hong Kong when in the past year there was a 98% drop in Tesla sales year-on-year after Hong Kong's tax break was removed and that doubled Tesla's Model S's price. Similar results were seen in Denmark after the removal of a tax incentive there.
The removals that have taken place as of far have largely been due to a mix of increasing competitive pressure from other large car manufacturers in those regions, shifting moods here in the United States, and anti-Musk/anti-Tesla sentiment.
Tesla already is likely soon to hit a new regulatory disruption in the United States as it edges closer to 200,000 car sales seemingly in the nation, although the precise number is not known. Once it does, its current $7,500 tax credit will begin to get phased out.
Given the discrepancy between the large production and deliveries, it could be possible that many customers find they don't qualify for the full tax credit and thus find the car to be beyond their price point, returning the car, withdrawing their $1,000 cash deposit, and putting more strain on Tesla's cash reserves, orders, and deliveries.
Overall, as Tesla's own financial and public relations situation declines, we could see previously friendly governments that saw the benefits of, and were responding to public pressure supporting, Tesla's brand and pioneering foray into electric vehicles. As the market landscape continues to change, those incentives may begin to steadily decline and add to Tesla's deepening situation.
Conclusion
Tesla was once at a level where it was more clearly a high-risk but high-reward play. In some ways, it still is. But it may have finally found its turning point amid the company's own financial, structural, and governance problems as well as the shifting overall market. Potential regulatory troubles that also seem to be beginning to swim around the company could add greatly to the decline once it really begins.
The company's finances and likely trajectory make its price of $302 a share at the moment seem well over-priced. I once thought Musk still had more of a fighting chance, but it looks like I'm joining the chorus of analysts, funds, and banks that are looking at a potential heavy downturn in the stock within the next year or two as this realization increasingly sets in.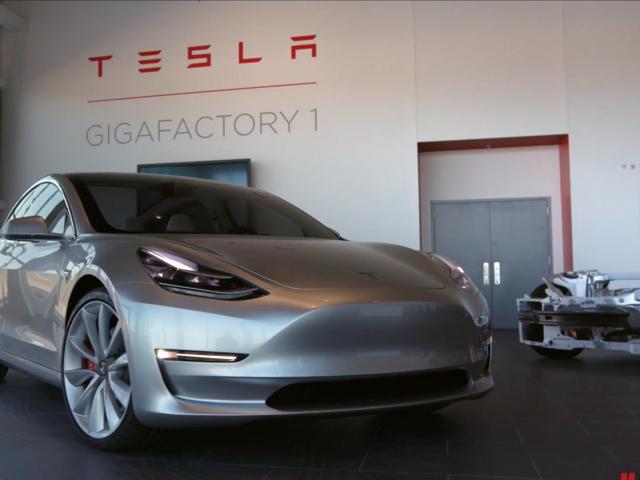 (Source: Business Insider)
Tesla's worrying future and declining risk-reward proposition, as well as the investment ramifications of Elon Musk's actions, was discussed more in detail at my Marketplace subscription service "Tech Investment Insights."
At my Marketplace service you will find multiple time-sensitive opportunities and risks a week, portfolio strategies, market analysis, interviews with industry leaders, and more. Bringing eclectic experience in government financial regulation, tech, finance, policy, and law, I hope to help you succeed in this new and rapidly developing tech environment. Try it out with a two-week free trial.
Disclosure: I/we have no positions in any stocks mentioned, and no plans to initiate any positions within the next 72 hours. I wrote this article myself, and it expresses my own opinions. I am not receiving compensation for it (other than from Seeking Alpha). I have no business relationship with any company whose stock is mentioned in this article.