Investment Thesis
Currently, I rate Windstream Holdings, Inc. (WIN) a hold. It is in the midst of a turnaround, transitioning from being a telephone and internet service provider to focusing on high-speed internet and online applications and connectivity for enterprise customers. How is that process going now that we have completed the first quarter of this year? WIN is effectively working its plans to see strong profitability in the future.
Key Takeaways
Key Takeaway #1: WIN continues to grow its Operating Margins
WIN has been focused on transitioning customers from lower margin to higher margin products and services. This has especially been the case with its Enterprise division. By far its Enterprise division produces the highest revenue; however, it also contributes percentage-wise the lowest operating margin. This simply put means that its Enterprise division brings in the most and costs the most to run. This is why the company continues to focus on strategic sales of on-net and office applications to this market; it has a higher operating margin, requires less physical infrastructure and can be sold to companies outside of WIN's footprint. This is due to it being completely online.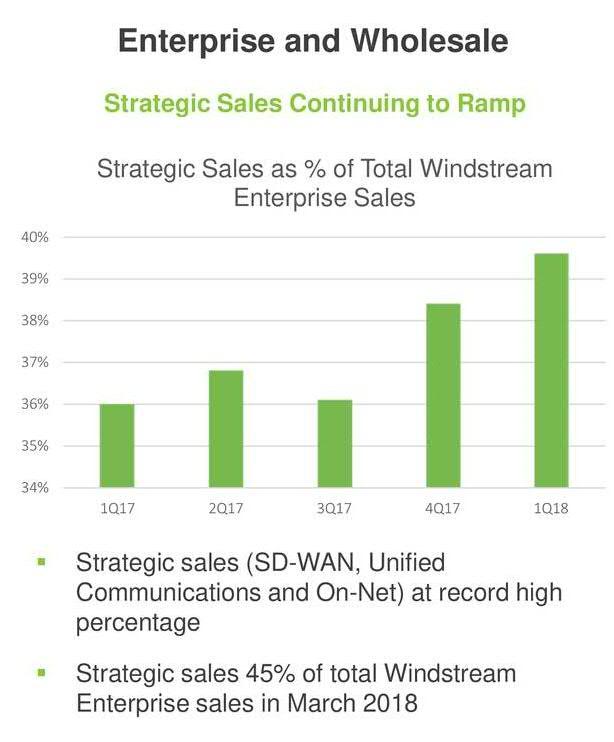 Source: WIN Q1 Slides
These sales are important to raise its operating margins. The Enterprise division raised its operating margin from 18.4% to 19.5% year over year. But this pales in comparison to the operating margins in all other divisions which range from 57-69.8%. WIN as a whole was able to reduce its expenses and increase its overall operating margin by 1.5% year over year. This push to be more effective with its expenses and revenue is helping WIN effectively transform.
Key Takeaway #2: High-Speed Internet Users up - Total users down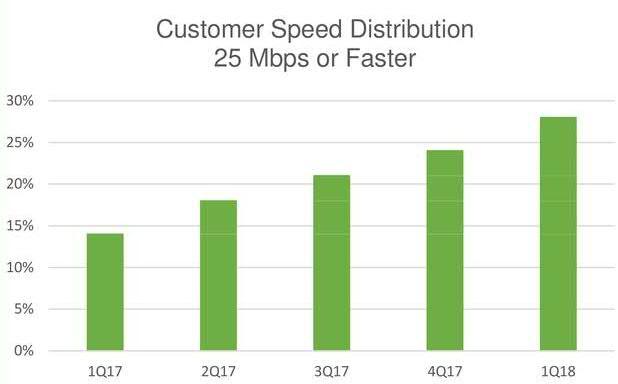 Source: WIN Q1 Slides
WIN now has a customer penetration rate of 28%. This means that 28% of its total customer base in consumer and small and middle business division are on internet speeds of 25 mbps or faster. The forecasted goal by the end of 2018 is 36%. This means there is plenty of growth to go this year; furthermore, 57% of its ILEC footprint (areas where WIN is the primary telephone and internet service provider) is now eligible to be above 25 mbps for internet. WIN has the ability to actively market and foster selling these faster speeds. The higher speed internet penetration has allowed for higher per unit or customer revenue, the last 13 quarters this revenue has increased.
WIN's focus on shifting its customer base from slower to 25+ mbps speeds has reached a positive growth point, March reflected the highest customer net adds of high-speed internet in 5 years.
All this growth is connected to a backdrop of a -6% year-over-year growth of customers served in its ILEC business. WIN seems to be unfazed by this change, since this customer total includes those using the telephone services, etc. and not just internet subscribers.
WIN is effectively increasing its high-speed internet subscriber base, generating extra revenue per user - this is key for its turnaround to succeed as it created additional profit with little capital expense over a longer window.
Key Takeaway #3: Court case? What court case?
WIN's management passively mentioned its debt swap, meaning it is in no way in default regarding the spin-off of Uniti Group (UNIT) from WIN. A lot of short pressure has been present on WIN since a lawsuit filed claimed WIN to be in default. WIN has allocated $20 million towards its litigation and expects all those funds to be spent in the second and third quarters of this year. Investors may be exceptionally concerned about the outcome, but WIN management seems to view this proceeding as a distraction and a sideshow.
Investor Takeaway
WIN shareholders have had a wild ride over the last year, with share values crashing and looking forward to a possible reverse-split that went unmentioned this earnings call. WIN is skillfully executing its turnaround and I hold a growing confidence in management's ability to steer WIN through successfully.
The market seems to have ignored WIN's continued financial improvement. After the dividend cut WIN has declined slightly further and now is trending horizontally.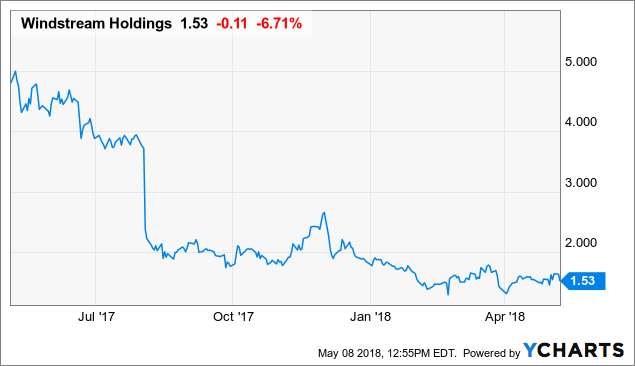 WIN's share price is still facing headwinds from the ongoing legal battle which, as mentioned above, management seems to view as a non-issue. WIN's recent successes are largely ignored while this battle rages; however, WIN's fundamentals continue to improve and if this trend continues, it will not go unnoticed forever.
I still rate WIN a hold, pending the outcome of the vote on its possible reverse-split. If the split is approved, I expect a spike and a short-lived decline in WIN's share price, creating a solid time to start a speculative decision for a value play; however, it all depends on when the split would occur versus the completion of WIN's legal battle.
Disclosure: I am/we are long UNIT. I wrote this article myself, and it expresses my own opinions. I am not receiving compensation for it (other than from Seeking Alpha). I have no business relationship with any company whose stock is mentioned in this article.