By Robert Hughes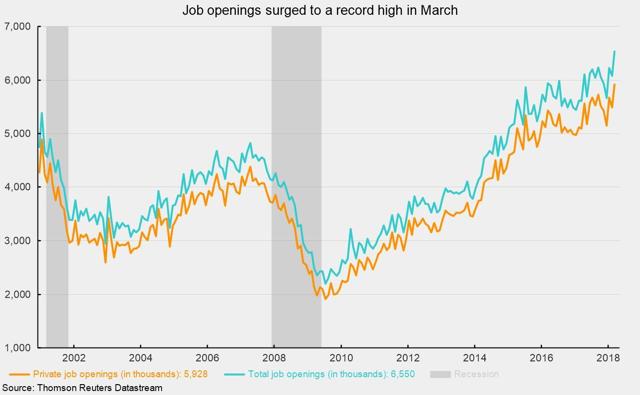 The latest Job Openings and Labor Turnover Survey from the Bureau of Labor Statistics shows a surge in job openings in March, suggesting continued strength in the labor market. Total job openings in the United States rose to 6.550 million in March from 6.078 million in February. Private sector jobs openings totaled 5.928 million in the latest month, up from 5.489 million previously. The industries with the largest number of openings were health care (1.167 million), professional and business services (1.128 million), leisure and hospitality (879,000), and retail (723,000). The government sector had 622,000 open positions as of March.
The jobs-openings rate, openings divided by the sum of jobs and openings, rose to 4.2 percent from 3.9 percent for the total labor market, and increased to a record 4.5 percent from 4.2 percent for the private sector. The highest openings rates were in health care (5.6 percent), professional and business services (5.1 percent), and leisure and hospitality (5.1 percent).
Further signs of labor-market strength may be seen in the layoffs rate, which held at a record low 1.2 percent for private employers, well below the 2.2 percent peak rate in 2009, and the quits rate, which ticked up to a cycle-high 2.5 percent. The low layoffs rate is confirmed by the multi-decade low level of initial claims for unemployment insurance while the high quits rate corroborates the high level of confidence in the jobs market seen in The Conference Board Survey of Consumers.
Combining the data on people looking for work or who want a job but haven't looked in the past month with the jobs-openings data, the number of available people per opening fell to 1.806 in March, the lowest on record and just a fraction of the 9.923 people per opening available in 2009, just after the end of the Great Recession.
Overall, the data relating to the labor market continue to show strength. Payrolls are rising, layoffs remain low, and quits have risen. The substantial number of open positions in the economy and the low number of available workers per opening suggests wage gains may accelerate, but, as of now, increases have remained quite moderate. Still, attracting and retaining qualified labor is likely to remain a critical issue for business in the immediate future.