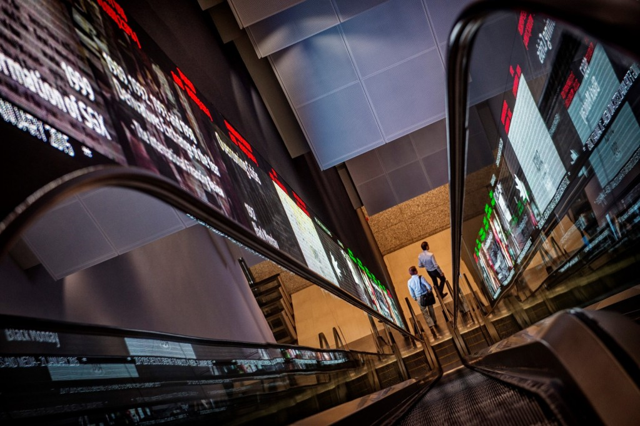 Image source: Shutterstock
Investment Thesis
China remains to be the primary force behind the fundamentals of the global metals and mining sector. Slowing demand remains a key risk. It could disrupt what investors expect to be balanced conditions for most metals and mining commodity markets.
However, ongoing supply-side reforms could also result in stronger than expected market fundamentals for certain commodities. Investors generally expect prices to remain volatile. Price fluctuations are obviously related to developments in China and other government policies and geopolitical risks.
In this equity strategy, we will delve into the general market outlook of the metals and mining sector. This equity strategy will offer investors meaningful insights on how to deal with commodity prices, fiscal prudence of China and the degree of re-leveraging by miners.
Global Growth vs. Commodities Demand
Inflation is expected to continue to climb. In economics, the higher commodity prices help to support climbing cost curves, thus elevating the marginal cost support.
Goldman Sachs upgraded its sector outlook from "Neutral" to "Attractive". As a result, the investment bank upgraded the following companies from "Neutral" to a "Buy": Anglo American (OTCQX:NGLOY), Vedanta (VEDL), First Quantum Minerals (OTCPK:FQVLF), Lundin (TSE: LUN), KAZ Minerals (KAZ) and Nyrstar (OTC:NYRSF). On the other hand, it upgraded Antofagasta and BHP Billiton (BBL) to a "Sell".
The world economy, excluding that of China, is growing for the first time at a sound rate. A major segment of the commodity demand had been seeing lagging or no growth over the recent years. But now, it is growing. The strong demand growth versus limited supply growth saw peaking capital expenditures in 2013 along with Chinese metal demand cutbacks. It resulted in a huge inflation rate in commodity prices in 2017.
Higher commodity prices had reduced the number of bad loans and freed up capacity on bank balance sheets due to the high level of debt held by commodity producers. This trend also helped strengthen Emerging Markets (EM) currencies and weaken the dollar through the accumulation of rising surplus savings. This in turn pulled down Emerging Markets' funding costs leading to "Emerging Markets releveraging". More EM leverage even leads to more EM growth reconvergence, reinforcing even more synchronized global growth.
China Growth
China boasts of a stronger than expected demand and a supply-side reform that aimed at cutting down capacity. The reduction in capacity pushed up commodity prices of steel, aluminium and coal in 2017. According to S&P Global, Chinese GDP growth has been strong during the first three quarters of 2017, averaging 6.9%.
S&P forecasted a GDP growth of 6.8%, 6.5% and 6.4% for 2017, 2018 and 2019, respectively. Investments in property and infrastructure were the key drivers that triggered the robust demand for commodities.
The Chinese government sought to cut steel capacity of 50 million tons per annum and coal capacity of 150 million tons per annum in 2017.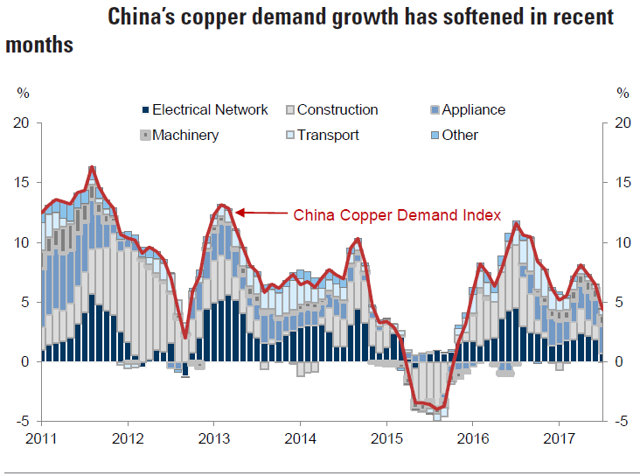 Source: Goldman Sachs Global Investment Research
Commodity Prices
Over the past few months, economists have noted a strong commodity price performance in the face of deteriorating Chinese leading indicators (rising rates, a slowing "old economy" and policymakers commenting on fiscal prudence and preventing asset bubbles), especially in the property segment. News flows suggest that the fiscal deficit target could be lowered from 3% to 2.6%. They show that policymakers are looking forward to a deleveraging strategy given that it is not a substantial cut.

Source: Goldman Sachs Global Investment Research
Sector Performance
The metals mining sector continues to focus on improvement of balance sheets across the sector. The strong metal price environment has boosted cash generation and financial flexibility. Discretionary cash flow was strongly positive in 2017. It was accompanied by relatively modest or flat levels of dividends, share buybacks and capital expenditures.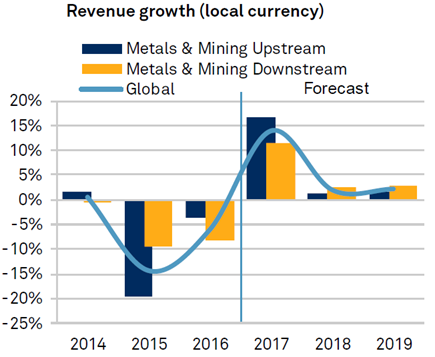 Source: S&P Global
Asset sales are utilized to strengthen balance sheets. They even surpassed M&A activities. More essentially, a lower leverage ratio signals a reduction in net debt aside from richer operating cash flows.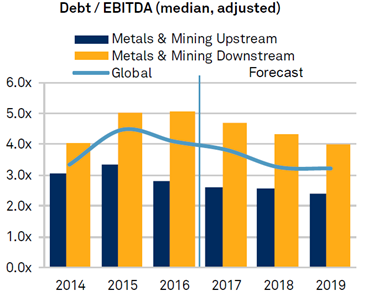 Source: S&P Global
Analysts prefer metals producers that significantly reduce their gross debt by using generated funds and possessing more prudent financial policy frameworks. Hence, Glencore (OTCPK:GLNCY), Vale (VALE), Rio Tinto (RIO), Anglo American (OTCQX:NGLOY) and BHP Billiton (BBL) are notable names to remember.
Metals Industry Capex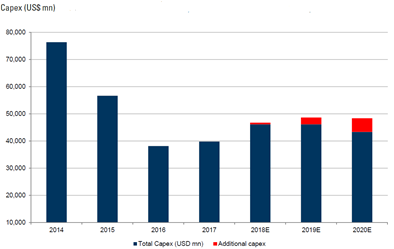 Source: Goldman Sachs Global Investment Research
Summarized below are opinions of analysts and brokers on the broader market trends of base and precious metals landscape:
Iron Ore: The current market for iron ore is balanced and on the way to oversupply towards the end of 2018. China's high steel margins support preference for higher grades and quality ores. However, the supply of 130 million tons per annum of spare capacity combined with potential weakness in China demand start to cause concerns for iron ore outlook in the second half of 2018.

Gold: The gold market remains balanced with the near-term outlook expected to be flat. However, the trend will be bullish in the longer term with gold price averaging $1,550 per ounce. Investor woes will be lessened, e.g. geopolitical risks in North Korea. Stronger global growth and the US Fed rate hike cycle would exert pressure on gold prices. Lastly, a limited competition from bitcoins as safe-haven investment is positive for gold. The "wealth" effect is supportive of the long term Emerging Markets growth, which allows for expansion in gold demand.
Copper: The current market for copper is in deficit. The weaker US dollar and the strong global growth are positive for copper. There is a high level of labor renegotiation in 2018 that could disrupt supply dynamics. China would reduce its copper scrap imports in an effort to clean up its environment. However, the demand for 2018 remains strong with copper prices reaching $8,000 per ton towards the end of 2018.
Aluminum: The current market for aluminum is balanced. Supply-side reforms in China have curtailed some smelters and created a freeze on newly-built smelting works. Demand is strong with 5% to 6% global aluminum demand growth is expected in 2018. Investors can expect a rising Chinese supply from non-polluting regions and general global demand growth (excluding China region).


Source: Company data (various), Goldman Sachs Global Investment Research

Zinc: The market for zinc remains tight for the rest of the first half of 2018. But the trend will be more loose towards the second half and beyond with supply growth. Although zinc inventories remain low historically, investors can expect strong global growth. Restart of Glencore's blinded operations along with some new projects such as Vedanta may dampen zinc prices later in the second half going to 2019.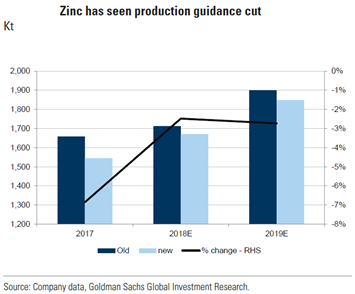 Source: Company data (various), Goldman Sachs Global Investment Research
My Takeaway
China remains to be the strongest driver of global aluminum and steel market conditions. I expect this trend to continue at least throughout next year. China is expected to continue to account for roughly 50% of global steel production or equivalently 800 million tons annually. Thus, investors can expect a rising crude steel production in Asia which will contribute to global supply. In effect, investors can anticipate a modestly higher contribution than steel demand. It will thus limit upward price momentum.
I believe that production in the U.S. and Europe would continue to grow amid healthy demand. I expect this trend to continue over the next 12 months. That said, I can tell investors that world steel capacity utilization has remained to be low at only 73.5% as of the third quarter of 2017. It has steadily increased and remains a risk to market stability, particularly in the event of weaker than expected demand (notably from China).
I'm biased towards the metals commodities sector to recommend it to investors. Average prices for metals commodities have continued to increase through 2017 and I'm seeing that they are already well above their most recent trough levels. Yet investors have also witnessed unprecedented volatility in certain commodities. I also assume a relatively stable price environment for the most part of 2018 and 2019.
Across the metals sector, the prevailing mood of balance sheet conservatism is expected to persist throughout 2018. However, I believe shareholder "rewards" will start to increase. In some cases, shareholder returns will come around as a function of financial policy frameworks. Hence, shareholder returns could emerge as a future risk to financial profiles.
Higher shareholder distributions have been funded in part with asset sale proceeds, thereby limiting the impact on credit measures through 2017. That said, returns on capital are expected to remain low and new high-return projects are generally scarce.
Given such a situation, companies may feel pressure to reward shareholders with higher dividends and/or share buybacks. They may also be pressured substantially to increase capital expenditures for internal growth objectives that can diminish financial flexibility. This trend is most common during eventual price downturns.
Investors may need to keep an eye on the lead time for material capital projects. It means that higher near-term investments are unlikely, but might result in future committed investments in a weaker price environment.
Disclosure: I/we have no positions in any stocks mentioned, and no plans to initiate any positions within the next 72 hours. I wrote this article myself, and it expresses my own opinions. I am not receiving compensation for it (other than from Seeking Alpha). I have no business relationship with any company whose stock is mentioned in this article.
Additional disclosure: This article was written by Gold News business journalist, Hans Centena. Gold News is not a registered investment advisor or broker/dealer. Readers are advised that the material contained herein should be used solely for informational purposes. Investing involves risk, including the loss of principal. Readers are solely responsible for their own investment decisions. If you found this article to be informative and would like to hear more about my investment research, please consider hitting the "Follow" button above.
Editor's Note: This article discusses one or more securities that do not trade on a major U.S. exchange. Please be aware of the risks associated with these stocks.