Talk is cheap.
Do not believe half-truths that go against economic convention.
This was the case when T-Mobile (NASDAQ:TMUS) CEO John Legere and Sprint (NYSE:S) CEO Marcelo Claure popped up on live TV promoting affordability, elevated competition, and massive 5G infrastructure investments if the two companies joined forces in a $26.5 billion deal.
This was a case of smoke and mirrors. The speculative claim of adding 3 million workers and investing $40 billion into 5G development is just a line pandering toward President Trump's nationalistic tendencies.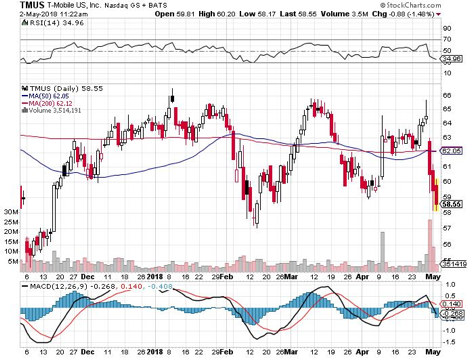 They want the deal to move forward any way possible.
Jack Ma, founder and executive chairman of Alibaba (NYSE:BABA), met President Trump at Trump Towers before his term commenced and promised to add 1 million jobs in order to curry favor with the new order.
Where are those jobs?
If this merger came to fruition, market players would shrink from 4 to 3 – a newly reformulated T-Mobile plus Verizon (NYSE:VZ) and AT&T (NYSE:T).
Pure economics dictate that shrinking competition by 25% would create pricing leverage for the leftover trio.
Industry consolidation is usually met with accelerated profit drivers because companies can get away with reckless price increases without offering more goods and services.
Being at the vanguard of the 4G movement, America overwhelmingly benefited from lucid synergistic applications that fueled domestic job growth and economic gains.
Japanese and German players were hit hard from missing out in leading the new wave of wireless technology.
T-Mobile and Sprint wish to be insiders of this revolutionary technology and this is their way in.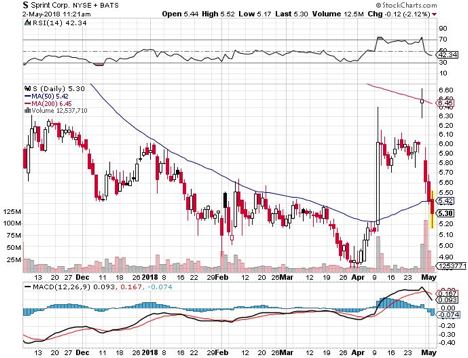 In the past, T-Mobile jumped onto the scene with aggressively twisting its business model to fight tooth and nail with Verizon and AT&T.
It was moderately successful.
T-Mobile even offered affordable plans without contracts offering customers optionality and advantageous pricing.
It was able to take market share from Spring, which is the monumental laggard in this group and the butt of jokes in this foursome.
The average cost of wireless has slid 19% in the past five years, and traditional wireless Internet companies are sweating bullets as the future is murky at best.
The bold strategy to merge these two wireless firms derives from an urgent need to combat harsh competition from the two titans Verizon and AT&T.
The merger is in serious threat of being shot down by the Department of Justice (DOJ) on antitrust grounds.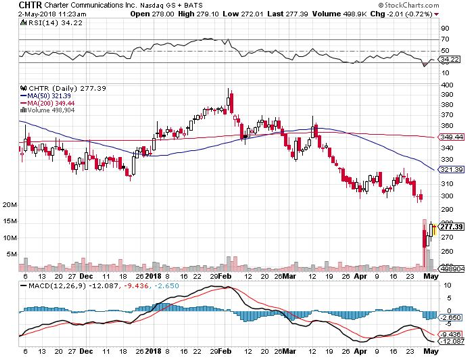 History is littered with companies that became complacent and toppled because of monopolistic positions.
Case in point, the predominant force in the American and global economy was the American automotive industry and Detroit in the 1950s.
Detroit had the highest income and highest rate of home ownership out of any major American city at that time.
Flint, Michigan, oozed prosperity, and the top three car manufacturers boasted magnanimous employee benefits and a tight knit union.
During this era of success, 50% of American cars were made by GM and 80% of cars were American made.
The car industry could do no wrong.
This would mark the peak of American automotive dominance, as local companies failed to innovate, preferring stop-gap measures such as installing add-ons such as power steering, sound systems, and air conditioning instead of properly developing the next generation of models.
American companies declined to revolutionize the expensive system put in place that could produce new models because of the absence of competition and were making too much money to justify alterations.
It's expensive to make cars but neglecting reinvestment yielded future mediocrity to the detriment of the whole city of Detroit.
The tech mentality is the polar opposite with most tech firms reinvesting the lion's share of operational profit, if any, back into product improvement.
Sprint got burned because it skimped on investment. It is in a difficult predicament dependent on T-Mobile to haul it out of a precarious position.
GM, Ford, and Chrysler met their match when Toyota imported a vastly more efficient way of production and the rest is history.
Detroit is a ghastly remnant of what it used to be with half the population escaping to greener pastures.
A carbon copy scenario is playing out in the mobile wireless space and allowing a merger would suppress any real competition.
To add confusion to the mix, fresh competition is growing on the fringes desiring to disrupt this industry sooner than later by cable providers such as Charter (NASDAQ:CHTR) and Comcast (NASDAQ:CMCSA) entering the fray offering mobile phone plans.
Google also offers a mobile phone plan through the Google Fi division.
The fusion of wireless, broadband, and video are attracting competition from other spheres of the business world.
The paranoia served in doses originates from the Netflix (NASDAQ:NFLX) threat that vies for the same entertainment dollars and eyeballs.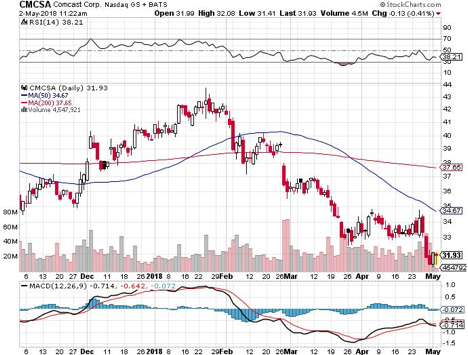 Remember that AT&T is in the midst of merging with Time Warner Cable, which is the second largest cable company behind Comcast.
The top two in the bunch – AT&T and Verizon - are under attack from online streaming business models, and the Time Warner merger is a direct response to this threat.
There are a lot of moving parts to this situation.
AT&T hopes to leverage new video content to extract digital ad revenue capturing margin gains.
Legere and Claure put on their fearmongering hats as they argued that this deal has national security implications and losing out to Chinese innovation is not an option.
This argument is ironic considering T-Mobile is a German company and Sprint is owned by the Japanese.
Sprint have been burning cash for years and this move would ensure the businesses survives.
Sprint's crippling debt puts it in an unenviable position and this merger is an all or nothing gamble.
Sprint has not invested in its network and is miles behind the other three.
AT&T has outspent Sprint by more than $90 billion in the past 10 years.
This is the last chance saloon for Sprint whose stock price has halved in the past four years.
However, T-Mobile sits on its perch as a healthier rival that would do fine on a stand-alone basis.
Consolidation of this great magnitude never pans out for the consumer as users' interests get moved down the pecking order.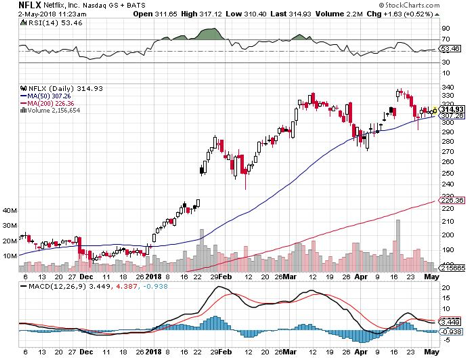 Wireless stocks were taken out and beaten behind the wood shed on the announcement of this news as the lack of clarity moving forward marked a perfect time to sell.
There will be many twists and turns in this saga and any capital put to use now will be dead money while this imbroglio works itself out.
If the deal doesn't die a slow death and finds a way through, the approval process will be drawn out and cumbersome.
The ambitious deadline of early 2019 seems highly unrealistic even with the most optimistic guesses.
The outsized winner from a deal would be AT&T, Verizon, and the newly formed T-Mobile and Sprint operation.
If this new wave of consolidation becomes reality, pricing pressure on the business model would ease for the remaining players, particularly allowing more breathing room for the leaders.
Stay away from this sector until the light can be seen at the end of the tunnel.
Disclosure: I/we have no positions in any stocks mentioned, and no plans to initiate any positions within the next 72 hours. I wrote this article myself, and it expresses my own opinions. I am not receiving compensation for it (other than from Seeking Alpha). I have no business relationship with any company whose stock is mentioned in this article.