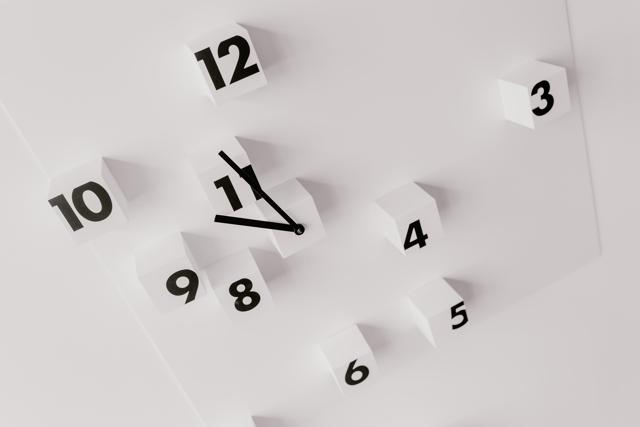 Factor investing is the investment process by which investors harvest risk premia through exposure to certain factors underlying stock characteristics. Factor investing has long been researched and states that long-term equity portfolio performance can be explained by various factors that earn risk premia over time. There are many commonly referenced equity risk premia factors including high yield, dividend, quality, value, growth, volatility, size (large or small cap) and momentum. Today's data-driven world has produced much more, up to hundreds and even thousands of factors that investors can slice and dice to explain the market's performance. An example of factors using CrowdThnk's data are investing in underweight or overweight securities whereby you continuously invest in the most and least crowded stocks on a rolling basis.
In today's world, indexation and exchange-traded fund (ETFs) have made it possible for investors to invest in these specific factors by grouping a basket of stocks that most closely exhibit these characteristics. All investors must do is ascertain which factors will potentially outperform and underperform the market given the investment environment and invest in those specific indices or ETFs. Every factor performs better at certain times and each could experience long periods of outperformance or underperformance. To give an insight into which factors are outperforming and underperforming in the current environment, we took a look at a universe of over 20 equity factors and found the 3 top and bottom factors that have been driving the market over the past year:

1. Momentum - The momentum factor invests in the stocks that have had the strongest 1-year returns, ascribing to the theory that strong returns will beget outperformance in the following period. The momentum factor typically does well during the later stages of a market cycle as market breadth narrows and investors seek refuge in stocks that have outperformed in the recent past. Examples include Etsy (NASDAQ:ETSY), PayPal (NASDAQ:PYPL), and Nvidia (NASDAQ:NVDA) which have returned 162%, 50%, and 131% over the past year, respectively. Year-to-date, investing in a basket of momentum stocks has yielded just 2.6%, topping all other equity risk premia factors in the market.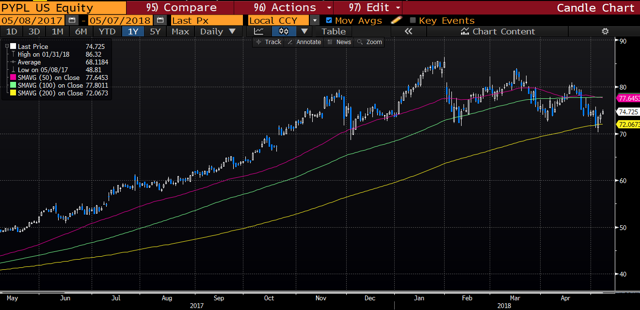 2. Earnings Revisions - The earnings revisions factor invests in a basket of stocks that have significantly raised their earnings estimates over the past 3 months. This investment strategy, which has gained 2.5% this year, attempts to harvest any additional risk premia as the market moves higher to account for these earnings revisions. Examples include Anadarko (NYSE:APC), Denali Therapeutics (NASDAQ:DNLI), and ZenDesk (NYSE:ZEN) which have revised earnings by 171%, 201%, and 143%, respectively. Many stocks outperforming due to this factor are in companies that have benefitted from the recent US tax code change at the end of 2017.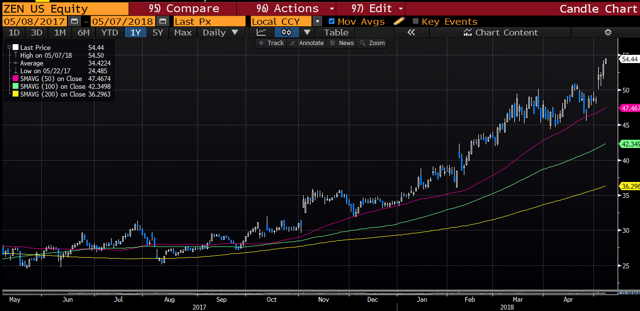 3. Short Interest - Short interest refers to the number of days of average daily trading volume it takes to cover an outstanding short interest in the stock. The higher the number, the greater the number of days' equivalent of short positions outstanding. This factor is important because stock positioning can quickly move higher if many investors with short interest are attempting to cover and buy the stock back at the same time. Examples of equities in this factor are Citizens Inc (NYSE:CIA), Rockwell Medical (NASDAQ:RMTI), and NeoGenomics (NASDAQ:NEO), which have 114, 36, and 36 days to cover short interest, respectively. The short interest factor is perhaps most directly related to the investment process CrowdThnk's data can be utilized to confirm short interest levels by verifying positioning scores. As a whole, the short interest factor basket has gained 2.3% this year, indicating that many investors have been caught in the dreaded short squeezes as stocks rallied on companies they may have fundamentally valued at a much lower valuation.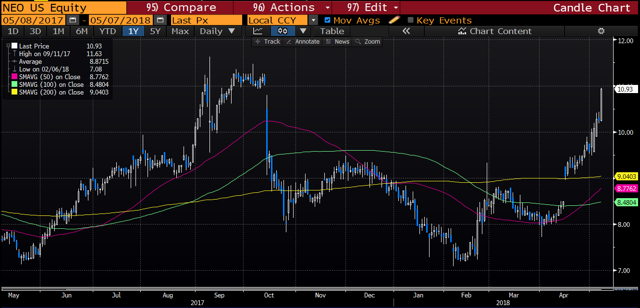 4. Dividends - The dividend factor invests in a basket of stocks that have the highest dividend yield in the equity universe. As interest rates have been near 0% for many years, these stocks have been a popular way to earn fixed income, especially for pension fund investors that have been starved for yield. However, with interest rates rising over the past year, high dividend yield stocks have fallen out of favor as the yield is no longer as attractive on a relative basis. Dividend factor stocks have fallen -5.0% as a group this year. Examples of high dividend yielding stocks include Washington Prime Group (NYSE:WPG), Annaly Capital (NYSE:NLY), and GameStop (NYSE:GME), which have dividend yields of 14.6%, 11.6%, and 11.7%, respectively.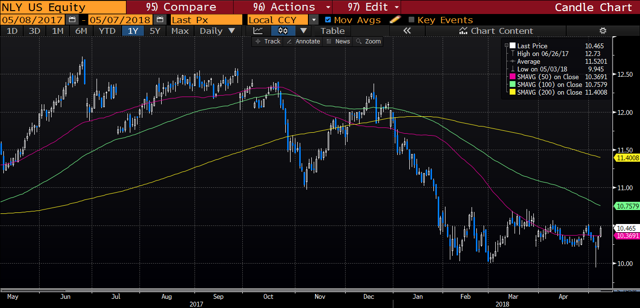 5. Value - Value stocks are those that have attractive earnings versus the currently traded stock price. That is, the earnings a particular company earns in a year divided by the stock market price should connote an attractive valuation of that stock as an investor could potentially recoup his initial investment in a short amount of time. However, this shortcut evaluation of a company's financial profile doesn't take into account factors like growth or competitive pressures which may make a "high value" company less attractive. Examples of value companies include Kodak (NYSE:KODK), GNC Holdings (NYSE:GNC), and Bed Bath & Beyond (NASDAQ:BBBY), which have earnings/price yields of 37.8%, 28.6%, and 17.9%, respectively. As a group, value stocks have declined -7.6% this year.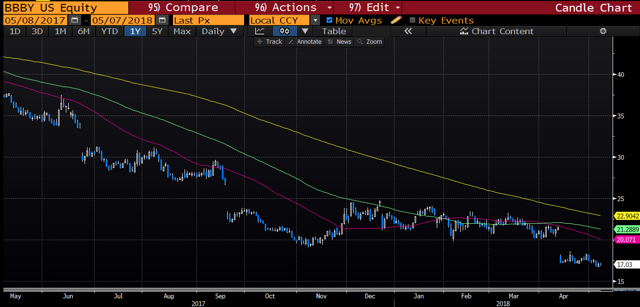 6. Leverage - Leverage takes into account a company's debt profile, specifically measuring a company on one variable - the net debt to EBITDA ratio. EBITDA stands for earnings before interest, taxes, depreciation, and amortization and represents one measurement of a company's earnings before accounting tricks are put into place. The net debt/EBITDA ratio reveals how financially solvent a company may actually be as insurmountable debt could potentially wipe out any earnings. Investing in companies with high debt leverage ratios essentially represents a view that the company can productively use that debt to finance an even faster growth than the prevailing interest rate charged. Many high capital-intensive companies like oil exploratory firms have high debt leverage ratios due to the fact that initial upfront costs are too high for equity investors alone to bear. Examples of companies with high leverage ratios include Tesla (NASDAQ:TSLA), Vista Outdoors (NYSE:VSTO), and Revlon (NYSE:REV), which have leverage ratios of 1748x, 172x, and 21x, respectively. High leverage ratio companies have fallen -8% this year as a group.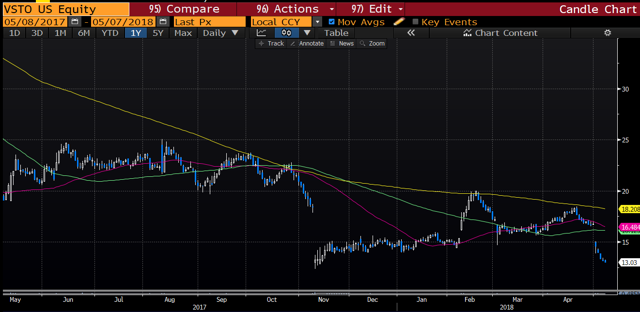 What Factors will prevail from here?
As the golden rule for investing states, past performance is not a predictor of future returns. Thus, just because these 6 factors have driven the market over the past 4 months doesn't mean they'll prevail over the next year. However, these outperforming factors don't necessarily change on a frequent basis as they speak to where we stand in the current market environment. In fact, if we expand our research sample to a longer period over the past 12 months, the outperforming factors are revisions, growth, and momentum while the underperforming factors are value, dividends, and leverage. These aren't exactly a strong departure from what we've seen over the past 4 months and imply that these factors may continue to dictate the market.
Using CrowdThnk's unique positioning factor, which has historically been difficult to quantify and measure without a hard-and-fast metric, we can segment new equity factors such as long overweight stocks and short underweight stocks, or vice versa. We can further introduce other factors such as long the biggest positioning change stocks or short the largest decrease in positioning stocks. Factor investing will always be a part of the equity portfolio investment strategy and the data revolution will continue to produce more factors to take into account. It's important to recognize which equity risk premia factors are driving the market and how they may influence the market direction.
Disclosure: I/we have no positions in any stocks mentioned, and no plans to initiate any positions within the next 72 hours. I wrote this article myself, and it expresses my own opinions. I am not receiving compensation for it. I have no business relationship with any company whose stock is mentioned in this article.