Summary
Corn ethanol production margins have rebounded in recent weeks on higher gasoline and stable corn prices.
While a disappearing ethanol price premium over gasoline has kept margins lower than they would be otherwise, they are still at their highest levels in several months.
A bigger issue is a RIN price collapse following the EPA's decision to issue mass "hardship waivers" under the biofuels mandate to refiners.
Ethanol producers' share prices are unlikely to reflect recent margin strength until this policy uncertainty at the national level is resolved.
Ethanol producers have always been avid watchers of the corn planting season, inasmuch as it helps to determine how corn prices behave in the subsequent months. Even then, this year's planting has been the focus of a special amount of scrutiny given what's at stake for both U.S. ethanol producers and the broader state of U.S. biofuels policy.
2018 has not been kind to ethanol producers to date despite the upward trend that has characterized gasoline prices since August 2017. The share prices of Green Plains, Inc. (GPRE), Green Plains Partners (GPP), Pacific Ethanol (PEIX), and REX American Resources (REX) are all down by double-digit percentages over the last year (see figure), with the largest declines having occurred since January. Only diversified producers The Andersons (ANDE) and Archer-Daniels Midland (ADM) have fared better, although that is not saying much.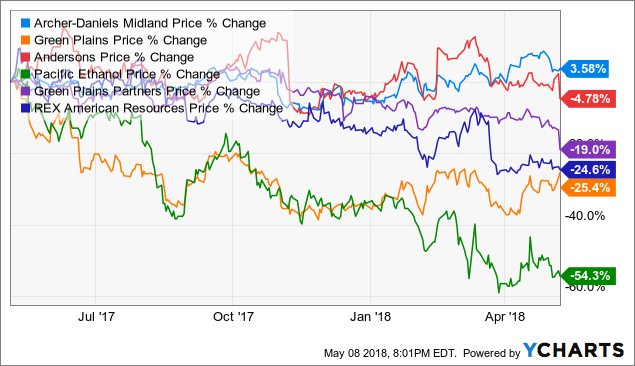 There is no shortage of potential explanations for ethanol producers' poor performance of late, albeit with varying levels of explanatory power. First, fuel ethanol's price premium over gasoline on an energy-equivalent basis has steadily dwindled over the last several months before ultimately turning negative last week for the first time since 2015 (see figure). That is not always a negative development, of course. High price premiums have generally coincided with low gasoline prices; unlike gasoline, a minimum volume of ethanol must be consumed in the U.S. every year in order to comply with the national biofuels mandate, and when gasoline is inexpensive, the premium is often necessary to keep ethanol production margins high enough to ensure that enough production occurs to achieve the mandate.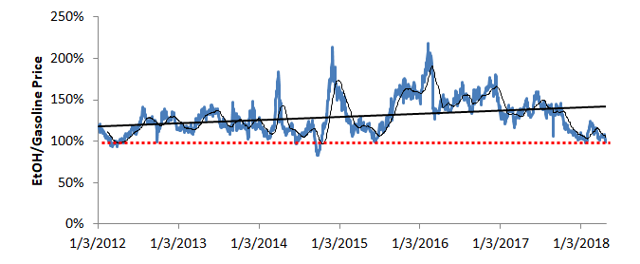 Sources: CARD, EIA (2018)
A disappearing premium (or even discount), on the other hand, usually happens when gasoline is gaining in price. The last period of a discount, for example, was when gasoline prices were rebounding sharply from their early 2015 depths (see figure). Indeed, today's gasoline price at the pump is higher than even in 2015, so a smaller ethanol price premium could be expected.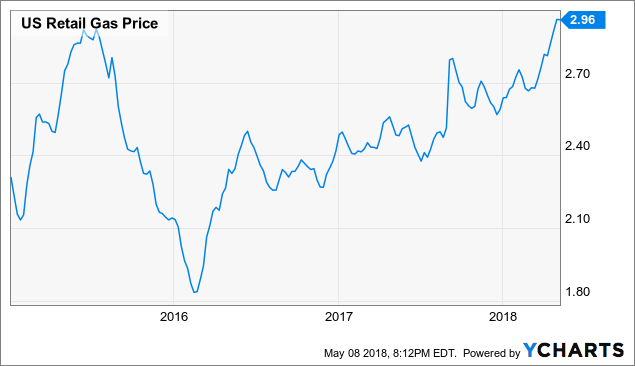 Today's operating environment also resembles that of 2015 in terms of production margins. In April 2015, ethanol producers' return over operating costs [ROOC], as measured by Iowa State University's Center for Agricultural and Rural Development, moved above $0.25/gallon, or the threshold that is generally necessary to cover capital costs, for the first time of the year. This month's production margin is trading at a comparable level and is even approaching last summer's highs (see figure).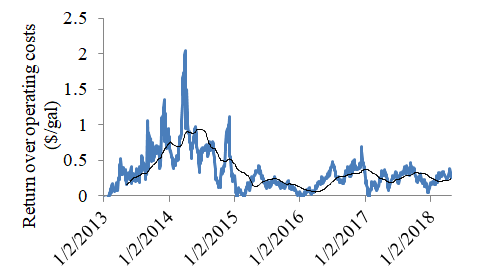 Source: CARD (2018)
The rising gasoline price is only one reason for the recent strength in production margins. A second reason is the unexpected lack of a rising corn price, especially relative to the gasoline price (see figure). I say "unexpected" because the presence of persistent winter conditions across the U.S., including the Corn Belt, into late April gave rise to worries about a late or even incomplete corn planting season. As recently as a week ago, the data did little to dispel these fears, showing a planting completion rate that, at 17%, was well below both last year's level at the same date (32%) and the 5-year average (27%).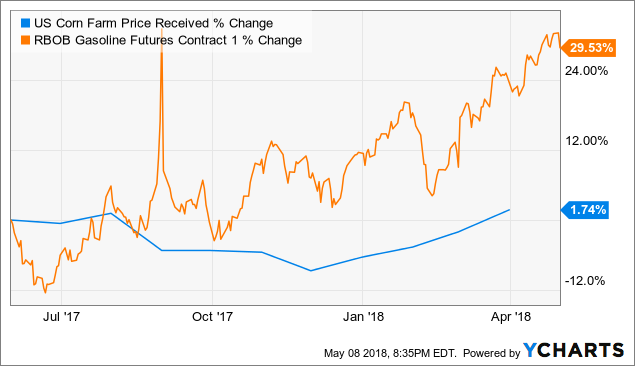 Last week saw good planting conditions across the Corn Belt, however, and farmers responded by working around the clock to catch up. In the space of a week, the planting completion figure improved to 39%, bringing it close to the 2017 and 5-year average values of 45% and 44%, respectively. Furthermore, with continued good weather being predicted across much of the U.S. Midwest, it is likely that farmers will be completely caught up by the end of the month.
Investors might be surprised by the fact that ethanol producers' share prices have remained low even as the price of gasoline has rallied and the price of corn has remained low. This reflects the presence of the worst policy environment for producers since late 2013, when the U.S. Environmental Protection Agency [EPA] reduced the biofuel mandate's required blending volume in response to a fierce lobbying campaign by merchant refiners. While that effort was ultimately deemed to be illegitimate by a federal court, the current EPA leadership has found a new path to the same result by issuing "hardship waivers" to an unprecedentedly-large number of refiners.
As in 2013, it is unlikely that the EPA's latest attempt to reduce refiners' blending costs will survive legal challenge (although, given that it took the federal courts nearly four years to issue a decision on the 2013 action, that does not mean much in the short-term for investors). The practical effect of the EPA's recent decision to broadly waive refiners' obligation to contribute to the mandate has been to send the prices of Renewable Identification Number [RIN], as the mandate's blending credits are known, near lows not seen since late 2013 (see figure).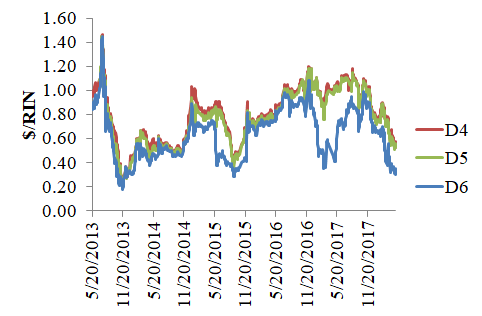 Source: EcoEngineers (2018)
Other things being equal, high RIN prices incentivize the purchase of ethanol for the purpose of blending with gasoline. A RIN can only be obtained for either the purposes of demonstrating compliance with the mandate or sale to another party if the corresponding gallon of biofuel is retailed. A low RIN price, on the other hand, reduces the incentive to retail biofuels, especially when ethanol sells at a premium to gasoline. The falling RIN price has therefore reduced demand for ethanol and hindered the premium (and, by extension, margins) as well.
How investors value ethanol producers at this particular juncture, therefore, depends on how they expect the current policy battle between biofuel advocates and their counterparts in the merchant refining sector to be resolved. EPA Administrator Scott Pruitt is reportedly losing the support of President Donald Trump over alleged ethics violations, although similar stories have been aired by the media over the last several weeks. Of course, it is not guaranteed that, in the event of Mr. Pruitt's resignation/sacking-by-Twitter, his successor would change the current favorable approach toward refiners.
On the other hand, Mr. Trump repeatedly vowed to support the biofuels mandate during his general election campaign, and he remains dependent on political support in the Corn Belt swing states for the purposes of both advancing his legislative agenda and, eventually, winning re-election in 2020. Given recent strength in production margins, the outlook (and share prices) of ethanol producers could rapidly brighten if the policy environment swings in favor of the biofuels sector.
Disclosure: I/we have no positions in any stocks mentioned, and no plans to initiate any positions within the next 72 hours. I wrote this article myself, and it expresses my own opinions. I am not receiving compensation for it (other than from Seeking Alpha). I have no business relationship with any company whose stock is mentioned in this article.