Investment Thesis
There are still a few interesting story lines out on the table as companies are releasing their Q1 2018 results. One particular earnings call I am awaiting is Twenty First Century Fox (NASDAQ:FOX) (FOXA), which is announcing after close on Wednesday, 5/9. I believe there is an opportunity to benefit from a long position due to both strong historical financial data and from positive news surrounding the M&A activity FOXA has been involved in.
The qualitative facts mentioned in this thesis are based on the fact that the entertainment industry is facing a tremendous amount of pressure and competition because consumers have shifted their viewing preferences away from live television in lieu of the convenience of streaming services. As a result of this change in consumer taste, the incumbents of the entertainment industry are using M&A as a vehicle to stay competitive with new media sources including Apple (NASDAQ:AAPL), Amazon (NASDAQ:AMZN) and Netflix (NASDAQ:NFLX).
Financial Snapshot
FOXA has had a solid track record of meeting analysts' expectations over the past year. The two images below are 1-year charts of earnings surprises and estimates for revenue and EPS. For revenue, FOXA have beaten in Q1 and Q2 of their 2018 fiscal year, and just barely missed in Q3 and Q4 of 2017. This shows that analysts are dialed in on predicting FOXA's revenue numbers typically, and I am not expecting any surprises during this release. One thing to note is that based on these graphs, it is apparent stock prices react closely to revenue estimates.
The other metric I looked at was EPS. FOXA has consistently beaten their EPS estimates over the past year. EPS estimates do not seem to be highly tied to the stock price movements based on the line chart below. EPS estimates have been trending down, so I would expect FOXA to either hit or exceed analyst expectations.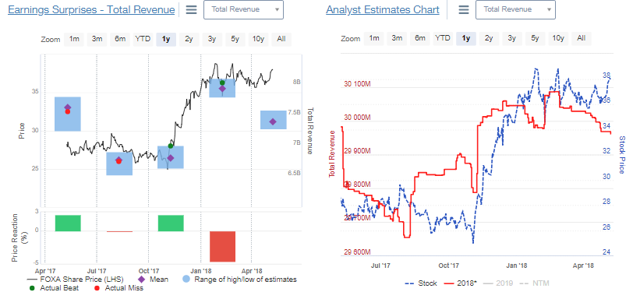 (Data from Sentieo)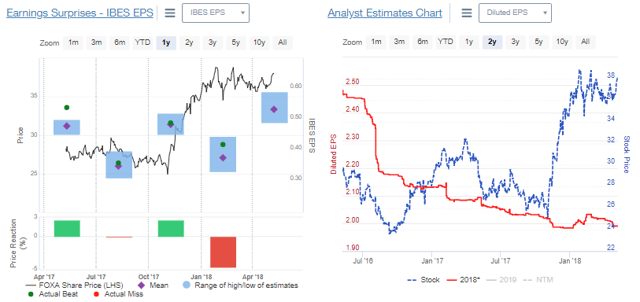 (Data from Sentieo)
To further expand on why I believe FOXA will meet or beat earnings revenue is visible in the chart below. Over the past five years, aside from 2015, FOXA has consistently beaten, or just barely missed analyst revenue estimates. In both 2016 and 2017, financial performance has become more predictable after a tumultuous 2015.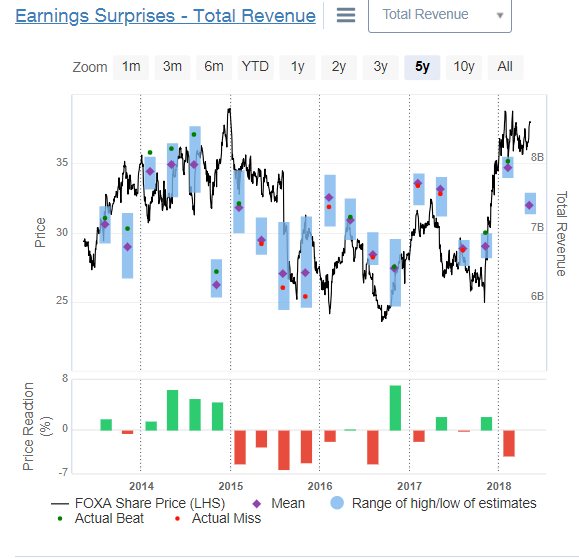 (Data from Sentieo)
Referencing the graph below are financial ratios to analyze FOXA's fundamental financial health over the past year. I do not see any particular red flags. Their current ratio shows that they have their debt liability in the short term covered and another highlight is that SG&A as a % of sales is dropping. One metric I will be keeping an eye on is the FCF margin. For now, I am not concerned, but if the trend of negative cash flow margin continues, that will be an area of concern. Management's comments on FCF in the last 10-Q are below:
is primarily due to the decrease in operating results, lower cash receipts at the Cable Network Programming and Television segments, higher billings over collections at the Filmed Entertainment segment, higher tax payments and lower cash distributions received from affiliates
FOX - 10-Q FY18 Q2, Wed 02.07.18

(Data from Sentieo)
The final data point to look at is a relative valuation model. From this chart, it is clear that FOXA is expensive compared to their peers. In basically every multiple, FOXA is significantly higher than the median. In this specific scenario, I am making an exception on valuation and I am fine with them having a high price tag because I believe the market is currently focused more on qualitative measures around M&A rather than valuation.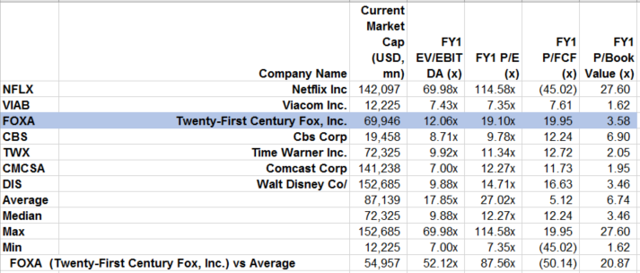 Using The Past To Predict The Future
Marked in the image below by the three yellow highlights are the stock price movements that correspond to the past three earnings releases. These price movements mark August, November, and February earnings, respectively. As you can see, price movements on earnings have become more volatile as M&A activity has gained more traction in the industry. For a full news timeline, click here.
From looking at the chart, the stock price of FOXA has followed relatively the same trend prior to and post earnings over the last 9 months, however, the severity of the movement is what has changed. The past three earnings releases were initiated with a dip in stock price, followed by a sharp uptick in value in the following week. It is important to keep in mind that the post earnings recovery took about 1.5 weeks and landed in the neighborhood of 5%-10% gains, which is not easily visible in the chart.
I believe that the same trend of volatility will take place Wednesday 5/9. There have been more talks of acquisitions in the entertainment industry lately, which only makes the landscape more complex and more uncertain. Comcast (NASDAQ:CMCSA) has made a bid at Sky, which is also an acquisition target of FOXA, and recently announced they raised $60B in an attempt to undercut Disney (NYSE:DIS). DIS filed a formal 400+ page document to the SEC formalizing their intent to purchase FOXA. CBS (NYSE:CBS) is in talks of buying Viacom (VIA), and in NFLX's April earnings release, Chief Content Officer Ted Sarandos acknowledged that the acquisition would help NFLX develop faster if they could acquire more IP.

(Chart from Sentieo)
Peers' Linguistic Analysis
An advantage for analysts heading into FOXA's conference call is that many of their peers, including NFLX, CBS, and CMCSA, have already released earnings in the past few weeks. Using Sentieo's linguistic analysis, I was very easily able to view the different verbiage that Analysts and Management were using in the conference calls to determine how their interests have changed. For the purpose of this analysis, I am going to focus on what words analysts used most frequently, rather than management, because I believe this data point is representative of what people are really interested in.
The first image below is the linguistic analysis of CBS from the past three quarters. What this graph represents is the top 15 most used words by analysts on the earnings call. Based on the linguistic analysis, it's clear that very few quantitative measures are mentioned in the top 15 words by analysts. This analysis helps solidify that analysts care about TCR (Total Content Rating), OTT (over the top subscribers), and DTC (direct to consumer) programming far more than financial metrics like EPS, which you only see mentioned once in the chart below in the past nine months.
Also in this chart, competitors are mentioned more frequently in the more recent earnings calls. Netflix, YouTube (NASDAQ:GOOG) (NASDAQ:GOOGL), Amazon, Facebook (NASDAQ:FB), and Snap (NYSE:SNAP) all in the top 15 words used. These competitors all have one thing in common: alternative content that takes eyes away from live television. It can be concluded that from this analysis that analysts are starting to care more about how CBS will stay competitive with non-traditional entertainment streamers.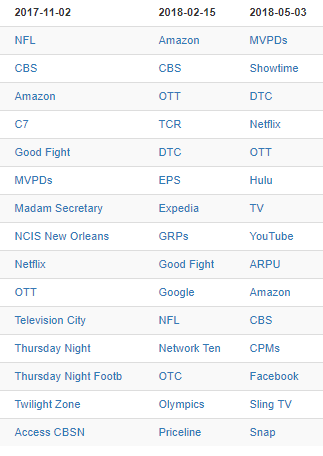 (Data Gathered from Sentieo)
The image below is the analyst linguistic intelligence for the past three quarters of CMCSA's earnings calls. A similar shift in verbiage has occurred, with M&A being the second most common word from analysts in January '18 and FANG also making the top 10. Most recently, Fox-Disney and Instant TV made the top ten most used phrases by analysts. This again proves that analysts are interested in the competitive landscape of the entertainment industry.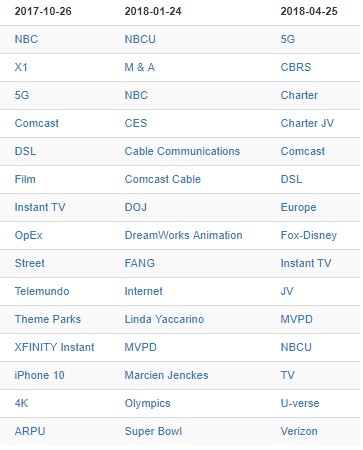 (Data Gathered From Sentieo)
Finally, I gathered the same data to analyze NFLX. Again, a major theme over the past 9 months for NFLX is competition and consolidation. In Oct '17, Amazon was the second most used words, and Facebook was the 14th most used. Disney Fox, Hulu, pay-TV, and Amazon all made the top fifteen in January, and M&A, CBS, Comcast, and NBC all made the top 15 in April of '18. One interesting thing to point out is that in the most recent earnings call, there were no financial measures such as P&L or ROI seen in the chart, whereas these terms were commonly used in Oct '17 and Jan '18. This could suggest that analysts may be more concerned about competition and consolidation rather than sound finances.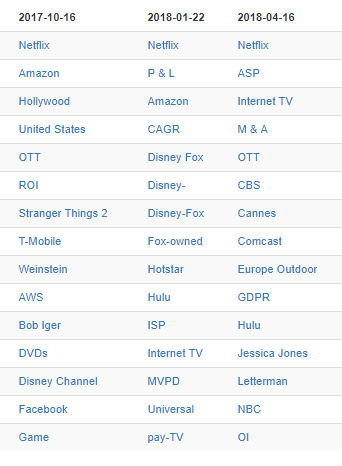 (Data gathered from Sentieo)
I believe that FOXA is going to have a similar shift in their language and the stock price will move based on how management responds. The acquisition by DIS will be a positive impact on stock price. Based on this earnings call, I think analysts will start to have enough data to determine who will continue to shine in the entertainment industry, and who will start to falter. From the most recent earnings, NFLX gained 10%, CBS gained 9%, and CMCSA gained 2%.
Conclusion
A combination of strong fundamental performance and the expectation of positive news about M&A has resulted in me initiating a long position in FOXA. Increased competition between traditional television stations and online streaming services has created an extremely interesting landscape in the entertainment industry. The change in consumer taste towards online streaming has sparked an apparent need to consolidate in the entertainment industry to stay relevant, however, acquisitions of this size operate on a long timeline, leaving investors uncertain in the interim.
By looking at the shifts in language used in the past 3 earnings calls of CBS, CMCSA, and NFLX focusing more on M&A and industry competition, I believe the same trend will occur for FOXA on Wednesday and industry dynamics will be a focal point of the conversation.
Disclosure: I am/we are long FOXA. I wrote this article myself, and it expresses my own opinions. I am not receiving compensation for it (other than from Seeking Alpha). I have no business relationship with any company whose stock is mentioned in this article.
Editor's Note: This article discusses one or more securities that do not trade on a major U.S. exchange. Please be aware of the risks associated with these stocks.