Editor's note: Seeking Alpha is proud to welcome UCLA Bruin Value Investing as a new contributor. It's easy to become a Seeking Alpha contributor and earn money for your best investment ideas. Active contributors also get free access to the SA PRO archive. Click here to find out more »
The Business
NOW Inc. (DNOW) is a global distributor to the oil and gas industry with a network of over 300 locations. Its products are used in: (1) upstream drilling, completion and production; (2) midstream infrastructure development; (3) downstream petroleum refining; and (4) other industries such as chemical processing, power generation and industrial manufacturing operations. DNOW also provides supply chain management to drilling contractors, exploration and production (E&P) operators, pipeline operators, downstream energy, and industrial manufacturing companies around the world. DNOW was spun off from National Oilwell Varco, Inc. (NOV) in 2014.
Recent Developments
With the acquisition of Power Service Group in 2016, DNOW has now entered into the process solutions market, which has higher margins than its traditional business in the wholesale and warehousing sector. Specializing in the relatively high-margined Battery Tank Installations business, the process solutions group has quickly become a significant part of the company's revenue stream. Overall, DNOW's market penetration has been a success. In one year, process solutions went from 0% to 12% of DNOW's total revenue.
Oil Price Recovery
While not an oil production company, DNOW's business is heavily related to the amount of drilling that is taking place. As oil prices increase, companies have more incentive to open their wells and have more need for DNOW's equipment. Due to this time lag, traditionally, there has been a delay between rising oil prices and its positive impact on DNOW's bottom line. Right now is an excellent opportunity to take advantage of that delay. Markets have already fully responded to the oil price recovery when pricing oil drillers and refiners, but not yet for distributors.
Ability To Maintain Consistent FCF During Tough Times
The company has demonstrated its ability to maintain a solid FCF even should a downside scenario occur.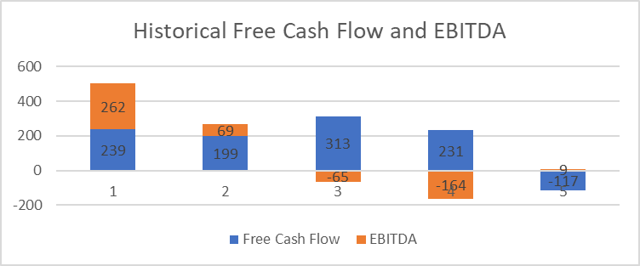 Cases in point are how DNOW survived both the 2008 financial crisis and the 2016 oil price collapse. Both times, the price of oil fell to around $20 a barrel, forcing many companies in the industry to go bankrupt. This is both a testament to DNOW's business model, as well as to the experience and expertise in the management team and their successful management of DNOW's working capital. Management's performance during this time should be a great indicator for their future performance. In 2017, the FCF of DNOW was -$117. Net changes in operating assets and liabilities, net of acquisitions, were a deficit of $135 million in 2017 compared to $342 million provided in 2016. The deficit was primarily due to increases of $110 million and $64 million, in inventories and receivables, respectively, as market conditions improved in 2017. Hence, EBITDA was $9 million, up $173 million from 2016. It must be mentioned that while many players went bankrupt in both oil production and oil field services (list found here), the oil and gas field services remain a highly fragmented and competitive industry. Nevertheless, in the near future, it is unlikely that DNOW will face a situation worse than it did in 2016. As oil prices have picked up, DNOW's sales and margins have started to pick up, albeit lagging the recovery of the oil price.
A Cost-Conscious Management
Management has done an incredible job in managing networking capital as well as cash flow. Every member of management has over 20 years of industry experience and has been a part of DNOW since before the spin-off.
In particular, the Toby Eoff, the president of process solutions at DNOW has more than the required experience to make process solutions a more significant source of DNOW's revenue. Notably, he used to be the president of Odessa Pumps before its sale to DNOW in 1998. According to DNOW's recent earnings reports, Odessa is the subsidiary which has produced the most synergies with Power Service Group since 2016. A further demonstration of the management's capabilities is their control over capex. Capital expenditures are forecasted to be around $10 million for 2018 and are expected to remain consistent for the foreseeable future. Only when management decides to make an acquisition will DNOW require a large capital expenditure, but this is a decision that DNOW can make at its own leisure. Thus, there will be no large upcoming expenses that could pose a threat to DNOW's operations, and DNOW will be able to fully capitalize on the recovering oil price.
Explanation Of Valuation Method
For this company, we have determined that a multiple method is a more accurate measure of value than a traditional DCF. The main reason is that DNOW is part of a cyclical industry, and its earnings are quite volatile. Additionally, a DCF is very sensitive to margins, which for DNOW is also quite inconsistent, sometimes having margins that fall below zero. For the multiples, I looked at P/S, EV/EBITDA and P/E. Of which, I believe P/S to be the most reliable metric as it is positive every single year.
Valuation - 3 scenarios: Base, Downside, Upside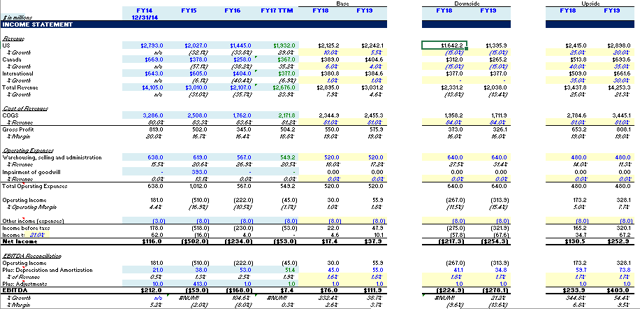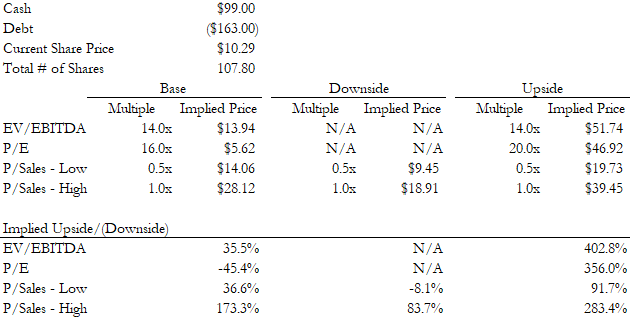 Source: My own DCF and Multiples Valuation
Historically, the P/Sales of peer companies was ~2x after the recovery from '08 to '09 financial crisis, but only ~0.6x in 2008 and 2014. Historical P/Sales of DNOW has been between the range of 0.5x-1.0x with small fluctuations
Going by the P/S multiple, even in a downside scenario and using the low P/S of only 0.5, our downside is limited to -8%. Not all companies in the comp set focus strictly only on the distribution business. I believe that the downside and upside multiples we used are more than justified and give an investment in DNOW a significant margin of safety. The downside scenario reflects a projected sales below that of the year 2016 when oil prices crashed, an event unlikely to happen again in the coming few years. The earnings guidance of DNOW predicts a steady recovery of margins and sales, which is reflected in the base case scenario.
Conclusion
The market has not corrected itself from the negative reaction to the oil prices of 2016. Despite the recovery of the oil prices recently, DNOW's valuation by the market has remained largely unchanged from 2016. Having survived 2016, DNOW has demonstrated its ability to operate under the perhaps the worst economic conditions imaginable. Moreover, EIA projections point towards stable oil prices and steadily growing oil production from within the US, which translates to greater revenue and margins for DNOW, which generates most of its revenue from its US and Canadian operations. Additionally, DNOW's expansion into the process solutions market will positively impact its profit margins in future years.
Pitch led by Yilan Chen
Members: Zuhao Li (Luke) and Owen Chen
Article written by Zuhao Li (Luke)
Disclosure: I am/we are long DNOW. I wrote this article myself, and it expresses my own opinions. I am not receiving compensation for it (other than from Seeking Alpha). I have no business relationship with any company whose stock is mentioned in this article.