Gold prices were unchanged on Tuesday despite the U.S. dollar hitting a new high for 2018. Geopolitical concerns involving relations between the U.S. and Iran served to underpin the yellow metal's price despite pressure from a strengthening dollar. Spot gold was flat at $1,313 for Tuesday, while June gold futures settled at the same price.
On the political front, President Trump announced Tuesday that he was withdrawing the U.S. from the Iran nuclear deal which lifted sanctions in return for the country's agreements to pull back on its nuclear program. The decision was made because he felt Iran wasn't honoring the agreement and means the U.S. will re-impose the "highest level of economic sanctions" against the country, effective immediately.
Meanwhile, gold might be under pressure from a strong dollar but that hasn't stopped analysts from forecasting strength in the year ahead for the metal. According to the latest GFMS forecast, gold is expected by participating analysts to deliver its strongest annual price performance in five years during 2018. Geopolitical uncertainty is expected to drive investments in bars and bullion-backed ETFs, the analysts said.
The GFMS metals research team, a unit of Thomson Reuters, predicted gold would average $1,360 an ounce this year, up 8 percent from 2017, with some short-term moves towards $1,500. It's worth noting that gold hasn't risen above this level since 2013.
The analyst team expected demand by exchange traded funds (ETFs) to rebound this year to 350 tons, according to GFMS. Global bar demand was also expected to rise 1 percent, recovering after falling for four years in a row, while coin demand was forecast to remain subdued after falling in 2017 to its weakest since 2007, GFMS said.
Turning our attention to the immediate-term outlook, gold was able to maintain support above its widely-watched 200-day moving average because of safe haven flows related to President Trump's Iran sanctions announcement on Tuesday. Shown here is the iShares Gold Trust (IAU) in relation to its 200-day and 15-day moving averages. The latter is my favorite indicator for gauging the immediate-term (1-4 week) trend of the gold ETF. The 200-day MA by contrast can be considered as a benchmark of the intermediate-term (3-9 month) trend. The following graph shows that IAU is currently being subjected to the dual forces of continued intermediate-term strength and immediate-term weakness. A 2-day higher close above the 15-day MA is needed to relieve IAU of its immediate-term pressure and get it out of the proverbial danger zone, especially in light of continued strength in the U.S. dollar index.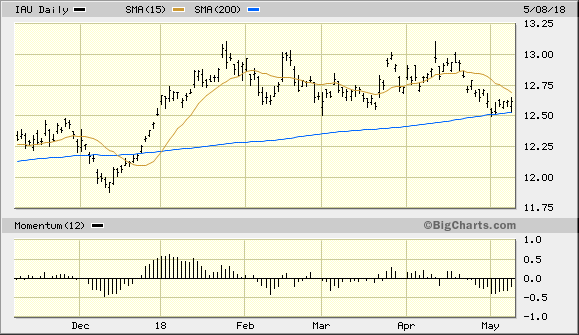 Source: BigCharts
The dollar's persistent strength is reflected in the graph of the PowerShares DB US Dollar Index Bullish Fund (UUP) shown below. Given the extent to which UUP has rallied since mid April, it's truly remarkable that gold and the gold ETF have held up so well and have remained above the 200-day moving average. It's doubtful, however, that gold will be able to hold up much longer if the dollar continues to rally.
Source: BigCharts
Along with a reversal in the dollar ETF (UUP), another sign which would bode well for gold's immediate-term outlook would be an upside move in the Japanese yen. The following chart shows the CurrencyShares Japanese Yen Trust (FXY) in relation to its 15-day and 200-day MAs. Like gold, the yen ETF has managed to find support above its 200-day MA in recent days after experiencing extreme weakness last month. Also like gold, FXY needs a 2-day higher close above its 15-day moving average to break the nearest line of overhead supply (i.e. resistance). This would allow FXY to launch a much-needed technical rally and would also likely give the gold price a chance to rally due to the sympathetic connection between the two assets.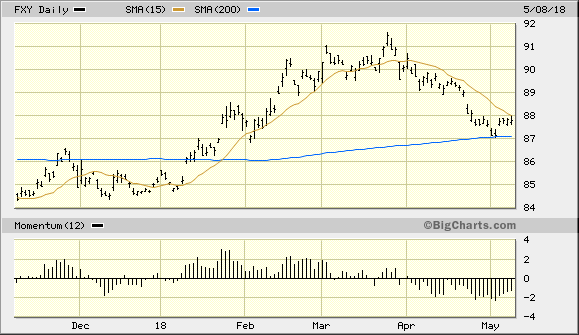 Source: BigCharts
For now I continue to recommend that short-term traders remain in cash after the latest weakness in the gold price. IAU remains below its 15-day moving average but is still above the $12.50 level – the lower boundary of a 3-month trading range and also the level where the 200-day moving average is visible in its daily chart shown above. Until IAU confirms a renewed immediate-term (1-4 week) buy signal as mentioned here previously, traders should keep their powder dry and avoid new long commitments.
Disclosure: I/we have no positions in any stocks mentioned, and no plans to initiate any positions within the next 72 hours. I wrote this article myself, and it expresses my own opinions. I am not receiving compensation for it (other than from Seeking Alpha). I have no business relationship with any company whose stock is mentioned in this article.