Who Is Bay Area Kid?
I am a 28-year-old Marine veteran currently enrolled in the MBA program at the University of Nevada, Las Vegas. I've been managing my own portfolio since 2010 and purchased a rental property in 2016. My long-term investment goal is to make enough money on the stock market to allow me to buy more rental properties, with the end result of an early retirement funded by my monthly rental income.
How I Built The Portfolio
The BAK portfolio was started in March 2017, with the primary goal of capitalizing on a number of emerging industries, most notably cannabis and AI. When deciding on where to invest my money, I label companies in 1 of 4 ways: emerging industries primed for growth, established industry leaders, companies I consider "portfolio cornerstones" and companies in industries that are dying (so I can short them). The only rule I have for the portfolio is that no single stock can make up more than 15% of the entire portfolio. My investments are never made without at least a 2-year outlook, so I make relatively few trades.
The Portfolio
There are currently 26 stocks and 2 long-term stock options in the portfolio. A breakdown of the stocks in the portfolio can be found in my first BAK Portfolio article, The BAK Portfolio: Making Money On Cannabis And Tech. At the end of 2017, this portfolio stood as thus: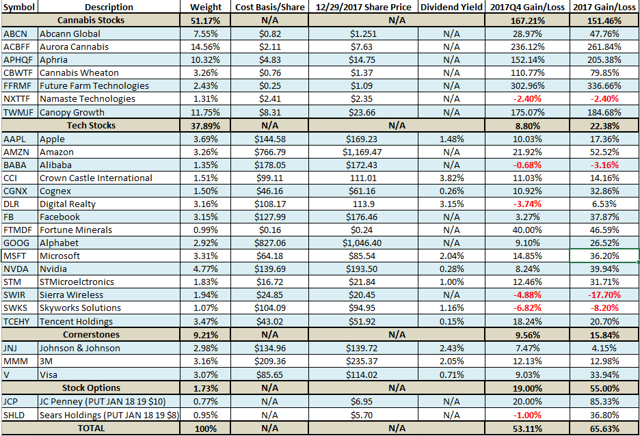 As I mentioned in my previous update on the portfolio, The BAK Portfolio: The Streets are Paved in Green, the cannabis industry experienced a fairly substantial breakout starting in November, 2017 and peaking on January 23, 2018. On that day, the North American Marijuana Index closed at 363.31. Since that peak, it's been largely downhill. The free-fall finally bottomed on April 9th, when the index was at 221.67. It's bounced back a bit since that bottom and at the time of this writing sits at 256.43, a decline of 29.4% from the high.
Further downward pressure on the portfolio was put on by Donald Trump's new Chinese tariffs. Combined with the correction in the cannabis industry, the burgeoning trade war in Q1 2018 left the portfolio in a sea of red:
Recent Developments
ABcann Global (OTCQB:ABCCF): The company recently announced a business update that detailed their expansion plans, rebranding and organizational restructuring. Most pertinent is their capacity growing to 15,000 kg in 2019 and 32,500 kg sometime around 2020. The company estimates that the majority of this production can be done at under $0.50 per gram, which is significant since other companies are struggling to get costs under $1 per gram. ABcann Global continues to set itself apart with their growing technique, but their production capacity falls way behind some of the industry giants.
Aurora Cannabis (OTCQX:ACBFF): Aurora recently completed their acquisition of CanniMed and now owns the company outright. Aurora is barely pausing to catch its breath, though, as it has already started talks to acquire MedReleaf (OTCPK:MEDFF), which is currently the fourth largest cannabis company by market cap. If this acquisition is successful, the combined entity would become the largest cannabis company on the planet, surpassing current leader Canopy Growth (OTCPK:TWMJF).
Aphria (OTCQB:APHQF): Aphria had a worse quarter than its competitors, with the controversial acquisition of Nuuvera. Aphria insiders failed to disclose significant personal investments in Nuuvera, which further heightened concerns that Aphria was overpaying in the deal. The company was also forced to sell its interest in US-based Liberty Health Sciences (OTCQX:LHSIF), after being threatened with delistment by the TSE.
Future Farm Technologies (OTCQX:FFRMF): The breakneck pace of expansion continues for Future Farm, with recent expansions into Puerto Rico and Arizona. In Puerto Rico, they have multiple deals in the works, including a chain of dispensaries and a growing/processing facility. In Arizona, they are buying 10% of a company that is in the process of developing a 70,000 square foot cannabis growing facility. The company recently provided an update on its AR spinoff, now called Nextech AR Solutions. The spinoff is expected to be completed sometime in June, 2018.
Namaste Technologies (OTCQB:NXTTF): The online vaporizer purveyor recently purchased an AI company to optimize their digital marketing efforts, with particular focus on attracting medical patients. The company also received approval to uplist to the TSX Venture Exchange.
Canopy Growth: The largest cannabis company in the world recently announced that it has received cultivation licenses for two separate facilities, bringing their total licensed growing space to over 2.4 million square feet. Like Aurora, Canopy Growth is also engaging in acquisition talks with MedReleaf. If these talks are successful, the company's market cap would reach a market cap of nearly $8.5 billion, roughly double that of Aurora.
Amazon (AMZN): The online retail juggernaut continues their quest to conquer all things digital, with net revenues increasing 43% year over year, to $51 billion. The company recently announced a 20% price increase, to $119 annually, for their Prime program. Prime is one of Amazon's most successful programs, generating $3.1 billion in the first quarter.
Alibaba (BABA): The "Amazon of China" recently reported year-over-year revenue of growth of 61%, to $9.73 billion. This growth has not come without a cost though, as operating margins fell from 25% to 15%. The company has been on a spending spree, gobbling up multiple smaller companies, including a plan to purchase food delivery service Ele.me for $9.5 billion.
Crown Castle International (NYSE:CCI): The cell tower REIT recently reported promising financial results, including a 35% increase in rental revenues, a 4% increase in net income and a 6% increase in AFFO. To better prepare for the advent of 5G mobile networks, the company has been aggressively expanding, with more rental orders in the first quarter than all of 2016 combined.
Cognex (CGNX): Despite growing by 22% YOY, the company's total revenue of $169.6 million was near the bottom of analysts' expected range. The company also reduced guidance for the rest of the year. The CEO is confident that this is a temporary slowdown, as he raised their total addressable market to over $3.5 billion.
Digital Realty (DLR): The data center giant recently had its strongest quarter in its history, with revenues surpassing $60 million for the first time. The company has a long history of growing its dividends, with the trend continuing when they increased them by 9% in March. The dividend yield is currently sitting at 3.8%.
Facebook (FB): Unless you've been living under a rock, you no doubt have heard of Facebook's privacy scandal. The scandal caused the share price to plunge over 17%. The stock has rebounded nicely since then, largely on the a significant earnings beat ($1.69 EPS vs. expected $1.35) and the announcement that the company would be rolling out a dating service.
Fortune Minerals (OTCQX:FTMDF): The company took a giant step toward the opening of their cobalt mine with the announcement that an access road to the site has been approved for construction. Recent talk of companies like Tesla (NASDAQ:TSLA) reducing the cobalt in their batteries may lead to me exiting this position earlier than expected.
Alphabet (GOOG) (NASDAQ:GOOGL): The parent company of Google is leading the way in self-driving automobiles, with their cars averaging 5,600 miles per intervention (a human taking over for the computer). The company recently announced they were applying for self-driving test permits in California.
Microsoft (MSFT): The software giant recently held their Build Developers Conference, where they highlighted a number of projects in the pipelines, including a new app for syncing your phone and your PC. Also, Alexa (Amazon's self-help AI) and Cortana (Microsoft's self-help AI) will sync together and you'll be able to access Office applications via Alexa. Finally, the company announced that it will provide seed money and grants to startups focused on using AI to assist people with disabilities, with the hope of one day monetizing the technology.
Nvidia (NVDA): The Nintendo Switch has been a smash success with the latest sales tally at nearly 18 million units, with each one carrying a GPU supplied by Nvidia. The company says that cryptocurrency is here to stay and they're putting their money where their mouth is by developing a GPU dedicated to cryptocurrency-mining
STMicroelectronics (STM): Strong sales across all product lines led to YOY net income growth of 120% and YOY revenue growth of 22%. The chip-maker is presenting its latest IoT advancements at an up and coming tradeshow, with highlights including applications in industrial Predictive-Maintenance, drone control and cloud-connectivity.
Tencent (OTCPK:TCEHY): The Chinese tech conglomerate continued its investment in competitive esports, announcing a recent investment in VSPN, which runs the top tournaments of popular games PUBG, Clash Royale and League of Legends.
Johnson & Johnson (JNJ): Another stellar quarter for the Dividend King saw them post an earnings beat of $0.04 per share and revenue beat of over $500 million. Even more impressive is the company's ability to post double-digit revenue growth, with YOY revenue rising 13%.
3M (MMM): Share price fell by nearly 15% in the first quarter, with management cutting full-year growth from 3%-5% to 3%-4%. After the drop, the company's P/E ratio is still sitting at over 25, which is rather high for a company undergoing low single-digit growth, but the high quality of the company, and the near-guaranteed dividend growth, is hard to pass up.
Visa (V): The credit card heavyweight reported stellar earnings, beating estimated EPS by 30%. The company's efforts to expand overseas resulted in a 19% increase in international transactions processed, while domestic transactions processed increased by 10%.
J. C. Penney (JCP): Deutsche Bank recently released a report stating that there is little upside in the department store industry. In addition to the share price sitting at all time lows, JCP posted negative earnings for fiscal year 2017.
Sears Holdings (SHLD): The death spiral for Sears continued in the first quarter, with its own CEO trying to buy the choicest bits of the company, while leaving the rest to go down with the ship. It's a matter of if, not when, the company files for Chapter 7, with the only question being how much of its real estate can Lampert acquire before it does?
Trades
During the quarter, I sold off my shares in Apple (NASDAQ:AAPL), Sierra Wireless (NASDAQ:SWIR) and Skyworks (NASDAQ:SWKS). Apple has been reporting some rather disappointing sales of the iPhone recently, so I decided take my gains from them and move the funds elsewhere, at least for now. I still believe in the long-term success of Skyworks and Sierra Wireless as leaders in the Internet of Things (IoT), but they've been trending downward recently, with no end in sight. I'll look to establish a position in all both companies, as well as Apple, at some point in the future.
Using the funds from the above trades, as well as a deposit into the account, I increased my exposure to Cannabis Wheaton (OTCQB:CBWTF) and established new positions in Abattis Bioceuticals (OTCQB:ATTBF), Sunniva, Inc. (OTCQX:SNNVF), Micron (MU) and Welltower, Inc. (WELL).
Cannabis Wheaton: The world's first cannabis streaming company, Cannabis Wheaton has partnerships in place that will give them production capacity at the same levels as more established companies like Canopy Growth and Aurora Cannabis. Cannabis Wheaton has signed a number of new deals during the quarter, none bigger than a partnership with Peter Quiring, a 25-year veteran of the greenhouse industry. The newly formed subsidy of Cannabis Wheaton, GreenhouseCo, will build and operate a 1.4 million square foot, purpose-built, state of the art cannabis growhouse in Leamington, Ontario.
It's estimated that the new growhouse will produce 120,000 kg of cannabis annually. For more information on Cannabis Wheaton and their business model, check out my recent article Get Out Your Picks And Shovels: Ancillary Plays On Cannabis.
Abattis Bioceuticals: A full-suite Canadian cannabis company, Abattis Bioceuticals found its way into my portfolio due to their intriguing extraction technology. The company claims to recover over 99% of cannabinoids during the extraction process, while other extraction methods recover only ~80%. The extraction technology, called column chromatography, is also able to handle industrial-sized batches of biomass, at an attractive price point.
Abattis anticipates being able to process 500 kg of cannabis per day, at a cost of $0.20 per gram of CBD extracted, which is less than half the price of traditional extraction methods. Barring the development of another technology that outperforms column chromatography, I would expect this method of extraction to quickly become an industry standard. In addition to their extraction efforts, Abbatis Bioceuticals is also looking to enter the cannabis-infused beverage industry.
Sunniva, Inc.: One of the few, if not only, cannabis companies looking to make an impact in both Canada and California is Sunniva, Inc. The company currently has two large cannabis growing facilities in development. In Cathedral City, California, they are building a purpose-built current good manufacturing practices (cGMP) greenhouse that is estimated to be complete in Q3 2018 and will produce an estimated 120,000 kg of high quality cannabis annually.
Meanwhile, north of the border, the company is developing a similar facility in British Columbia that will produce an estimated 100,000 kg annually. Sunniva recently signed an agreement to supply Canopy Growth with 90,000 kg of cannabis over a two-year period. In addition to their growing facilities, the company also owns, through their subsidy Natural Health Services, a network of cannabis clinics, giving them access to over 90,000 patients. The company also owns the Vapor Connoisseur brand, which sells high quality vaporizers and accessories.
Micron Technology: The latest semiconductor addition to the portfolio, Micron Technology's primary business is developing dynamic random-access memory (DRAM) for use in computing applications. DRAM is favored over static random-access memory (SRAM) for many applications because the cost per bit of memory saved is substantially less than SRAM. The company has more than a few tailwinds at its back, including the ever-increasing need for cloud computing, self-driving cars and the advent of the Internet of Things.
Welltower, Inc.: If there is one thing assured in life, it is that we will grow old. According to the National Center for Biotechnology Information, by 2030 there will be around 70 million U.S. citizens over the age of 66. Looking to play on this huge tailwind is Welltower, Inc., a REIT that focuses on senior housing and assisted living. The company is still expanding, with a recently announced deal to acquire Quality Care Products, which is another REIT in the assisted living sector, as well as a deal to form a joint venture with ProMedica, a nonprofit hospital operator, to purchase HCR ManorCare, one of the largest nursing home chains in the country. Like most other REITs, Welltower, Inc. has been hammered in the first half of 2018, with the share price depreciating ~20%. This drop, and the accompanying dividend over 6%, prompted me to buy.
Mary Jane (Legislation) Goes to Washington
The inevitable push toward nationwide legalization in the United States gained a significant boost recently, thanks to a proclamation from President Trump, where he stated that the Department of Justice would not interfere in states' legal marijuana initiative, much to the chagrin of Jess Sessions. Another huge positive for the industry is the fact that there was a bill put forth by Senate Minority Leader Chuck Schumer to remove cannabis from the list of controlled substances, which would effectively legalize the plant on a federal level.
While there have been other attempts to do much the same thing, in the past, the sponsors of such bills have often been politicians who are relatively obscure and wielded little influence. As the ranking Democratic Senator, Schumer has effectively made cannabis legalization a part of the Democratic party platform.
Even more encouraging is the fact that legalization is becoming more and more a bipartisan issue. Just this week, Schumer co-sponsored a bill with Senate Majority Leader Mitch McConnell to legalize the close cousin of cannabis, hemp. With 2 out of 3 Americans supporting legalization, and senators finally starting to act on the will of the people, I believe that the time for legalization, at least on a federal level, is finally at hand.
In addition to the advances on the US federal legalization front, Canada legislators recently won a vote to continue their advance toward nationwide legalization, which should be completed sometime in late summer/early fall. There are also a number of US states poised to vote on cannabis legalization this November, including Vermont, New Jersey, Michigan, Delaware, Rhode Island, Connecticut, Ohio, Oklahoma, Kentucky, South Dakota, Utah and Missouri.
Conclusion
The BAK suffered a setback in the first few months of 2018, but the cannabis industry continues to see nothing but good news come its way. In the second half of 2018, there will be a significant step towards legalization in both Canada and the United States. At the same time, many companies, including Sunniva and Aurora, will finish their expansion plans and begin harvesting cannabis at these new sites.
I expect the cannabis stocks will by and large remain in a holding pattern until the legalization votes. With the votes coming and legalization advances, look for there to be a significant run up in share prices. One must simply be patient and not be discouraged by all the red ink lately.
As always, any feedback is appreciated. Thanks for following along and happy investing!
Disclosure: I am/we are long NVDA. I wrote this article myself, and it expresses my own opinions. I am not receiving compensation for it (other than from Seeking Alpha). I have no business relationship with any company whose stock is mentioned in this article.
Additional disclosure: I am long all of the stocks mentioned, with the exception of SHLD and JCP, which I am shorting via Puts
Editor's Note: This article covers one or more microcap stocks. Please be aware of the risks associated with these stocks.