In this article, I will be providing data showing that the decline of retail (XRT) is a secular change and not a cyclical one like many have argued. This article stems from back and forth comments on multiple articles about Tanger Factory Outlets (SKT). I have argued that retail is going through a secular change and not a cyclical one. Fellow authors and people commenting are quick to point out that Tanger has a management team that has navigated through previous cycles successfully. What I will present in this article shows that the current environment is not like past cycles.
Tanger Earnings Call
On the earnings call, Steve Tanger was asked about whether he thought things would revert to the mean of the cycle (this being a cyclical decline) and the quote below was the question asked and the reply. What you will notice from the answer, Amazon (AMZN) was specifically noted as not being there during previous cycles in the capacity that they are at now. Everyone always references the "Amazon effect" and I will provide visual evidence of its effect in the next section.
I just trying to understand why what's happening today you think will revert back to a historical mean and there is not potentially more difficulty around the edges? ~Michael Bilerman, Citi analyst

We candidly every time it's different, happen stock market crash in 87, we experienced the downturn after the bubble of the e-com tech bubble or the dotcom bubble of 98, 99, obviously 10 years ago which was an economic cycle. I know there was no Amazon. ~Steven Tanger
Amazon Effect
I examined data from the St. Louis Federal Reserve and it clearly shows the Amazon effect. It is not just Amazon; companies like Walmart (WMT) have significantly expanded their online offerings. I examined data on e-commerce jobs and while there only two data points, the data is representative of a wider trend around the whole United States. The first chart shows the number of retail employees within electronic shopping and mail-order houses in California and the second chart shows the same thing but for Florida. As you can clearly see, since the recession, there have been substantial job gains in this segment of retail.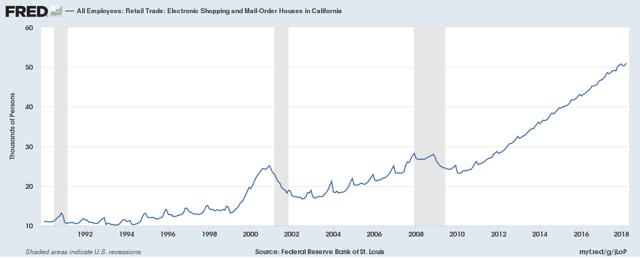 St. Louis Federal Reserve California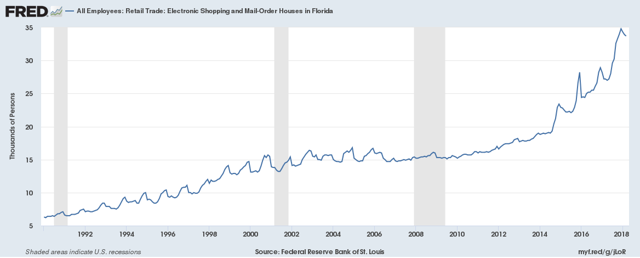 St. Louis Federal Reserve Florida
Apparel Jobs
The following chart from the St. Louis Federal Reserve shows the number of employees in clothing and clothing accessories stores. As you can see, the current number of employees is substantially below levels prior to the great recession. One important item to examine is the level of jobs this far past each recession. The first two recessions on the chart, in 1991 and 2001 show after each of those recessions, the level of jobs returned to a higher level than they were prior to the recession starting. When you look at the great recession, jobs are not evening close to where they were prior to the great recession.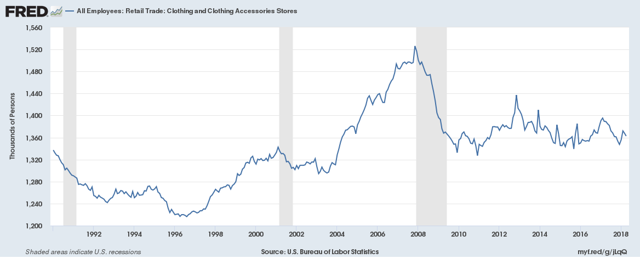 St. Louis Federal Reserve
The table below shows specific data from the above chart. It shows the number of jobs from the last month of each recession to nine years later. In the first two recessions, after nine years, the number of jobs was higher in comparison to data since the last recession ended. Since the great recession, jobs are slightly below the level at the end of the great recession but have clearly been trending lower.
*Data in thousands
| | | | | | |
| --- | --- | --- | --- | --- | --- |
| Last Month of Recession | # of Jobs | | 9 years after last Month of Recession | # of Jobs | % Change |
| March 1991 | 1286.3 | | March 2000 | 1319.3 | 2.57% |
| November 2001 | 1305.8 | | November 2010 | 1345.3 | 3.02% |
| June 2009 | 1366.4 | | **April 2018 | 1362.7 | -0.27% |
Data from St. Louis Federal Reserve clothing and clothing accessories stores chart
Share of online sales
The following chart from The Economist shows the projections for online sales for various product categories. As you can see, clothing and accessories are projected to have large gains in the share of sales coming from online sources. As more people shop for clothing online, there is less of a need for as many apparel retailers. Given these projections, it is likely there will be continued bankruptcies from apparel retailers as well as other retailers selling various products.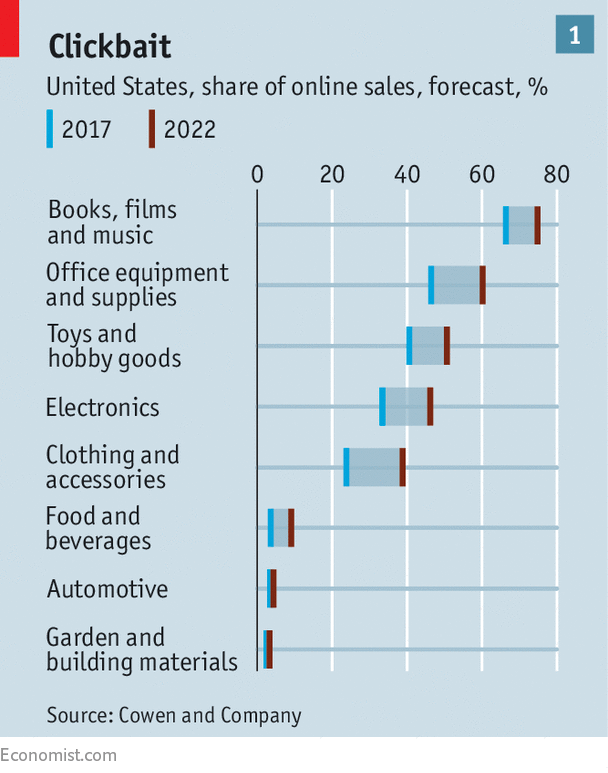 Economist.com
Store Closings
The final item I will be covering is the large number of store closings that have been occurring. The following chart from a Fortune article shows that 2017 had a large number of closings, which everyone already knows. However, if you look at the chart, previous spikes in store closings occurred during recessions and we currently are not in a recession. If store closings are accelerating and the overall economy is growing, to me it is obvious that the only thing to break the pattern is a secular change in retail. In addition, store closings are significantly higher now, than the last two recessions.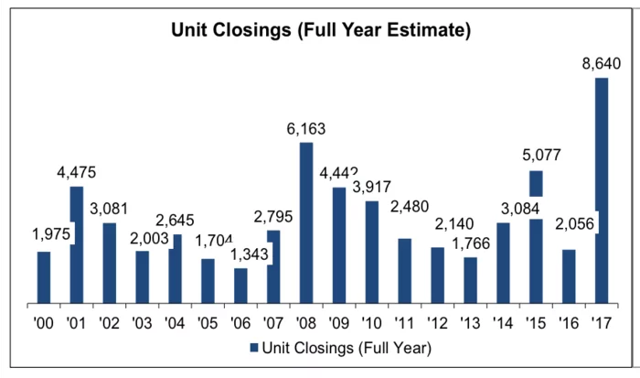 Credit Suisse
Closing Thoughts
In closing, when you look at where hiring is occurring in the retail space, along with projections of online sales and a large number of store closings in a non-recessionary environment, I believe the picture is clear that there is a secular change going on in retail. If this is true, companies thinking this is part of the cycle and are expecting a rebound will be in for a rude awakening. Right now, we are only around the denial phase of the following chart. If you look at the comments sections for retail REITs here on Seeking Alpha you will see lots of "long-term investor" comments and thus if we are truly around the denial phase, there is still more downside to come.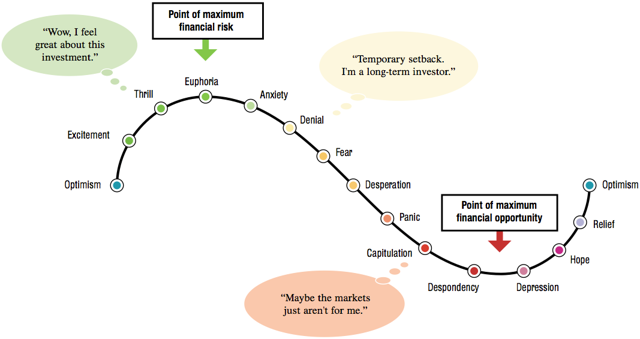 Image Source: hyrepersonalwealthadvisors
Disclosure: I/we have no positions in any stocks mentioned, and no plans to initiate any positions within the next 72 hours. I wrote this article myself, and it expresses my own opinions. I am not receiving compensation for it (other than from Seeking Alpha). I have no business relationship with any company whose stock is mentioned in this article.