After getting a temporary reprieve from rising bond yields, stock investors are once again becoming nervous over the prospects of higher rates. This was evident in Tuesday's trading session, which saw a higher 10-year Treasury rate and another wave of liquidation of bond funds and rate-sensitive securities on the NYSE. In today's report, we'll look at reasons why the stock market will eventually overcome the interest rate threat and continue its 9-year-old bull market. I'll also show why immediate-term caution is still advisable until investors have gotten rate-related fears out of their system.
U.S. bond yields were higher while the major stock market indices were slightly lower on Tuesday as investors contemplated the first of three major Treasury auctions this week. Investors were also given some additional geopolitical news to mull over as President Trump's announced that he was withdrawing the U.S. from the Iran nuclear deal, which lifted sanctions in return for the country's agreements to pull back on its nuclear program. The decision was made because he felt Iran wasn't honoring the agreement, and this means the U.S. will reimpose the "highest level of economic sanctions" against the country, effective immediately.
Meanwhile the Treasury Department on Tuesday auctioned $31 billion in three-year notes at a high yield of 2.664 percent. Indirect bidders, which include major central banks, were awarded 45.6 percent. Direct bidders, which includes domestic money managers, bought 12.3 percent.
If you were to ask the average investor what is their biggest concern in the intermediate term, a majority would probably say it was higher interest rates. Their worry is that U.S. bond yields will rise dramatically in the coming months as inflation becomes a problem for the economy. They worry that this in turn would force the Fed to raise its benchmark interest rate more aggressively to fight inflation. And they worry that higher rates could ultimately kill the 9-year equity bull market and slow the economy, making it more expensive for people and businesses to get loans.
Analyst Naeem Aslam of Think Markets UK highlighted these fears when he told CNN Money that rising rates could be "the Armageddon event for this year." U.S. investors have clearly been hedging against such an event in recent weeks judging by the amount of bond fund liquidations taking place on the NYSE.
There is also a fear that China will diminish its purchases of U.S. Treasuries, which would add to downside pressure on bond prices while putting upward pressure on yields. Add to this the fact that many countries, including Japan, have been purchasing less bonds as loose money policies are reduced and there is a fear that yields on Treasury bonds, as well as the sovereign bonds of other countries, will rise in unison thereby pressuring the global economy. Everywhere one turns, it seems, the fear of higher rates is diminishing investors' appetite for equities.
One sign of investors' continued nervousness over the rising bond yield trend is visible in the following graph which shows the 10 Year Treasury Yield Index (TNX). TNX hasn't yet closed under its 15-day moving average despite pulling back from its April high slightly above the 3.0% mark. Investors became increasingly nervous as this psychologically significant level was reached, so another move above the 3.0% level in TNX could create some additional stock market choppiness in the immediate term.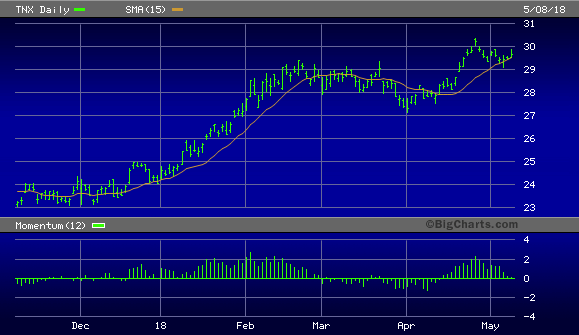 Source: BigCharts
As long as TNX remains above its 15-day moving average, there will also be continued pressure for the stock market by way of continued bond fund liquidation. On Tuesday, for instance, the 0.64% rise in the 10-year Treasury was enough to result in a spike in the NYSE new 52-week lows. There were 67 new lows to be exact, with many income funds on the list. Until the new lows shrink to below 40 for several days, the stock market will continue to face serious headwinds in its attempt to launch a sustained rally.
One of the things which should accompany a pullback in bond rates, and a diminution of rate-sensitive funds making new 52-week lows, is illustrated in the following graph. Shown here is the Dow Jones Corporate Bond Index, which has historically been a leading indicator for the stock market. A rule of thumb is that what's good for corporate bonds is good for stocks. The Dow bond index peaked slightly before the S&P 500 Index peak in January. A confirmed bottom and reversal of the decline in the Dow bond index shown here would be a favorable sign for the intermediate-term stock market outlook.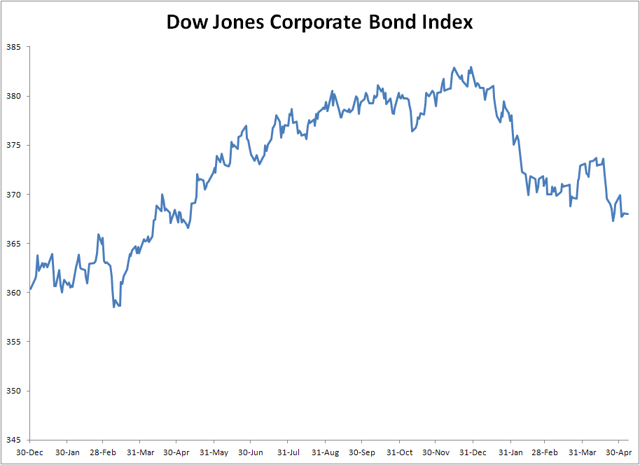 Source: Barron's
Despite investors' concerns over rising bond yields, there are signs that these fears are overblown and will eventually be diminished. Consider that even though the 10-year Treasury yield topped 3% for the first time in four years recently, the S&P 500's median earnings yield (earnings/price ratio) still compares favorably to 10-year yields relative to historical norms. It would require a move to 3.3% in the Treasury yield to put the spread in line with the norm since 1994, according to stock market analyst Richard Moroney.
Investors are also ignoring the fact that the average S&P company has posted per-share profit growth of 8% over the past year, which represents a 5% year-over-year increase. Average 12-month sales growth meanwhile is 9% and has increased to its highest level since 2012. Eventually, the market will recognize this once the current obsession with higher Treasury yields - which are still quite low by historical standards - subsides. Until then, investors should remain cautious yet selective. A continued focus on relative strength is recommended while the market's interest rate-related indigestion phase continues.
We've discussed some of the areas of emerging strength in recent reports. One such area which is worth watching is the cyber security industry. After a brief consolidation phase in the last two weeks, the ETFMG Prime Cyber Security ETF (HACK) which was covered in previous reports last month has perked up again and made a new high on May 8. I'm placing a buy rating back on HACK after its latest show of relative strength with a recommended stop-loss slightly under the $35.00 level.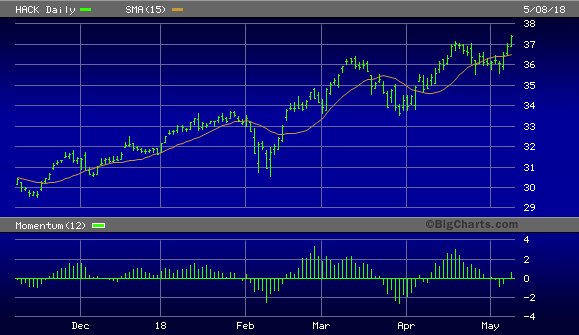 Source: BigCharts
Conservative investors should also keep a large portion of their capital in cash and wait for the aforementioned improvement in the NYSE new highs-new lows to be made before substantially increasing long commitments among stocks and ETFs. We still need to see the new 52-week lows decline below 40 for a few days to let us know that the broad market correction which began in late January has finally ended. Some nibbling can be done among the relative strength areas of the market, however, as previously mentioned.
Disclosure: I am/we are long HACK, IYR. I wrote this article myself, and it expresses my own opinions. I am not receiving compensation for it (other than from Seeking Alpha). I have no business relationship with any company whose stock is mentioned in this article.