I intend to do some profit-taking on some of my Nvidia (NVDA) bet. This is to finance the purchase of more Intel (INTC) shares. I am an event-driven opportunist investor. I like Bloomberg's recent report that Qualcomm (QCOM) is planning an exit from server processors. Qualcomm only started production shipments of its 48-core ARM-based, $1,995 Centriq 2400 server processors last November.
Intel's pricey Scalable Xeon processors for cloud computing/datacenter will benefit from Qualcomm's reported surrender. Intel's Data Center Group has a hefty $5 billion/quarter revenue with 50% operating margin.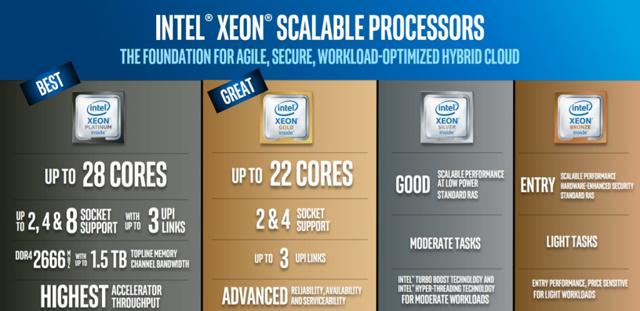 (Source: Intel)
It only took six months for Qualcomm's management to realize that it is bloody Quixotic to compete against Intel's growing monopoly on server/datacenter processors. Intel commands 95%+++ share in x86 server processors. IDC estimates that demand for x86 servers grew 24.7% in Q4 2017 with revenue of $17.5 billion. Revenue from non-x86 servers in Q4 2017 was only $3.2 billion.
Intel is a buy when you appreciate that it can get away selling $13K and $11K server processors. The chart below is from ServeTheHome's 2017 value proposition analysis of Intel's Scalable Xeon server processors.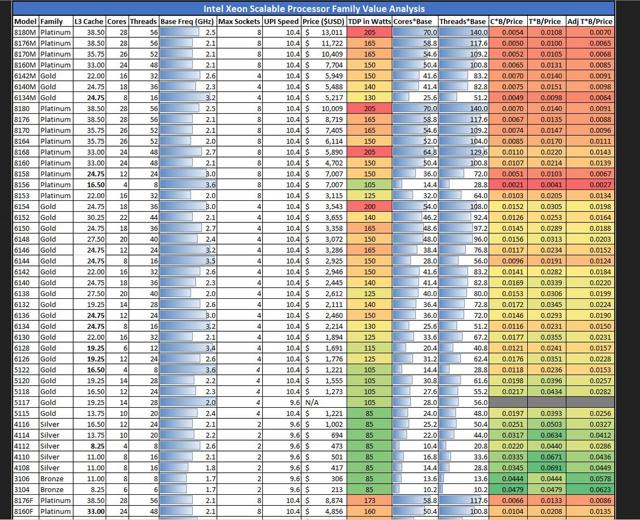 (Source: Servethehome.com)
Qualcomm's Surrender Will Make It Harder For ARM-Based Server Processors To Gain Traction
Qualcomm quitting its ARM-based server processor business will also be detrimental to smaller firms like Cavium (CAVM) and Ampere. Qualcomm is the only company big enough to challenge Intel on datacenter processors. Without Qualcomm's presence, small ARM-based server processor companies will eventually die from Intel's Xeon. Hefty Market Developments Funds or MDF for Xeon will keep top server vendors like HP, Inc. (HPQ) and Dell loyal to Intel.
I have no evidence to support Bloomberg's rumor of Qualcomm's exit from server processors. However, here's an advanced condolence card to the reported upcoming quick demise of Qualcomm's ARM-based server processor business.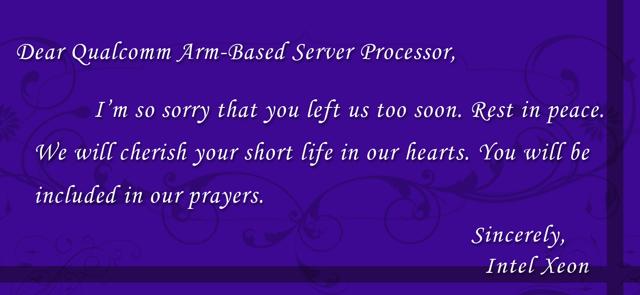 (Source: Motek Moyen)
The only remaining hope for ARM-based processors to gain decent industry adoption is Samsung (OTC:SSNLF). Unfortunately, Samsung is unlikely to repeat the Centriq mistake of Qualcomm. The Data Center Group is obviously Intel's most profitable segment. Intel will do anything to smash emerging threats to its 50% operating margins on datacenter processors. Samsung knows Intel can use its decades-long ties with server and PC vendors to make sure they keep prioritizing Intel's x86 processors.
Further, millions of businesses have tied up their cloud computing/datacenter server networks to the Intel x86 platform. It will be risky for their data and business operations to try and experiment with ARM-based processors or x86 EPYC server processors. Most legacy enterprise software programs were written for the x86 Instruction Set Architecture. It will be costly/risky for companies to migrate their x86-centric software library to the ARM64 server platform.
Why Qualcomm Should Really Exit Server Processors
Qualcomm released an affordable ARM-based $1,995 datacenter processor late last year. Advanced Micro Devices (AMD) sampled out its affordable EPYC processors in early Q3 2017. These cheaper rival products did not stop Intel's Data Center Group from reporting robust growth in Q1 2018 revenue and higher operating margin.
Intel started 2018 besieged by the Meltdown and Spectre CPU vulnerabilities. In spite of this controversy, datacenter customers bought more Intel Xeon processors. The Data Center Group's Q1 revenue of $5.24 billion is up 24% year-over-year.
The chart below is a knock-out punch to Qualcomm's server processor ambitions. In spite of the availability of cheaper server processors from Qualcomm and AMD, Intel's Data Center Group still raised its quarterly revenue and operating income.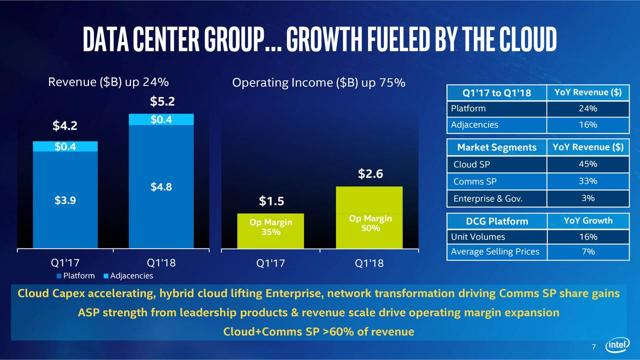 (Source: Intel)
The open licensing nature of ARM-based processors means anybody can copy and learn from Qualcomm's huge R&D investment in Centriq processors. A Chinese smartphone SOC designer vendor like Spreadtrum or Allwinner can eventually probably create $999 versions of Centriq 2400.
My point is Qualcomm doesn't have any substantial potential long-term income in ARM-based server processors. Instead of squandering its resources building products for the tiny niche market for ARM-based processors, Qualcomm should just focus on growing its modems and Snapdragon smartphone/IoT System-on-Chip products.
Instead of wasting time/money on a Quixotic fight against Intel's Xeon dominance, Qualcomm's money is better spent on lobbying so that Chinese politicians will finally approve its takeover of NXP Semiconductors (NXPI). China is holding up Qualcomm's $44 billion bid to buy NXP.
If Trump doesn't mind, Qualcomm can cheaply license its proprietary Centriq IP to China so that it will finally let Qualcomm takeover NXP Semiconductors. The last time I checked, China is still desperate for valuable processor designs so it can grow its own domestic semiconductor industry.
Having failed to compete against Intel's Xeon, AMD licensed its server processor designs to a Chinese state-owned company in 2016. Qualcomm can recover its investments on Centriq by doing the same.
Conclusion
Intel's persistent victory on data center processors deserves a reward from investors. Buying more INTC right now is very appropriate. INTC is still a buy even if Qualcomm continues its ARM-based server processor plans. The Q1 2018 performance of the Intel's Data Center Group is the prime example of how Intel is the real Godzilla of server processors. Godzilla as in Intel is the god of server makers and cloud computing datacenter operators.
AMD's EPYC servers can tout better benchmark scores and cheaper price tags. Unfortunately for AMD, EPYC will continue to face an epic struggle against Intel's Xeon moat. AMD is a much smaller company than Qualcomm. Compared to a contest against Qualcomm, Intel will have an easier time beating down EPYC.
Going forward, x86 processors will continue to enjoy an 85% or more share of the server market. Non-x86 servers will likely remain niche products for smaller firms who cannot afford Intel Xeons.
INTC has outperformed QCOM and AMD for the past 12 months. I expect INTC to again outperform these two companies. Intel's monopoly on server/datacenter processors will keep its stock sturdy.
Disclosure: I am/we are long INTC, AMD, NVDA, HPQ. I wrote this article myself, and it expresses my own opinions. I am not receiving compensation for it (other than from Seeking Alpha). I have no business relationship with any company whose stock is mentioned in this article.
Editor's Note: This article discusses one or more securities that do not trade on a major U.S. exchange. Please be aware of the risks associated with these stocks.