In my latest survey of the mineral drilling sector I made the following conclusion:
"Last year the mineral drilling sector made progress. Revenue reported by the sector (represented by nine listed drilling companies) went up 14.3%, compared to 2016 and a few drillers significantly improved their earnings before interest, taxes, depreciation and amortization. However, in my opinion, the best is still ahead."
On May 7, 2018 Geodrill (OTCPK:GDLLF) released its 1Q 2018 report. In my opinion, the results were outstanding. The company not only confirmed that West Africa is an excellent place to be but also erased a negative impression left on investors in March 2018 (when the 2017 annual report was released). The chart below shows the immediate result (the blue arrow):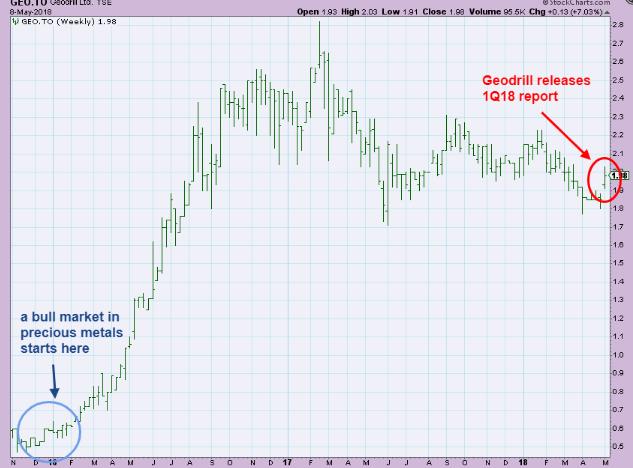 Source: Stockcharts
Note that between the end of 2015 (the start of a new bull market in precious metals) and the beginning of 2017 Geodrill shareholders made a nice profit (the company's shares went up by more than 450%). Then the shares entered a medium-term trading range. Finally, on May 7, when the 1Q 2018 report was released, Geodrill shares jumped 7%.
Introduction
Geodrill is a small mineral drilling company operating in West Africa (Ghana, Burkina Faso, the Ivory Coast, Mali and Zambia). Going forward the company plans to expand into other countries as, for example, Senegal, Mauritania, Nigeria, Liberia etc. As of the end of March 2018 Geodrill owned a drilling fleet of 56 operating rigs, but the company thinks about adding new rigs very soon (for example, at the end of 3Q 2018 the number of rigs should increase to 62). As the chart below shows, since 2008 Geodrill has been building its fleet in an impressive way: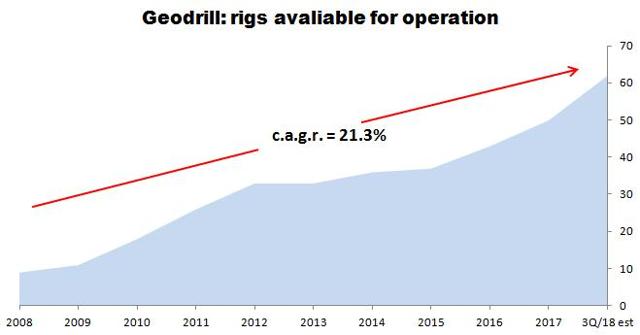 Source: Simple Digressions
4Q 2017 and 1Q 2018 reports
As I have mentioned above, the 4Q 2017 report was poor. However, in my opinion, the only reason the company delivered these poor results was pretty obvious. According to Geodrill, there is a two-three month interval between the signing of a new contract and the commencement of drilling. As a result, higher costs (incurred to mobilize the crew and equipment) are not matched with appropriate revenue. That is what happened in 4Q 2017: Revenue reported in 4Q 2017 was pretty low, costs were high and the resulting operating profit was low ($0.8M). Strangely, investors reacted very nervously, sending Geodrill share prices sharply down (from C$2.05 on March 5, 2018, when the report was released to C$1.77 on April 5, 2018).
On May 7, 2018, the company released the 1Q 2018 report and the immediate reaction was furious – share prices jumped 7.0%. Let me discuss this report.
1Q 2018 report
The table below shows basic financial and operational measures: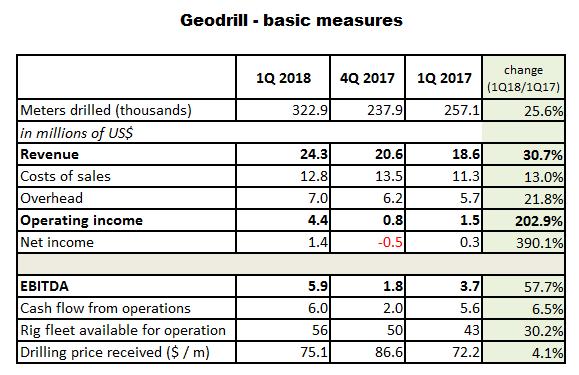 Source: Simple Digressions
To give my readers a better insight into Geodrill's financial standing, the table above depicts three distinctive quarters: 1Q 2017, 4Q 2017 and 1Q 2018. Here is my comment:
First of all, note that in 4Q 2017 Geodrill received good prices for its services ($86.6 per meter drilled). Nonetheless, as I have discussed above, the company delivered poor results.
In 1Q 2018 Geodrill's results were supported by two highly positive factors:
The highest amount of meters drilled - in 1Q 2018 Geodrill drilled 322.9 thousand meters.

The price received ($75.1 per meter), although lower than in 2017 ($84.7), was pretty good. To remind my readers, last time the company was selling its services at similar prices was four years ago (in 2014) when the precious metals market was in the middle of a big industry slump.
A mix of relatively strong prices and huge amount of meters drilled resulted in quarterly sales of $24.3M (the highest figure in history). Finally, despite generally unchanged costs ($19.8M in 1Q 2018 and $19.7M in 4Q 2017), Geodrill delivered an operating profit of $4.4M (also the highest quarterly result in history).
Economics of drilling
To enhance reader's understanding of Geodrill's economics of drilling, below I have plotted the table titled "Geodrill – economics." It discloses basic measures reported on a per-meter basis:

Source: Simple Digressions
I think it is easy to spot big improvement at Geodrill. Although the price received in 1Q 2018 was substantially lower than in 2017 (a decrease of 11.3%), the company managed to cut its costs even more (for example, direct costs were cut by 19.4%). As a result, one meter drilled in 1Q 2018 generated higher cash flow than one meter drilled in 2017 ($18.4 per meter in 1Q 2018 vs. $16.5 in 2017).
Summary
I'm not surprised with 1Q 2018 results. In my opinion, Geodrill is one of the best mineral drilling companies. What's more, it has excellent management and operates in the right place (West Africa).
Most importantly, over the last two years the company, expecting a sustained recovery from the latest industry slump, increased capital spending in an impressive way: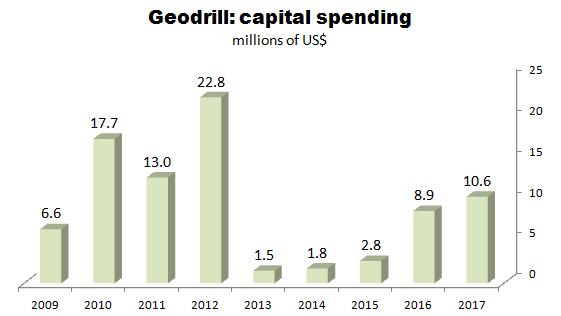 Source: Simple Digressions
As the chart shows, during a bear market in precious metals (2013 – 2015) Geodrill nearly suspended capital spending. Since 2016 (the start of a new bull market in precious metals) the company was rapidly expanding its fleet, increasing capital spending from $2.8M in 2015 to $8.9M in 2016 and $10.6M in 2017. This trend was continued in 1Q 2018 when Geodrill added four new rigs deploying $3.1M.
Finally, according to the 1Q 2018 Management discussion, Geodrill is optimistic about the future:
"The Company is continuing to see a recovery in the mineral drilling sector as evidenced by the increase in revenue and is optimistic that the recovery will continue throughout 2018. In addition, although meter pricing remains competitive in the industry, the Company is witnessing prices beginning to stabilize."
Valuation
Despite excellent results and an ongoing recovery in the sector generally and in West Africa in particular, Geodrill shares are still very chip, compared to industry peers (red bars on the chart below):

Source: Simple Digressions
Note that Geodrill and Capital Drilling (OTC:CILLF), another drilling company focused on West Africa, are the cheapest industry plays using an EV / EBITDA multiple as a relative valuation measure. Interestingly, the report released by Geodrill on May 7 had a positive impact on Capital Drilling shares (an increase of 4.7% on May 8). Yes, West Africa is the right place to be (for a drilling company)…
Risks
Investors interested in purchasing Geodrill shares should remember the following two risks:
These shares are illiquid. For example, this year the average daily trading volume at the Toronto Stock Exchange is 41.5 thousand shares. There are days when there is no trading volume at all.
The results delivered by Geodrill and other mineral drilling plays are vulnerable to gold prices; a bull market in gold has a positive impact on Geodrill results...and vice versa.
Did you like this article? If yes, please, visit my Unorthodox Mining Investing section where I manage a portfolio of up-to-ten mining picks, discuss new investment ideas and provide my subscribers with a medium-term outlook on a few financial markets (particularly the base / precious metals market). Most recently I have introduced a new section called "Developers". This service is dedicated to mining companies planning to open new mines within one or two years.
Disclosure: I am/we are long CEF, GDX. I wrote this article myself, and it expresses my own opinions. I am not receiving compensation for it (other than from Seeking Alpha). I have no business relationship with any company whose stock is mentioned in this article.
Editor's Note: This article covers one or more microcap stocks. Please be aware of the risks associated with these stocks.