Is Crown Holdings' (NYSE:CCK) management team operating with an Empire-building State of Mind? Since announcing the Signode acquisition, Crown has received mixed reactions from both debt and equity investors. While the debt community provided management with an attractive cost of capital to pay for Signode, Crown's equity is down 21% since the acquisition announcement. Meanwhile, the S&P 500 is down 1.0% with the S&P Container/Packaging subsector down 7%.
The company's relative equity underperformance comes despite constructive Q1 2018 earnings and appears to be a reflection of negative investor sentiment driven by the acquisition. Moreover, within the last week, volatility in Crown's equity price increased due to the uncertainty surrounding the cartel investigation in Europe. With several large equity owners reducing their positions, investors clearly feel misled by management regarding capital allocation, and in particular, regarding the Signode acquisition. As such, equity buyers today must weigh the fundamentals of the company against the potential technical pressure caused by a transitioning investor base. A review of Crown's business profile, capital allocation, management's historical decisions, cash flow potential, and cartel investigation may help investors decide how to proceed.
Crown before Signode
Crown Holdings purchases aluminum and steel raw materials in order to manufacture and sell beverage cans (58% of revenue), food cans/closures (27% of revenue), and aerosols/specialty products (15% of revenues) to customers throughout 36 countries. With 50 facilities in North and South America, 61 facilities in Europe, and 29 facilities in Asia, it generates $8.7 billion in annual revenues - 78% coming from outside the United States. Crown has 24,342 employees, with roughly half located in Europe, approximately 7,000 in the Americas, and another 4,000 in Asia. The company generates 45% of its operating income in the Americas, 41% in Europe, and 14% in Asia. Over the past eight years, total revenue and EBITDA have grown at 1.1% and 5.0% CAGRs, respectively. In the eight-year time frame, EBITDA margins have improved 400 bps from approximately 12% to 16% and capital expenditures have averaged 4% of revenue.
Sources and Uses of Capital
From 2008 to 2017, Crown generated $6.8 billion in cash flow from operating activities and increased debt by $1.0 billion, providing management with $7.8 billion of capital ("source capital"). With these funding sources, management invested approximately 40% ($3.2 billion) in capital expenditures, approximately 25% ($1.8 billion) in acquisitions, and approximately 20% ($1.5 billion) to repurchase shares of equity. Moreover, above the Cash from Operating Activities line, the company also spent $364 million (0.5% of annual revenue) on research & development, $257 million on asbestos payments, and $330 million on restructuring expenses. Ultimately, management made decisions to invest 2/3rds of the source capital to address trends outlined in the following charts:


Beverage Can Decisions
Given the concentration of competitors in the beverage can industry, most management decisions consist of investing in and restructuring beverage line facilities so that regional supply/demand remains balanced. As illustrated by its growth and profitability, Crown has a successful track record of managing its beverage footprint in the Americas and Asia (6% revenue CAGR over 8 years, exceeding industry growth rates), but has mixed results with the European footprint (-1% revenue CAGR over 8 years, underperforming the industry's 1% growth). Over the past several years, management closed facilities in Shanghai and Beijing due to overcapacity in China, and also announced its intentions to close another two facilities in the United States. However, at the same time, management has invested a significant amount of capital expenditures in new lines and facilities (2017 projects include lines/facilities in United States, Indonesia, France, Vietnam, and Colombia). The majority of capex (roughly 70% of the total spent during the last three years) has been invested in the beverage segment, with capacity expansions taking place in every geographical segment.
This netting effect of expansions and closures has led to an increase of approximately three billion units (5% of total units), matching the 5% historical CAGR over the last 10 years and exceeding global growth expectations of 1.8% (worth approximately $40 million of operating income). While the Americas business has generally improved each year, revenue growth and profitability was bolstered by management's decision to acquire Empaque in 2015, which cost $1.2 billion of the total $1.8 billion spent on acquisitions. Ultimately, Empaque gave Crown a highly profitable footprint (five facilities) in Mexico, a new product category in glass bottles, and a relationship with Heineken (OTCQX:HEINY).
In 2011, when operating margins decreased 400 bps in the European beverage segment, Crown spent the restructuring capital necessary to relocate and centralize management into one location to improve business decisions. After the restructuring, volume increases and productivity, as well as selling prices, returned margins to levels similar to those with the Americas segment. While operating margins have improved in Europe, the mixed track record is a reflection of the lackluster growth in that geography - as mentioned above, beverage revenue has a negative 1% CAGR (compared to industry growth rates of 1%).
Upon review, Crown's decisions in the Americas have resulted in industry leading growth and profitability. While investors are disappointed with the lackluster growth in the European beverage segment, management did return 400 bps of profitability through difficult restructuring decisions. Obviously, shareholders should welcome an acquisition in European beverage to help improve growth trends.
Food Can Decisions
Considering the expected growth rates in food can (outlined in the chart below) and the concentrated market share between Crown's top competitors, management's capital allocation strategy in food differs per geography. While investing a larger portion of food capital expenditures in Asia and South America, Crown is harvesting cash flows from the food business in North America and Europe. Of course, the company is investing in lower-growth geographies as well to protect profitability and maintain market share.
To management's credit, they are not investing capital to take market share at the expense of profitability. In fact, if investors account for capital intensity by taking operating income less capex as a percentage of revenue, the metric highlights that the same percentage is earned across both segments (beverage and food) and all geographies: approximately 9-10%, with the exception of Asia (which is due to growth and elevated capex levels). When averaging the last five years, management has invested 10-12% of total capex in food, compared to 70% for beverage to maintain the footprint, profitability, and competitiveness. Revenue and operating income growth rates in food have been approximately negative 2% CAGR across the Americas and Europe, with the Americas market (-4.8% revenue CAGR) underperforming the Americas industry rate of -1.9% and the European market (-0.2% revenue CAGR) outperforming the European industry rate of -1.75% CAGR. Of note, while the long-term trend has been negative in the Americas food segment, the business did experience revenue growth (4%) in 2017 for the first time in 7 years.
Prior to Empaque, management acquired Mivisa in 2014 to help improve deteriorating trends in the European food business. Similar to beverage two years earlier, profitability had decreased 400 bps due to competitive pricing pressure and declining can volumes. The decision to acquire Mivisa cost the remaining $0.6 billion of acquisition capital and gave management the ability to reduce the asset footprint from 74 plants to 61 plants today. Moreover, profitability has returned to historical highs and has resulted in the European food business growing faster than the industry would suggest.
Management has executed well on maintaining profitability and market share in a growth-challenged environment for food. Similar to Empaque, management's decision to acquire Mivisa led to industry-leading growth and profitability. For equity shareholders, the disappointment is found in the Americas food/European beverage segments - why not make acquisitions to bolster those businesses? The answer, of course, is that management has evaluated transactions in both segments and decided the economics were not accretive for long-term shareholders.
As for the remaining 20% of capital expenditures, management invested in the beverage and food markets in Asia. Although Crown has closed facilities in Asia due to overcapacity, the number of plants there has doubled to 29 over the last nine years, with a similar trend in number of employees at 4,000. The company generated $168 million in operating income in Asia in 2017 with an eight-year revenue CAGR of 8% (again, outperforming industry growth rates).
Decision to Buy Back Shares
In addition to line/facility expansions and acquisitions, management and the Board decided to use 20% of the remaining source capital ($1.5 billion) to repurchase shares. In total, management has bought back 36.1 million shares since 2009. For framing, in 2009 and 2017, the company had 161.5 and 134.3 million shares outstanding. Over the last eight years, Crown's equity has provided shareholders with a 10.4% IRR, while the S&P 500 index provided 13.8%. While subject to timing, management's repurchases have generated a 7.7% IRR, capturing approximately 74% of the company's 10.4% equity return.
Understanding that cash is fungible, management has generally used debt to fund acquisitions and cash from operations to pay for capital expenditures, restructuring activities, research & development, and share repurchases. While some investors debate the value of share repurchases, most academic research suggests the activity has no impact on a firm's intrinsic value (of course, the math suggests the same). During share repurchase campaigns, investors are often relieved that management is not making a value-destroying acquisition or investment. Based on Crown's track record, investors should want management to make more acquisitions and investments rather than buying back shares. Today, the company has approximately $670 million of Board authorized share repurchases remaining. However, management has indicated that all free cash flow generation will be used to deleverage the balance sheet.
Signode Overview
With Crown's beverage can capacity (due to appropriate investment levels) primed to grow in excess of expected industry rates and the food business expected to maintain market share and profitability, management must evaluate other sources of value creation for shareholders. Acquiring other packaging substrates such as plastic, glass, or paper has limited appeal given industry dynamics around competition, ability to scale, growth potential, product pricing, etc. While reviewing their supply chain, management noticed Signode despite not being involved in the carve-out auction from Illinois Tool Works in 2014. At that time, Carlyle acquired the business for $3.2 billion, representing an 8.8x trailing EBITDA multiple.
Signode provides protective packaging to a variety of end-markets, including metals, food & beverage, construction, corrugated, agriculture, and other industrial uses. The company goes to market with a razor-razorblade model providing customers (Crown was a customer) plastic & metal strapping, stretch film, edge protectors, airbags, and the application equipment to help protect materials in transit. The equipment is the razor and the strapping, and stretch films are the razor blades. Approximately 20% of revenue is from the application equipment, with the remaining 80% consumed in the process of shipping materials under protection. Signode has leading market share in 85% of its businesses and operates with 93 manufacturing facilities and 7,000 employees across 23 countries. For 2017, it generated $2.2 billion of revenue and $370 million of EBITDA (16.7% margins), with approximately 51% of revenue coming from the Americas, 34% from Europe, and 15% from Asia. Signode generally spends 1-1.5% of revenue on capital expenditures and maintains high cash conversion rates.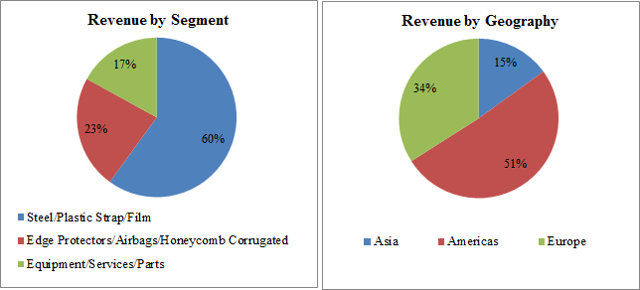 Despite great margins, leading market share, low capital intensity, customer diversification (Crown has high customer concentration), and good product and geographic diversity, investors have focused on Signode's business cyclicality and its negative impact on Crown. While Signode's exposure to steel production and construction end markets increases Crown's risk profile, investors should remember that higher-volatility cash flows represent approximately 30% of the total entity's EBITDA. Pro forma for the transaction, if Crown's EBITDA decreased 3% and Signode decreased 30% (other analysts are highlighting 40-50% EBITDA decreases in 2009, but exposure to metal and construction end-markets has decreased materially), the overall entity EBITDA would decrease 9%.
Long-term investors should be more concerned about Signode's revenue growth rates (negative 1.5% CAGR over the last 6 years) than repricing equity, due to a slight increase in volatility that is cyclical by nature. Ultimately, Crown's legacy business is canning beverage and food for consumption, and Signode's business is wrapping, strapping, and protecting a variety of end-markets, including food and beverage.
Investors are also concerned about Crown's lack of experience operating in the protective packaging industry, and that Mark Burgess (Signode's current CEO) will soon leave given he joined in 2014 during Carlyle's acquisition. Mr. Burgess has a great track record with debt investors throughout his leadership tenors at Signode, Graham Packaging (now part of Reynolds Group), and Anchor Glass. Of course, like all great leaders, he has developed a tremendous amount of management depth at Signode, thereby mitigating some of the event risk, should he decide to leave.
Capital Structure and Debt Markets
In December 2017, Crown announced the acquisition of Signode for $3.9 billion (10.5x trailing EBITDA), or $700 million more than Carlyle paid three years prior. The company decided to pay for the acquisition entirely with debt, dividing the $4 billion capital need evenly between the loan and bond markets. With the new debt, Crown is now leveraged 5.2x on a total basis and maintains its Ba2/BB credit rating. The debt markets provided management with a low cost of capital (weighted debt capital is 4.25%, compared to an average BB HY issue at 5.1%). Based on projections, management should deleverage the balance sheet by 0.5x each year (approximately 10% equity return at flat multiples). In addition to the positive characteristics already mentioned about Signode, Crown's management appreciates what is highlighted in the following chart - factoring in capital intensity is important for returns and highlights Signode's unique market position: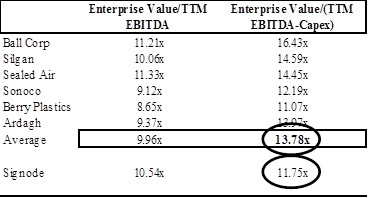 Current Valuation and Cash Flow Potential
Crown is currently trading at an 8.5x enterprise value multiple of trailing EBITDA and 8.1x EBITDA multiple on a forward basis. These multiples compare favorably to other peers trading at higher levels. Whether an investor uses cash flows, P/E ratio, or some other multiple, Crown's equity appears attractive, offering approximately 30.5% upside to a $57.90 price.
Aside from the investors who are disappointed with capital allocation, there are others who doubt the cash flow potential of the business. In 2017, Crown generated $760 million in cash from operating activities and spent $498 million in capital expenditures. Importantly, the company contributed $294 million to its pension plan last year and spent $18 million on restructuring activities. After adjusting for the pension contributions going forward, cash from operations is more aligned with the three-year average ($933 million). Moreover, capital expenditures were 5.7% of revenue in 2017, or 120 bps more than average, due to the can line and plant expansions mentioned above. Combining these modifications with the cash flow accretion from Signode (an incremental $165 million, or $1.21 per share), working capital changes, and minority distributions, the $625 million free cash flow guidance for 2018 appears achievable.
While 2019 guidance is more aggressive, based on metrics outlined in the chart below, some evidence suggests that the $775 million target is also achievable. Today, Signode's cash flow from operating activities represent 50% of EBITDA, compared to Crown's 55% and industry peers at 72%. There were several items that existed in Crown's and Signode's cash flows last year that will likely be absent going forward. Some of these larger items were pension contributions, restructuring expenses, transactions expenses, higher capital expenditure levels, and/or working capital. Crown also spends $30 million each year on asbestos settlements that should begin decreasing with claimant age reaching 80 years now (not factored into assumptions).
Cartel Investigation
Without a doubt, there is a strong correlation between uncertainty and volatility. When the German Federal Cartel Office turned the food can investigation over to the European Commission, the announcement created plenty of both. Crown first disclosed the German Federal Cartel Office investigation in early March 2015. The initial investigation involved only the closures business in Germany (annual revenue in the tens of millions). Management immediately commenced an internal investigation that discovered inappropriate behavior by a rogue salesman. At that point, the company turned all evidence over to the German Federal Cartel Office and submitted a leniency application. Leniency applications incentivize cooperation - the first company to turn over evidence and seek leniency receives $0.0 in fines, with the second company receiving a 50% reduction, and the subsequent companies receiving a 20% reduction.
In this case, Crown was second and should receive a 50% reduction. Fines are calculated as a percentage (up to 30%) of the segment's revenue multiplied by the number of years the violation took place. In public filings, management mentions the inability to estimate a potential loss but that one is probable. Importantly, "probable loss" is referring to the original investigation of the closures business in Germany - not the metal food can probe mentioned on May 2nd. The ultimate resolution of the May 2nd, 2018, probe will likely occur over the next two years, if history is any indication. At that point, the balance sheet should be deleveraged back to approximately 4.25x.
For investors concerned about other governance issues given the findings, some comfort can be gained by management's actions over the last six years. During that time, Crown's management team developed a robust sustainability strategy (found here) with specific goals around energy consumption, gas emissions, employee health and wellness, product quality, and importantly, business ethics/governance.
Conclusion
While investors are disappointed by the company's decision to acquire Signode, management has a good track record of deploying capital and generating returns for shareholders. Crown is not a private equity firm, yet management has found an attractive asset within its supply chain that offers shareholders long-term value potential. While several large existing equityholders will continue to create technical pressure selling shares into strength, long-term investors should take comfort in a management team that is not simply empire building or managing for the short term, but is being transparent about missteps and is trying to create value. As a supporting shareholder, I recommend buyers remain disciplined, given the transitioning equity base. Depending on market conditions and the pressure from large equityholders, the share price could move to as low as $40 to attract value investors. In addition, headlines surrounding the cartel investigation or Mr. Burgess leaving Signode could pressure the shares as well.
All views expressed in this article are my own and do not represent the opinions of any entity whatsoever with which I have been, am now, or will be affiliated. The information contained herein is not intended to be a source of advice or credit analysis with respect to the material presented.
Disclosure: I am/we are long CCK. I wrote this article myself, and it expresses my own opinions. I am not receiving compensation for it (other than from Seeking Alpha). I have no business relationship with any company whose stock is mentioned in this article.