Energy. You can drill for it, buy and sell it, transport it via pipelines, ships and rail, supply it to your local community in various forms, and you can invest in its many forms, be it crude, natgas, solar, wind, or thermal.
Global Partners LP (GLP), is a diversified energy company which we've owned since the Crash of 2008, when we were lucky enough to have bought it at firesale prices, at a time when the world was seemingly going to end.
We've held onto GLP since then, through its big growth phase, when it rose to the high 40s in 2014, through its downward spiral in the Crude Crash of late 2015-early 2016, when it reached the low teens (along with many other energy companies). We're not telling this story in order to boast but instead to illustrate the benefit of staying the course, if you find an income vehicle worthy of that long-term "devotion." As always, these are the two tricks - try to buy low and focus on companies with staying power. It's often easier said than done.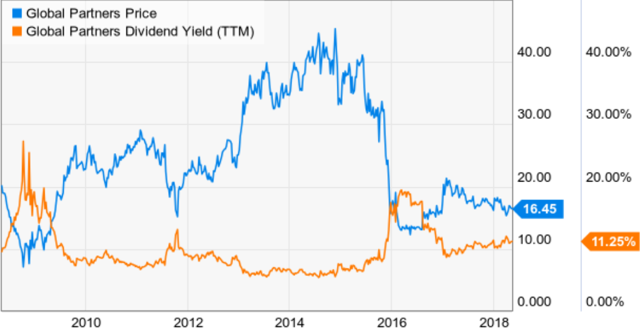 (Source: Ycharts)
Due to the luxury of having such a low-cost basis, we've also held on through GLP's distribution cut, from $.697/quarter, down to the current $.4625/quarter, where it has been since Q1 '16. Even with that cut, GLP still yields over 11% and hasn't missed a quarterly payout, even during a very rough 2016, when DCF turned negative.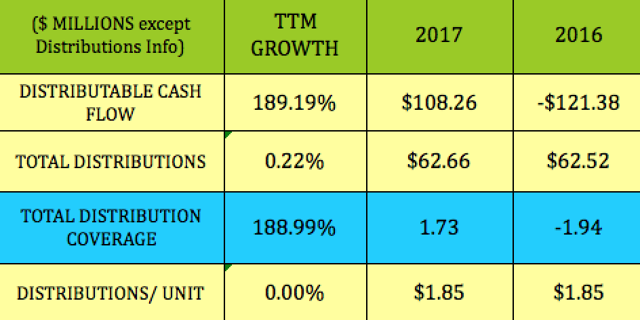 Profile:
GLP is a midstream logistics and marketing company, distributing gasoline, distillates, residual oil, and renewable fuels to wholesalers, retailers, and commercial and retail customers in the New England states and New York. It operates in three segments: Wholesale, Gasoline Distribution and Station Operations, and Commercial.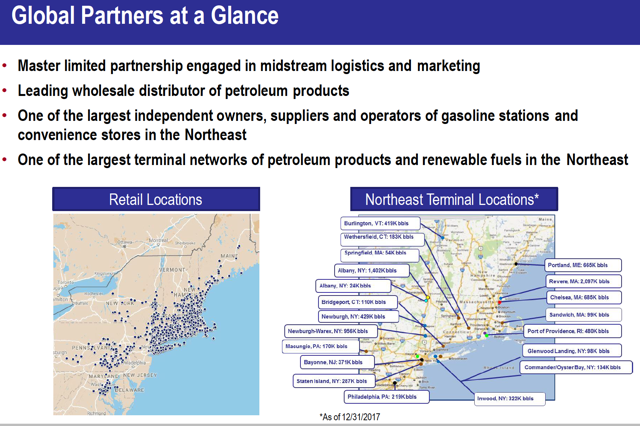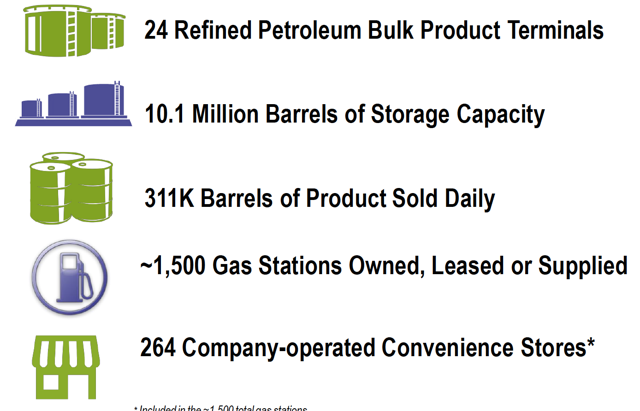 (Source: GLP site)

Distributions:
At $16.30, GLP yields 11.35% and should go ex-dividend again in early August. It pays in the usual Feb/May/Aug/Nov. cycle for LPs, and its unitholders get a K-1 at tax time.
You can track GLP's price and yield on our High Dividend Stocks By Sector Tables, in the Energy section.

We made an adjustment to GLP's DCF for Q1 '18 due to some one-time gains/losses, which inflated it.
"Financial results for the first quarter of 2018 include a one-time gain of $52.6 million associated with the extinguishment of a contingent liability related to the Volumetric Ethanol Excise Tax Credit and a $1.9 million net loss on sale and disposition of assets." (Source: GLP site)
We deducted the Q1 '18 $52.63M tax credit, and added back a $1.87M loss on an asset sale, which nets DCF down to $28.94M. Even without the big one-time gain, GLP had very strong coverage of 1.85X in Q1 '18.
We deducted an asset sale $11.86M gain from Q1 '17, which netted DCF down to $32.31M, with a bodacious quarterly coverage factor of 2.06X: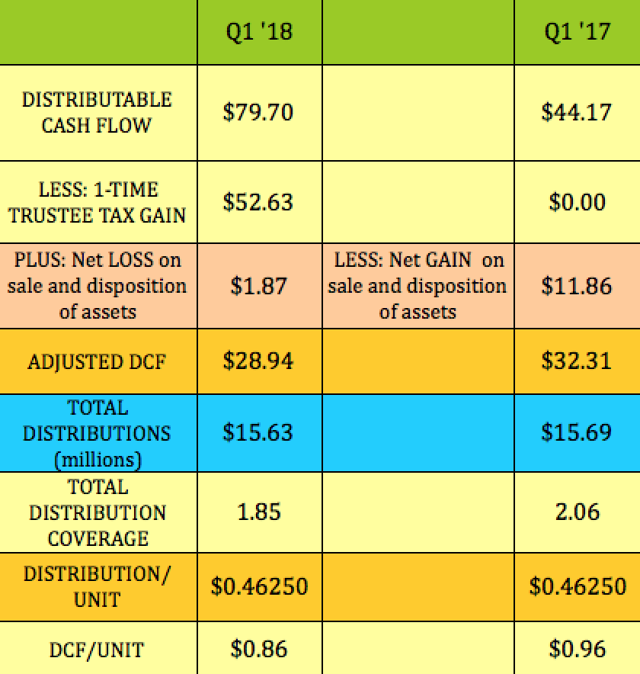 Using the downward-adjusted DCF Q1 '18 figure still shows GLP having a trailing coverage factor of 1.48X. That also includes a Q4 '18 $5.6M net loss on the sale and disposition of assets, and a $16.2M loss on trustee taxes related to an administratively closed NY State tax audit of the Partnership's fuel and sales tax returns for the periods between December 2008 through August 2013. GLP's management "believes it has meritorious defenses to recover a majority of the tax and interest assessed." (Source: GLP site)
The bottom line here is that GLP pays out a steady ~$15.6M in distributions each quarter, and has a quarterly DCF run rate of ~$29-32M, which provides ample coverage for its payouts.
Earnings:
GLP's as reported figures have amounted to some very large percent quarterly gains over the past four quarters, as the company swung to gains from losses in net income, EBITDA, and DCF in certain quarters.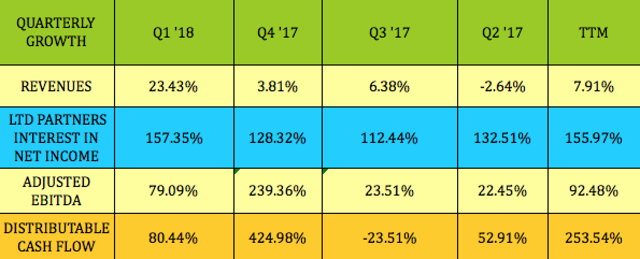 In October '17, GLP acquired Honey Farms, which has 11 company-operated retail sites with fuel and convenience stores, and 22 standalone c-stores. All of the sites are located in the greater Worcester, Massachusetts, area. The purchase price was approximately $36 million.
This helped to pump up GLP's margins in Q1 '18:
"Gasoline Distribution and Station Operations (GDSO) segment product margin was $113.6 million in the first quarter of 2018, an increase of $7.6 million compared with the first quarter of 2017, primarily reflecting the acquisition of Honey Farms in October 2017 as well as higher fuel volumes and fuel margins." (Source: GLP site)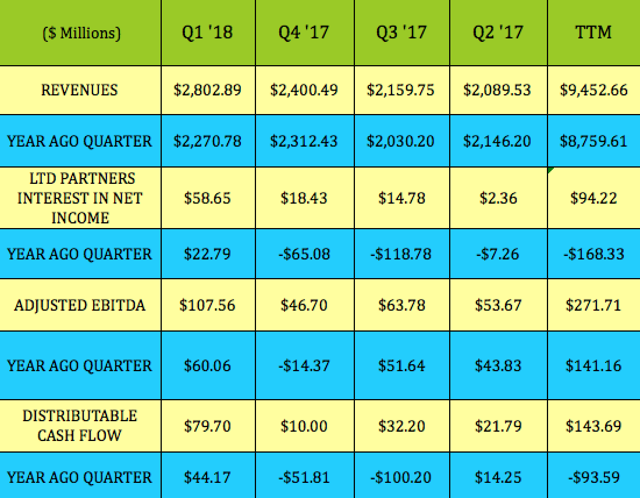 Management has kept a lid on unit growth over the past several quarters, which, given the flat quarterly distribution/unit, caused GLP's coverage to swing back into a very strong 1.48X trailing factor: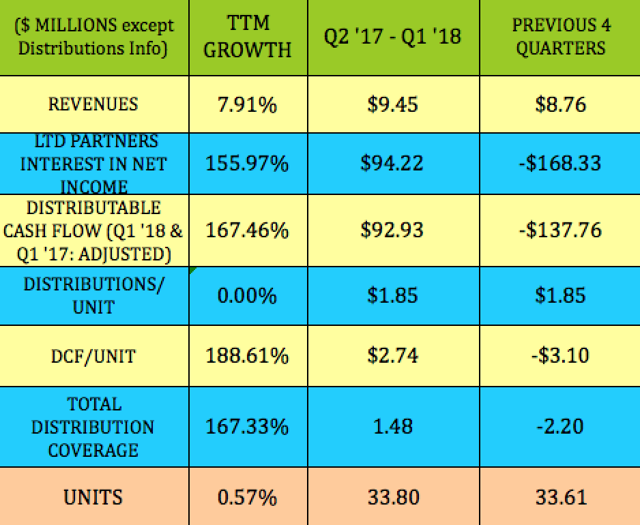 GLP's GSDO segment accounted for 68.46% of combined product margin in Q1 '18, up from 65.3% in Q1 '17. The Wholesale segment contributed 28.39% of margin in Q1 '18, vs. 31.6% in Q1 '17.
Management commented on the Q1 '18 earnings call -
"The gasoline distribution contribution to product margin was up 3 million to 70.1 million in the first quarter of 2018, reflecting the Honey Farms acquisition as well as an increase in fuel volume and fuel margin. The average fuel margin in the quarter was 18.5 cents per gallon compared to 18.3 cents per gallon in last year's first quarter."
(Source: GLP site)

2018 Guidance:
"For full-year 2018, Global continues to expect to generate EBITDA of $180 million to $210 million, which guidance excludes any gain or loss on the sale and disposition of assets, and any goodwill and long-lived asset impairment charges. EBITDA guidance for 2018 also excludes the recognition in the first quarter of 2018 of a one-time gain of approximately $52.6 million as a result of the extinguishment of a contingent liability related to the Volumetric Ethanol Excise Tax Credit, which tax credit program expired in 2011." (Source: GLP site)
In 2017, GLP had $225.02M in EBITDA, so management is guiding to a lower range for 2018, due to a smaller asset base. How will that affect distribution coverage?
DCF was ~48% of EBITDA in 2017, so using that percent, DCF would range from ~$86M to ~$101M in 2018. If the total distributions stay flat, at ~$63M, GLP's 2018 distribution coverage will range from ~1.37x to 1.60X. Sounds good to us.

Risks:
Dilution and Debt - Since they pay out so much of their cash flow, MLPs must either issue more units or take on more debt to grow. However, on the earnings call, management stipulated that common unit dilution wasn't likely at GLP's current 11% yield level.
"With our units trading in the 11% yield, so it's very expensive source of capital, but there are ample sources of capital out there, certainly for accretive high returns, projects or investments, several higher capital, certainly there is preferred equity out there."
So, if management does find an attractive acquisition, they'd probably be more likely to issue preferred units, at a much lower yield than the common units.
Energy prices - GLP has exposure to energy prices, but it does have a hedging program in place. Here's how its margins have progressed in the past several years. Management made major acquisitions in 2016, which greatly increased GLP's C-Store footprint. 2015-2016 saw a big margin compression in product margin, which went from $0.089/gallon to $0.06 in '15, to $0.057 in 2016. 2017 bounced back up to $0.065/gallon.

(Source: GLP site)
Institutional Holders:
GLP has support from institutional buyers that own 42% of its units. It looks like a bit of a tug of war for increases/decreases, but there were over 1.09M unit increases, vs. 239K decreases by institutions, according to Nasdaq: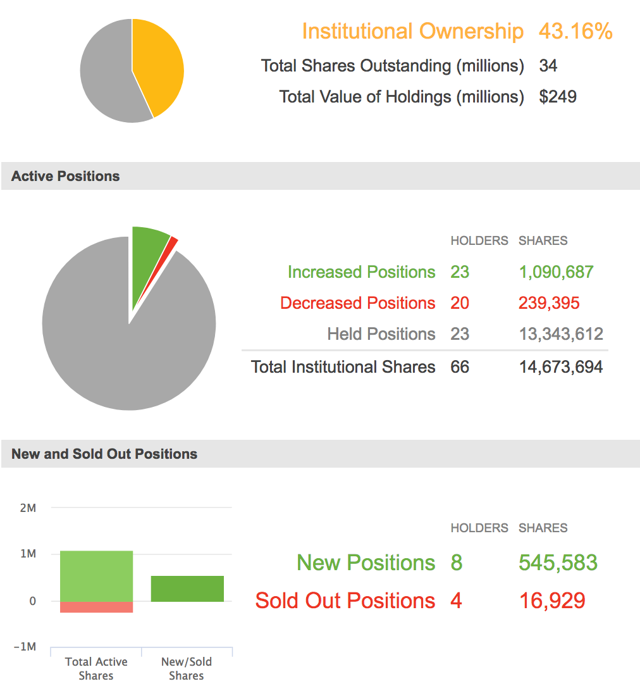 (Source: NASDAQ)

Analysts' Price Targets and Estimates:
GLP has beaten analysts' estimates for five straight quarters, including Q1 '18, in which adjusted EPS was ~$0.17, vs. estimates of $0.15. It has received upward estimate revisions for Q2 '18, and full years 2018 and 2019, but this has only moved the average estimates up for full-year 2018: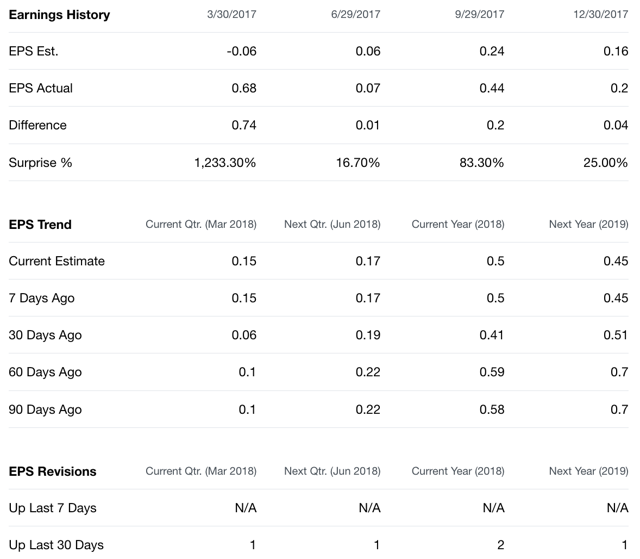 (Source: Yahoo Finance)
GLP is 4% below analysts' lowest price target of $17.00 and 9.4% below the average price target of $18.00.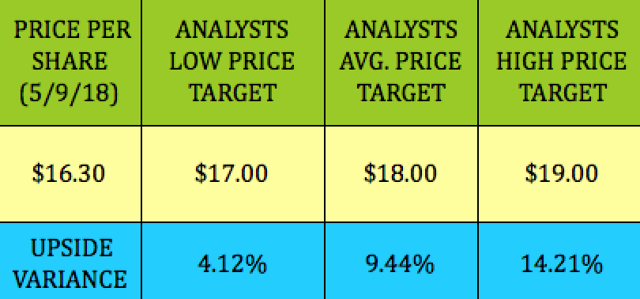 Performance:
Like a few other MLPs, GLP has trailed the market in 2018 and over the last year, but has seen its price pick up over the past month, as crude kept moving higher.

Valuations:
GLP looks cheap on a price/book basis, and very cheap on a price/sales basis, vs. broad industry averages. Although we don't have exact peers to compare its price/DCF to, a 5.94X P/DCF value is among the lower values we've seen recently in MLP Land. Its EV/EBITDA also looks low, in general.

Financials:
Management has achieved a much better ROE ratio, but a lower ROA ratio, vs. broad industry averages over the past four quarters. GLP's net debt/EBITDA is roughly in line with ratios we've been seeing in energy companies recently, but its debt/equity ratio looks higher than broad industry averages.

Debt and Liquidity:
As of March 31, GLP had total borrowings outstanding of $547.7M from its $1.3B credit facility. Borrowings consisted of $196M from their $450M revolving credit facility, and $351.7M from their $850M working capital facility. They were in compliance with their debt leverage covenants, defined in the credit agreement as funded debt to EBITDA, which was approximately 4.1 at the end of the first quarter.
Options:
We've added this September trade to our Covered Calls Table, where you can see more details for this and over 25 other trades each day.
The September $17.50 call strike pays $.55, a bit more than GLP's quarterly $.4625 payout, so you can more than double your yield on a short-term basis. The $17.50 strike is also $1.20 above GLP's price/unit, leaving you some potential for a price gain as well.

Conversely, if you want to get paid to wait, and achieve a lower potential entry point, the September $15.00 put strike pays $.55, giving you a $14.45 breakeven.
Our Cash Secured Puts Table can give you more details for this trade and over 25 other put-selling trades.

Summary:
We rate GLP a buy, based upon its return to strong distribution coverage and its lower-than-average valuations. This is a company which isn't going away any time soon. We intend to keep our units and keep collecting those juicy quarterly distributions.

All tables furnished by DoubleDividendStocks.com, unless otherwise noted.

Disclaimer: This article was written for informational purposes only, and is not intended as personal investment advice. Please practice due diligence before investing in any investment vehicle mentioned in this article.
Our new Marketplace service, Hidden Dividend Stocks Plus, focuses on undercovered and undervalued income vehicles. We scour the world's markets to find solid income opportunities with dividend yields ranging from 5% to 10%-plus, backed by strong earnings.

We publish exclusive articles each week with investing ideas for the HDS+ site that you won't see anywhere else.

Our strategy is working in 2018 - the HDS+ portfolio is outperforming the market handily, and has an average dividend yield of over 8%.
Disclosure: I am/we are long GLP. I wrote this article myself, and it expresses my own opinions. I am not receiving compensation for it (other than from Seeking Alpha). I have no business relationship with any company whose stock is mentioned in this article.