Introduction
A few months ago, we discussed how the Government of Ontario was working on new laws that would financially penalize long term care companies if they don't provide high quality services. This article discussed how the new laws could result in fines (worth thousands of dollars) and would penalize companies for various reasons if they did not comply with provincial law.
Recently, there has been some news which discussed the probability a class-action lawsuits against two large Canadian long-term care (LTC) providers. The reason of the lawsuits was due to fact that both companies did not provide quality service to their residents. The companies affected by the lawsuit were Sienna Senior Living (OTCPK:LWSCF) and Extendicare (OTCPK:EXETF). In this article, we will discuss the recent news headings and will explain how this could affect LTC provider profitability, as well as the sector as a whole going further.
Recent News
Last week, there were several public articles which discussed how there were "two proposed class actions that allege negligence at two Ontario nursing home giants with facilities in the Greater Toronto Area". Both plaintiffs had passed away; however, both were patients at facilities run by Extendicare and Sienna Senior Living. Both plaintiffs are suing for negligence, breached terms of contract and failing to provide proper care. Both parties are seeking general damages of $50 million and "aggravated and punitive damages" of $100 million.
While there are only a few individuals who are committed to suing, several articles have stated that "lawyers have received numerous calls about Extendicare and Sienna since the news of the lawsuits broke out Wednesday". This has led to the partnership of three major law firms in Canada, that are teaming up on the class action lawsuit. This partnership is called the 'Nursing Home Action Coalition'. The partnership was created in order to be able to handle what could turn into massive cases.
It is not certain that these lawsuits will be successful. Nonetheless, it definitely emphasizes our last article that discussed quality of long term care in Ontario can affect profits. For years, all large LTC companies have continued to cut corners in order to increase profitability. This negligence has finally caught up with companies, and now residents and governments are beginning to make changes. If you decide to read any of the news headlines, many employees and experts state that lack of staff on site is the primary reason for negligence. Based on the fact that numerous individuals have come out stating such indicates that there probably is a severe issue.
How Does This Lawsuit Affect LTC Providers?
There are a couple ripple effects that could occur due to the recent news. The first effect is, that it is very likely that more and more individuals will enter this class action lawsuit. The more who join the more legitimate the case becomes and something could be done about it. According to a representative at Extendicare, they believe "the company's potential liability arising from this claim will be fully covered (by insurance)." This indicates the lawsuit would not result in a loss for Extendicare, but will definitely affect their brand. If a home (LTC facility) fails to produce sound services, the government can ban a facility from taking in new residents. This halt could marginally affect revenues.
Another ripple effect from this news will be that other provinces follow suit with Ontario and begin to hold LTC providers to a much higher quality of standard. As already stated, Ontario is inputting laws that can fine LTC's for simple issues such as unsafe bedrails, old windows, negligence to residents and failure to report incidents. All of these can result in small fines of $5,000-$10,000 each and this list of items that can result in fines is extremely lengthy. The new LTC law in Ontario can be found here. Due to the numerous items that can result in fines and the fact that the three main LTC providers have a large number of LTC facilities across Canada, all homes could be at risk for significant fines based on how easy it is to break the new law. LTC's are already well-known for low profit margins, negligent fines and increased monitoring from provincial governments could definitely continue to decrease profit margins.
We stated in our last article that stricter laws cut into profit margins. Lower margins would occur to fines or the fact that companies can no longer cut corners. Due to the outcries of not enough staffing in LTC facilities, it is probable that increased staff will have to occur. Increased staffing will decrease margins and could put companies up for severe potential losses in their operations, especially in homes that already struggle to reach profit. While this trend is something we will probably see in Ontario first due to their stricter laws, it could also be seen in other provinces if they beef up their laws as well. This means that in Ontario and other provinces, operating margins and earnings in LTC centers will definitely be negatively affected.
One trend that has also begun to sprout is major Canadian LTC providers are beginning to find other ways to grow their operations in ways that do not involve LTC's. While Sienna continues to build their portfolio of LTC's, the company is looking to focus their growth in retirement living centers and retirement living communities. These operations are less regulated by the government and often provide better margins. It is even a possibility that some companies will sell off a portion of their LTC's to invest in retirement homes with higher returns and less government regulations.
Similar to Sienna, Extendicare is following a similar path. Extendicare continues to build their retirement community portfolio, and will look to grow their business in their 3 other sectors that are not LTC. These other sectors include: retirement living, home health care and group purchasing services. Currently, 55% of Extendicare's revenues come from LTC operations. Based on the moves that Extendicare has made, as well as the continuous pressure that LTC operations see, I expect their portfolio will continue to move away from LTC. As of right now, these changes to the sector will affect Extendicare the most as they have over 100 long term care facilities in Canada. As of their March 1st presentation (2018), Extendicare had 74 LTC's in Ontario. Extendicare's earnings could definitely be affected more than other companies such as Sienna and Chartwell (OTC:CWSRF). It is key to note that Sienna acquired a large sum of retirement living communities that decreased the percentage of their portfolio that relied on government funding (LTC's). Both companies operations rely less on LTC's. Seen below is Chartwell's and Sienna's portfolios.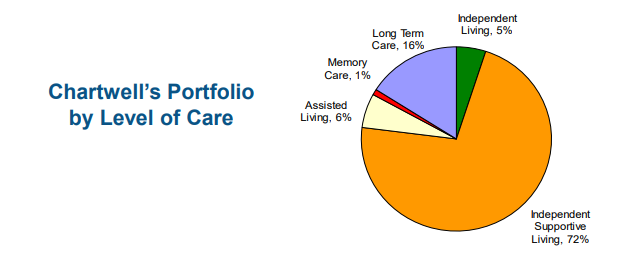 Source: Chartwell Q4 2017 Investor Presentation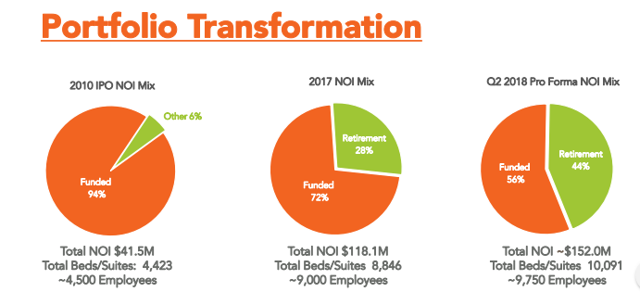 Source: Investor PowerPoint Presentation – February 2018 (Sienna)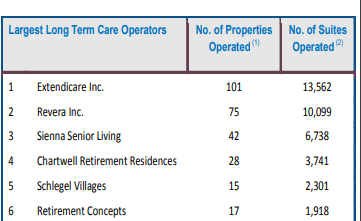 Source: Chartwell Q4 2017 Investor Presentation
Final Thoughts
While these lawsuits may not lead to any major financial loss for Extendicare and Sienna, the news definitely indicates the issues within the highly-regulated LTC sector and gives an indication of how the sector could change due to recent law changes in Ontario. Based on the severity of the news, I expect other provinces to follow suit with other similar legislation that will crack down on negligence, abuse and corner-cutting in the sector. Due to the nature of the LTC sector, as it is highly regulated and does not lead to high returns, I expect to see the following changes/issues in the sector over the next few years.
Decreased profitability within LTC homes due to increased staffing. If LTC homes do not increase their staffing, they will face countless fines that will affect their profit margins.
Increased pressure from LTC providers (mainly Extendicare & Sienna) to remove themselves from the sector and invest their capital into sectors such as retirement living. Based on the low margins and the high government regulations, I would not be surprised if either Sienna or Extendicare began to sell off their LTC's to other companies.
In conclusion, quality of care within LTC facilities should be highly considered by investors when making an investment decision. Quality of care can absolutely affect profit margins within LTC's, indicating that it may be better to consider companies who plan to focus their growth in sectors that are not as regulated. Based on the fact that Extendicare's revenues rely heavily on LTC's, and they own over 100 LTC's across Canada, they may not be the best choice right now. When taking into consideration quality of care, Sienna (due to their 42 homes) and Chartwell (28 homes) appear as better investments for the future.
Nonetheless, it is evident that we are going to continue to see changes within long-term care services and the profitability. Investors should consider each company's portfolio when deciding what Canadian long-term care stock they should purchase.
Disclosure: I/we have no positions in any stocks mentioned, and no plans to initiate any positions within the next 72 hours. I wrote this article myself, and it expresses my own opinions. I am not receiving compensation for it (other than from Seeking Alpha). I have no business relationship with any company whose stock is mentioned in this article.
Editor's Note: This article discusses one or more securities that do not trade on a major U.S. exchange. Please be aware of the risks associated with these stocks.