US oil producers are leaner than they used to be, especially those who have wiped out billions of dollars in debt via prior bankruptcies.
Back in 2014 I wrote an article arguing that the House of Saud's main motivation for allowing oil prices to fall was not economic but power based, concluding:
So, when we investors consider how long oil prices are likely to stay at current levels, we should not just think about monetary influences. In this case, the maintenance of political power by the House of Saud is at least as big a driver. How low oil prices can go and for how long is still as dependent on the geopolitics of the Middle East as the boardrooms of the Mid West.
Fast forward to today, and the pendulum is clearly swinging back. Worldwide under-investment in oil exploration and development plus a full meltdown in Venezuela is leading Khalid Al-Falih, Saudi Arabi's energy minister to state,
I believe if the investment flows that we have seen the last two or three years continue in the next two or three years, we will have a shortage of oil supply by 2020. We know, from what we have seen in the last couple of years, that prices around the current level and below are not attracting enough investment. We know the level of natural decline that existing production is undergoing, and we know that demand is picking up at 1.2 to 1.5 million barrels a year. So, between increase in demand and natural decline, we need millions of barrels every year to be brought to the market, which requires massive investment.
Thus, the House of Saud is encouraging $80 oil to support oil exploration, their own policy agenda, and the upcoming Saudi Aramco IPO. However, it is not just the House of Saud talking, third party data also supports the contention that there has been significant underinvestment in oil exploration.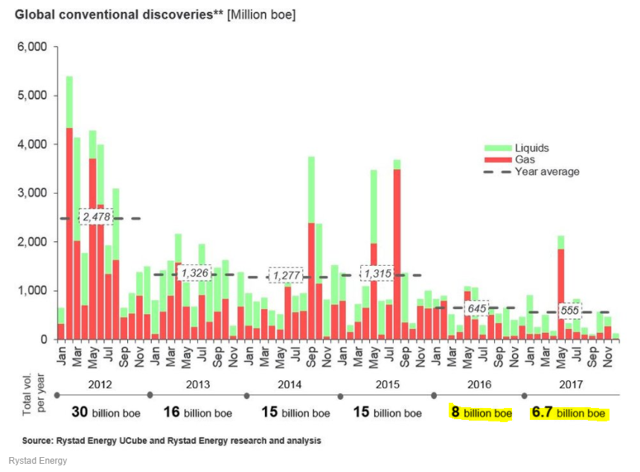 Meanwhile, missile attacks between Iranian proxies in Yemen and Saudi Arabia, and between Iranian forces in Syria and Israel, are heating up the region: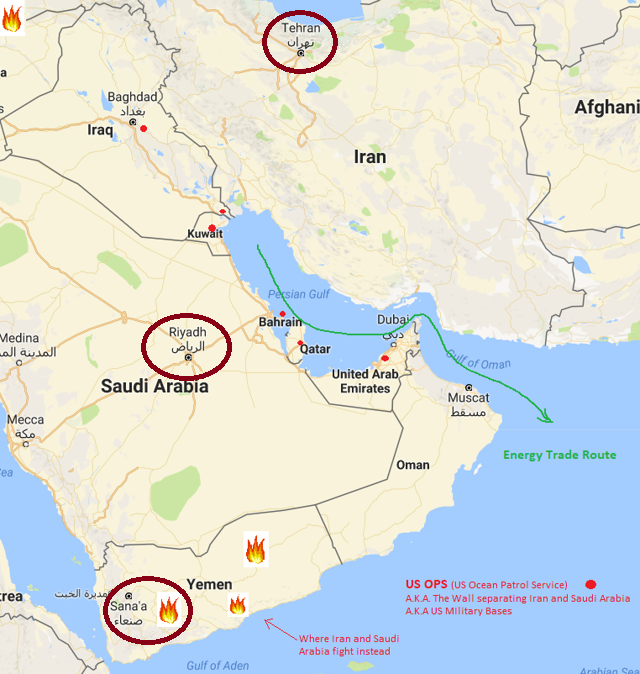 Source: Google Maps and authors analysis
Just today we heard President Trump refusing to extend the Iranian nuclear deal, re-imposing sanctions which will likely limit Iranian output. These sanctions previously impacted Iran primarily by making them unable to obtain financing from foreign banks and resulted in an estimated 1 million barrels per day reduction of Iranian oil supply (2012 – 2015). Given international backing for the nuclear deal the US has struggled to get Asian and European on board this time around. However, those who do business in the US will think twice before risking their US operations. Importantly, any US sanctions would likely once again also affect shipping insurers and/or banks that supply importers with credit. Thus, even without the cooperation of allies, the US does have the power to significantly hamper the Iranian oil-export machine. Quantifying that impact is difficult, but petroleum-economist.com had previously estimated a crimp on exports of 300,000-400,000 barrels per day.
WTI hit a low in early 2016 and has been climbing fairly steadily ever since. As I type this today, post sanction announcement, WTI hovers slightly above the $70 mark.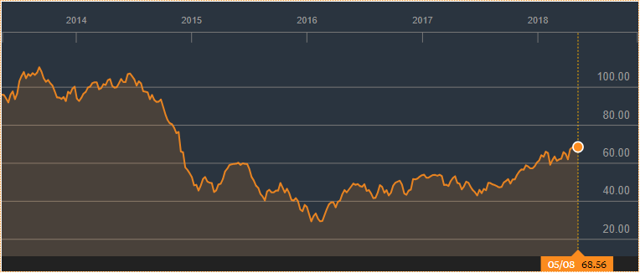 Source: Bloomberg
Oil sector stocks on the other hand, have for the most part not joined in (XOP: Oil and Gas E&P ETF; XES: Oil and Gas Equipment & Services ETF).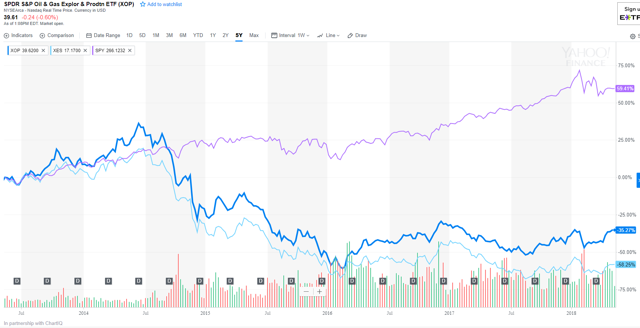 Source: Yahoo Finance
This disparity is something I want to take advantage of by owning such energy sector stocks such as (ordered from less to more risky):
Hopefully, readers will find this initial list a useful start for doing their own further research. Alternately, by clicking the "Follow" button above and leaving the "Get emails" box checked, you will occasionally get a short and to the point blog post on these and other equities.
Disclosure: I am/we are long AROC, BRYFF, CPLP, EGC, KNOP, MINDP, TEGP, TGP, TK, TNP. I wrote this article myself, and it expresses my own opinions. I am not receiving compensation for it (other than from Seeking Alpha). I have no business relationship with any company whose stock is mentioned in this article.
Additional disclosure: This article discusses risky investments including investments tied to a specific sector and microcaps. I do not know your goals, risk tolerance, or particular situation; therefore, I cannot recommend any investment to you. Please do your own additional due diligence.
Editor's Note: This article covers one or more microcap stocks. Please be aware of the risks associated with these stocks.