In this article, we will examine the current state of WTI price, the current bullish consensus, and leveraged capital positioning within this context.
April 2018: Goldman Makes Case For $80 Brent Crude By End Of 2018
This Business Insider article from 21 April 2018 discusses Saudi targeting of $80 oil and Goldman's current view of $80 oil by Q4 2018 based on strong global oil demand (largely China dependent Goldman concludes) that will contribute to further declines in oil inventories. As readers may already know, when the market is at/near price extremes and Goldman issues statement, we look to the market generated data for insight.
Our prior articles have discussed the nature of the globalized, financialized market as a highly interconnected, complex system. These qualities make herding (which arises out of interconnected financialization) that much more significant and its reaction function potentially severe. Looking at the market through this lens of complexity helps explain why the "smart" money gets it wrong repeatedly, why the financial press that follows and "validates" their actions should be listened to with great caution, and perhaps most interestingly why these conditions will emerge repeatedly in the future, providing potential asymmetric reward: risk profiles for capital allocation and subsequent risk management.
As we noted in early February 2018, the market exhibited posture that indicated extreme herding was developing in the leveraged capital posture. This circumstance occurred as the market traded to the then near-term high $66.66 (WTI) in tandem with much of $80+ bullish oil commentary, including from Goldman.
From late Jan-mid Feb 2018, WTI traded lower from $66.66 to $58/bbl, an approximately -13% decline. While the argument of secular low formation in WTI in Jan 2016 near $26/bbl has merit, bullish cheerleading at multi-year highs (approximately +150% from the 2016 Low) as the market's empirical data reflects extreme bullish herding within leveraged capital is imprudent.
So, following Goldman's bullish research at late January-early February's High, $66.66/bbl, the market retraced approximately -13% toward $58/bbl. Since, the market has traded higher as initial buying interest emerged in April around $66/bbl as price discovery higher to $71.35/bbl developed. This represents an approximately +7% move higher from the Jan-Feb 2018 High where the prior bullish cheerleading reached fever pitch. This +7% return occurred assuming holding a position through an aggressive pullback of -13%.
As always, looking at the market generated data reveals its truth. The gain from February-April 2018 occurs within the context of near all time high leverage in the WTI market of approximately 3.58 million contracts. Within that total leverage, Managed Money Net Long positioning represents approximately 12% of total Open Interest (within the historic upper bound of 10-15%).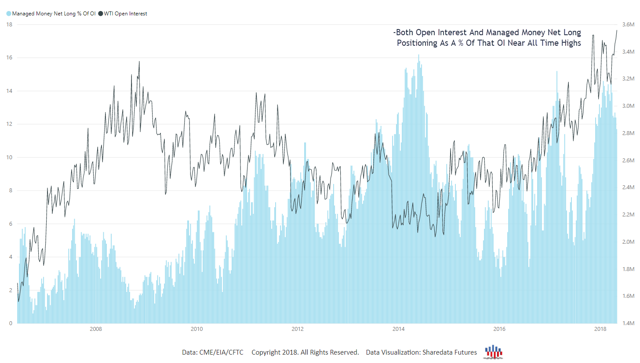 Finally, Managed Money short positioning remains around 35k contracts indicating a Managed Money Long:Short ratio of around 12.9 (all as of this writing).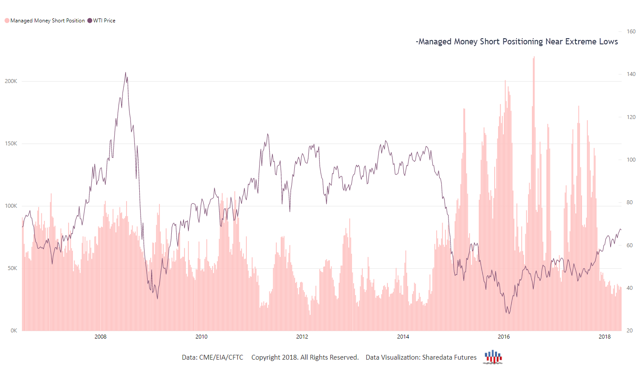 Since 2011, all meaningful corrections have occurred from a leveraged capital positioning within these parameters with a median correction of 22%. Densely interconnected, financialized networks are facilitating and exacerbating this instance of herding. The empirical data allows us to see this developing and hopefully recognize the instability this creates within this dynamic system itself. During the formation of the current secular low near $26 in Jan. 2016, the WTI market has seen no less than 3 corrections of 20% or greater when the Managed Money posture saw short positioning less than 50k contracts in confluence with elevated Long:Short Ratios (5:1 or greater).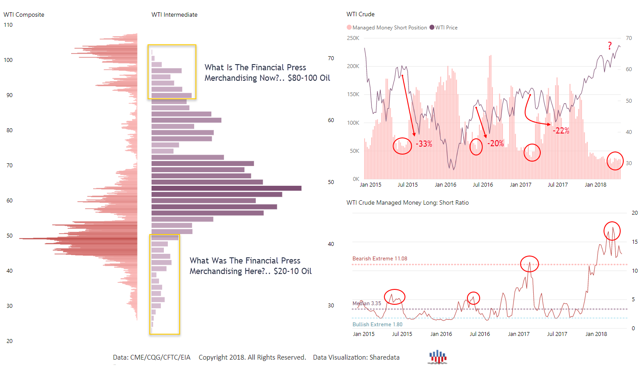 On the equity side, the Bullish Sentiment on the XLE is exhibiting herding like Jan-Feb 2018 shortly before the aggressive correction ensued of approximately 16% in a matter of 2-3 weeks. The better entry points within the secular bull phase will occur at points of extreme bearish sentiment such as post "crash" Mar-April 2018.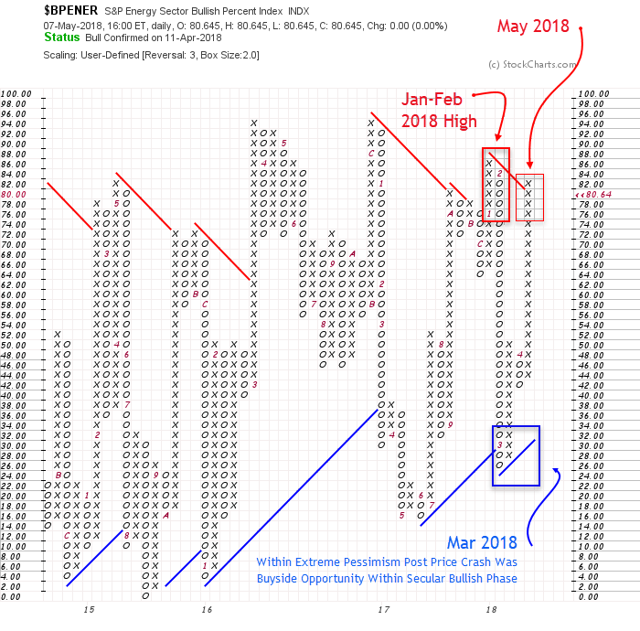 In summary, the secular bull phase began in Jan. 2016, but as price discovery higher develops, it is critical to understand the instability that can be created by the herding of market participants. The subsequent cheerleading of the bullish bias should be viewed with skepticism especially at newfound highs. Viewing capital markets through the lens of complexity, one can identify and comprehend the significance of interconnectedness and herding behavior through the market generated data.
From an asset management perspective, knowledge of these conditions which develop within both leveraged capital derivative positioning and energy equities provide insight into the risks of oil derivatives and energy equities. Reduction of these types of long energy allocations was prudent in late January-early February 2018 consistent with the leveraged capital posture/energy equity sentiment, while the long equity opportunity re-emerged promptly in Mar-Apr 2018.
Markets are complex, dynamic systems. In highly financialized complex systems like global crude oil markets, fundamental supply/demand data analysis is simply insufficient to effectively assess and manage price risk. Leveraged capital flow can reveal locations of extreme interconnectedness and herding behavior within these systems. Leveraged capital positioning in some sense IS the market fundamental. Focus on the market generated data that confirms herding behavior and extreme sentiment, and asymmetric opportunities will often present themselves.
Disclosure: I/we have no positions in any stocks mentioned, and no plans to initiate any positions within the next 72 hours.
I wrote this article myself, and it expresses my own opinions. I am not receiving compensation for it (other than from Seeking Alpha). I have no business relationship with any company whose stock is mentioned in this article.