Market Intro

CNBC: Wednesday Close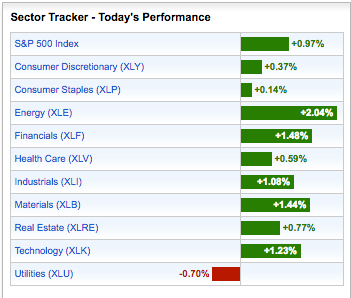 Sector SPDRs
Energy (XLE) led the way on Wednesday for US and global stocks (SPY, DIA, QQQ, IWM, ACWX). Spot VIX closed with a thirteen handle, its lowest reading since February 1 (just before the blowout jobs report).


Asian markets took the surprise Malaysian election result in stride, forming a united push in a bullish direction.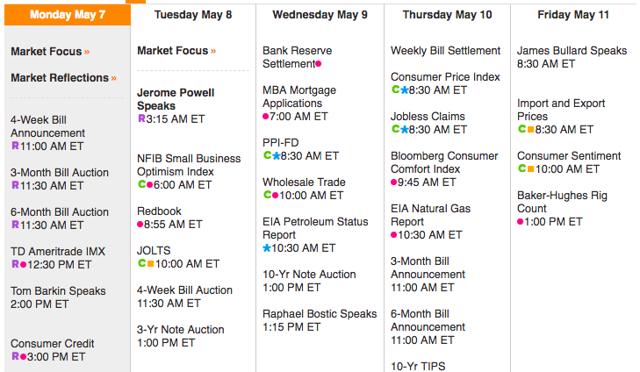 Bloomberg
The CPI is due out on Thursday morning. This figure led to a large volatility event in mid February; since then spot VIX is down about 10 points and so markets are far less likely to make a big reaction. Still, the reading does carry implications for the Fed's rate policy.

The Dollar Index (UUP) is working to the upper end of its six-month range, mostly due to Euro (FXE) weakness. While this may be interesting and carry broader implications down the road, implied vol on the Euro stands at mediocre levels.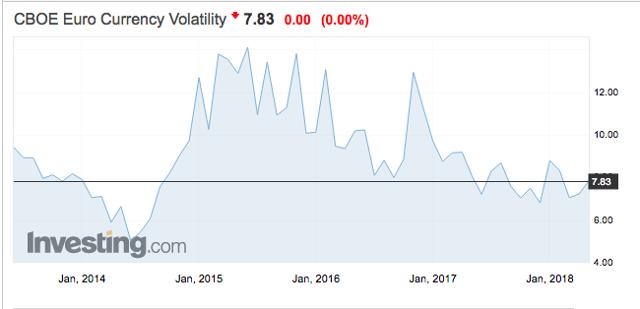 Thoughts On Volatility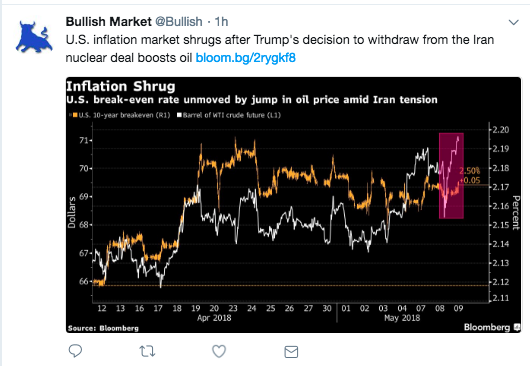 Oil (USO) trades at levels not seen since 2014 (in fairness, May 2015 was not far off the current prints). For now, the spike is not creating an impact on US 10-Yr breakevens. At some point it stands to reason that a continued rise in oil leads to higher headline inflation. Granted, the Fed follows core PCE more closely for determining its policy, but the bond market is free to use whatever it wishes. Higher bond yields ahead?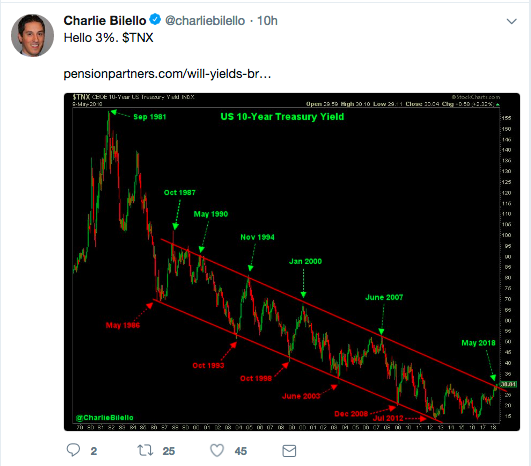 Well, on that front, Charlie Bilello demonstrates that from a technical standpoint the Ten Yr Yield (IEF, TLT, AGG) stands at an important place: break out or a move back toward the lows? A lot of economic data point in the direction of higher note yields. This could act as a catalyst for higher volatility (arguably rapidly increasing yields is what primed the VIX in late January of this year).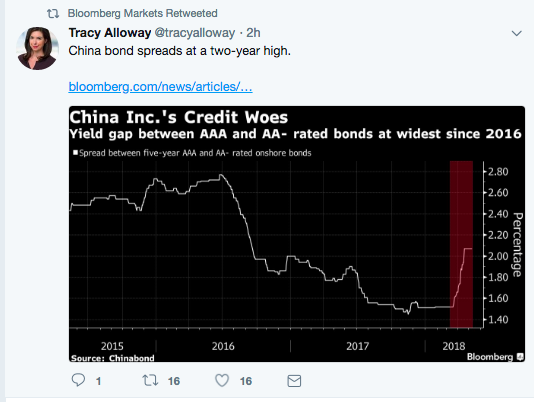 There was a time when a weakening Yuan and tightening Chinese credit conditions really had the world on end. Then, almost suddenly one could say, the spreads dropped and risk assets throughout the globe cheered, arguably setting the stage for the next major leg of the bull market and the collapse in volatility. Since then, however, credit may be getting more constrictive to business interests in China.
Term Structure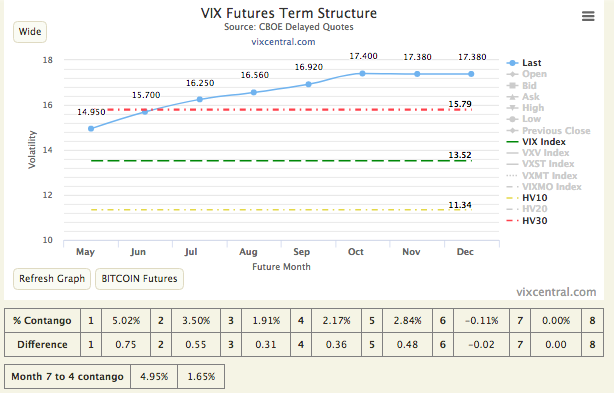 The gap between 10-day and 30-day historical volatility is narrowing, with the 30-day making all the concessions. Spot VIX and associated futures are not answerable to the past, but there is a connection between implied vol and realized vol (the Volatility Risk Premium). One can debate how best to measure such a premium, but at the end of the day realized vol sets the pace.
The term structure continues to bend into a state of contango, and the gap between spot VIX and the M1 (May, whose last full day of trade is the 15 th) is quite wide: vol longs (VXX, UVXY, TVIX) beware.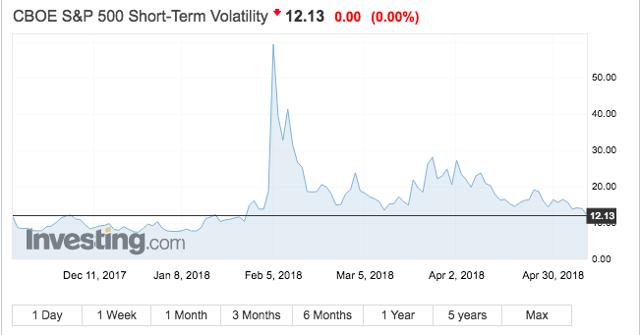 Short-term volatility readings are in on the action. Whereas spot VIX measures implied volatility with a thirty-day outlook, VXST does the same but with only a nine-day horizon. The index prints over a point below spot, which indicates that the short-term market sees more calm ahead. One can argue for market complacency, but for right now short vol (SVXY, ZIV) appears to be the bet that several volatility indicators want to favor.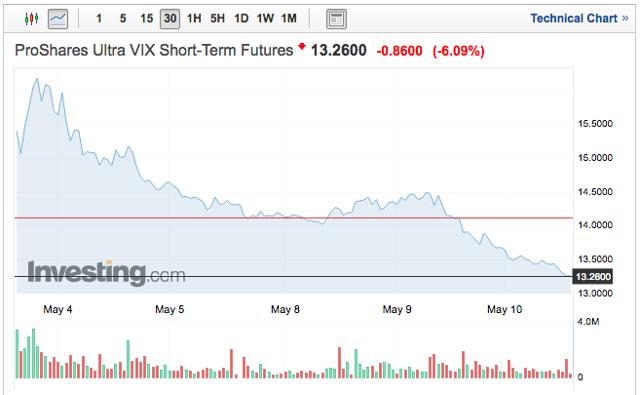 Wednesday marked a pretty horrific day for UVXY, one of the worst since its deleveraging back in late February. Roll yield is definitely working against this asset over the next five days. If you're long it at this time, you owe yourself a good explanation as to why so many indicators within the vol complex have it wrong.
Wrap Up
If this is your first time reading Market Volatility Bulletin, thanks for giving it a try. If you're a regular, we thank you for your ongoing contributions in the comments section.
Thank you for reading.
Please consider following us.
Disclosure: I/we have no positions in any stocks mentioned, and no plans to initiate any positions within the next 72 hours. I wrote this article myself, and it expresses my own opinions. I am not receiving compensation for it (other than from Seeking Alpha). I have no business relationship with any company whose stock is mentioned in this article.
Additional disclosure: I actively trade the futures and options markets, potentially taking multiple positions on any given day, both long and short. I also hold a more traditional portfolio of stocks and bonds that I do not "trade". I do believe the S&P 500 is priced for poor forward-looking returns over a long timeframe, and so my trading activity centers around a negative delta for hedging purposes.