After being tossed into the dumpster quarter after quarter, LendingClub (LC), the Internet's largest online lending marketplace, finally has a positive earnings quarter to show to investors. Cheered primarily by the company's cost-down efforts and a bottom line that beat analysts' expectations, investors bid up LendingClub shares by about 20% after its earnings release:
Such a strong reaction to LendingClub hasn't happened in years. The company is still down 20% year to date, and more than 40% in the last twelve months. LendingClub has struggled to find its footing ever since the ouster of its CEO, Renaud Laplanche, after controversy over the parking of LendingClub notes in a related third-party firm. More recently, in the wake of Wells Fargo's (WFC) fake-account scandal, the FTC has also charged LendingClub with charging improper fees to borrowers, sending the stock to new all-time lows of $2.57.
But with this earnings quarter - the first time in a long time that LendingClub has rallied to earnings news (in Q4, LendingClub dropped 9% after missing revenue estimates; the quarter before that, it tanked 17% for doing the same). What's interesting is that even in this quarter, LendingClub continued a three-quarter streak of missing analysts' revenue expectations. Originations, the primary fuel for revenue growth, also saw weakness in the quarter. Especially in a quarter where investors are being extremely picky on earnings and sending even earnings winners down, LendingClub's post-earnings rally looks a bit suspect. Is it the true beginnings of a recovery, or is it short covering?
Last quarter, I had believed the company was close to finding a bottom. It seems the bottom was found in April after the FTC news, and with this quarter, LendingClub has dug itself out of its hole extremely quickly. With this quarter more of a mixed quarter than a beat, I don't think there's much opportunity left in LendingClub shares - even if the stock is still cheap at about 2x forward revenues.
The instability of the debt markets continues to be a big question mark for LendingClub. 10-year U.S. Treasury yields keep hovering closely to the psychologically significant 3% mark, and the influx of interest rate-related headline news has drummed into the heads of most Americans that now is not a great time to take on more debt. The soft originations growth seen in this quarter may not be just a fluke, but the beginnings of a weakening trend.
All in all, LendingClub looks particularly risky after a 20% rally. Many investors will leap at the opportunity to exit a losing position. A slight improvement in profit margins and better-than-expected losses are far from what's necessary to save this company, and until we get more robust data on originations and revenue growth, LendingClub is a clear stock to avoid.
Q1 download: originations mix causing a slowdown in loan growth
Here's a look at LendingClub's summary results for the quarter:

Source: LendingClub investor relations
Total revenues grew just 22% y/y to $151.7 million. This is better than the 20% growth that LendingClub saw in Q4, but still the company was unable to meet investors' expectations of $152.8 million (+23% y/y) in the quarter.
If you note LendingClub's revenue breakdown, you'll notice that the company's growth was primarily driven by a completely new source of revenues - gains on sale of loans. LendingClub made the decision last year to invest a small amount of its capital in its own loans, and the benefits of buying and selling notes are evident in this quarter's results. Note, however, that these gains could easily swing to losses, as principal trading is an inherently volatile business even for the largest of banks.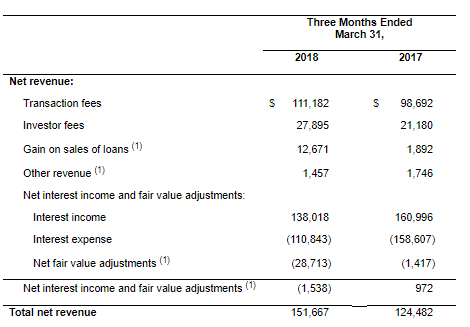 Source: LendingClub investor relations
The worse news, however, was clearly originations growth. At least revenue growth saw a slight acceleration over Q4's results. Originations, on the other hand, saw a sharp deceleration. Given that originations this quarter have spillover effects into the future - after all, LendingClub derives a lot of revenues from servicing fees on its loan portfolio - the softness in originations is an even more important metric to watch than revenues.
The company originated $2.31 billion in loans this quarter, up 18% y/y. That's not bad, but it's a steep deceleration from the 23% y/y originations growth LendingClub saw in Q4. The quarter before that, originations growth was 24% y/y. This is the first time since 2Q17 that LendingClub's originations growth has dipped below 20% - yet this is also the only quarter that LendingClub rallied on earnings news.
Part of the reason why LendingClub's originations are down is strategic. The company, responding to criticism that notes are highly risky instruments that have sank in performance over recent years (as an investor in LendingClub notes, I can personally attest to the degradation of my own portfolio), has decided to cut back on the lower-rated F and G notes and originate more high-quality A and B notes. Observers have noted that this will become a limiting factor on originations growth. This quarter, originations of A and B grade notes rose 97% y/y and 38% y/y, respectively (combined making up about half of the quarter's originations), while F and G notes fell 57% and 75% y/y, respectively.
Should this trend in originations mix continue to put up headwinds, LendingClub's financials are at risk. I can't stand by the belief that originations growth is not important to the long-term health of this company; thus I believe this quarter's earnings reaction is highly questionable.
Of course, what investors were primarily cheering was the bottom line. Pro forma EPS of $0.01 beat analyst consensus of -$0.01, but really, it's the adjusted EBITDA that has investors talking. That metric is up to $15.3 million, up from a near-zero $0.2 million in the prior year.
I'll admit that this is an impressive feat. Analysts are cheering LendingClub's more controlled marketing expenses, and its product development/technology costs have also shrunk as a percentage of revenues. On the operations side, LendingClub also announced alongside last quarter's earnings that it would bring a third-party servicing firm to help service LendingClub's Notes. Though this is dilutive to revenues, the company has stated that the outsourcing of some of the servicing work will be accretive to EBITDA margins, an assertion that shows clearly in this quarter's EBITDA upside.
Despite what the company believed to be a strong quarter, however, LendingClub's management has held its guidance to $680-705 million in net revenues and $75-90 million in adjusted EBITDA.
Valuation and key takeaways
There's no doubt that after LendingClub's spectacular fall since 2016, the stock is one of the cheapest plays in fintech. Its current market cap of $1.38 billion is much lower than the private valuations of many private fintech unicorns. If we net off the $405 million of cash LendingClub has on its balance sheet, its enterprise value is just $975 million.
Against LendingClub's midpoint guidance ranges, the company trades at 1.41x EV/FY18 revenue multiple and an 11.8x EV/FY18 EBITDA multiple. Cheaper valuations in the technology sector can't be found elsewhere. Yet I do think there's a substantial amount of risk underlying this apparent value stock. With credit markets tightening (as shown in LendingClub's deceleration in originations growth) and an unclear outcome from the FTC action pending, LendingClub has a lot more hurdles to cross before it can find itself in a true recovery. Be on the lookout for huge selloffs to enter a small position in this stock, but remain extremely cautious on this name.
Disclosure: I/we have no positions in any stocks mentioned, and no plans to initiate any positions within the next 72 hours. I wrote this article myself, and it expresses my own opinions. I am not receiving compensation for it (other than from Seeking Alpha). I have no business relationship with any company whose stock is mentioned in this article.