In April the portfolio was basically flat, ending down ever so slightly (0.04%) which added a third down month to what is now a three month losing streak. However, it was not a boring month. I added to two of my existing positions and added a new name to the portfolio.
With at least one stock in all eleven sectors, I now feel comfortable adding to existing positions when I see value. And this month I saw some values and will detail the transactions below.
April Dividends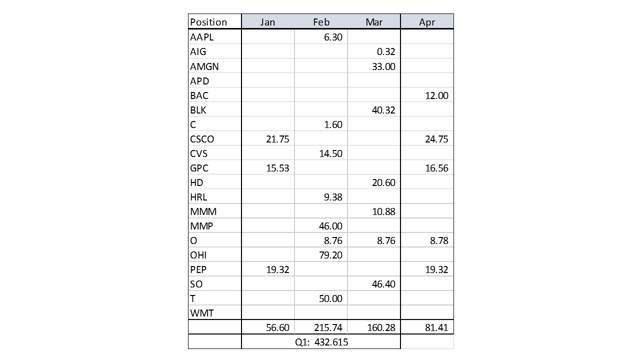 All graphs and charts created by author unless otherwise specified
Dividends received in April were $81.41, with dividend increases from Cisco Systems Inc (CSCO), Genuine Parts Co (GPC) and Realty Income Corp (O) now in place. April of 2108 finished well above the same month last year.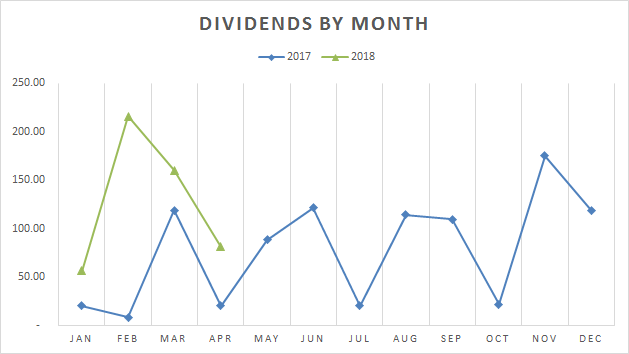 March Performance
As mentioned, the month ended up basically flat from a total return perspective. Most stocks were up slightly with PepsiCo Inc (PEP) and AT&T Inc (T) getting clobbered, down 7.5% and 8.3% respectively since the end of March.
Also, my fixed income investments were down 1.2% since the end of March, which will likely lead me adding to those sometime during May. But I'll talk more about that later.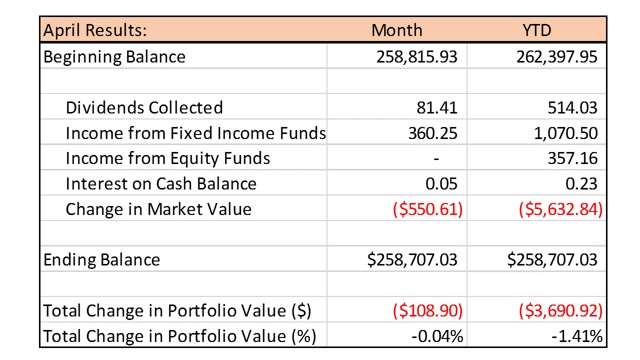 Individual Stocks
The table below shows my positions as of close of business on April 30, 2018: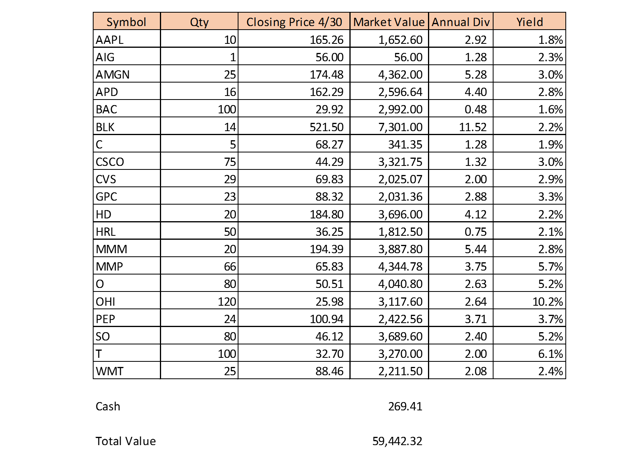 There are three stocks that are currently below a 2% yield, which is a blurry line for me below which I don't typically like to buy. However, I am expecting fairly sizable increases from both Bank of America Corp (NYSE:BAC) and Citigroup Inc (C) later this summer. If you remember, they boosted their dividends by 60% and 100% respectively last year. I'm not expecting that, but who knows what late June/early July will bring?
Apple Inc (AAPL) just boosted their dividend by 16%, and could have easily done more. When I purchased AAPL in February, the yield was 1.55%, so clearly, at least to me, I own it for the future large dividend increases that I expect.
Projected Dividends
With my new position of Walmart Stores Inc (WMT) and the added shares of both 3M Co (MMM) and O the projected dividends for the second quarter have gone up considerably, and now it appears $2,000 for the calendar year is quite possible if not certain.
Sector Diversification
More than doubling my position in MMM has helped the weighting in the industrial sector, but it is still one of the lighter sectors, and one of four below 7%. Now that the portfolio is rounding out nicely, I am going to have to start placing more guidelines on myself, like how many stocks per sector do I want, what is the minimum and maximum weighting of any one sector and what should I do if the weightings cross those thresholds? The 7% figure I mentioned above seems like a good baseline, but I'll have to think further on that and I'll let you know what I come up with.
Right now though it looks like I should perhaps focus my next purchase on a materials stock, a telecom, a utility, or an industrial.
| | |
| --- | --- |
| Consumer Discrectionary | 9.6% |
| Consumer Staples | 10.9% |
| Energy | 7.3% |
| Financials | 18.0% |
| Health Care | 10.8% |
| Industrials | 6.5% |
| Materials | 4.4% |
| REIT | 12.4% |
| Technology | 8.4% |
| Telecom | 5.5% |
| Utilities | 6.2% |
| | 100% |
Asset Allocation of the Portfolio
While the decline in market value of my portfolio was $550, the loss in value of my domestic fixed income securities was over $1,000. The large cap equity portion was actually up about $750 and my international, small, and mid cap funds were all within 1% of last month (all up or down less than $150 each).
All of this led to my total fixed income percentage to fall to 37.4%, well below the 40% target (total). So in all likelihood I will do some re-balancing this month, which is not as exciting as researching my next favorite stock, but it is necessary to set targets and try to stick to them, otherwise there is really no need to set the targets in the first place.
Sales and Purchases in April
I added one new position to the portfolio, which was the aforementioned Walmart. I purchased 25 shares for $86.15 per share in early April. If you would like to see the reasons behind the purchase you can check out that article here.
Some time ago in the comments section of my article on Realty Income I suggested that if O dropped below $50 I might double my position. Well, as you can see below it has dropped below $50 a few times since I wrote that article (in January) but during the most recent dip below $50 I doubled my position, picking up 40 shares at $49.42 per share. I didn't catch the bottom of course but I'm very pleased with the price I did get.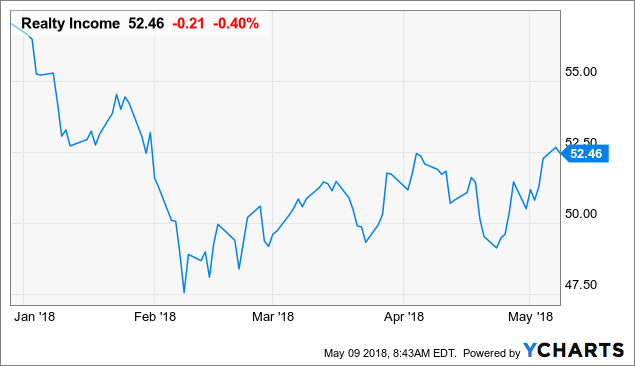 Finally, like many of you I am guessing, I watched with shock and some glee as MMM plunged from it's high in late January of nearly $260 per share through $240, then $220, and finally dipped below $200 for about a week. I once again didn't catch the bottom but I am nearly giddy with picking up 12 more shares of MMM, more than doubling my position, for less than $200 per share ($199.95 on April 24).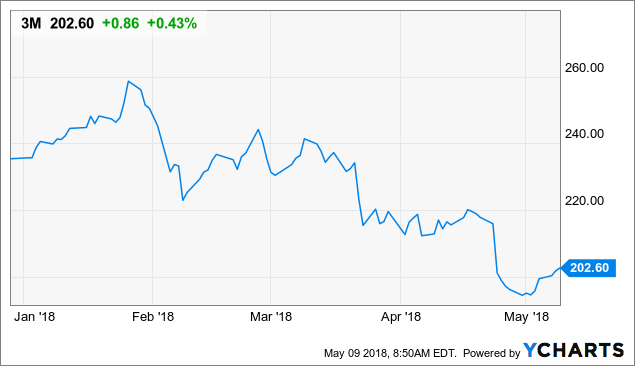 The only sale was the S&P 500 index fund, and I made three separate sales for a combined $6,160.90.
Final Thoughts
In April I almost cracked the losing streak, coming within $110 of finishing up for the month. Almost a third of the way into May already, and this month is looking good for breaking the streak.
This coming month will prove to be my largest in terms of dividends collected by far. Next month isn't looking too bad either.
I hope you enjoyed the article. Thank you for following me on my family's journey towards financial independence, and good luck!
Disclosure: I am/we are long AAPL, AIG, AMGN, APD, BAC, BLK, C, CSCO, CVS, GPC, HD, HRL, MMM, MMP, O, OHI, PEP, SO, T, WMT. I wrote this article myself, and it expresses my own opinions. I am not receiving compensation for it (other than from Seeking Alpha). I have no business relationship with any company whose stock is mentioned in this article.