I have followed A.G. Barr (LON:BAG) (OTC:AGBAY) (OTC:GRRXF) for a few months; seeing no immediate reason to cover the company, I've silently followed the public reception of the "new" sugar-reduced Irn-Bru.
A few contributors wrote the first two articles - ever - on the stock in early April. This article will be a discussion piece. For a background on the business fundamentals, I would recommend the well-written coverage from Nick Mackintosh linked here.
The recent coverage has largely been correct in terms of factual information, but I believe that key points relating to A.G. Barr have largely been left overlooked or underappreciated.
The key argument in this article can be summarized as: A.G. Barr is an exceptional brand, superior to even Coke (NYSE:KO), but this is the wrong time to invest.
Why Irn-Bru is Currently a Superior Brand Compared to Coke
A lot of articles compare Irn-Bru to Coca-Cola. I believe this is an unfair comparison - for Irn-Bru. Not based on taste, adverts, or subjective preferences in carbonated drinks, but based on a qualitative understanding of what drives brand commitment.
Coca-Cola evokes a sense of security. It is the brand one can rely on for a consistent "output" across geographies, meals, and even storage facilities. The taste, constant availability, and identifiable logo have resulted in a global soda behemoth.
Irn-Bru, however, is a part of the national identity. It evokes a sense of pride. Recently a pair of vans which simply carried the colors of Irn-Bru started selling like crazy in Scotland. Does the youth of America think that Coca-Cola colored jeans would be amazing?
The Scottish Independence Movement, strengthened by movements such as All Under One Banner, is particularly strong. The pride in Scotland is comparable to Texan pride. Recently 35,000 people marched through the streets for Scottish Independence. Irn-Bru has direct access to this emotionally laden sense of pride, which I believe to be a greater local asset than what Coca-Cola possesses.
The financial implication is not that Irn-Bru can necessarily charge multiples of a coke can, but I do believe that the sustainability/safety of Irn-Bru is vastly superior to Coke's, given that few beverages can attain a 117-year old history, but most (like Pepsi (NYSE:PEP) has illustrated) can reach levels of dependability and good taste to compete with coke. In summary, I believe Irn-Bru, and therefore A.G. Barr, is better insulated from competitive pressures than Coca-Cola or most other carbonated soda producers.
The downside is that patriotism, almost by default, is not exportable to other countries. The growth is therefore limited to Scotland. The organic Irn-Bru runway is therefore smaller than that of other sodas set to enter (for example) the growing Chinese market.
Other Avenues of Growth; Distribution, Partnerships, Branding
There are, fortunately, other avenues of growth not touched extensively upon in the other articles.
As a result of occupying material shelf-space and a sticky source of demand, A.G. Barr has a negotiating leverage with retailers. This has led to A.G. Barr being a key partner for many international brands looking to enter Scotland.
Just this year, the company announced a partnership with San Benedetto and Bundaberg, two drink companies prominent in their respective geographies (Italy and Australia).
A.G. Barr has also been able to develop/acquire, market, and drive sales towards new brands such as Rubicon.
The ability to drive attention to new brands, partner with others, and retain the strength of old brands all rely on a marketing expertise related to Scotland and, perhaps even more importantly, a strong distribution network.
A.G. Barr operates over a hundred trucks itself. While the leases amount to a yearly payment of roughly a million pounds, the leverage over independent local retailers provides yet another point of leverage for shelf-space.
The Sugar Tax: Turning Barr Binary
A brief introduction might be in order. The UK government decided to tax soft-drinks with over 5g of sugar per 100 milliliters. The tax started roughly a month ago.
In my opinion, the sugar tax turns A.G. Barr into a vastly more binary gamble.
A negative outcome results in lowered sales and a depreciating brand. The result would be catastrophic given the high multiple on current earnings.
A positive outcome looks slightly different. Since most sugary soft drinks in Scotland already have alternatives; the outcome might simply see an overall transfer from Coca-Cola to Coca-Cola Zero and Pepsi to Pepsi Max. However, it is highly plausible that the regular consumer will weigh Coke versus Irn-Bru prices and buy the cheaper Irn-Bru, due to the new tax implications for regular Coke.
Fanta has already changed its recipe to 4.6g of sugar per 100ml, which puts it as direct "sugar-y" competition to A.G. Barr. I have little doubt that Irn-Bru will dominate Fanta in Scotland, but there is still a risk that both will simply be "left for dead".
The sugar tax induces a lot of potential volatility into the stock. While others have attempted to redesign their offerings before, it is often a volatile ride.
Local Scots have gone as far as to resell old Irn-Bru for many multiples of their regular prices. A similar example of brand nostalgia could be observed in America when the Twinkie went out of production back in 2012/2013.
While there is obviously a comedic element to feigned outrage, it does seem that most Scots vastly prefer the full-sugar version of Irn-Bru. Below picture is a screengrab of the article which illustrates said fact: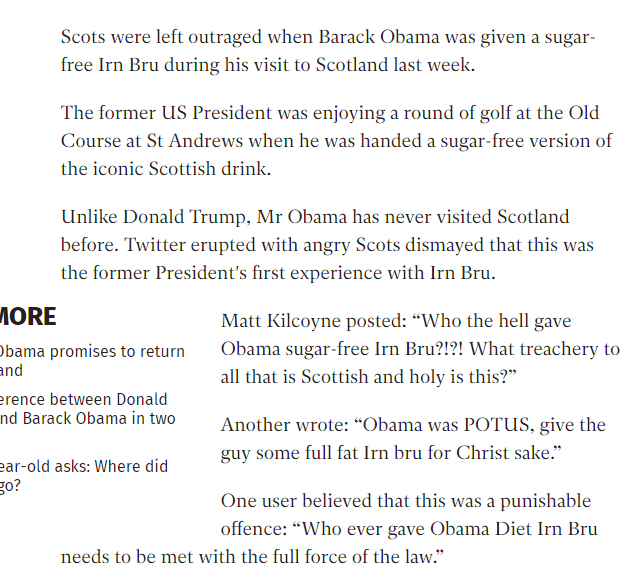 While the above photo is obviously full of cherry-picked examples, a parallel can be drawn to the "New Coke" Coca-Cola blunder in 1985. Coke tried to introduce a "new and improved" version of coke with more sugar. The company had obviously done its taste tests, but the "Coke II" launch can only be described as an epic failure.
The transition is not even a question of taste. I would advise every reader to watch this video. The video is comprised of local Scots discussing and taste-testing old versus new Irn-Bru.
While the host argues that the results are bad for Irn-Bru because the guesses are evenly split between liking the new and old, the results are actually in line with the hypothesis that almost nobody can tell the difference (50/50 guess split), but the important part is that while nobody can tell the difference, everybody believes they can.
The park ranger said that he "hated the new taste so much that he bought cases of the old one," but then subsequently guessed wrong, but this obviously didn't stop his previous decision-making process. Perception shapes reality when it comes to taste and Irn-Bru has some barriers to overcome.
It fundamentally does not matter that 9/10 cannot taste the difference empirically. If perception didn't change reality, nobody would spend money on expensive marketing.
How To Treat A.G. Barr
I do not believe that A.G. Barr's stock makes any sense from a risk/reward perspective at the current +20x multiple. It is a cultural icon, but such status is reliant on cultural momentum. No matter what studies say about taste likeness, products can be disliked due to the same cultural momentum that created their brand power.
Irn-Bru's transition could be seen as a disgrace to the old brand in the eyes of the public. The feeling of patriotism inherent in drinking Irn-Bru could be hurt through adapting to the UK government policies.
Such a change would not only reduce volumes but also lead to less stability and therefore a lower multiple.
I believe that A.G. Barr has all the capabilities to potentially salvage such a situation, but there is no reason to risk price-volatility for several quarters for very limited upside.
Instead investors should be prepared to pounce once A.G. Barr encounters the eventual negative quarter which will be exacerbated through worries regarding the long-term future of Irn-Bru.
A.G. Barr is at core an extremely defensive stock (as argued in the first segment), but recent developments have induced a binary element that makes it a very strange portfolio component. It is not a high-risk, high-reward growth stock nor a low-risk, low-reward defensive stock. At the current moment, it is a medium-risk, low-reward stock.
Investors should keep an eye on A.G. Barr. It might just provide the buying opportunity of the year given recent events.
Disclosure: I/we have no positions in any stocks mentioned, and no plans to initiate any positions within the next 72 hours. I wrote this article myself, and it expresses my own opinions. I am not receiving compensation for it (other than from Seeking Alpha). I have no business relationship with any company whose stock is mentioned in this article.