I thought it would be interesting to see which funds are beating the S&P 500 so far in 2018. I was only interested in seeing the NAV returns beating the S&P because, in my opinion, I think the NAV price is more important than looking at the market price. I think one important factor for market price is that it is trading below the NAV price, or in other words, trading at a discount to the NAV price per share.
The criteria I set for looking into which funds are outperforming the index were having at least $300 million in market cap, monthly distribution schedule, and all funds that are primarily invested in equities.
The 5 funds listed below are not necessarily a buy but a starting point to do a deeper look. The S&P 500 is currently showing YTD return of 0.90% as of 5/9/2018.

Source - CNN Money
It's also important to note that the data I am pulling for the funds are from CEFConnect and have not yet been updated for 5/9/2018 but are current as of 5/8/2018. All of the funds listed below were up today, with 4 of the 5 funds up over 1%, while 1 fund was up only .40% but will still be outperforming the S&P 500 Index YTD.
Eaton Vance Tax-Managed Buy-Write Opportunities Fund (ETV)
I have written favorably in the past about ETV, hoping that the premium it sits at would turn to a discount but am still patiently waiting for that time. The article was titled "Closed-End Fund ETV: Stubborn Premium Persists." The fund has an investment objective of providing current income and gains, with a secondary objective of capital appreciation. The fund invests in a diversified portfolio of common stocks and writes call options on one or more U.S. indices on a substantial portion of the value of its common stock portfolio to generate option premium.
The fund has a YTD NAV return of 1.23% and a market return of 1.20%. The fund currently has a monthly distribution at a rate of 8.81% market and NAV yield of 9.01%. The current premium of the fund is at 2.37%.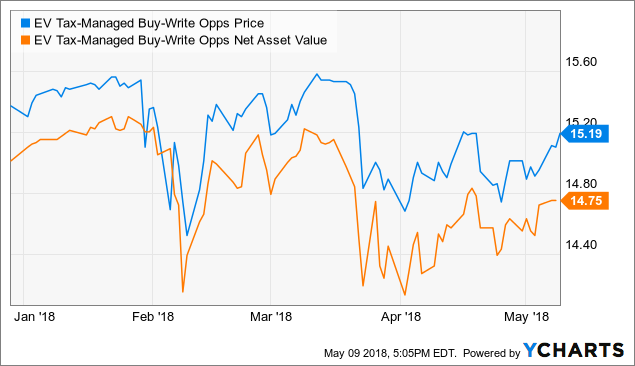 Calamos Strategic Total Return (CSQ)
This is another fund that I have written favorably on in the past, "Closed-End Fund CSQ: 8.28% Yield With Growth Potential." The fund has an investment objective of total return through a combination of capital appreciation and current income, the fund invests in a diversified portfolio of equities, convertible securities, and high-yield corporate bonds.
CSQ currently has a YTD return of 1.30% for the NAV while the market price return is at 1.67%. The fund has a monthly distribution at a NAV rate of 7.73% and market rate of 8.23%. CSQ currently offers investors a discount of -6.09%.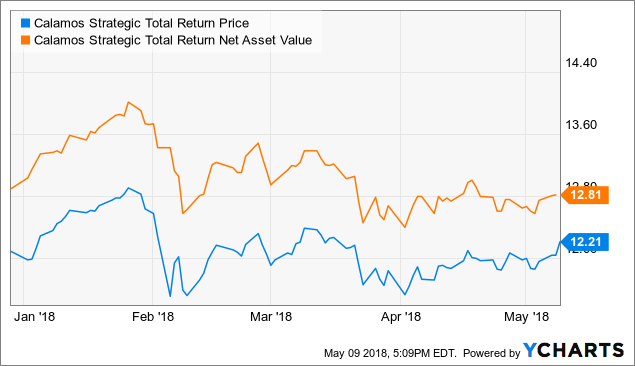 BlackRock Energy & Resources Trust (BGR)
While I'm not personally a big fan of natural resources, when looking at the underlying holdings it consists mostly of the "energy" part of its name with the underlying holdings being largely big oil-related names. The fund objective is to provide total return through a combination of current income, current gains, and long-term capital appreciation. It attempts to achieve the objective by investing at least 80% of its assets in equity securities of energy and natural resources companies and equity derivatives with exposure to the energy and natural resource industry. It also utilizes an options writing strategy to enhance the dividend yield.
The YTD return for BGR currently sits at 2.64% for the NAV and the market return is significantly outperforming YTD at 6.41%. This fund currently offers a NAV yield of 5.86% with a market yield of 6.31%. BGR still shows a discount of -7.11% while the market price has been catching up to the NAV so far this year.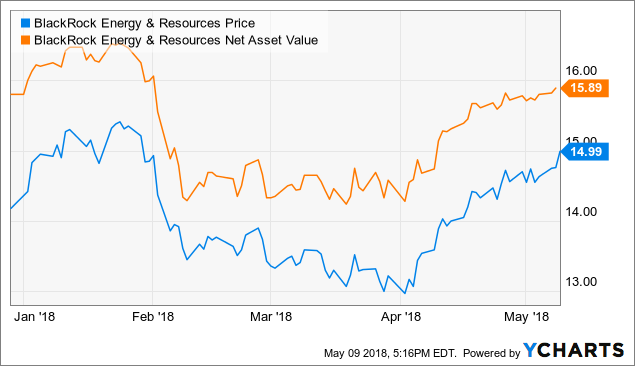 NexPoint Strategic Opportunities Fund (NHF)
NHF has an investment objective of providing current income and capital appreciation. The fund invests in below investment grade debt and equity securities and has the ability to hedge. The latest fact sheet from March 31, 2018, shows that equities and REITs make up 34.6% and 28.1% of the portfolio allocation and collateralized loan obligations, loans and bonds make up 24.5%, 7%, and 5.3%, respectively.
The YTD performance for the NAV is 3.41% while the market price has fallen -4.96%. This fund has the widest discount of the 5 listed funds at -12.03% and seems like it's due partly to the fact that NAV has been increasing while the market price has been decreasing. The current NAV yield sits at 9.08% with a market yield of 10.32%.
This fund was also included in a previous article I had published "Closed-End Funds: 5 Funds Trading At A Wide Discount." It appears that this fund is still maintaining the discount that was present at the time of the other article.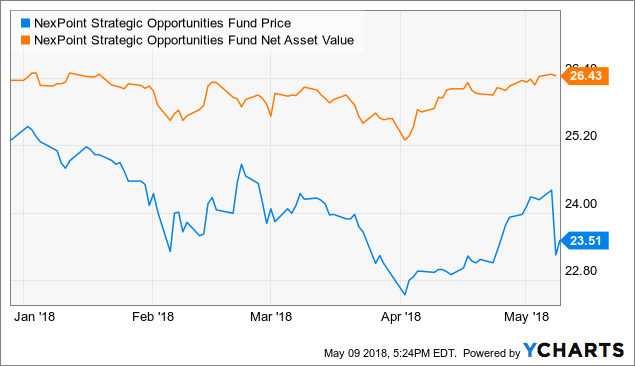 Eaton Vance Enhanced Equity Income Fund II (EOS)
EOS has an investment objective of current income with capital appreciation. The fund invests in large and mid-market capitalization common stocks and also utilizes a covered call and options strategy to help meet its objective.
This fund has a stellar NAV return of 5.84% YTD, while the market price has far outpaced that return coming in at 12.45%. This currently gives EOS a premium of 2.51% on the NAV, while the fund was trading at a discount just months ago. The distribution rate is 6.43% for the NAV and a market yield of 6.27%. This appears like a relatively low yield for a fund that utilizes an option strategy.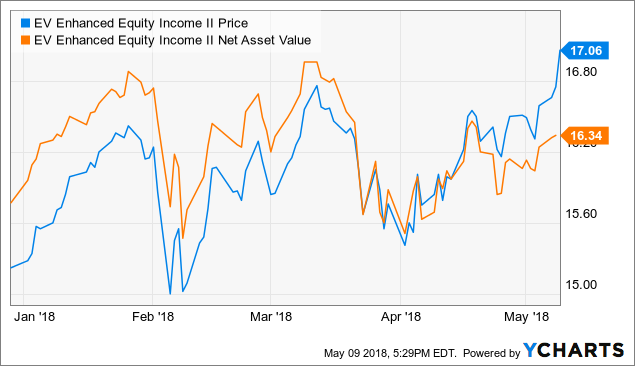 Conclusion
While just beating the S&P 500 YTD returns does not warrant an immediate buy recommendation, it does provide an interesting starting point when looking at the world of CEFs. Typically, a CEF investor wants attractive monthly distributions and to get those yields while a CEF may be trading at a discount or "sale price." It also seems that a lot of investors want to produce "alpha" over the S&P 500; so when looking at the 5 funds above it may be interesting to look at the underlying holdings and do a deeper dive to see if these returns can be replicated for the rest of 2018.
Please feel free to share any thoughts and opinions in the comments below, whether about the 5 CEFs above or any other CEF that you may be interested in! If you like this article, please consider clicking the "Follow" button above to stay up-to-date on future articles.
Disclosure: I am/we are long CSQ, ETV. I wrote this article myself, and it expresses my own opinions. I am not receiving compensation for it (other than from Seeking Alpha). I have no business relationship with any company whose stock is mentioned in this article.