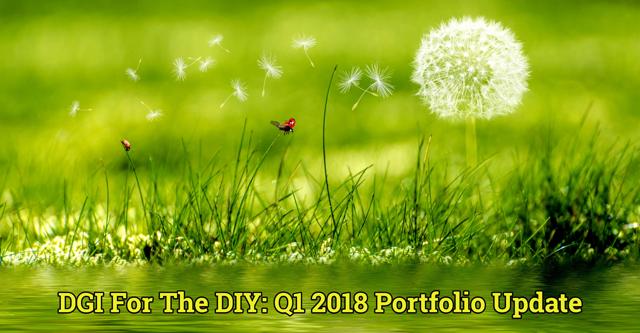 Better late than never, right?
My apologies for not getting the quarterly portfolio review out until a week after May Day. A busy couple of months at work and home have severely cut down on my writing time, but I think that situation should be improving a bit going forward.
I briefly considered passing on this update altogether, but figured I didn't want to break the streak of quarterly reviews I have going with the portfolio.
I've been writing about the "DGI For The DIY" portfolio since April of 2013, so this update marks the five-year anniversary of my transition to dividend growth investing.
For those who may be new readers of this project, my name is Eric, and I am a 39-year old civil engineer, married, and have three young kids.
This real-life portfolio was created when I liquidated the mutual funds in my IRA and used the proceeds to invest in a collection of dividend paying individual stocks.
This series of articles is a way for me to document my decisions, maintain discipline by sharing them publicly, and learn more about investing through the discussion that follows them. My hope is that by sharing my journey as a DIY investor, I can help others learn about investing, and give them the courage to take control of their own path to retirement.
Portfolio Guidelines
The purpose of this portfolio is to fund a portion of my future retirement. Being 39-years-old, I have another 25 years-plus to go until I reach that milestone.
As my approach has evolved I've established guidelines that help meet my goal of building a portfolio that produces a consistent and reliably increasing stream of dividend income.
Buy companies that consistently show positive growth in earnings and translate those earnings into increasing dividend payouts to shareholders.
Focus on companies that are investment grade, with S&P credit ratings of BBB or higher.
Maintain a diversified portfolio spread across multiple industries.
Reinvest all dividends back into the companies that pay them.
Consider for sale any company that cuts or freezes its dividend.
I've also established a goal of 10% annual income growth for the portfolio. This income growth will come from organic dividend growth and reinvestment of dividends, as there are no longer any cash contributions being made into this account.
As the table below shows, if I can maintain 10% annual income growth with the portfolio, it will produce over $26,000 in dividend income when I am 66-years-old.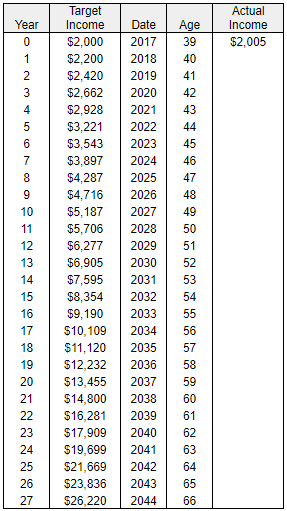 This future income will be one piece of my retirement puzzle to go along with a Roth IRA, my 401k plan at my new company, social security (hopefully), and my wife's pension.
Market Overview
The first quarter of 2018 was quite volatile for the markets, as there was a 10% swing from January highs to March lows. Stocks started off the year with a bang, with the major indices up about 8% in January before the big correction started later that month.
In the end, Nasdaq was the only index to see positive returns, and that was a small gain of just 2.32%.
My portfolio also was down for the quarter, as total portfolio value dropped by 4.1%. This price under-performance isn't a surprise, as my portfolio has a higher weighting in REITs and utilities than the general market, and those sectors sold off as interest rates increased.
Here is the progress of the portfolio since its inception: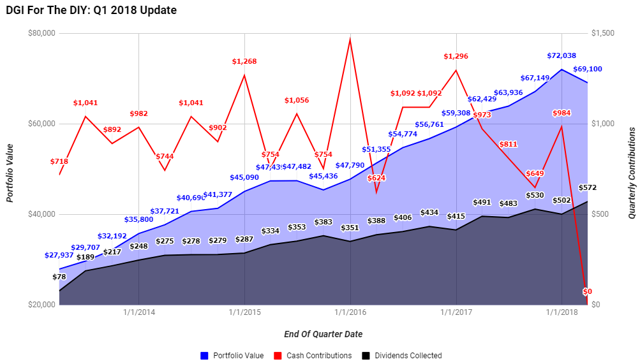 Note the end of cash contributions coming into the portfolio. This was the result of a buyout of the company I worked for, and a switch-over to a 401k account with my new employer.
Another interesting observation is that this is just the second quarter in five years that saw negative growth in the portfolio value.
Meanwhile, dividends collected set another all-time high for a quarter, beating the previous high total set in Q3 2017 by $42.
Here are the monthly numbers going back to the 2013, along with the annual percentage changes in income: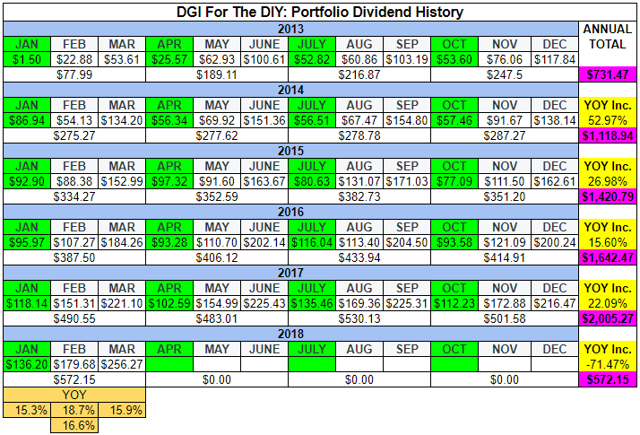 Each month of the first quarter saw dividend income grow by more than 15% over 2017 totals, and the overall quarterly income increased by 16.6%.
The portfolio is well on its way to meeting my 10% income growth goal for the year. The picture looking ahead is even better, as there were some fantastic dividend increases announced in the portfolio during the first quarter.
Here are the announcements:
| | | | | | | | | | |
| --- | --- | --- | --- | --- | --- | --- | --- | --- | --- |
| Announce Date | Company | Ticker | Previous Payout Rate | New Payout Rate | Sequential Increase | Year Ago Payout Rate | YoY Increase | Dividend Yield | Link |
| 1/16/2018 | Omega Healthcare Investors Inc | (OHI) | $0.6500 | $0.6600 | 1.54% | $0.620 | 6.45% | 9.22% | LINK |
| 1/16/2018 | Realty Income Corp | (O) | $0.212500 | $0.2190 | 3.06% | $0.2105 | 4.04% | 4.91% | LINK |
| 1/18/2018 | WEC Energy Group Inc | (WEC) | $0.5200 | $0.5525 | 6.25% | $0.520 | 6.25% | 3.55% | LINK |
| 1/23/2018 | Norfolk Southern Corp. | (NSC) | $0.6100 | $0.7200 | 18.03% | $0.610 | 18.03% | 1.90% | LINK |
| 1/25/2018 | 3M Co | (MMM) | $1.1750 | $1.3600 | 15.74% | $1.175 | 15.74% | 2.65% | LINK |
| 1/31/2018 | Chevron Corporation | (CVX) | $1.0800 | $1.1200 | 3.70% | $1.080 | 3.70% | 3.48% | LINK |
| 2/2/2018 | Polaris Industries Inc. | (PII) | $0.5800 | $0.6000 | 3.45% | $0.580 | 3.45% | 2.25% | LINK |
| 2/5/2018 | Church & Dwight Co., Inc. | (CHD) | $0.1900 | $0.2175 | 14.47% | $0.190 | 14.47% | 1.82% | LINK |
| 2/6/2018 | Gilead Sciences, Inc. | (GILD) | $0.5200 | $0.5700 | 9.62% | $0.520 | 9.62% | 3.49% | LINK |
| 2/8/2018 | Watsco Inc | (WSO) | $1.2500 | $1.4500 | 16.00% | $1.250 | 16.00% | 3.27% | LINK |
| 2/8/2018 | Union Pacific Corporation | (UNP) | $0.6650 | $0.7300 | 9.77% | $0.605 | 20.66% | 2.07% | LINK |
| 2/15/2018 | The Coca-Cola Co | (KO) | $0.3700 | $0.3900 | 5.41% | $0.370 | 5.41% | 3.70% | LINK |
| 2/15/2018 | AbbVie Inc | (ABBV) | $0.7100 | $0.9600 | 35.21% | $0.640 | 50.00% | 3.73% | LINK |
| 2/16/2018 | NextEra Energy Inc | (NEE) | $0.9825 | $1.1100 | 12.98% | $0.983 | 12.98% | 2.77% | LINK |
| 2/21/2018 | Xcel Energy Inc | (XEL) | $0.3600 | $0.3800 | 5.56% | $0.360 | 5.56% | 3.36% | LINK |
| 2/27/2018 | EOG Resources Inc | (EOG) | $0.1675 | $0.1850 | 10.45% | $0.168 | 10.45% | 0.62% | LINK |
| 3/1/2018 | Altria Group Inc | (MO) | $0.6600 | $0.7000 | 6.06% | $0.610 | 14.75% | 5.00% | LINK |
| 3/1/2018 | Digital Realty Trust, Inc. | (DLR) | $0.9300 | $1.0100 | 8.60% | $0.930 | 8.60% | 3.73% | LINK |
| 3/6/2018 | Ross Stores, Inc. | (ROST) | $0.1600 | $0.2250 | 40.63% | $0.160 | 40.63% | 1.11% | LINK |
| 3/8/2018 | Qualcomm | (QCOM) | $0.5700 | $0.6200 | 8.77% | $0.570 | 8.77% | 4.51% | LINK |
| 3/28/2018 | McCormick & Company, Incorporated | MKC | $0.4700 | $0.5200 | 10.64% | $0.470 | 10.64% | 1.94% | LINK |
| | | | | Averages: | 11.71% | | 13.63% | 3.29% | |
The average annual increase of 13.63% was the highest I've had in some time, much higher than the 8.55% in Q4 and the 6.11% in Q3 of 2017.
The biggest increases came from Union Pacific, AbbVie and Ross Stores, which all raised the dividend by more than 20% over 2017.
Meanwhile, Realty Income, Polaris and Chevron all had increases of less than 5%. I'm hopeful that this is the last sub-par increase from Chevron, as higher crude prices should lead to improving cash flows for the company.
Higher crude prices already has EOG Resources guiding for a much higher dividend growth rate going forward. In last week's conference call for first quarter earnings, the word "dividend" was mentioned 30 times, and management had this to say regarding future dividend growth:
Second, we will target dividend growth above our historical 19% compounded annual rate. We have a long history of delivering a dividend that we can maintain throughout the volatility of the commodity price life cycle. The result has been 17 increases in 19 years without a single dividend cut. We believe our prospects for cash flow growth will support strong dividend growth that is sustainable through price cycles.
It's been a long wait for the rebound in the oil and gas sector, but with crude prices now above $70, optimism finally seems to be perking up in the oil patch.
Portfolio Transactions
I was given some great news on January 29th when it was announced that Keurig Green Mountain would be merging with Dr. Pepper Snapple Group (DPS-OLD). This caused a sharp 30% rise in share price for Dr. Pepper, and presented me with a chance to lock in some nice capital gains on my shares.
With some uncertainty regarding future dividend policy of the combined company, I decided to take advantage of the opportunity and close out my position to free up capital for other stocks on my watch list.
Here's the sale information for my position:

As you can see, Dr. Pepper Snapple was an excellent performer for me, as it turned a $471.95 purchase into $1,335.04, nearly a triple on my investment.
As a replacement, I went with two companies that I've had on my watch list for several years: McCormick & Company Inc. (MKC) and Hormel Foods Corp. (HRL).
Here's my purchase information for my new positions:

Spice and condiment maker McCormick & Company has a long track record of steady earnings growth, and also owns a 32-year streak of dividend growth. It has grown the dividend at an 8.9% rate over the last decade, and announced a 10.6% dividend increase in March.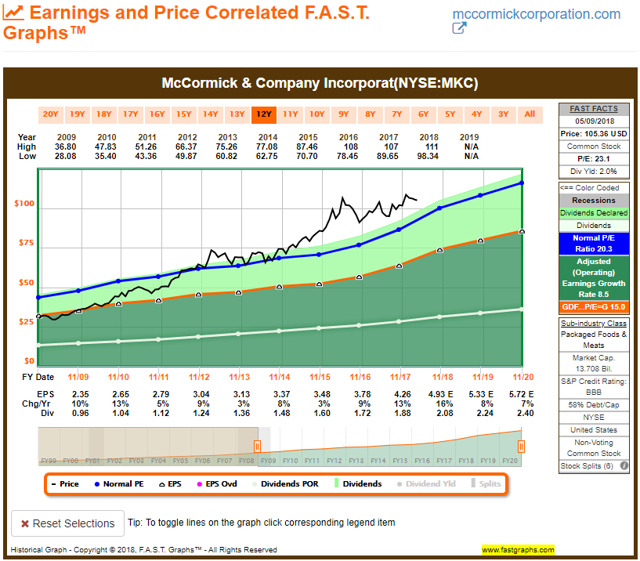 Shares are a tad expensive right now as it trades at 21.4 times expected 2018 earnings compared with a normal P/E of 20.3, but that has been the case for several years going back to early 2013.
However, this is a company I've wanted for some time, and I decided that since I had the opportunity to sell one position for a big gain at a big price premium, I would use those proceeds to initiate a position in an excellent company at a smaller price premium.
Here's the Dr. Pepper Snapple FAST Graph for comparison: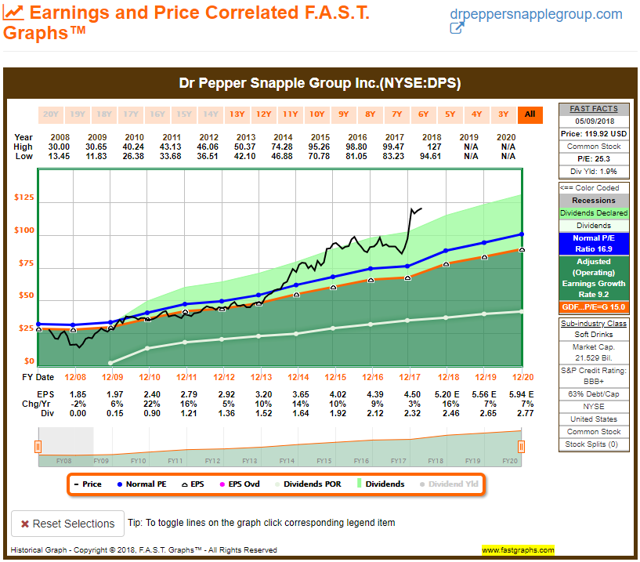 My other addition, Hormel Foods, also has an excellent track record of earnings and dividend growth. The company has paid an increasing dividend for the last 51 years, and has raised the payout at a 15.3% annual rate over the last decade.
The stock is trading well below highs set back in 2016, as it has struggled with low turkey prices that hurt earnings.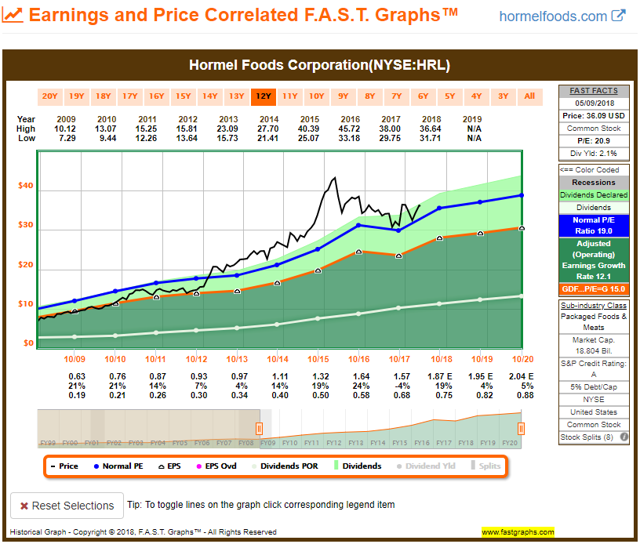 Like McCormick, Hormel is trading a bit above historical valuation levels. But it too is a company I've wanted for years, and I felt this was a great opportunity to add it to the portfolio.
Here's how the portfolio income was affected by the transactions: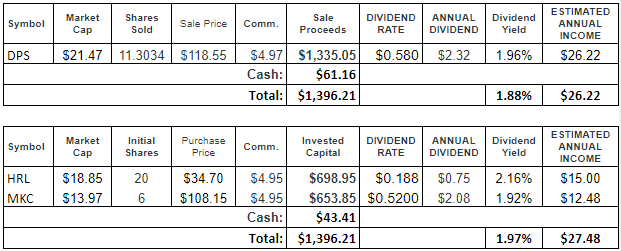 The trade had little impact on dividend income for the portfolio, as expected dividends are just slightly higher with the Hormel/McCormick combo than what I was previously getting from Dr. Pepper Snapple.
However, going forward I'm much more confident in future dividend growth from the replacements than from Dr Pepper Keurig, and with dividends being the focus of this portfolio, I'm happy with how this turned out.
Current Portfolio
Following those trades, here's how the portfolio stood as of the end of Q1: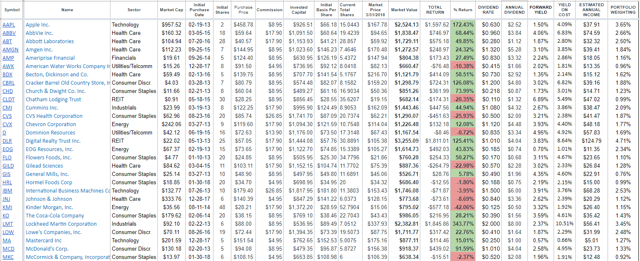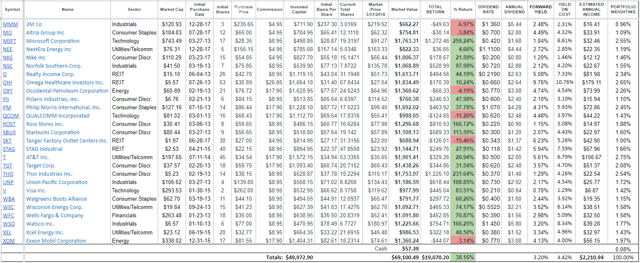 Overall, the portfolio is doing well, with positive gains in most positions, and several of those losses come from recent purchases that were made before the market weakness in 2018.
However, several of the long-time holdings, including IBM and Qualcomm, continue to struggle. I'm continuing to hold them, as I believe that IBM's efforts to restructure the business will eventually pay fruits, and that Qualcomm will benefit from the upcoming 5G transition.
The rebound in energy also is beginning to have an impact, as the positions from that sector have moved higher here in Q2.
Most importantly, the projected dividend income continues its march higher. The expected income has now risen to $2,210.94 compared with $2,114.24 at the beginning of the year and $2,005.27 that was collected in 2017.
So while it can be discouraging at times to see portfolio values fall along with the market, I know that with every dividend increase announcement, and with every dividend reinvestment in the portfolio, my projected income inexorably keeps rising.
Here are the portfolio weightings by total value and by dividend income:

There was a few noticeable changes in the weightings, as a sell-off in drug stocks caused the healthcare weighting to drop from 11.6% to 11.0% and big price increases from Apple and Mastercard caused that sector weighting to increase from 12.3% to 13.4%.
Looking ahead, energy will be expanding its weighting in both categories, as share prices have moved higher and dividend increases from Kinder Morgan and Exxon Mobil are factored in.
On The Radar
With no new cash coming in anymore, there aren't any moves to make in the portfolio unless I want to sell out of an existing position. At this time I'm not anticipating making any moves, but will admit that I have to fight the urge to sell under-performers like Gilead, IBM, Wells Fargo and Chatham Lodging Trust.
As for prospects, I think Altria is quite attractive after its recent dividend increase and another likely dividend increase later this year. It is currently yielding 5%, and with another 10%+ dividend boost possible, it is tempting to add to my position.
Dominion also is trading about 25% below 52-week highs, which has caused the dividend yield to rise to about 5.2%. It was recently named the No. 1 opportunity on my Top Ten Utility Stocks list, and looks like another nice opportunity for income investors.
Conclusion
It can be easy to get discouraged in a volatile market that we are currently in. Seeing portfolio value drop is never fun, but my focus on dividend income really works wonders to keep me calm during those down market days.
The portfolio continues to do well, with projected income rising by 4.5% since the last update. There have been several more dividend increases announced in Q2 as well, keeping me well on track to meet my goal of 10%-plus annual income growth for the portfolio.
I hope this update finds you well. Happy investing!
If you enjoyed this article and would like to read more of my future work, I kindly ask you to click the "follow" button next to my name at the top of the page to receive updates when new articles are published.
Disclosure: I am/we are long AAPL, ABBV, ABT, AMGN, AMP, AWK, BDX, CBRL, CHD, CLDT, CMI, CVS, CVX, D, DLR, EOG, FLO, GILD, GIS, HRL, IBM, JNJ, KMI, KO, LMT, LOW, MA, MCD, MKC, MMM, MO, MSFT, NEE, NKE, NSC, O, OHI, OXY, PII, PM, QCOM, ROST, SBUX, SKT, STAG, T, TGT, THO, UNP, V, WBA, WEC, WFC, WSO, XEL, XOM. I wrote this article myself, and it expresses my own opinions. I am not receiving compensation for it (other than from Seeking Alpha). I have no business relationship with any company whose stock is mentioned in this article.
Additional disclosure: I am an engineer by trade and am not a professional investment adviser or financial analyst. This article is not an endorsement for the stocks mentioned. Please perform your own due diligence before you decide to trade any securities or other products.