Midstream resumed gains this week, with similar gains across MLPs, U.S. and Canadian corps. Oil and the broad stock market rallied as well. No surprise, but $70/bbl seems to be a positive for energy stocks broadly. Midstream-specific sentiment has also benefitted from solid earnings season that included baby steps towards resolution of pending simplifications, de-leveraging, etc. The MLP Index is just one more good week away from being flat for the year (including distributions).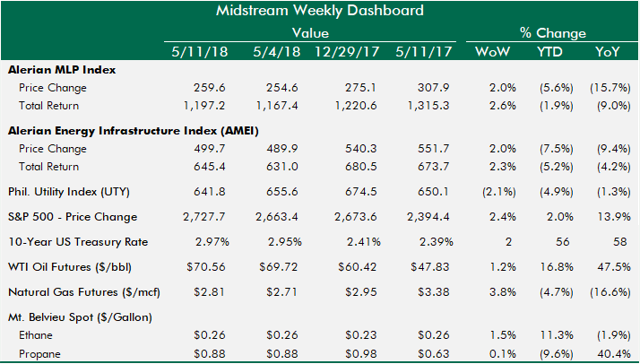 This week might provide further progress on simplification and other potential strategic transactions, with expectations high for the Williams (NYSE:WMB) analyst day (5/17), the last meaningful scheduled event ahead of the MLPA conference next week.
The final week of 1Q earnings included major asset sales from Enbridge (NYSE:ENB) and drop-down clarity for Andeavor (NYSE:ANDX). MPC snapped its fingers last week and seemingly orphaned ANDX; Andeavor wrestled the infinity gauntlet back from MPC and reversed ANDX's fate by re-instituting the drop-downs.
High Standards
Given that its Mother's Day Weekend, a Mom related analogy is in order. As a married man and father, I don't get to just watch '80s action films, '90s cult classics and super hero movies. I've had my fill of romantic comedies too. One of those films was Monster-in-Law, a forgettable rom-com where Jane Fonda plays a rich mom who thinks Jennifer Lopez isn't good enough for her son and spends the movie trying to break them up.
Midstream continues its transition to a more sustainable business model, a Midstream 2.0 model I wrote about in a whitepaper published a few years ago. In that paper, I identified the boxes that Midstream companies should aspire to check: lower leverage, higher coverage and no IDRs. The challenge or lament is that among 60-ish midstream MLPs and 30-ish more midstream corporations (including Canada), there aren't more than a handful that check all the boxes. Not many of them are perfect enough to bring home to Jane Fonda's portfolio.
2018 is a good year to own a midstream asset. Producer activity is up, production is up, utilization is growing tight, driving opportunities to expand infrastructure. We want to be able to identify that midstream assets will perform well in this fundamental environment but to do that, in many cases you've got to take on one or more of the following issues: high IDR take, strained balance sheets, low coverage, funding gaps, orphan risk and FERC uncertainty. In investor parlance, almost all MLPs have a bit of hair on them.
The hair phenomenon is partially responsible for the high multiple at which OKE trades. It's the cleanest story in the universe (at the moment). There are others that check some of the boxes. Among MLPs it might be MMP or EPD, but they are still MLPs, which carry guilt by association (or index inclusion) with bad actors also structured as MLPs. Others, like WMB/WPZ and PAA/PAGP have taken dramatic steps to join the Midstream 2.0 movement, but still get dragged down on big MLP index selloff days.
In investing generally, it's rare to find the perfect company that checks all the asset and financial boxes and trades at an attractive valuation. Identifying midstream companies that are executing on plans that will eventually check more boxes takes research, foresight and experience, and the market remains skeptical and content to stick with names that already check all the boxes.
That's where active management and portfolio management become crucial. With a portfolio, you can build a mix of companies with quality asset exposure and those transitioning to Midstream 2.0 model, with management teams you trust to be good stewards of capital. Importantly, you can avoid some of the lower-quality management teams, financial situations and assets.
As a married man, like Robin Williams in Good Will Hunting, I know perfection is a fool's errand. High standards are important, and you can certainly do better than owning the entire hairy sector passively, but there is some good stuff worth paying attention to in the midstream sector.
Winners & Losers
DCP reported solid 1Q results and an NGL pipeline solution from the DJ Basin, which when combined with higher commodity prices propelled DCP to the top of the group this week. NBLX was second best this week, helped by news that sponsor NBL committed volumes to the EPIC pipeline that came with an option for a stake in the pipeline. GLP and EEP reported results that the market liked, while SMLP rallied on no news. The biggest losers this week were CAPL and BKEP, both had distribution cut announcements.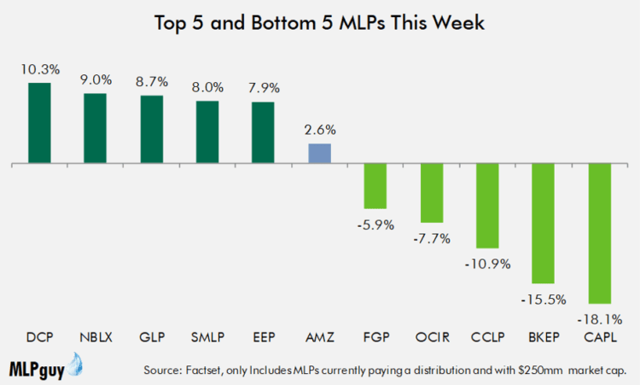 The YTD leaderboard saw some serious changes week over week. EQM is now the 3rd worst performing MLP this year, despite no operational or growth hiccups since IPO, so it must all be the complexity and IDRs the market doesn't like. NS and SMLP climbed out of the bottom 5 and BKEP joined the bottom 5. NRP took over the top spot from CCLP. PAA dropped out of the top 5, replaced by CEQP.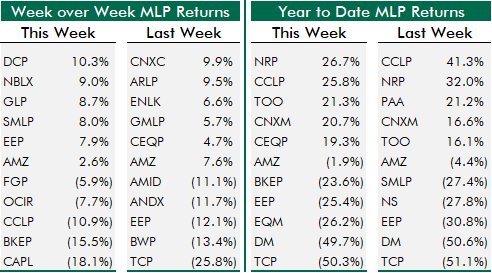 General Partners & Midstream Corporations
GPs and Midstream corporations as a group were roughly in line with the AMZ this week. SEMG's White Cliffs NGL conversion and results were well received by the market. PAGP was the clear laggard on results that beat, but disappointed on S&L upside in 2018 and commentary on Permian competition.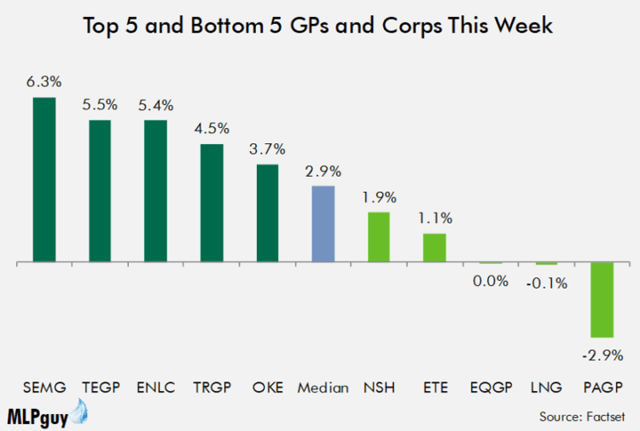 OKE extended its YTD lead in the group with another top 5 performance this week. LNG leapfrogged PAGP for the second spot. WMB closed the week down just 9.9% for the year, back into single digit negatives ahead of its analyst day next week.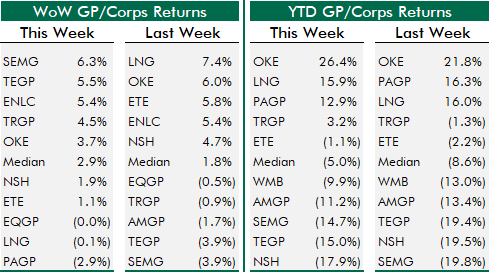 Canadian Midstream Corporations
Enbridge was the clear winner, outperforming the group for a second straight week. Enbridge had strong results and some major asset sales this week, but the Minnesota PUC decision in June on Line 3 replacement still looms. Line 3 and Trans Mountain Expansion (and its end of May self-imposed deadline) both loom large for Canadian energy, including those smaller companies servicing producers in Canada.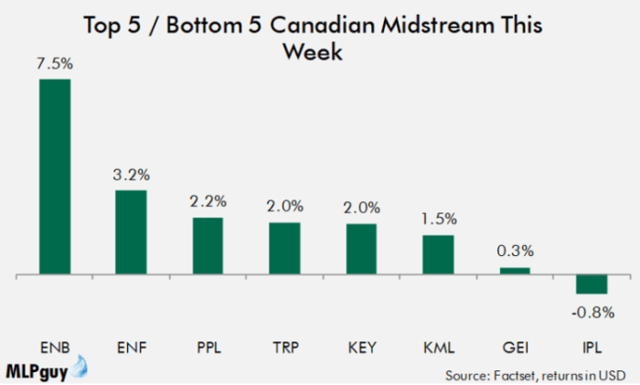 Despite Enbridge's recent strength, it hasn't climbed any higher on the YTD leaderboard. Canadian midstream did reach a milestone this week, however, when Keyera (OTC:KEYUF) finished the week positive for the year so that at least one in the group is positive.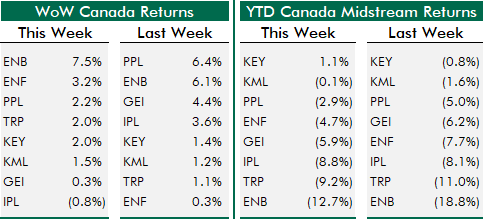 News of the (Midstream) Week
Plenty of news this week, including two major drop-down announcements, very large assets sales, and a creative and capital efficient development project. Also, we got some very small signs of capital markets activity resurfacing.
Capital Markets
Growth Projects/M&A
Other
Editor's Note: This article discusses one or more securities that do not trade on a major U.S. exchange. Please be aware of the risks associated with these stocks.