For the past year and a half, I have been pounding the table for people to get into oil stocks and more recently oil itself via ETF. The results have been very good for those who bought the dips.
Many people have been asking me lately if it's too late to get in? My unequivocal answer is "no, it's not too late to buy oil stocks." However, buying the entire sector has gotten harder. I recommend buying individual stocks and building your own "personalized ETF."
To hear a walk through oil markets and see it visually, please see this Friday's webinar (I do a weekly webinar on a topic with Q&A): Trading the Oil Bull Market.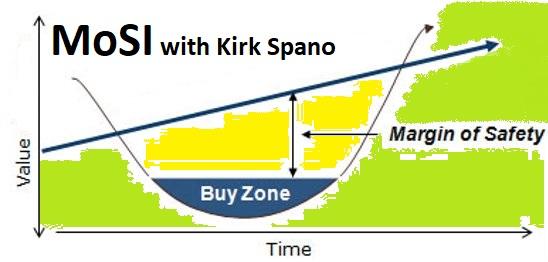 A Brief History
Oil of course crashed when OPEC, led by Saudi Arabia, decided to start putting massive pressure on long cycle oil megaproject developments. As I discussed, American shale was never OPEC's primary target to reduce competition as we entered the beginning of the end of the oil age.
As a result of OPEC's actions, approximately a trillion dollars worth of offshore (primarily deepwater) and oil sands projects have been canceled. The result has been that multiple deepwater drillers have gone bankrupt.
Today, while OPEC oil production has plateaued and now sanctions on Iran are in the process of being put back into place, shale is about to enter a new golden age for oil stocks.
I have written extensively about the developments in oil and how to invest in this new "last great secular oil bull market." From calling the oil crash to starting to get back in near the bottom to buying calls on oil stocks in the past year, the ride has been good the past two years. The ride isn't over yet.
Oil Rising
The price of oil has nearly tripled since it bottomed in the winter of 2016. Right now, members of my investment letters are invested in several direct plays on oil.
The first is that we own calls on the PowerShares DB Oil ETF (DBO) and the United States Oil Fund (USO). Since the markets went into backwardation and broke through resistance a couple months ago investing in oil via ETFs has been profitable and far less risk than when a contango environment exists.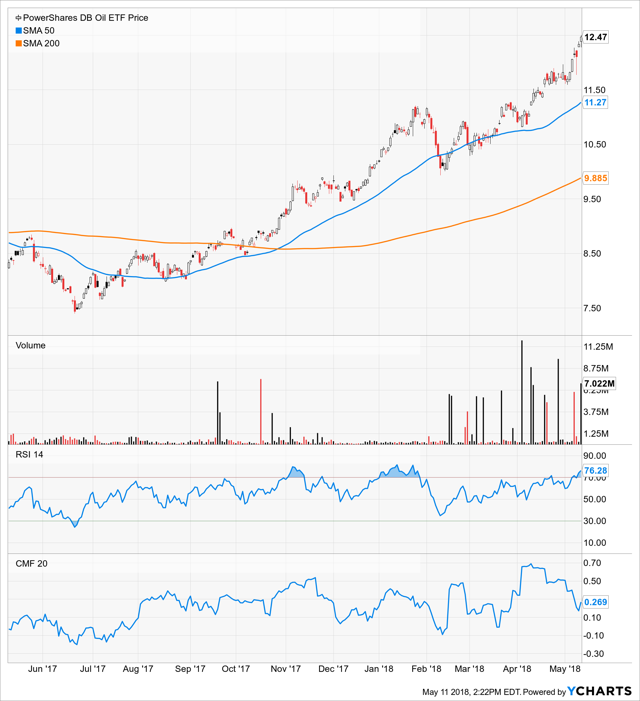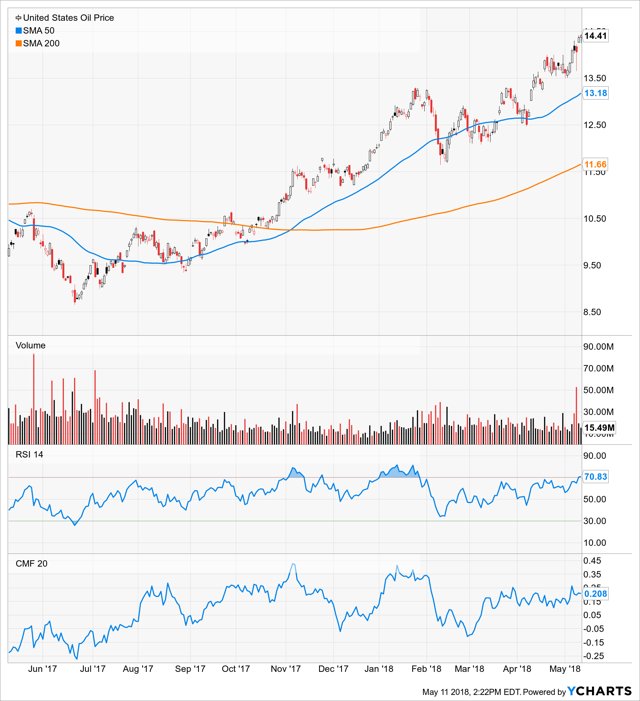 Investing in these ETFs works not only because of the rise in oil prices, but importantly, due to the futures being in backwardation. Under this scenario, rolling the contracts each month is favorable versus in contango when rolling contracts cost more money than what was spent the prior month.
My anticipation is that oil rising at least to $80 per barrel for WTI and $85 per barrel for Brent. Since the two funds above are based on U.S. oil, it is important to pay attention to WTI and the spread between WTI and Brent.
The call options that we own are good for several more months and I believe can be held until roughly July or whenever oil approaches $80 per barrel. As risk management, I recommend taking the easier money and not trying to stretch too far here; however, maintaining or rolling into new calls for exposure to an oil spike makes sense for aggressive investors.
For the aggressive enterprising investor (if you read my special report for members on Intelligent Asset Allocation or read The Intelligent Investor by Ben Graham you know what I'm talking about), rolling into longer dated calls with some of the profits on our shorter dated calls will make sense if you fear broader war in the Middle East and oil supply disruptions beyond what will occur with the Iran sanctions coming back into place. We will cover roll opportunities as they occur.
For now, I am holding onto my calls until, as I said above, oil reaches about $80 per barrel or the high driving season in July.
The same holds true for United States 3x Oil fund (USOU), which aggressive investors are holding now. USOU is generally built as a day-trading vehicle, but because of the current backwardation of oil futures contracts can be held while upward momentum on oil persists. We are up approximately 17% in the past two weeks since entering this position.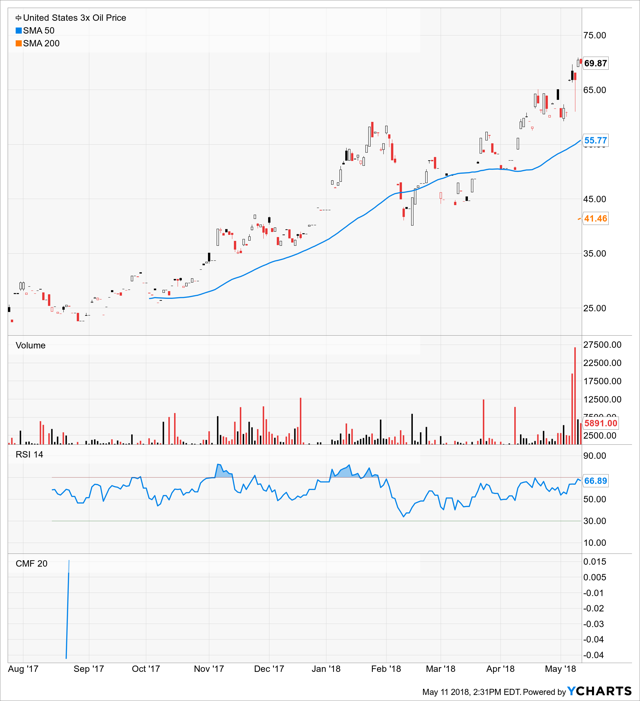 With oil at about $71/barrel right now, a 10% increase to $78/barrel would result in a roughly 30% gain on USOU. That is my target for the next couple months. I will sell this ETF due to its leverage ahead of closing calls, which hold lower risk exposure to an oil spike.
Trading Oil ETFs
As you know, I think the oil majors are not the place for the oil bull market. I much prefer the mid-tier companies and the big lean oil independents with exposure to the Permian Basin.
While I picked the fund much earlier, I am gratified to know that Jeff Gundlach of Doubleline and several other prominent investors are getting behind my pick of the SPDR S&P Oil & Gas Exploration & Production ETF (XOP). I did a deep dive into this fund along with the Energy Select Sector SPDR ETF (XLE), concluding XOP was the far better play.
XOP is an equal weighted fund with very little exposure to Exxon (XOM) and Chevron (CVX), which are no longer best of breed as both companies will eventually have to write down billions more in stranded long-cycle assets that will never be developed.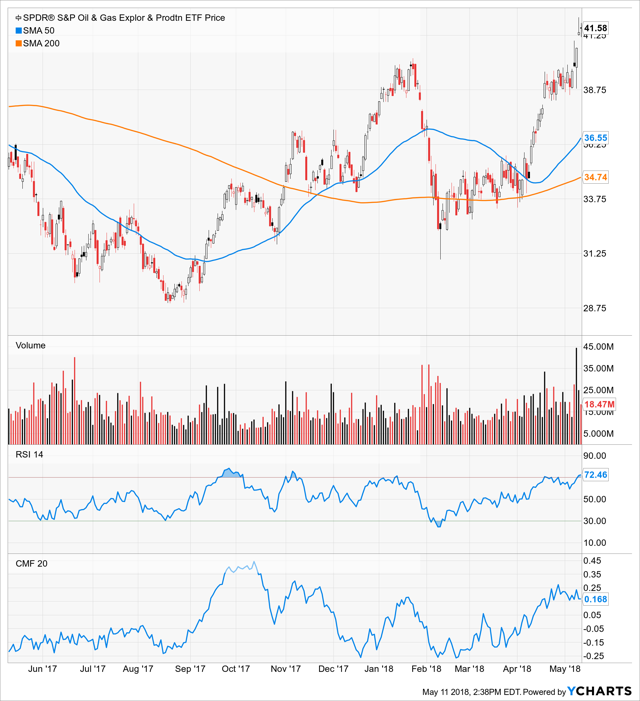 XOP has recently broken above resistance signaling a breakout. Buying at prices around the low $40s on down days is still a worthwhile endeavor for investors as that is a new support level.
Clients of mine and members of my investment letters currently own both XOP and LEAPs on XOP. Since I believe many oil stocks can double to triple in the next 2-4 years due to higher oil prices, better balance sheets and a great hedging opportunity developing, I intend to hold my positions until XOP approaches $60 per share. I think there is upside to $80 potentially.
For those who own the SPDR S&P Oil & Gas Equipment & Services ETF (XES) as a play on tightening fracking supplies and labor market, I think this can be held until companies like Helmerich & Payne (HP), a recommendation from last year, approach all-time highs in the next year or two.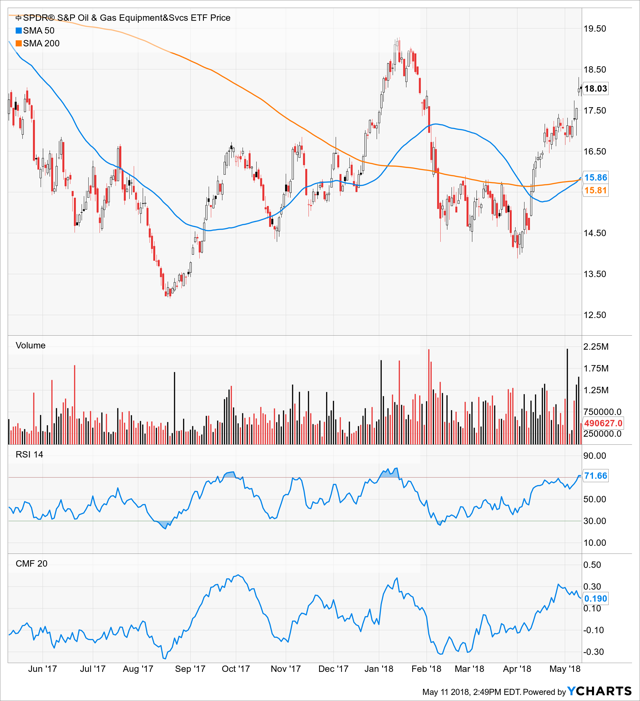 The important idea to recognize on options, levered funds and broad based industry indexes is that there's bad with the good. So, we don't want to ride these into the unknown too far. We want to focus on the easier, earlier money.
We don't want to stretch out on the thinner riskier branches. We'll want to be among the first to take profits, just not first.
Where we can hold on a little longer is in the stocks that we know very well.
Trading Top Oil Stocks
While there are a lot of oil stocks that will do well, I have selected three for the majority of my money after my ETF holdings.
For growth and as a takeover candidate I am invested in Encana (ECA). This company right-sized itself and focused on four core assets, including a large position in the Permian. Royal Dutch Shell (RDS.A) (NYSE:RDS.B) recently talked about acquiring assets in all four of the oil plays that Encana is focused on. It seems a natural fit to me that Shell could buy Encana in part (Eagle Ford and/or Canada assets) or in whole.
The stock has run from below $10/share to over $13/share in the past year since I started recommending it. I believe it will run into the $20s. I'll hold the stock long-term.
I'll start selling the LEAPs held on Encana on momentum into the $20s. Remember to scale out, not sell all at once. We don't know exact tops and bottoms, but we have been getting close. A slightly scattered approach to buying and selling at various quant and technical levels is what we do.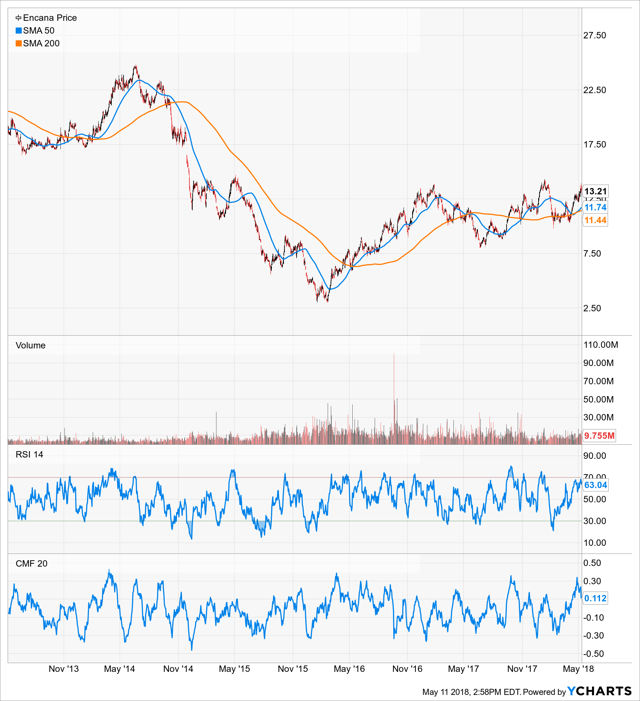 Occidental Petroleum (OXY) is my replacement stock for Exxon and Chevron. I have talked about the stock enough that its Permian presence is well known. It is its export capabilities that give it that extra strength.
I fully expect Occidental to reach new all-time highs on this bull market. That implies a price into the $100s. The company has been a rumored acquisition target for Exxon as well. Based on its earnings growth with higher hedged prices coming and export revenues, I can see Occidental doubling the next several years while we collect its growing dividend.
Occidental could be the last oil stock we sell.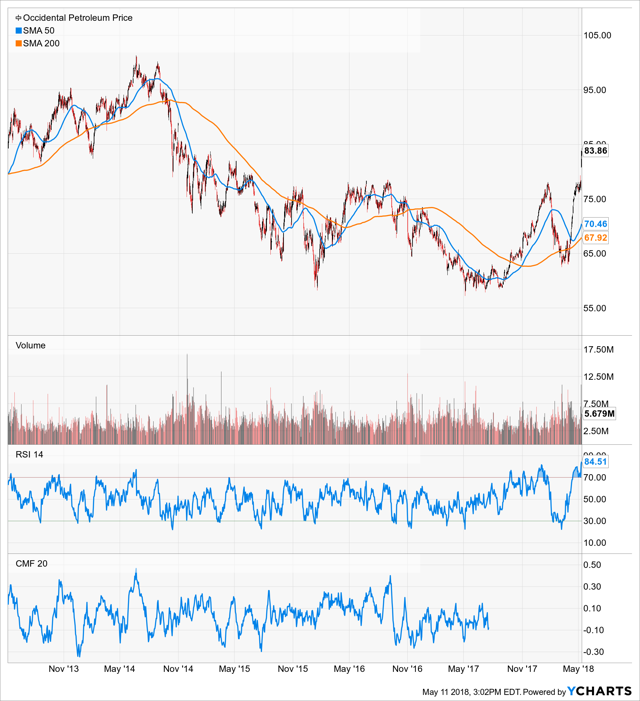 Pioneer Resources (PXD) is our newest purchase having got it around $170/share. It is just breaking out. Since David Einhorn called it the "mother fracker" the company has done everything right.
Its conversion to a Permian pure play means that cash flows could explode on higher oil prices. Drop-downs of cash from asset sales of non-Permian assets will lead to an excellent balance sheet - it's good now - and potentially special dividends and more stock buybacks.
I think Pioneer will set new all-time highs in the next two years and can break well into the $300+ stock price range in the next few years. This company is also a potential takeover target (see a theme).
Final Thoughts On Oil (For Today)
It is important to remember that many oil companies went out of business during the oil crash. While the oil fields do not disappear, the consolidation of the industry, still ongoing, puts supply into fewer hands. This gives the industry more pricing power.
Do not believe the cynics who talk about surging production as oil companies chase dollars today. The remaining companies, for the most part, and the three mentioned above especially, have great management. The shale industry is not going to submarine itself.
These companies prepared themselves to survive with oil prices in the $40s per barrel and thrive in the $50s. We have seen cash flows and earnings rise with hedged prices in the $50s.
The next hedging opportunity starting now will give these companies guaranteed prices in the $70s for 2019 and 2020. Consider that their cash flows and earnings will be if oil holds the Goldilocks price range I have suggested of $80-100 for several years - many oil stocks will become cash flow machines.
I reiterate that I believe that the energy sector will be a top one or two sector over the next 5-7 years. Increase your asset allocation above that of the S&P 500 which is currently only about 7% energy. I am about 25% energy in moderate risk accounts and higher temporarily in aggressive accounts.
================================================
May is the last month to get Margin of Safety Investing with a forever discount price.
Beginning in June, any discounts offered will be for the first year only. Right now, you can get Margin of Safety Investing for only $1 per day, guaranteed for the life of the service - which I intend to run for at least another decade.
What do you get with Margin of Safety Investing? You get an investment process that really works. See my TipRanks profile & this article:
A Verified 48% Gain In 2017 And My Gameplan For 2018 - Kirk Spano
Right now, you can get Margin of Safety Investing for only $365/yr and that's guaranteed forever.
Disclosure: I am/we are long XOP, XES, USO, USOU, DBO, ECA, PXD, OXY. I wrote this article myself, and it expresses my own opinions. I am not receiving compensation for it (other than from Seeking Alpha). I have no business relationship with any company whose stock is mentioned in this article.
Additional disclosure: I own a Registered Investment Advisor - BluemoundAssetManagement.com - however, publish separately from that entity for self-directed investors. Any information, opinions, research or thoughts presented are not specific advice as I do not have full knowledge of your circumstances. All investors ought to take special care to consider risk, as all investments carry the potential for loss. Consulting an investment advisor might be in your best interest before proceeding on any trade or investment.