Now we know why advocates for ethanol producers on one side and refiners on the other could not agree as to whether or not the "compromise" on the biofuels mandate announcement that President Donald Trump announced last week actually existed. Last Friday the specific terms were leaked to Reuters and, if confirmed in an upcoming formal announcement, they will signify a major shift in favor of ethanol producers following several months of policy uncertainty.
Reuters reports that the Trump administration will soon be making three notable changes to the revised Renewable Fuel Standard [RFS2]. First, as was also reported last week, the White House will begin allowing exports of ethanol to count towards the overall mandated biofuel blending volume. Such a move would effectively eliminate the negative impacts to refiners of the so-called ethanol "blend wall," which refers to the unwillingness of consumers to utilize blends of ethanol in gasoline exceeding 10 vol%.
(The U.S. government has allowed the use of 15 vol% blends in unmodified vehicles since 2012 but drivers have largely refrained from doing so.) By counting ethanol exports, which almost hit 1.4 billion gallons in 2017 (see figure) and are on pace to exceed 1.8 billion gallons this year, towards the overall mandated volume in 2018 of 19.3 billion gallons, the change would make it much easier for existing domestic consumption to satisfy the mandate.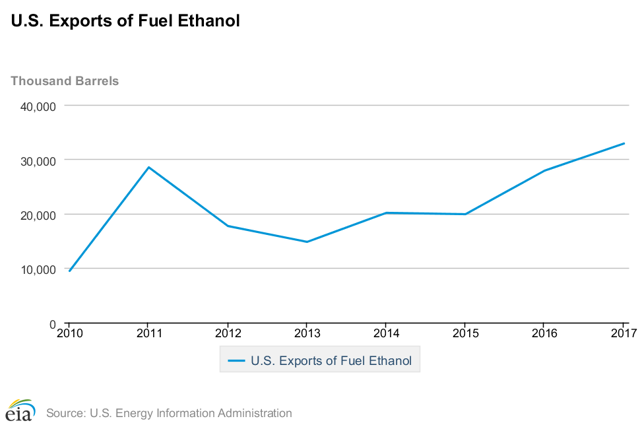 The reason that the White House considered the change in the first place is because the major hurdle to the mandate's success has been insufficient consumption rather than production. (This should not be confused with the cellulosic biofuels component of the mandate that has achieved far less production than required to meet the required consumption.) Plateauing U.S. gasoline consumption (see figure) after decades of continuous growth ultimately means that the amount of ethanol consumption required to meet the mandate has exceeded 10 vol% of U.S. gasoline demand for a few years now.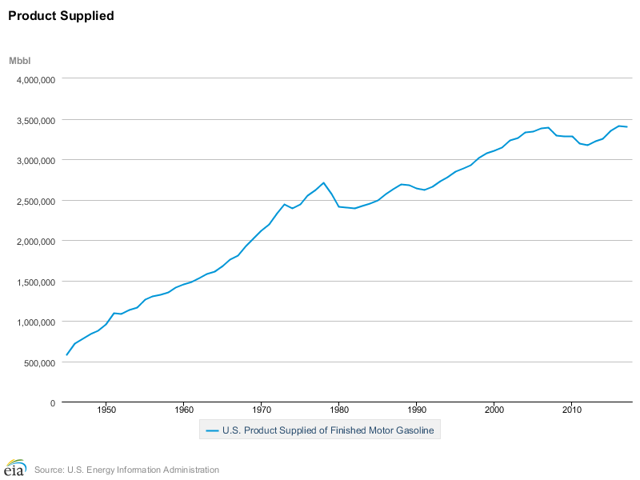 The mandate requires consumption rather than production, however, and a compliance credit mechanism known as a Renewable Identification Number [RIN] is used to ensure that refiners make enough blended ethanol available in gasoline to meet the blending requirement. RINs are openly traded and have been very valuable on past occasions (see figure), especially when ethanol production margins have been low, at times being almost as valuable as the underlying ethanol itself.
Many refiners, especially in the merchant category, own insufficient blending capacity (having sold much of it off during the downstream MLP craze earlier in the decade), though, and have found themselves spending very large sums on RINs as a result ($3.1 billion across 11 merchant refiners in 2017, for example).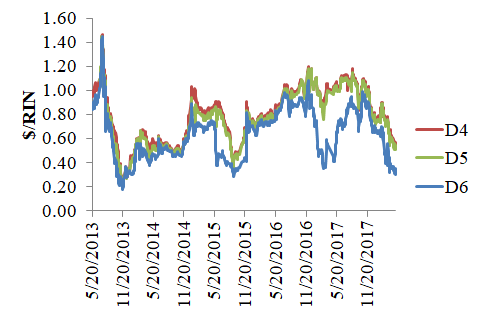 Source: EcoEngineers (2018).
The White House's purpose in allowing exported ethanol to count towards the mandated volume, then, is to reduce RIN prices by increasing the supply of RINs (each RIN represents one gallon of ethanol that contributes to the mandate) without changing demand for them. Whether or not this change would be entirely successful would depend on gasoline consumption and export volumes in 2018, but a rough calculation suggests that it would close the gap.
The mandate requires approximately 16.1 billion gallons of ethanol (biodiesel does not face the same blending restrictions and is excluded) to be consumed in 2018, whereas the U.S. Energy Information Administration [EIA] projects that roughly 143 billion gallons of gasoline will also be consumed in that year. If 14.3 billion gallons of ethanol can be consumed before encountering the 10 vol% blend wall, and another 1.8 billion gallons is exported abroad but counted toward the mandate, then the combination would equal the 16.1 billion gallon requirement.
The Trump administration's second change would provide an additional buffer to the blend wall volume by allowing 15 vol% blends of ethanol to be sold year-round. I have already discussed the merits of this proposal as well as my skepticism regarding its overall impact, but suffice to say that every additional gallon of ethanol consumed as a 15 vol% blend further expands the volume of consumption permitted by the blend wall.
At first glance, this is an ideal compromise. Ethanol producers would benefit from continued strong demand for their primary product while merchant refiners in particular would experience much lower RIN expenditures. Better yet, ethanol producers would have a buffer against retaliatory tariffs on ethanol of the type recently announced by China since only exported volumes would contribute to the mandate. If overseas demand disappeared, then RIN prices would presumably rebound in order to incentivize higher domestic consumption under the mandate.
U.S. ethanol producers such as The Andersons (ANDE), Green Plains, Inc. (GPRE), Pacific Ethanol (PEIX), and REX American Resources (REX) would continue to experience strong demand for their primary product, especially those that have been developing export infrastructure such as Green Plains. They would give up the potential for future demand growth, of course, since exports would now absorb any of the mandated volume not picked up by domestic consumption, but I'm not sure that this would be all that different from the current situation due to a continued lack of consumer acceptance to a 15 vol% blend.
Meanwhile, those merchant refiners that have incurred the highest RIN expenditures in the past, such as Valero (VLO), Andeavor (ANDV), Marathon Petroleum (MPC), HollyFrontier (HFC), PBF Energy (PBF) and CVR Refining (CVRR), would see those headline numbers decline on lower RIN prices. Meanwhile, the downsides would be concentrated among the handful of fuel retailers, such as Casey's General Stores (CASY) and Murphy USA (MUSA), that have a substantial amount of domestic blending capacity. (As non-obligated blenders these fuel retailers are able to sell all of the RINs that their blending capacity generates.)
Give and take
This is where the other side of the Trump administration's compromise comes into play. While U.S. ethanol producers would give up the potential for future domestic demand growth under the terms, U.S. merchant refiners will in turn give up the potential for the widespread distribution by the EPA of "hardship waivers" to small refineries. As Reuters explains:
The EPA is required by the RFS to provide such waivers to refineries of less than 75,000 barrels per day in capacity that can prove that complying with the RFS would cause them 'disproportionate economic hardship', but the agency has broad discretion over assessing the applications.

In recent months, the EPA has granted more than two dozen such waivers in an effort to help the refining industry cope with the RFS - about triple the typical level under past administrations - angering the corn lobby, which argued the exemptions are reducing overall demand for ethanol.
The waivers were not widely distributed to small refineries until this year, when EPA Administrator Scott Pruitt began giving them to dozens of refineries despite the presence of strong earnings growth for merchant refiners (see figure). While it is unlikely that those waivers that have already been granted will be rescinded, the announcement does mean that the waivers will no longer be used to create a de facto cap on RIN prices via reduced RIN demand.
More importantly, Reuters also reports that those waivers that have been awarded will only reduce the individual refineries' blending obligations and not the overall blending volume. In other words, while refineries with exemptions will not need to blend as much ethanol (or purchase as many RINs) as they would without the exemption, the difference will need to be made up by every refinery without an exemption. The burden is simply being shifted between refineries.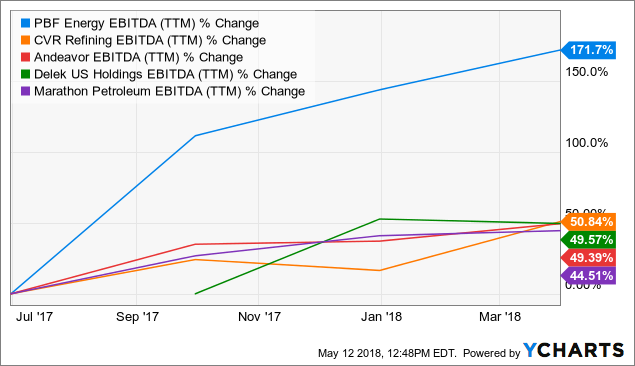 The bad news for refiners does not stop there, moreover. As I wrote last week, and as has been pointed out by other experts on the RFS2, the federal courts have ruled as recently as last year that the mandate is intended to force higher domestic consumption, and that only Congress has the authority to change this purpose. Therefore, the mandate cannot be used to spur ethanol exports without Congressional authorization, and even that would likely run afoul of WTO rules on export subsidies.
While it might take years for the courts to render the Trump administration's change to the export provision invalid, such a result would ultimately be quite likely. So long as the "compromise" moves forward, then, refiners will give up their de facto RIN price cap from the mass waivers without receiving an artificial RIN supply boost from newly-qualified ethanol exports. Meanwhile, those mass waivers that have already been granted will simply result in higher blending volumes for large refineries. Those refineries can afford it, of course, given prevailing crack spreads, but this certainly is not the result that they hoped for.
Disclosure: I/we have no positions in any stocks mentioned, and no plans to initiate any positions within the next 72 hours. I wrote this article myself, and it expresses my own opinions. I am not receiving compensation for it (other than from Seeking Alpha). I have no business relationship with any company whose stock is mentioned in this article.