I often hear people, particularly those who understand and appreciate Apple's (NASDAQ:AAPL) business model, wonder why the Cupertino-based company's stock trades at such low multiples - 14.4x next year's earnings, vs. peer Microsoft's (NASDAQ:MSFT) 24.5x and the broad market's 17.0x. Regardless of how well Apple performs, existing and potential shareholders seem reluctant about holding AAPL shares at anything but a discount, below-market average valuations.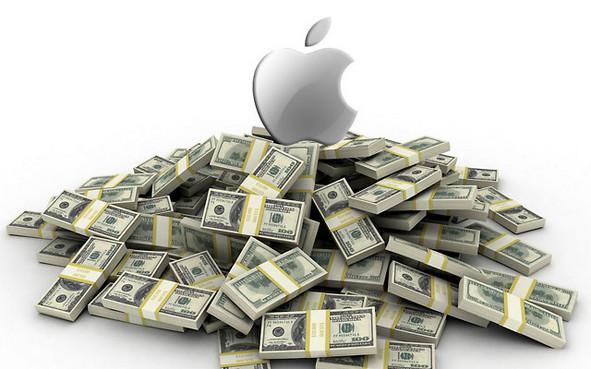 (Image Credit: Gadget.ro)
A few different reasons could be presented and discussed, including the over-reliance on the iPhone, which represented roughly 70% of total revenues last quarter. But in my opinion, a key factor capping valuation multiples is that Apple's profile (i.e., its mega size, rich margins, modest growth prospects) probably appeals to a more conservative, value-oriented investor base. And I reason that many of these investors are interested in reliable, meaningful income generation and distribution.
In that regard, and although Apple has produced an impressive $53.3 billion in net earnings over the past 12 months for a YOY growth rate of about 14% and rising (see chart below), the stock still yields only 1.5% on a forward-looking basis, i.e., already taking into account the recently announced increase in per share dividend payments. True, a 16% dividend payment hike is not something to be brushed off. But the boost has been insufficient to catch up with the stock price increase of 23% of the past year, meaning that the dividend yield has gone nowhere but down slightly since May 2017.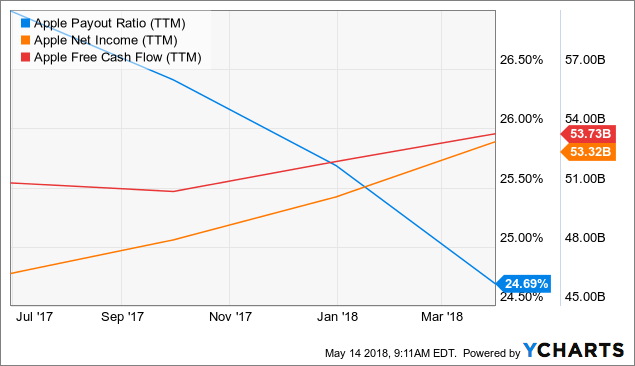 Thinking from the perspective of the income-seeking investor, the new yield does very little to provide a meaningful stream of cash to shareholders each quarter. The chart below illustrates that, among the 413 dividend-paying companies in the S&P 500, AAPL ranks only 294th, falling within a group of the 30% worst-paying stocks.
With the second wave of baby boomers retiring and seeking income, but with bond yields still looking a bit light, I believe rich dividend-paying stocks are likely to remain a party favorite among aging investors. AAPL could have chosen to become part of this select group, since the company owns a massive cash pile of $145.4 billion, net of debt (nearly $30 per outstanding share), and has produced $53.7 billion in free cash flow over the past 12 months. An extra $14 billion per year committed to dividend payments, for example, would have pushed AAPL's yield beyond 3%.
(Source: D.M. Martins Research, using data from Sure Dividend)
Without the full support of dividend investors on the one hand and of aggressive growth investors on the other, AAPL is stuck in the middle, seemingly unable to please either crowd beyond what a low-to-mid teen earnings multiple might justify. Since growth cannot be produced internally but dividend hikes can, I believe the recent 16% increase was a missed opportunity for Apple to make its stock as attractive as ever to a growing pool of income-hungry investors.
Investor takeaway
Of course, I am not on Apple's Board of Directors, so any opinion that I may hold on this subject is irrelevant. But readers who agree with me might want to keep an eye on Apple's dividend growth strategy. The company's CFO Luca Maestri has called for "annual dividend increases going forward," with a review of Apple's capital allocation taking place regularly. Should the company push to boost yield significantly over the next couple of years, I believe the stock will benefit from increased demand, and shares are more likely to find support and stability.
For now, and despite some disappointment over Apple's chosen cash distribution plan, I remain an AAPL bull for the long run due to the company's strong fundamentals and business prospects that I find robust.
Disclosure: I am/we are long AAPL.
I wrote this article myself, and it expresses my own opinions. I am not receiving compensation for it (other than from Seeking Alpha). I have no business relationship with any company whose stock is mentioned in this article.