There has been a lot of speculation about what will happen when the Fed begins to unwind its balance sheet. One of the logical conclusions is that it will boost Treasury bond yields. Deutsche Bank (NYSE:DB) claims it could boost yields anywhere from 0.4 to 0.56%. This makes sense because as the central bank withdraws its demand for treasuries it will drive down the price increasing yields. But what about mortgage-backed securities (MBS)? Couldn't the same thing occur with MBS? The following article will discuss this and if it is likely to happen. If it does this could present additional yield for mREIT ETFs: REM, MORL, MORT, REML, MRRL. This could also mean a decline in the value of MBS ETFs: MBB, VMBS, LMBS, CMBS, MBG, GNMA, MBSD, HQBD.
The Fed's Balance Sheet
Starting in 2008 the Fed purchased lots of agency MBS in order to prop up the economy. Since September 2017, the Fed has begun to unwind its balance sheet. The Fed has a balance sheet comprised of the assets below: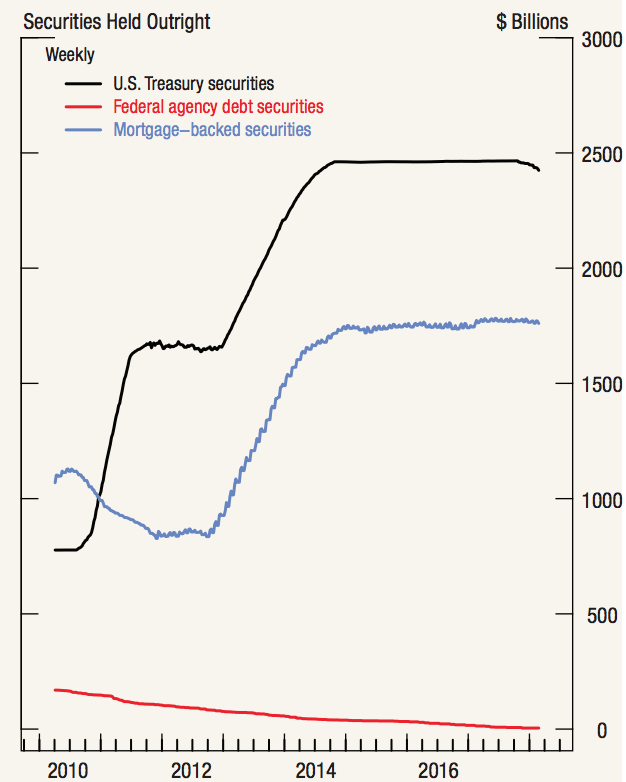 Source: The Fed's Quarterly Report for March 2018

The Fed is currently holding around 1.7 trillion in agency Mortgage Backed Securities! This is around 29% of all outstanding MBS as of September 2017 according to a study by the Urban Institute.
The Fed is unwinding its balance sheet by letting its assets mature. In other words, the Fed is choosing not to replace its assets. This has already begun to take effect if we look at the more recent change in the total assets by the Fed.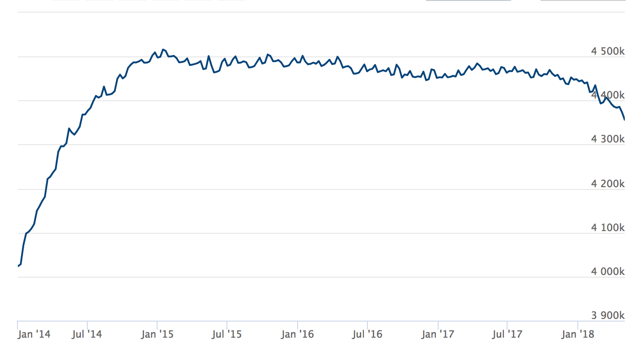 Source: Federal Reserve Website, Balance Sheet Trends
There has been a steep decline in assets from late 2017 to the present. According to Doubleline, this decline in assets is due to a decrease in the reinvestment of assets by 6 billion in Treasuries and 4 billion in agency MBS, that started on October 13th, 2017. This decline in reinvestment will increase every month by 6 billion for Treasuries and 4 billion for agency MBS until it reaches 30 billion a month for Treasuries and 20 billion for agency MBS.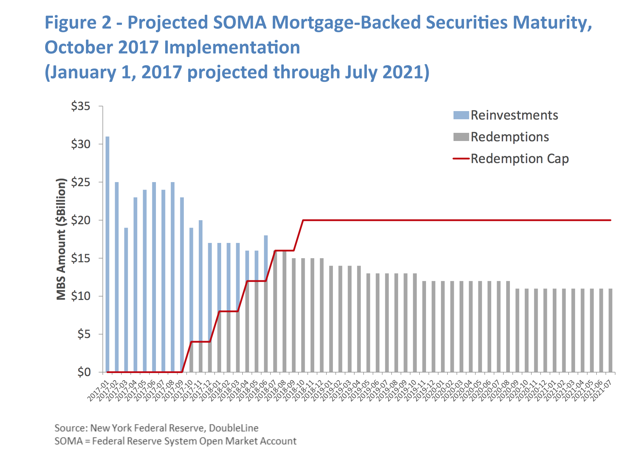 Source: Doubleline "Fed Balance Sheet and it's Impact on MBS"
As can be seen from the above image, the Fed will slowly decline its reinvestment in agency MBS until it's not reinvesting at all. From this point on, as agency MBS expires it will completely roll off the Fed's balance sheet.
MBS Yields when the Fed bought MBS in 2012:
At first glance, in 2012 it would be logical to expect yields to decline as the Fed purchased lots of agency MBS. But the Fed's purchases of agency MBS was not the only thing that affected yields.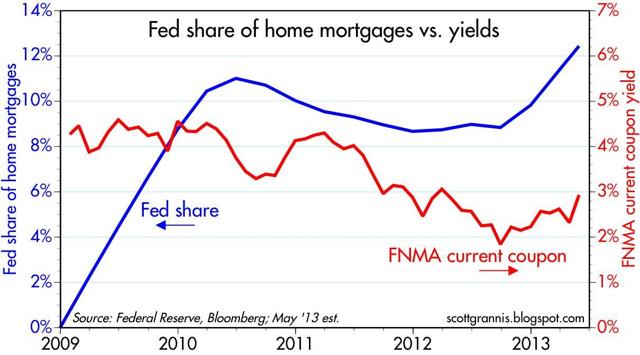 Source: Scott Grannis Blog/Bloomberg
When the Fed upped its purchases of agency MBS to 40 billion per month in September 2012 the yield responded by actually going up by over 100 bps. The Fed's share of agency MBS and MBS yields were actually positively correlated during late 2012 and 2013. How can this be? As stated before, the Fed is not the only market participant. If the market as a whole is bullish about the economy and moves out of safer assets, such as agency MBS, then yields will increase. 2013 was a great year for the stock market, representing bullish sentiment as a whole.
What about MBS Yields Today?
By itself, the unwinding of the Fed's balance sheet should boost agency MBS yields. The lack of demand should decrease the price of MBS and boost the yield. The price of the 30 year Fannie Mae MBS accurately reflects the decrease in price.
Even though the Fed owns around 30% of outstanding MBS, there is no guarantee that yields will be boosted. In fact, there are many other indications that MBS yields will tighten because prepayment risk has declined.
CPR stands for conditional pre-payment risk. This chart is indicating a low risk of pre-payment, making agency MBS a very low-risk asset. As agency MBS decreases its risk, the spread between Treasuries and agency MBS also declines.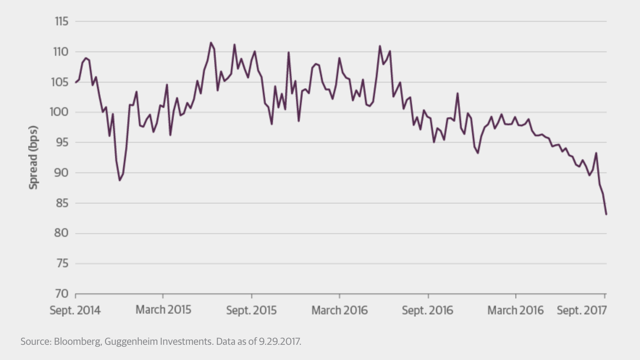 Source: Guggenheim Partners
To summarize real quick, prepayment risk is low making spreads low. That being said, in 2018 the price of agency MBS has still decreased, driving yields up as can be seen in the price chart of the 30YR FNMA. This decline in price is not just because of the Fed unwinding its balance sheet. The issuance of agency MBS is not static, so supply can change depending on the strength of the US housing market.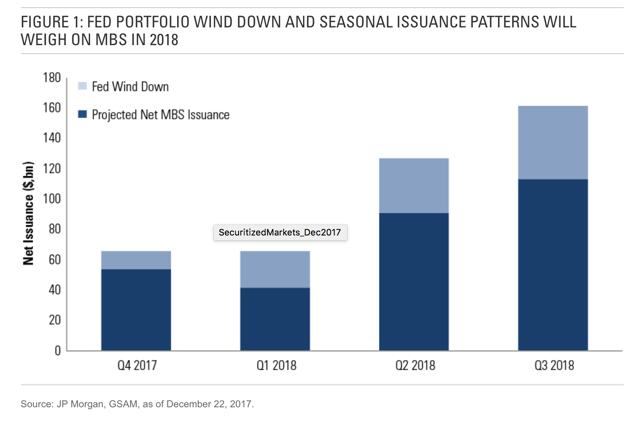 Source: Goldman Sachs Asset Management
According to Goldman, MBS should see a lot of supply in 2018 and not just because of the Fed. This extra supply combined with spreads being so low should result in spreads widening.
What does this mean for mREITs:
Mortgage REITs make a lot of their profit off agency MBS. mREITs fund these purchases using repurchase agreements. This means mREITs should see their profits rise and fall depending on the difference between the financing cost of repurchase agreements and yields for MBS. Currently, the spread between these has been declining.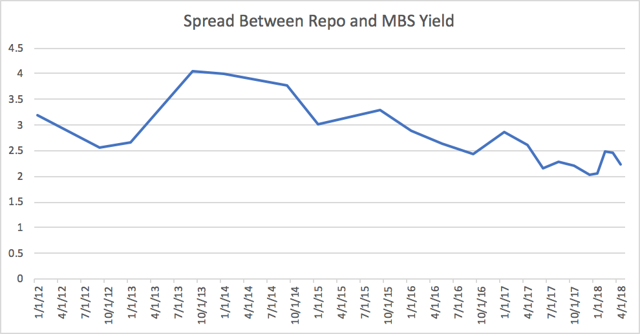 Source: WSJ Market Data Center
In 2018, with MBS yields expected to rise, there potentially could be an opportunity for more profitable purchases to be made for mREITs. It will be imperative to watch MBS yields closely and to see how fast financing costs rise for repos as the Fed increases rates. mREITs are already struggling a lot and unless mREITs diversify they will not be able to generate sufficient earnings on agency alone with spreads so low between agency MBS and repo financing. But this may be a sign in the right direction for mREITs. For additional info on this topic please see my other article.
Conclusion:
The Fed is unwinding its agency MBS which is about 30% of the market. This combined with increasing issuance of agency MBS in 2018 should boost yields. This could lead to more profitable purchases for struggling mREITs, depending on the price of debt financing. MBS ETFs should see a weak year with the price of MBS declining. Note that all MBS ETFs listed above are down YTD and should continue to see negative return throughout the year as supply continues to flow in from MBS issuance and the Fed.
Disclosure: I/we have no positions in any stocks mentioned, and no plans to initiate any positions within the next 72 hours. I wrote this article myself, and it expresses my own opinions. I am not receiving compensation for it (other than from Seeking Alpha). I have no business relationship with any company whose stock is mentioned in this article.