(NYSEARCA:FAZ) Direxion Daily Financial Bear 3x Shares ETF seeks a return that is -300% of its benchmark index the Russell 1000 ® Financial Services Index for a single day. Direxion investments offers many ETFs and funds for passive investors. They offer the inverse of this ETF (FAS) Direxion Daily Financial Bull 3x Shares ETF as well.
The Bear ETF's performance as many could guess has destroyed value since inception in November 2008. Now nearly 10 years later the product is worth considering; no one knows when this frothy bull market will die. For those contrarians, bears or simply someone looking for a hedge the Financial Bear 3x will not only protect downside but leverage gains in a market draw-down. This product is not for everyone but is worth considering if you want to remain invested and reduce portfolio risk.
Industry Sector Weights
The primary holdings, Banks, REITs, Capital Markets and Insurance are all leverage-based businesses to varying degrees and comprise 73.91% of the ETF. The weights of the ETF give greater upside exposure to financial crisis and corrections.
The Senate voted in favor for exemptions for dozens of smaller banks from the Dodd-Frank Act (2010) which increases systematic risk to a minor extent but will not likely have a primary impact on the ETF's holdings. None the less financial systems are so complex integrated risk is shared.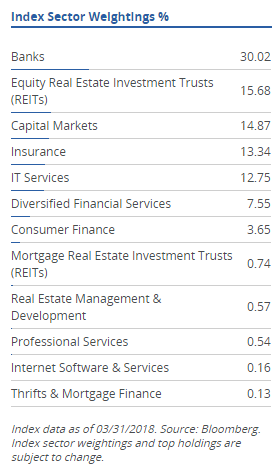 The top 4 weighted sectors are all sensitive to interest rates to varying degrees. REITs will likely see margins contracts as higher costs of borrowing makes their business less economically. Alternatively, the long-term cost of owning land increases due to higher interest payments on mortgages which creates a balancing effect.
Top 10 Holdings
Interestingly Berkshire Hathaway (BRK.A), (BRK.B) is the largest holding of the ETF and was also spelled wrong on the Direxion's website. The major banks comprise most of the top 10 holdings, the big names are present making up 6 of the 10 holdings. The top 10 is rounded out by three payment processing companies, Visa (V), Mastercard (MA) and PayPal (PYPL).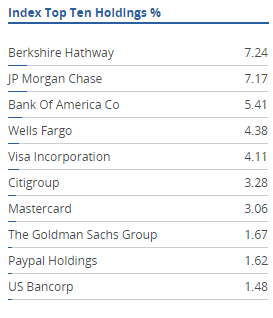 The banks certainly have large exposures and leveraged balance sheets, but the Berkshire is a very defensive company with low debt, solid operating businesses and loads of cash. The payment processing companies are also somewhat recession resistant, I would consider Mastercard and Visa defensive positions as well. Even if economic activity slows down people will still need to purchase goods and services and the credit cards companies will likely collect more interest as things tighten up in the credit cycle.
Expense Ratio
The Direxion Daily Financial Bear 3x Shares ETF doesn't fit in with the trends of low-cost ETFs. The ETF's Gross Expense Ratio is a hefty 1.15% while the Net Expense Ratio is 1.10%. More than 1% is just too expense for an ETF, here is a list of 100 varying ETFs each with an expense ratio of less than 0.1%. The long-term compounding affects of expenses and fees is simply to great of a cost for an investor to bear. The trend of investor preference shifting from active to passive management created an ultra-competitive low-cost ETF market. I like some of Direxion's products, the 3x leverage is very appealing for certain industries and would be worth paying for if I have strong conviction and want broad industry exposure. Considering the 3x leverage the expense ratio is justified for some investors, certainly not all.
Shiller PE Ratio for the S&P 500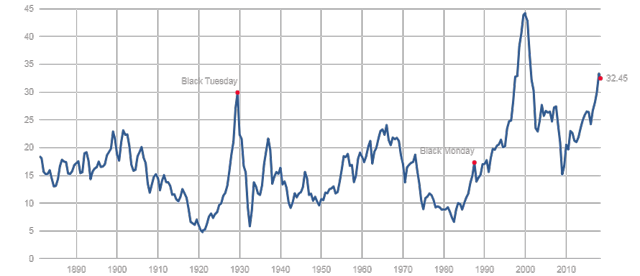 Price earnings ratio is based on average inflation-adjusted earnings from the previous 10 years, known as the Cyclically Adjusted PE Ratio (CAPE Ratio), Shiller PE Ratio, or PE 10." Robert Shiller.
The market is the second most expensive it ever, only the dotcom bubble was the S&P 500 more expensive. It is prudent to protect some of your downside. Safety of capital comes first while adequate return second. In bull markets the focus is shifted directly on return while in a bear market the focus is on safety of capital. A 100% gain is needed to recover from a 50% loss.
The longer the bull market lasts the more severely investors will be affected with amnesia; after five years or so, many people no longer believe that bear markets are possible. p.190"
― Benjamin Graham
Where Capital Has Gone to Die
The long-term performance of the bear is dismal, the bull has charged past the bear. If fortunes change it will likely happen quicker than many expect. The markets can quickly leave those unplugged left behind. The Bear has a positive 3-month performance, up 11.51% benefiting from the small correction as US Equities reached their peak in quarter one. The 3x Financial Bear has been an anchor (down 41.53% over the past year) on portfolio performance for those holding it for longer periods. In a bull market its is a risky product.

Final Words
Being a long Financial Bear 3x has not been a good investment. That is putting it lightly. This is not an ETF to hold forever or even extended periods of time. If the market is hot and stretched it is worth considering dedicating a few percent of your portfolio to the bear as a market hedge to lower your beta. Anyone can get lucky timing the market and selling off securities but as many have found out the market can continue to run longer than you can liquidate. Holding cash and shorting are clear alternatives but holding cash has significant opportunity costs while shorting individual companies poses significant risk of blow-up and is a more expensive strategy. The Direxion Daily Financial Bear 3x Shares ETF is worth considering for select investors who want to cover their downside in this historically expensive market.