White Diamond Research finds opportunistic short ideas for clients and followers. We search for small cap stocks with bad fundamentals and good timing for a downtrend. At the same time, we want to save retail investors from losses who haven't done the level of research that we have. Right now, Level Brands (LEVB) is ripe for a short and it's a good time to sell. Level Brands is a questionable Reg A+ IPO company, which its main investor relations company, RedChip, is promoting its stock right before its lockup expiry on May 17th. Retail investors are buying right into what we predict is going to be an avalanche of selling by insiders.
We believe there is little value produced from Level Brands for shareholders. It is a newly formed marketing company that markets mediocre products that haven't sold well and uses semi-celebrities to vouch for some of the products. The company even says in its filings that a risk is the CEO, Mr. Sumichrast, "has limited operational experience in our particular industry."
Luckily, for short sellers, and long holders, LEVB has been promoted and is close to its highs, which makes this a good selling opportunity. It only averages about 20k shares trading volume per day, so we expect a flooding of many shares into the float on lock-up expiry will put considerable downward pressure on the stock.
We believe once the promotion has worn off and the insider selling is done, LEVB will be trading between $2-$3 per share. That's the level where ShiftPixy (PIXY) is currently trading. PIXY is a similar Reg A+ IPO that we wrote about last year, with a CEO with a checkered past, and had an IPO price of $6 per share, just like LEVB.
The Promotion Before The Lock-up Expiry?
RedChip is working for Level Brands as their Main Investor Relations (IR) Contact. This is shown on Level Brands' IR page:

RedChip has stepped up promotion of the stock recently, just days ahead of the lock-up expiry on May 17th. Level Brands has also issued many PR announcements in the past couple of months. RedChip has hired Broad Street Alerts to promote LEVB.
On May 4th, Broad Street alerts sent out an email to its subscribers promoting LEVB. The following is the beginning of the email: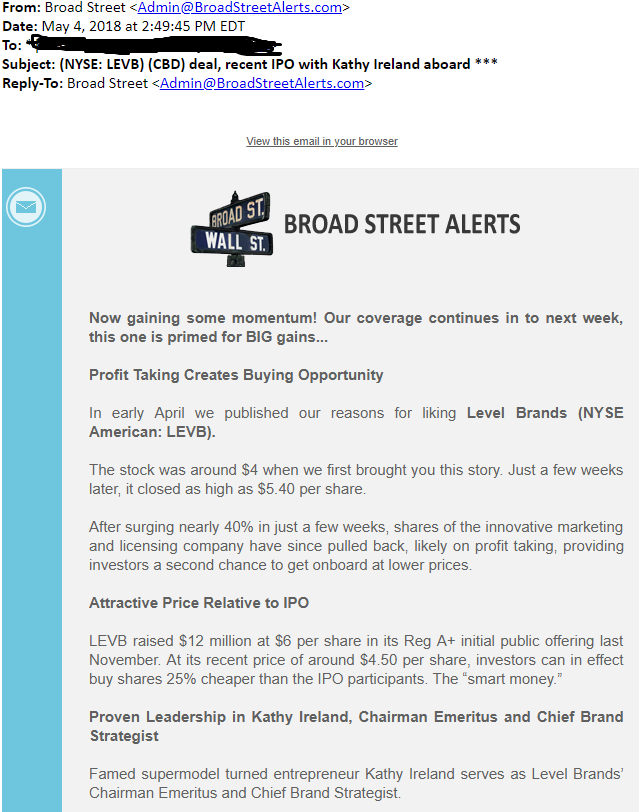 Above it comically says that Reg A+ IPO participants are "smart money." Most Reg A+ IPO participants from 2017 who held onto their stock have lost over 50% of their initial investment. That doesn't sound like smart money to us.
This promotional email was paid for by RedChip for $15,000. At the bottom of the email in fine print it says:


Broad Street Alerts and RedChip also promoted LEVB on Twitter in the beginning of May. We haven't seen them tweet about the company before. As shown:

Following those tweets and the email alert, LEVB went up 9% on May 4th. That's a stark contrast to when the company presented at the Roth Conference on March 12, 2018. The following is how the stock traded during and after the conference: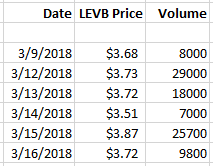 On April 6, RedChip published a video on YouTube of an interview with Sumichrast about LEVB.
The stock had closed at a price of $3.86 on 4/5. Since this RedChip video was published, the stock has risen substantially.
Level Brands PRed on April 20 that the RedChip interview will be aired on the Fox Business Channel on April 22. Level Brands is burning a lot of cash, as we show in the company financials section below, and will no doubt have to raise money again. At this burn rate, the next raise is likely to come in Q1 or Q2 of next year.
Shares Freed Up On Lock-up Expiry On May 17th
As shown on Nasdaq.com here, Level Brands' 180-day lock-up expiry is on 5/16/2018. Although we spoke to the CEO of RedChip, Dave Gentry, who said the lockup expiration is May 17th, so we'll go with that date. From the Nasdaq webpage: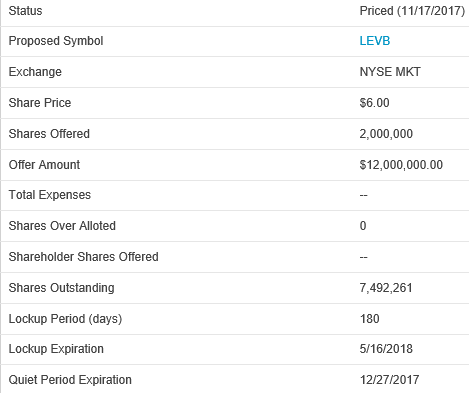 The Offering Circular states that officers, directors and holders of 1% or more of LEVB common stock have a 12-month lock-up expiry. However, all other holders, including Level Brands itself, have a lock-up of 180 days.
Level Brands' Costly Deal With Kathy Ireland
Kathy Ireland got a very good deal with Level Brands. Whether the company succeeds or goes bankrupt, she will still make a lot of money.
As stated in the Offering Circular:
In September 2017 we entered into an exclusive license agreement to license the trademark and intellectual property rights for kathy ireland® Health & Wellness, a newly created brand with no operations. We do not know when we may begin reporting revenues from this business unit.
Before the licensing agreement, Kathy Ireland Health & Wellness had no operations and no products. Level Brands is just paying for the name. It further says regarding this deal:
As compensation under this agreement, we agreed to pay kathy ireland® Worldwide a marketing fee of $840,000, of which $360,000 is payable from the proceeds of this offering and the balance is payable in four equal annual installments beginning January 1, 2018, subject to acceleration. Under the terms of this agreement, we also agreed to pay kathy ireland® Worldwide a royalty of 33 1/3% of our net proceeds under any sublicense agreements we may enter into for this intellectual property.
The above states that Level Brands is paying Kathy Ireland $360K up front, and four annual installments starting on January 1, 2018 of $120K, to total $840K. Furthermore, any product Level Brands sells related to the Kathy Ireland brand, Kathy Ireland gets 33.3% of the net profits. That's a huge cut if Level Brands can ever make a significant amount of sales.
That's not all. It also states in the Offering Circular that in order to use Kathy Ireland's trademark in road shows for the IPO offering, the company agreed to pay her $100K. That's to use her name, videos, etc., solely to sell the company's stock in the IPO.
Even if Level Brands turns out to be a complete failure, Kathy Ireland makes out with almost $1M in cash. And this is for doing nothing, just letting them use her company name. And whatever net profits the company does get under this brand, Ms. Ireland takes a third of it. In our opinion, this is not a smart plan for shareholders because Kathy Ireland's slice of the pie is too big.
A Match Made In Mediocrity
Level Brands CEO Martin Sumichrast has worked with Kathy Ireland a couple of times before with promoted public companies, and it did not go well for shareholders in the end. As shown here Sumichrast served as the Managing Director at Lomond International, Inc. from 2002 to 2013. According to an article from Share Sleuth, Lomond International helped create House of Taylor in May 2005 and Lomond got 900k shares of stock for its role. This filing from 7/12/06 shows Lomond held over 100K shares. Kathy Ireland and Elizabeth Taylor each licensed a line of jewelry to the company. House of Taylor entered into a license agreement with the Kathy Ireland Worldwide (KIWW) brand, just like Level Brands did.
House of Taylor's stock fell from a high of $7.50 in January 2006 to less than a penny in early 2008. Its stock was delisted from the Nasdaq exchange in April 2008.
In March 2015, NuGene International (OTCPK:NUGN), a maker of age-defying aesthetic products for the skin and hair, announced that Kathy Ireland Worldwide will be the branding for its products.
From the Level Brands Offering Circular:
"On March 20, 2017 we entered into a nine-month consulting agreement with NuGene International, Inc. As compensation, NuGene International, Inc. issued us 2,500,000 shares of its common stock valued at approximately $650,000 to I'M1 upon the execution of the agreement, and will pay I'M1 an additional $50,000 in cash upon the earlier of the completion of a financing by NuGene, or June 30, 2017."
As stated in the Offering Circular, on page 46, Level Brands has not yet received the cash payment from NuGene. Level Brands ended up selling the convertible preferred shares to Stone Street Partners, LLC, an affiliate of Martin Sumichrast, for $475K, and took a big loss on the shares to recoup some of its investment.
In June 2015, NUGN was trading over $3 per share. Today it's trading at $0.005 per share with a $200K market cap.
That's two companies that have failed under the Kathy Ireland Worldwide brand. Will Level Brands fail as well?
Reg A+ IPOs Have Historically Had Very Bad Performance
Here are the Reg A+ IPOs of 2017, their IPO prices and prices today: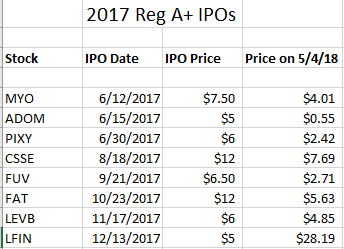 As shown in the above table, all Reg A+ IPOs performed badly with the exception of LongFin (OTCPK:LFIN), which is an anomaly due to its extremely low float and blockchain hype. However, LFIN is currently halted and is scheduled to be delisted from the Nasdaq exchange. Upon delisting, we believe it will be trading at a price far below its IPO price of $5. See our recent bearish report on LFIN here.
Most of the 2017 Reg A+ stocks are currently trading over 50% below their IPO price. This downtrend often happened due to a rush of shares being sold after they are freed from being locked up. At lockup expiration, the excitement of the new company IPO has worn off, and the stocks aren't as susceptible to being promoted because the float is increased.
In our view Level Brands would not trade on the NYSE without a Reg A+ IPO, it would sit on the OTC exchange.
Level Brands' Financials
Since Level Brands is constantly issuing and receiving equity with the companies and celebrities it works with, a good way to measure the company's health is to look at its cash flow/burn. Despite raising $12M in its IPO, Level Brands reported it ended Q417 with $8.8M in cash. That's over $3M in cash burn for the quarter. If the company continues its cash burn at around $2M per quarter, it will run out of cash by Q119
Q417 sales were only $450K, and the company took a net loss of $1.1M.
Level Brands' Q118 report is on May 15th.
The Level Brands' Business Segments
In Sumichrast's interview with RedChip, he said regarding his business:
We don't want the cow, we just want the milk.
What he's saying here is his company doesn't have to pay to make the products, they just make money when the products are sold. But what he should be saying is: "we don't want the cow, we just want a "drop" or a "taste" of the milk." Level Brands is only receiving royalties of 2%-5% on products sold. For example, as stated in the Offering Circular, Level brands is entitled to receive royalties of 1.5-2% of Damiva's annual revenues, 5% for Kure's annual revenues, 4% of Andre Phillip's revenues, and 4% of Loose Leaf Eyewear revenues. If it's under the Kathy Ireland brand, Level Brands gives up 33% of their profits after receiving the royalties.
Unless it's a product that makes $100M+ per year in sales, the revenues are not going to be significant for Level Brands.
As shown in the Offering Circular, the following are Level Brands' 3 business segments: the Professional products division, the Entertainment division, and the Licensing division.
The Professional products division is its Beauty & Pin-Ups subsidiary. It comprised about 25% of net sales from the first 9 months of fiscal 2017.
Level Brands launched the Beauty & Pin-Ups product line in September 2015. The Beauty & Pin-ups products are primarily hair-care. This is a very tough industry to break into with some dominating players such as Estee Lauder (EL) and L'Oreal (OTCPK:LRLCY). It doesn't seem like their products sell much on Amazon, for example this product only has 4 reviews. This YouTube video on their pin curl iron is from 2015, and there are no comments on their flat iron on Amazon (AMZN).
The Licensing division is I'M1 (Ireland Men 1) which comprised about 50% of net sales.
I'M1 is marketing a few products under the categories of: grooming, personal care, cologne, accessories, jewelry and apparel. One product are these sunglasses on Amazon, which again don't have any comments. I'M1 entered into a consulting agreement with Kure in March, 2017, in which it will receive royalties of 5% on gross sales of Kure products. This is a small amount of revenues. If Kure does $5M of sales a year, 5% is only $250K. And, of course, the cost of the marketing would be subtracted from this revenue to determine this segment's profit for Level Brands.
The Entertainment division is EE1, which comprised about 25% of net sales.
EE1 is the entertainment marketing segment. On May 8th, Level Brands announced that EE1 signed a three-project music deal with record label BMG. This project "reconnects legendary artists with their audiences."They are starting with a project involving classic songs selected from the John Lennon-Paul McCartney catalogue and will include music videos. A project bringing back Beatles music doesn't seem like it would be a very hot idea and bring significant revenue to Level Brands. The PR didn't discuss EE1's compensation.
Level Brands owns 51% of the membership interests of I'M1 and EE1 and 100% of Beauty & Pin-Ups as of June 30, 2017.
We don't see any significant revenues coming in from these business segments. As stated above, any product that's under the Kathy Ireland brand must give 33% of the profits to Kathy Ireland.
Conclusion
Level Brands has a tough road ahead to profitability. With at best only a small 2% to 5% royalty on the brands they market, it would have to be a blockbuster product to give a significant return to the company. So far, none of Level Brand's products are blockbusters, nor do they appear to have any in the future.
If investors still want to take a position in this company after reading this report, we would suggest they wait a few days or weeks after the May 17th lockup expiration in case there's a big selloff. We believe the stock will be trading $2-$3 later this year, the level that ShiftPixy is currently trading. If insiders' sale cause a massive selloff after May 16th, then LEVB could go to that price very quickly.