Back in December 2011, the Obama Administration made a stunning decision as to the application of the 1961 Wire Act. The Department of Justice released an opinion that concluded that the Wire Act applied only to sporting events - which in turn opened the door for state-level legalization of online gambling.
A flurry of media coverage followed the announcement - and so did investor optimism. Gaming stocks rose on the news. Morgan Stanley (MS) would predict a little over a year later that by 2020, the online gambling market in the US would generate over $9 billion in revenue - more than Las Vegas and Atlantic City combined.
It's not hard to hear echoes of the online gambling optimism in Monday's coverage of, and response to, the Supreme Court decision that seems to clear a similar path for state-level regulation of sports betting. Gaming stocks are climbing again. Big numbers - this time a $150 billion illegal betting figure estimated by the American Gaming Association - are being thrown around. And a number of observers seem to be acting as if national sports betting is a foregone conclusion.
But the disappointing progression of online gambling shows investors (and consumers) should retain a healthy dose of skepticism. And investors, in particular, also need to realize that sports betting is not necessarily going to be the game-changer some are suggesting - for a number of reasons.
Reason #1: History may not repeat, but it rhymes
Again, the history of online gambling in the US is instructive when it comes to how fast sports betting will spread in this country. Six and a half years after the Wire Act change, there's basically one market of any size.
New Jersey generated $245 million in revenue in 2017. A full suite of online gambling options is legal in Delaware; total revenue last year was $2.4 million. (Not a typo: $2.4 million statewide.) Nevada online poker figures are not broken out (as far as I can tell), but its revenue is minimal by all accounts.
Again, forecasts originally suggested $9.3 billion in revenue two years from now. Even with Pennsylvania coming online, and assuming a per-capita spend to New Jersey gets that market to $300 million or so, the total legal U.S. online gambling market should generate 2019 revenue under $600 million. That's in the range of one-tenth where MS thought the market would be.
And I'm not picking on Morgan Stanley; its estimate was not a notable outlier, as multi-billion-dollar figures were being tossed around regularly. The state of New Jersey estimated that first-year revenue would be $1.2 billion - five times the actual 2017 result. Zynga (ZNGA) CEO Mark Pincus foolishly raised investor hopes that his company would profit from a national online poker rollout.
What happened? Essentially, the states couldn't get their respective acts together. In California, tribes, cardrooms, and other stakeholders have been arguing pretty much continually for the last six-plus years. The two houses of the New York legislature have been split for three years. There have been false starts in myriad other states.
Just because the Supreme Court opened the pathway for states to legalize sports betting doesn't mean they will. This is American politics, after all. The messy and disappointing rollout of online gambling shows how difficult the process can be. A similar process has greeted recreational marijuana legalization, which in many states has public support but generally has had to be passed through ballot initiatives rather than through legislative action.
To be fair, because the case has been on the Supreme Court's docket for some time, there has been more initial progress made on sports betting than there was on online gambling - a reversal which took pretty much everyone by surprise: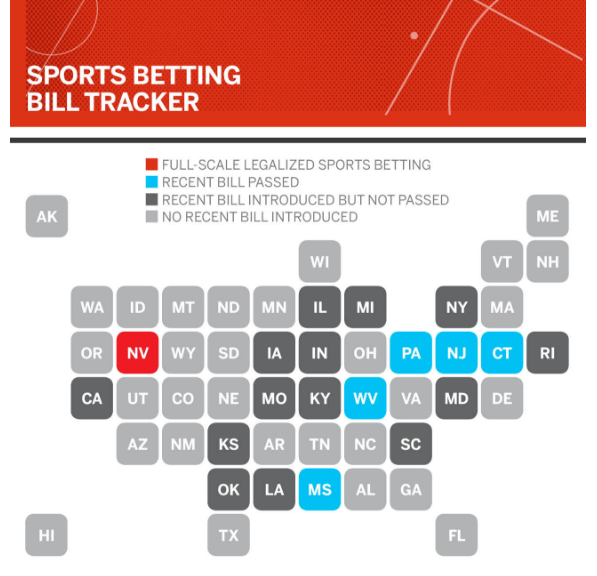 source: ESPN.com
Connecticut's governor is considering a special legislative session to consider the issue. In New Jersey - who sued the federal government in the first place - William Hill (OTCPK:WIMHY) plans to be up and running in two weeks. Pennsylvania and Delaware should be ready to go soon. The same is true in Mississippi. West Virginia's agreement looks more uncertain at the moment, but that state could be ready at some point this year.
Still beyond those states (which combined hold about 10% of the country's population), the argument that ~half the country is headed for legalization in five years sounds an awful lot like 2011. There are a number of stakeholders that will make demands during any legalization efforts, among them the leagues themselves, whose 'integrity fee' demands have caused the problems seen of late in West Virginia.
I'm very skeptical that southern states (Texas, Tennessee, Georgia, and the Carolinas) are likely to allow sports betting when they don't allow commercial gaming to begin with. (Powerful collegiate programs will have a say as well.) Florida's powerful Seminole Tribe will be a force in that key state. California's parties can't agree on anything. Washington state has affirmatively banned online gambling. New York looks like the best option, but there's a large portion of the US population that seems as far away from sports betting as they are from online gambling.
The one potential wrinkle is whether DFS (daily fantasy sports) has opened the door for full-on sports betting. From a moral/regulatory perspective, it probably helps. But the fact that there were essentially two operators also made the process much easier. A state like Illinois, where lobbyists for racetracks and casinos are going to be fighting over the issue with revenue-hungry legislators (and who have a multi-year and unsettled argument over gaming expansion already) may see a protracted negotiation.
As for the "legislatures will gladly take the money" argument, I'd point out that the exact same argument was made in 2011 - and state budgets are in much better shape now than they were then. The broad point here is that expecting fast movement from state legislators and regulators is too optimistic - a point that was proven by online gambling and other issues.
Reason #2: It's not necessarily online sports betting.
One of the persistent complaints among writers in the industry is that reporters and analysts often mix handle (how much is bet) and revenue (how much sportsbooks take). I've already seen one example of that, in which the AGA's estimated $150 billion in illegal wagers is turned into a $150 billion "market opportunity".
But investors, in particular, need to carefully consider the size of the opportunity here. And it may not be that big for one key reason. Online sports betting will only be available in New Jersey and Pennsylvania, from what I can tell. In-person wagering will drive some revenue - but it's unlikely to be the bonanza that online would be. Over the past year, sportsbooks in Nevada have generated just 2% of the state's total gaming win, according to state figures. Without online betting - which, again, isn't legalized outside of four states right now - in an age where online sportsbooks still are easily accessible, many consumers may choose simply to bet online illegally rather than drive to a regulated location.
Note, for instance, that handle on horse racing is about $11 billion a year. That's with $1.3 billion bet through Churchill Downs' (CHDN) TwinSpires online property, according to that company's 10-K. Betting on the NFL and NBA likely would be more popular than horse racing these days - but it also won't have national reach and nationally legalized online betting.
Billions of dollars are going to be wagered legally over the next couple of years. But experience suggests it won't be nearly as many billions as estimates are suggesting at the moment. And it's equally important to consider just how much incremental profit those billions will create.
Reason #3: Profit margins in the business aren't that great - and they could get worse.
In Nevada over the past twelve months, sportsbooks have posted a win rate of 5.27%. Bookmakers in the state already are concerned with low-profit margins. And that's with a fairly advantageous tax rate of 6.75%.
In Pennsylvania, operators have to pay a $10 million licensing fee - and 41% of revenue in taxes (including a federal excise tax). New Jersey has a more reasonable 17.5% rate; Mississippi and West Virginia are in the 10-12% range.
On top of that, the so-called integrity fee could cost another 1% of handle - which would be ~19% of revenue at a win rate equal to that seen in Vegas. And so, the concern - voiced by many observers in the industry - is that legal operators are going to be left with a tough choice. Either odds are going to be worse than those offered by illegal operators - or profit margins are going to be exceedingly slim.
In Pennsylvania, for instance, an operator that generated $120 million in handle - $10 for every man, woman, and child in the state - still would barely make any money. A 5.5% win rate would result in $6.6 million in revenue. $1.2 million would go to the integrity fee. Another $2.5 million would go to state taxes. The $120 million winds up netting less than $3 million in revenue - before the business has spent a cent on marketing or infrastructure, before amortizing the upfront $10 million licensing fees, and before the federal government gets its cut.
Even at more reasonable levels, it will take huge levels of handle to add material amounts of profit. Assuming the sports betting business ramps to the $10 billion bet on horse racing (with much-higher demand offset by more limited reach), that still suggests about $550 million in win. Depending on how integrity fees shake out, that, in turn, suggests in the range of $400 million in revenue. Deduct marketing, technology, and labor expense and suddenly the incremental profit to the industry looks to be maybe $100 or $150 million. At the 9-10x EBITDA multiples assigned stocks like Boyd Gaming (BYD) and Eldorado Resorts (ERI), that $10 billion in handle adds maybe an incremental $1 billion - and at most $2 billion - in equity value to the entire industry. Caesars Entertainment (CZR) added ~$450 million in market value on Monday alone.
Under higher tax regimes, operators could raise their win rate by lowering odds. But that, too, raises the specter of unregulated online competition (or local bookies) simply keeping existing customers. And customers will notice; even infrequent customers like myself are used to a -110 vig, and something like -120 on both sides will look notably unfair.
Monday's Gains Look Like A Bit Much
All told, I'm skeptical that sports betting is a material mover for gaming stocks. I've already thought the space as a whole looks overvalued, with EBITDA multiples back toward pre-crisis highs (though I'd add that the market has sharply disagreed on that front).
From here, the real winners have to have exposure to New Jersey and Pennsylvania - but it looks in many ways priced in already. For Caesars to add $450 million in market value suggests an expectation of an incremental $40 million in annual profit at least - which requires at least $1 billion in annual handle (even at a higher win rate), or over $100 for every man, woman, and child in the state. Eldorado's acquisition of Tropicana Entertainment (OTCQB:TPCA) looks a bit smarter, it has two properties in Mississippi, and sports betting could help reverse recent weakness at its Mountaineer property in West Virginia. Still, even an incremental $75 million in market value suggests several million in annual profits despite the company having weaker properties in both Pennsylvania and New Jersey.
The gains at CHDN are somewhat interesting; that company's strategy has been clearly bent on online and sports betting proliferating across the company, but an investor has to wonder about cannibalization of the horse racing business. (I've long thought CHDN in particular looks extremely stretched from a valuation perspective, and there too the market has had a very different opinion.)
Supplier Scientific Games (SGMS) should benefit with its OpenBet product - but there, too, a $500 million increase in market value on Monday suggests an awful lot of success, and margins, very quickly.
Overall, I simply don't see how any investor can see sports betting as a hugely material opportunity for the larger operators. Live sportsbooks really aren't that great, or that profitable, a business. Online sportsbooks, save for two intensely competitive states, aren't on the way.
In that environment, can Caesars really make an incremental $100 million in annual profit? That's what it would take to add ~12% to its equity value at a 10x EBITDA multiple. And it would require billions - billions - of dollars in handle and quite a bit of cooperation from politicians. That cooperation, and that level of betting, may come at some point - but it's unlikely to come nearly as quickly as some of Monday's buyers seem to believe. And if it doesn't, Monday's move already has priced in the benefits to the US gambling industry - and then some.
Disclosure: I/we have no positions in any stocks mentioned, and no plans to initiate any positions within the next 72 hours. I wrote this article myself, and it expresses my own opinions. I am not receiving compensation for it (other than from Seeking Alpha). I have no business relationship with any company whose stock is mentioned in this article.
Editor's Note: This article discusses one or more securities that do not trade on a major U.S. exchange. Please be aware of the risks associated with these stocks.