In this article, I would like to list four reasons to short the European currency (EUR) against the New Zealand dollar (NZD) or to buy NZD against EUR.
Reason One: Technical Setup
EURNZD is facing strong resistance near 1.7250, a level which has a long history of acting both as support and as a resistance – most notably, in July 2007, in June 2010, in August 2013 and in January 2016. This level is further strengthened by a declining trend line from March 2011 to August 2015 to November 2017 onward. It is hard to imagine that this level would easily give up.
Furthermore, even if it does and EURNZD continues to move upwards to re-test previous highs near 1.7340, the move (in case it is fast enough) will almost certainly not going to be supported by relative strength index (RSI), which is already establishing a bearish divergence (see weekly chart below).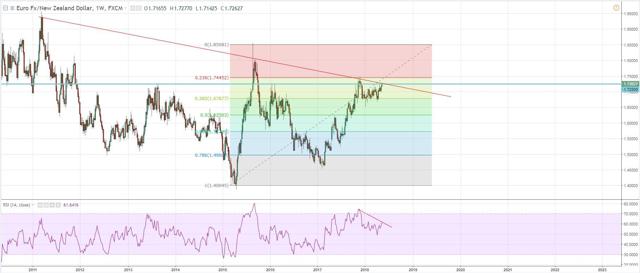 Source: Trading View
Reason Two: Relative Valuation
In my standard relative valuation analysis of major global currencies, I look at five indicators: technical overextension, secular performance relative to gold, oil correlation, economic divergence and traders' positioning. I rank the currencies on the scale of -2.5 to +3.5 for each of the studies, where -2.5 indicates oversold conditions and +3.5 indicates overbought conditions. Therefore, the overall minimum score that any currency can have is -12.5, while the maximum is +17.5.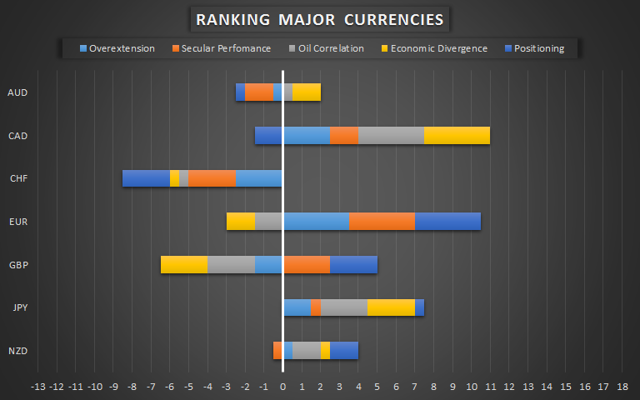 Source: Personal calculations; ranking as of May 11, 2018
The latest results show that the Euro is currently the second most overrated currency among the majors with a total net score of 7.5 (see the chart above). Conversely, the New Zealand dollar is quite far from being overbought. Truth be told, NZD is not particularly oversold either; it is more or less fairly valued with a total net score of 3.5.
Reason Three: Divergent Monetary Policy
Let's just compare two recent statements from central bankers in the Eurozone and New Zealand.
This is what the new head of the Bank of Finland, Olli Rehn, said on May 14:
Short-term indicators suggest pace of growth has cooled.
Economic outlook faces downside risks due to uncertainty relating to public finances and banks of some member countries.
Currently risks to the medium-term outlook seem to be tilted to the downside.
Note that Olli Rehn will join the governing Council of the European Central Bank (ECB) in July this year.
And this is what New Zealand's new central bank (RBNZ) governor, Adrian Orr, said on May 10:
The economy in a sweet spot thanks to robust growth, high levels of employment and low inflation.
The chances are balanced that the next interest rate movement would be up or down.
House price growth had leveled out, which was a good thing because many people had become extremely stretched in being able to afford their mortgages.
Of course, RBNZ is not particularly hawkish at this point in time, but at least their economic reality is such that allows speculating on the prospect of higher interest rates. Conversely, the ECB cannot even afford to talk about higher borrowing costs. Their zero-interest-rate-policy (ZIRP) is likely to stay in place for another 3-6 months, while interest rates in New Zealand are 175 basis points higher than in Europe, which, in turn, means that EUR/NZD short will earn you overnight swap points.
It is true that over the past couple of months, the spread between the European and New Zealand government bond yields has been narrowing, but the exchange rate has traveled a much greater distance, creating what looks like a bearish divergence (see the chart below).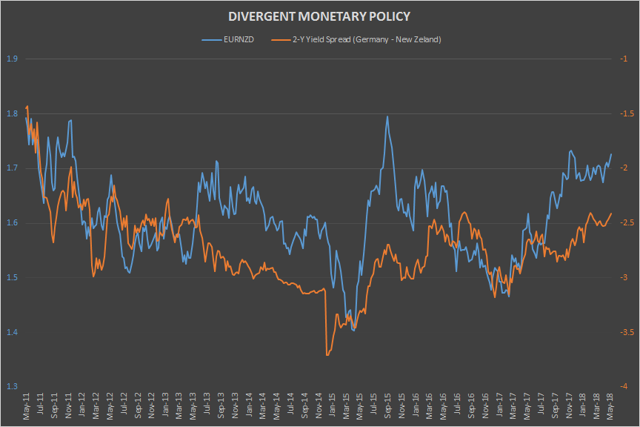 Source: FXCM, investing (website), personal calculations
Reason Four: Milk
New Zealand is a small nation of only five million people. But did you know that it is the largest exporter of dairy products in the world and one of the largest milk producers? It is not coincidence, therefore, that NZD exchange rate is closely correlated with the price of whole milk powder, a futures contract traded on NZX, New Zealand's Exchange.
As you can see from the chart below, the correlation between NZD and milk prices is not perfect, but it still exists. Most recently, the NZD exchange rate seems to have departed from the price of this key export commodity. These kind of divergences usually do not hold for very long.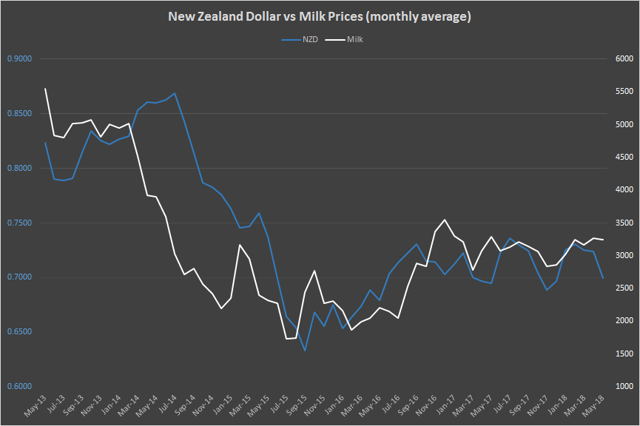 Source: FXCM, NZX, personal calculations
Conclusion
Having said all of the above, the overall (classical) technical summary is still bullish for the EURNZD. Every technician will tell you that shorting this pair is dangerous and unwise. But don't you love being a contrarian? And if you do, then you better be careful.
I have entered a small EURNZD short from 1.7260. The notional value of the trade is only 7,000 Euros. I have to be ready to average down in case EUR/NZD continues to move higher. The pair may even try to re-test the 1.8000 level. Therefore, my position is small relative to available equity. I will keep you updated.
Follow me for weekly updates on high-probability trading set-ups in 25 global currencies and more than 500 currency pairs.