The "Big 4" frac sand stocks Fairmount Santrol (NYSE:FMSA), U.S. Silica (SLCA), Emerge Energy (EMES), and Hi-Crush (HCLP) all made their various moves this year to supply sand to customers in-basin, bifurcating the North American frac sand market in the process.
The result of these moves, which I discussed more in depth here, would allow the Big 4 to divide and conquer the frac sand industry by splitting the smaller Northern White miners in Wisconsin, from the smaller local, brown sand miners in Texas.
In short, if the Big 4 could supply BOTH types of sand, Northern White and local brown (which will come to fruition once construction is complete), then drillers would choose to do business with them over the smaller players. Since the Big 4's logistics network allows them to get sand to drillers anywhere in the country as opposed to the smaller players who have limited sand grades, experience, and logistics network, then one of the Big 4 miners would logically be a drillers first choice.
But Fairmount Santrol is quietly becoming a juggernaut over peers due to their new moves in-basin. Not only did they start construction on a new Permian mine, but now Fairmount has also started construction on another mine in Seiling, Okla., to serve the Midcon basin.
When taken into account with the upcoming merger with Unimin, who has ambitious plans in-basin of their own to expand-in basin, these combined moves will allow Fairmount (and Unimin, soon to be renamed Covia) to have a blanketed presence in both the Permian and Midcon basins.
These new announcements spooked investors, some, as they feared more in-basin announcements could be coming. After all, to a novice on frac sand, sand seems abundantly everywhere. So, perception wise, while oil prices could rise, sand prices could obviously fall.
Fairmount, thankfully, reassured investors on their conference call that the new mine is primarily 100 mesh, and poor quality at that. These issues, coupled with more reasons discussed below, should discourage new mine announcements in basins outside of the Permian and alleviate margin erosion fears.
Fairmount Breaks Ground On New Two Million Ton Capacity Mine
As I alluded earlier, Fairmount has now broken ground on a new two million ton capacity mine in Seiling, Oklahoma, and they intend to start shipping in the fourth quarter of 2018.
In the first quarter, Fairmount spent approximately $5 million in capex capital for the Seiling mine site, and capital expenditures for the plant are anticipated to cost approximately 50 million, in addition to a lease hold payment of $4 million for the reserves. The Seiling mine also has 20 million tons of proven reserves with multiple expansion opportunities that Fairmount will continue to pursue.
Normally, an announcement on such a small mine should have minimal impacts on an industry's fundamentals. However, when you combine Fairmount's in-basin operations with Unimin's operations in Texas and Oklahoma, you form a formidable competitor in the region, taking market share from smaller players.
This small, 2 million ton mine coming online, is actually a notable development that investors are underappreciating.
The new location adds significant synergies to the operations on Fairmount and Unimin, while harming smaller players in the process. Allow me to explain further.
Unimin's Grand Expansion Plans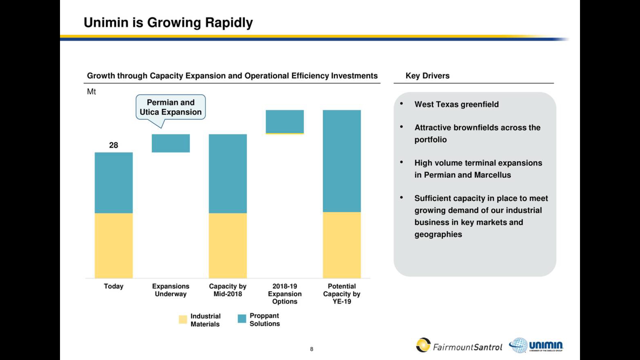 Source: Fairmount Santrol investor relations
On top of their grand expansion plans into new basins, Unimin already has 9 transload terminals in the Permian. When combined with Fairmount, the two companies will have almost 15 terminals to serve their clients with. We already spoke in previous articles about the implications of transload terminals, and the impacts they can make on peer's revenues in the frac sand industry.
Once bottlenecks inevitably arise in the Permian, and sand supplies/deliveries become strained, these terminals that Covia have will provide unique cross-selling opportunities to customers and create a choke point in the region that stiffly increases competition.
This market dynamic is being overlooked by investors and should offer a premium multiple to Fairmount's stock price.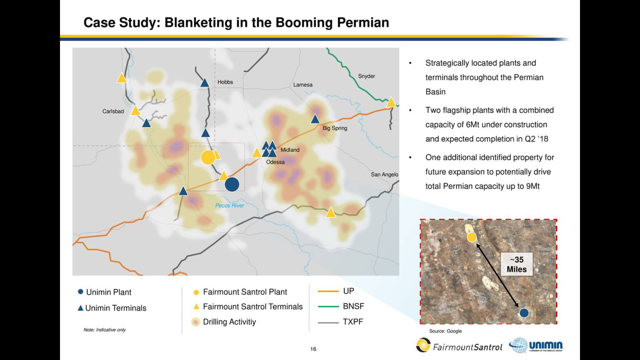 Source: Fairmount Santrol investor relations
Imagine a Walmart (WMT) of sand moving in next to a mom & pop sand operation, if you will, and one would have a better idea of what the competitive landscape looks like for new sand miners trying to compete with Fairmount and Unimin.
Covia (CVIA) to Form Formidable Presence in the Midcon Basin
Not only is Fairmount forming a strong presence in the Permian with Unimin, they are quickly becoming the go-to sand supplier in the rapidly growing Midcon basin, as well.
Imagine what other basins will look like in a few more years if this trend of expansion by Fairmount and Unimin continues. Covia, alone, could bifurcate the North American frac sand market, knocking out smaller competitors higher on the cost curve.
Assuming U.S. Silica, who has plans for three mines of their own in the Permian, Emerge Energy, and Hi-Crush, continue to do their part in consolidating the industry with Fairmount, the now highly-fragmented frac sand industry could soon resemble an oligopoly one day, with only a few major players left standing.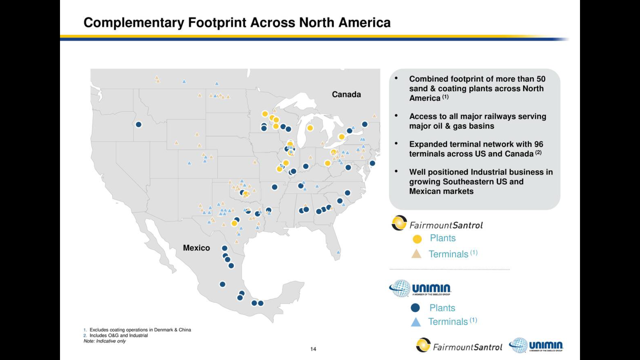 Source: Fairmount Santrol investor relations
So, with over 10 terminals between the two companies in the Midcon, too, Covia will be able to capitalize on similar sand shortage dynamics seen in the Permian.
The slide below shows the annual synergies expected to be achieved between the two companies, without the Seiling mine taken into consideration, which should give investors an idea of what to look out for in the first year, alone.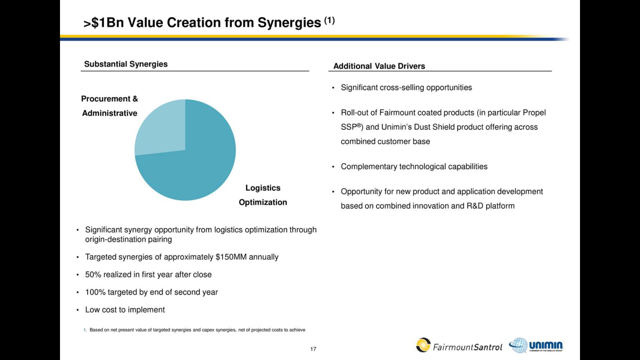 Source: Fairmount Santrol investor relations
Again, even without the recent mine announcement in Oklahoma factored in, Covia, would achieve over $1 billion in value creation for shareholders, with targeted synergies of approximately $150 million a year.
Jenniffer Deckard, CEO of Fairmount stated to investors in the most recent conference call:
Fairmount equity holders will benefit from the expected value to be created from an estimated $150 million in annual synergies. Over 70% of these synergies are expected to come from optimizing the combined company's assets footprint, including over 50 origin facilities, multiple rail lines and nearly 100 terminals to drive substantial cost savings across thousands of potential origin destination payers.
Fairmount hired various consulting firms in order to conduct the due diligence of the merger. Ms. Deckard affirmed this claim stating that,
"the synergies were determined through an extensive process led by outside consulting firms who worked over 2 months to independently determine where margins could be maximized."
She added that,
"additionally, we believe that there are meaningful cross-selling synergies between the two companies, which are not included in the $150 million of estimated synergies. We believe this merger is a unique opportunity to create a transformational company with an unparalleled ability to serve customers across both the industrial and energy markets."
In short, through Covia's combined scale across both production and logistics, the company will provide even greater service opportunities to customers. They will drive profitability for the combined company through realized efficiencies and economies of scale, all of which contribute to more stable financial results and cash flows.
This plan, combined with the technical development and product expertise from both companies "will provide a unique solution for customers, making the new company the industry supplier of choice" (Fairmount press release).
Investors are overlooking this point, judging by Fairmount's performance since the announcement.
Even though the two companies are acting in a stand-alone basis at the moment and are still actually very much competitors (until the merger), one can't help but to imagine the possibilities that the two companies could accomplish together (Co "together", Via "By way of").
When considering the new diversification that Unimin provides, and the increased cross-selling opportunities that both companies will experience in growing basins like the Permian and Midcon, smaller players will have a difficult time competing.
Fairmount Chart Shows Market Disconnect
Even with the opportunities from synergies, investors are clearly not seeing the big picture for Fairmount and Unimin.
Judging by the chart below, FMSA is significantly below its IPO price of around $15-17 and is still down more than 50% from its most recent high of $12.00.
Yet, the company has been increasing volumes and pricing, is posting solid revenues, and is growing net income year over year.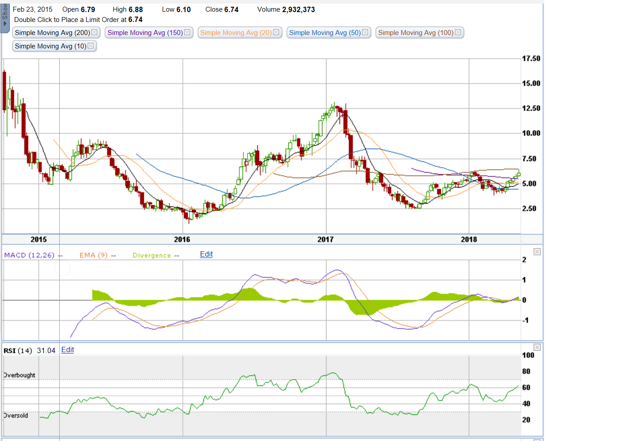 Source: E-Trade
Here are some highlights, below, from Fairmount's latest press conference:
Volumes of 3.2 million tons, with Proppant Solutions volumes of 2.6 million tons
Revenues of $273.3 million, with Proppant Solutions revenues of $242.2 million
Net income of $28.9 million, or $0.13 per diluted share
Adjusted EBITDA of $71.0 million
As investors can see, Fairmount is doing just fine financially, without Unimin's help.
But, since Unimin is the largest industrial sand producer in North America, and even has the financial backing of international giant, Sibelco, to take Fairmount's sales international, it should be easy to understand the synergies that the combined entity would realize.
A rising and falling tide sinks all ships, though. It is likely that investors threw the baby out with the bath water, when wave after wave of sand mine developments were announced in 2017.
As we discussed in earlier articles, this notion of oversupply is completely false and should not be a major risk to Fairmount since only about 30% of their business (15% when you divide revenues by basins) is affected by 100 mesh pricing.
After the closing of the merger this summer, investors should monitor the progress of Covia closely. With the massive cash flows and synergies expected to be generated by the two companies, along with debt reduction seen by the industry as a whole due to booming times, another wave of consolidation is highly likely.
Risks to Sand Miners: Are More Local Brown, In-Basin Sand Announcements Coming?
The expansion plans announced by Fairmount and Unimin are going to realize substantial synergies, indeed, and most likely take market share from smaller players.
So, one might assume, will more frac sand mine developments keep occurring, and ruin pricing?
Why don't more sand companies just deploy a similar strategy as Fairmount and Unimin? After all, the Midcon basin is growing rapidly, with stage counts and proppant loadings increasing at a steady clip quarter by quarter.
The simple answer is, the sand quality in Oklahoma is inferior, and the market size is smaller than the Permian.
So, these factors listed, along with a pre-established presence by Fairmount and Unimin, should provide barriers to entry for competitors looking to expand in-basin. I will explain further below.
Why Purchase Inferior Sand?
Why would Fairmount even take the risk of purchasing inferior sand, which could potentially damage a driller's rigs and wells in the process?
Ms. Deckard addressed that line of thought, stating on the conference call that,
"our decision to go forward with the Seiling property was done after a thorough market and financial analysis and is backed by multiple customer commitments".
She went on to say,
"this mine will complement our Northern White offering, particularly in the stack play, and will establish a low cost offering to meet the demands of some customers for this particular type of product."
The customer commitments that Fairmount secured answered the head-scratcher investors had when it comes to motives for developing inferior sand.
However, as we alluded to earlier, the mine announcement sparked another line of questioning on the conference call: Could there be more in-basin mines springing up all over Oklahoma now, and ruin the sand mining sector's recovery again?
Ms. Deckard assuaged investors' fears by responding,
"there's a smaller market size in general [in the Midcon], so I think that customer commitments and customer relationships are extremely important".
"there is less sand available. There is a lower quality of sand across all grades, particularly relative to Northern White for sure and also relative to the Permian and there's really a smaller and less visible demand profile than we see in the Permian. So we think all of those factors will lead to not seeing the same thing that we have seen in the Permian."
This was much needed color provided by Fairmount, and reassured investors that more mine announcements would be unlikely, due to the needing of firm customer commitments that only an experienced player like Fairmount could serve.
The sand in Oklahoma is also such poor quality, Fairmount said, with even worse crush strength than the Permian, that drillers would likely not adopt it at a high rate.
In fact, Fairmount and others are already experiencing pushback from drillers on brown, they remarked, which bodes well for Northern White pricing.
Analyst Consensus for Fairmount:
Source: E-Trade
Analysts seem to be pricing Fairmount at a low range of $6 per share, and a high range of about $7.50-8.00 per share. I believe these are convenient targets to choose, as they are basically the last technical areas of support on the chart.
Fairmount's shares should be valued higher since fundamentals have improved dramatically since the company went public (record pricing, volumes, proppant per well, reduced debt, etc.), assets have more than doubled, and the oversupply myth that has been plaguing the sector is entirely false.
This would explain the conservative price targets set by analysts, who don't understand the grade dynamics in shale, especially the fact that 100 mesh grade pricing will not affect Fairmount nearly as much as anticipated (stated earlier).
A $12 price target is easily achievable for Fairmount, even without the Unimin merger, since the company is in better shape now than it was then, industry fundamentals have improved, and $12 still represents a significant discount to Fairmount's IPO price.
Conclusion
All of the "Big 4" frac sand miners have made strategic moves in-basin to provide customers with a full suite of products, further bifurcating the sand market in the process. However, Fairmount's upcoming merger with Unimin will dwarf everyone else's in-basin plans, and transform Covia into a powerhouse.
Through the synergies explained earlier, Fairmount Santrol and Unimin should be taking increased market share from competitors, especially now in the growing Midcon basin, and eventually transform the highly-fragmented frac sand industry into one of an oligopoly someday.
(Assuming the merger goes through this summer, and construction delays don't hamper the companies too much more.)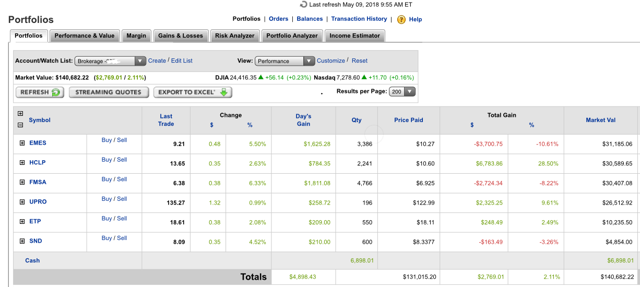 Source: E-Trade
Needless to say, the aggressive moves made by Fairmount and Unimin to expand in rapidly growing basins, coupled with the notion that additional, in-basin, brown sand announcements should be muted going forward, make the future prospects bright for Fairmount Santrol, and I am clearly long shares.