Lucky Seven
The Lucky Seven is a swing-trading biotechnology portfolio of seven stocks listed in a way to reflect top picks and risk tolerance. The first three picks are the top picks (in no particular order). Risks are increased the further away a stock sits from #4 (the least risky stock).
1. Immune Design (IMDZ)
Price: 3.80/Gain 13.2%/Day 3
Immune Design seems increasingly primed to take off: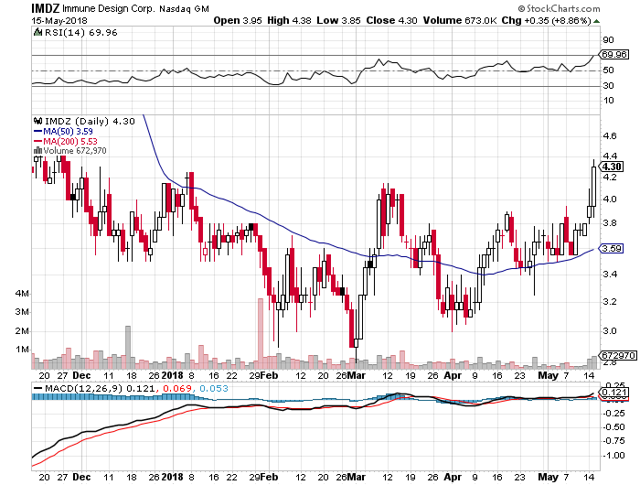 Chart courtesy of StockCharts.com
BUY 2. Viking Therapeutics (VKTX)
Initial price: 4.58
We are reentering Viking Therapeutics based on (1) recent institutional buying, (2) price support, and (3) conviction in its pipeline and long-term prospects.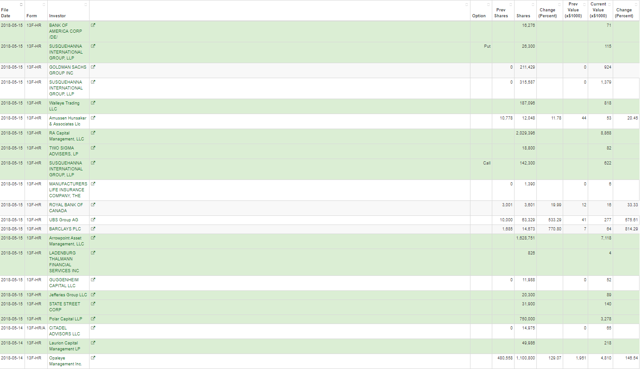 Source: fintel
3. Array BioPharma (ARRY)
Price: 13.75/Gain 11.7%/Day 10
Because Array crossed the 15% threshold from its initial price on intraday Monday, it is a "win". For now, I feel comfortable continuing to hold the stock in hopes of additional appreciation until technicals tell me otherwise.
4. Exelixis (EXEL)
Price: 21.77/Loss 3.5%/Day 11
Exelixis continues to make up from lost ground. In the hands of an unsure and quick-triggered trader, Exelixis would've been a significant loss (10%+). Our decision to hold onto shares and hold our nose through stinky times is indicative of our confidence and it seems to have paid off. We will track how its shares act upon arriving to the 50-day MA and go from there.
SELL 5. NovoCure (NASDAQ:NVCR)
Price: 27.75/Gain 4.9%/Day 11
It's likely that the Lucky Seven might've missed out on the recent leg-up by not existing a month or two earlier. Bummer. Although I believe NovoCure will see continued appreciation and legs for years to come, the next few weeks should see some shoulders.
5. Achaogen (AKAO)
Price: 12.58/Gain 2.3%/Day 3
SELL 6. Avid Bioservices (NASDAQ:CDMO)
Price: 3.50/Gain 5.1%/Day 7
Sold based on technical weakness and lack of foreseeable catalysts.
BUY 6. ChemoCentryx (CCXI)
Initial price: opening market price 5/15
ChemoCentryx is currently enrolling patients in a phase 3 trial assessing avacopan for patients with ANCA-associated vasculitis, a rare and orphan renal disease. Enrollment is expected to complete in mid-2018. In January, they announced that Europe accepted a Conditional Marketing Authorization (CMA) application and it is under review. Avacopan had received PRIME designation from Europe based on phase 2 data. The CMA could result in the product making it to the market quicker than originally thought. This triggered a $50 million milestone payment from Europe market partner Vifor. Speaking of which, management has a good history of avoiding shareholder dilution and creating value. The company has $177 million in cash and investments with no debt. With a market cap at just $550 million, the market isn't valuing ChemoCentryx too highly. Institutions are taking advantage and piling up shares.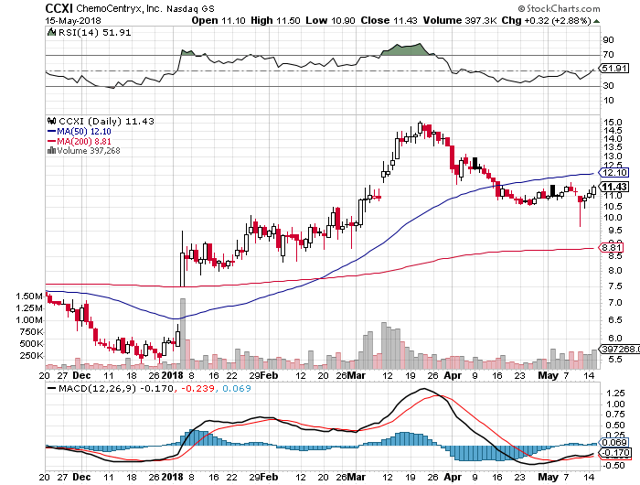 Chart courtesy of StockCharts.com
7. Global Blood Therapeutics (NASDAQ:GBT)
Price: 44.75/Gain 10.2%/Day 10
Chart courtesy of StockCharts.com
Technicals are pointing towards a slight return towards the 200-day MA (bearish doji star). There is a 65% chance we will see downward movement going into the end of the week. However, with phase 3 data on its way, I'm planning to hold into it.
Lucky Seven Scorecard
Record: 2-1-3; Gain: 10.1%
Loss/Synlogic, Inc. (SYBX)/sold 5/8/18, -1.6%/3 days
Win/Omeros Corp. (OMER)/sold 5/11/18, 34.5%/8 days
Gain/Viking Therapeutics (VKTX)/sold 5/11/18, 5.8%/8 days
Win/Array BioPharma (ARRY)/reached threshold 5/14/18, 15%/9 days
Gain/NovoCure (NVCR)/sold 5/15/18, 4.9%/10 days
Gain/Avid Bioservices (CDMO)/sold 5/15/18, 2.2%/8 days

Author's note: For further insight into biotechnology stocks, please follow Clover Biotech Research.
Disclaimer: The intention of this article is to provide insight, not investment advice. One must consider one's own financial standings, risk tolerance, research, etc. before making a decision to buy shares in a company. Many of my articles detail biotechnology companies with little or no revenue. These stocks are, therefore, speculative and volatile. Even when prospects seem promising, there is no predicting the future. Losses incurred may be significant.
Disclosure: I am/we are long EXEL, GBT, IMDZ, AKAO. I wrote this article myself, and it expresses my own opinions. I am not receiving compensation for it (other than from Seeking Alpha). I have no business relationship with any company whose stock is mentioned in this article.
Editor's Note: This article covers one or more microcap stocks. Please be aware of the risks associated with these stocks.