Editor's note: Seeking Alpha is proud to welcome Zhiyuan Sun as a new contributor. It's easy to become a Seeking Alpha contributor and earn money for your best investment ideas. Active contributors also get free access to the SA PRO archive. Click here to find out more »
Indigo Books & Music Inc. (OTC:IDGBF) (TSX:IDG) is Canada's largest book, gift, and specialty toy retailer and offers online sales on the indigo.ca website and mobile applications. The company provides a premium shopping experience through its vast selection of employee curated books for dedicated reading clubs and communities. Toys, board games, and other lifestyle items are readily available in the store's boutique collections. In addition, in-store cafes provide a relaxing atmosphere for customers to grab a book and coffee to relax. Indigo currently operates 89 superstores under the banner "Chapters and Indigo" and 122 small format stores under other multiple brands.
Since 2015, the company has continuously generated strong momentum from its operations and is currently taking massive action to reinvest in its sales segments for future growth. This article seeks to unravel both the tremendous value hidden in Indigo's financial statements, and the potential for Indigo to further accelerate its momentum via international expansion.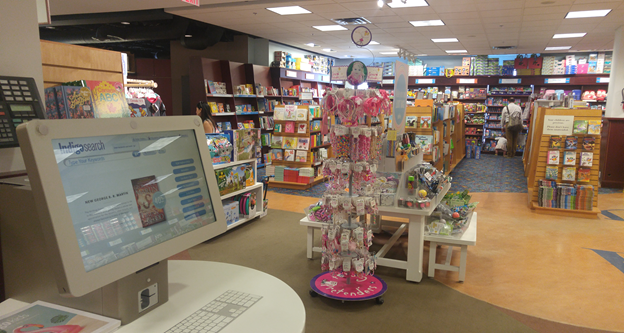 Source: Author's Store Visit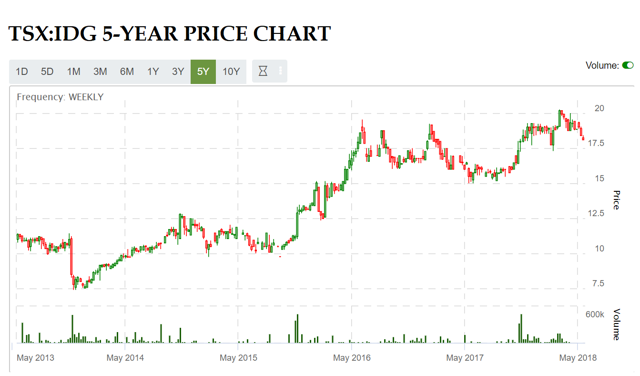 Source: TMXmoney (price in CAD)
A Strong Balance Sheet

Source: Latest SEDAR, SEC 10-Q Filings
The most logical comparison for Indigo in terms of sector and size is Barnes & Noble (NYSE:BKS), the largest bookstore retailer in the U.S. As we can see above, Indigo has a $500 million market cap, north of $300 million in cash, and zero debt (with no preferred stock and other adjustments) - valuing the company at an enterprise value of around $200 million. Net of goodwill and intangibles, Indigo has nearly $400 million in shareholder's equity, in addition to a healthy amount of working capital.
Therefore, as management plans to have capex slightly exceed adjusted EBITDA ($52 million in FY 2017) in the near term to invest in digital segments and prepares for U.S. expansion, the company needs to not issue new equity nor debt, as its lump sum of cash is more than enough to cover capital expenditures for the next decade. Below is a snapshot of Indigo's valuation metrics versus it's future competitor, Barnes & Noble.
Attractive Valuation Metrics

Source: Latest SEDAR, SEC 10-K Filings (Annual Report)
Both Indigo and Barnes & Noble trades at roughly 20x expected earnings for this fiscal year, but has significant deviations with regard to the EV/FCF multiple. The reason for this deviation is due to Indigo's heavy allocation of cash flow from operations (CFFO) into capital expenditures for the aforementioned reasons. Barnes & Noble, on the other hand, mostly allocates their CFFO into dividends and debt repayments. The result of this is significant, as Indigo has been growing same-store sales for nearly 13 consecutive quarters, whereas Barnes & Noble has experienced decline in revenue in the same period.
This growth Indigo experienced has beaten the retail average of 4.5% CAGR in the last five years, but Indigo's 0.17x EV/sales trades at a severe discount to the specialty retail average of 0.94x EV/sales. In addition, Indigo has arguably one of the best gross margins in the entire brick and mortar universe at 43.64% (compared to the sector average of 25.45% GM), and has further potential to improve as its online sales gains momentum and the company utilizes its massive cash reserves. Below is a history of the company's growth record.
History of Strong Growth

Source: Latest SEDAR, SEC 10-K Filings
As show above, Indigo's capital allocation is significantly more efficient than Barnes & Noble. With 3x the ROIC compared to the latter, Indigo has generated nearly 7% revenue growth since the last fiscal year and south of 6% CAGR over the past four years (versus a double-digit decline for Barnes & Noble). In addition, the company has generated record revenue numbers of CAD$1,020 million in the most recent fiscal year since its inception in 1996. As stated previously, Indigo has never used its free cash flow for dividends or debt repayments, and rather accumulates the cash it generates each year for future reinvestment into its own brand.
Below is a history of comparable sales growth for Indigo: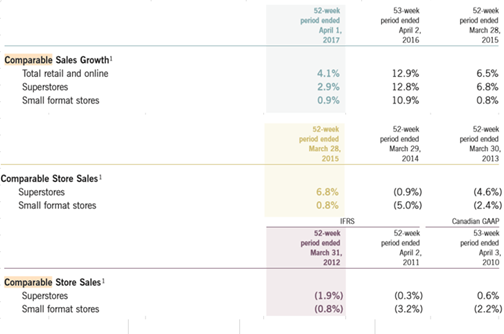 Source: Latest SEDAR Annual Filings
Between 2010 and 2014, Indigo made persistent efforts to use its cash balance to diversify into the e-commerce, toys, and lifestyle revenue segments. Such efforts remained below the water mark until 2015, when same-store sales began to pick up momentum and returned to growth. In addition, such performance and year-to-year revenue growth was achieved even as Indigo closed 3% of its less-profitable stores in the past two years. The company's revenue streams are well positioned to generate value for customers and shareholders in the near future, while competitors are experiencing a sales decline yet trade at higher multiples than Indigo.
Booming Revenue Segments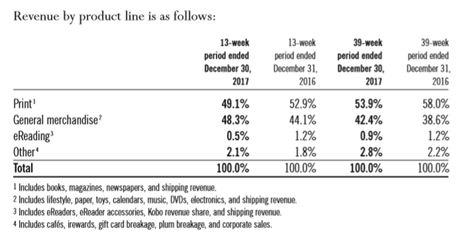 Source: Latest SEDAR Quarterly Filings
With nearly 50% of revenues coming from each of the Print and General Merchandise segments, Indigo resembles less of a traditional brick and mortar bookstore and more of an innovative specialty retailer. While e-commerce offers the convenience of shopping at the click of a button, customers still enjoy the classic model of going to the stores, taking some quality time to examine the merchandise, and then making a purchase. Indigo's monopoly status, same-store sales growth, and premium shopping experience serve only to grow its position as lesser, generic retailers are put out of business by e-commerce. Indigo began its diversification efforts early, and the e-commerce segment now comprises 18% of the company's revenue portfolio, while experiencing a whopping 26% Y/Y sales growth.
Indigo experiences both the perks of being an old-fashioned brick and mortar retail company and using new technology to further improve its margins and generate significant value for stakeholders. This growth record, along with future expansion, has not been reflected in the current market cap of Indigo. As for its future competitor, Barnes & Noble, is still very much focused solely selling books for revenue, as shown below:


Source: Latest SEC 10-Q Filing
Unfortunately, Barnes & Noble has a mediocre Toys and Games segment and an almost non-existent online segment. Without ample diversification into these two profitable revenue streams, the company has suffered years of sales decline while Indigo's revenue accelerated. This heavily favors Indigo's U.S. venture because the Canadian company is much better positioned to cater to the needs of U.S. retail customers as internet and boutique shopping becomes more popular.
High Return on Capex and U.S. Expansion
During the most recent earnings call, management provided color on the performances of new stores being opened, and it is largely in line with the ROIC calculated above. As per CFO Hugues Simard: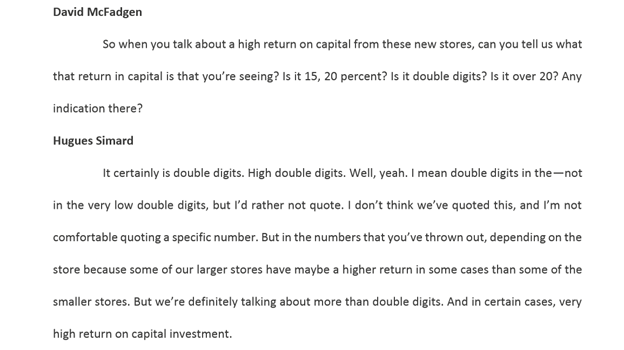 Source: Indigo Books & Music Investor Relations
The double-digit ROIC is very significant as Indigo prepares to expand into U.S. retail, a market roughly 10x the scope of its current operations (compared with Canada's population size). With its successful business model, premium shopping experience, and cash-fueled expansion, Indigo has great opportunities ahead to generate significant value for U.S. customers and, by proxy, its shareholders. Below is the latest company update with regard to this endeavor: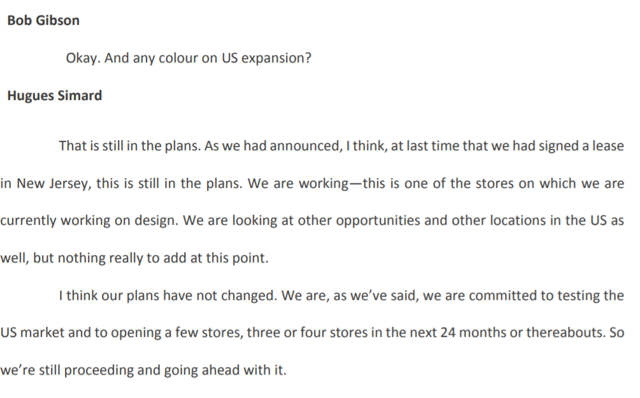 Source: Indigo Books & Music Investor Relations
While it has had a humble start, the U.S. venture actually represents a significant milestone for Indigo. The company has grown from a single store in 1997 to 211 in 2017, with more to come in the near future. Despite perceived headwinds from e-commerce giants, Indigo has consistently performed above expectations and generated record sales from its sound business model. Hence, there are significant competitive advantages for Indigo's U.S. venture over its future competitor, Barnes & Noble.
Conclusion
Indigo Books & Music has a strong balance sheet, attractive valuation metrics, a history of strong growth, booming revenue segments, and upcoming international expansion. At the same time, the company trades at a significant discount to its retail peers, with tremendous potential tucked beneath its financial statements. Indigo is well positioned to continue its strong momentum going forward and generate significant value for its customers, employees, and shareholders.
Disclosure: I am/we are long TSX:IDG.
I wrote this article myself, and it expresses my own opinions. I am not receiving compensation for it (other than from Seeking Alpha). I have no business relationship with any company whose stock is mentioned in this article.
Editor's Note: This article discusses one or more securities that do not trade on a major U.S. exchange. Please be aware of the risks associated with these stocks.