Silvercorp Metals (NYSE:SVM) has a lot to offer and the current price isn't asking too much. The Canadian based Chinese silver, lead and zinc producer is my new deep value pick.
Introduction
Silvercorp operates in two mining districts in China, the Ying mining district in the Henan Province and their GC Project is in the Gaungdong Province. The Ying mining district is extremely rich in silver and lead with a long history of operations, their mine is expected to operate until 2036. The GC Project began operations in 2014 and is already profitable.
Their flagship Ying mine processes about 650,000 tonnes annually while the new GC mine processes about 250,000 tonnes. Silvercorp benefits from Ying's high concentration of silver and lead. Ying is more economical than GC because of significantly higher silver and lead concentrates. Ying has carried the company in the past but since 2014 GC has been added value. GC's excellent head grades of zinc and much lower production costs have made the mine an excellent investment for Silvercorp.
Silvercorp has a few other opportunities as well. They acquired a 29.8% stake in New Pacific Metals (NUPMF) last year. New Pacific's development of their Silver Sand project in Bolivia is very promising with favorable regulation. The Silver Sand project is undergoing a 10-12 month 50,000 meter drilling project to further define resource measurement and produce an economic analysis. Initial silver head grades are high. Silvercorp holds 39,280,900 New Pacific shares at an average cost of $0.86 per share. The first installment was bought in July 2017. New Pacific is trading around $1.20, a 40% gain in less than a year. New Pacific shares have a large upside if the mine is permitted.
Silvercorp suspended operations at their BYP gold mine in 2014, new capital requirements are being evaluated to restart the mine. Higher gold prices and potentially low capital reinvestment could allow for BYP to open in the coming years.
Valuation, Deep Value
An income and balance sheet valuation reveal just how cheap this miner is. These valuations are based off excellent earnings which may not continue at current levels. I believe the company has somewhat diversified their earnings and will benefit from sustained commodity pricing for the next few years; I am not concerned with a major fall off of profits. Silvercorp will likely have a strong 2018 and 2019.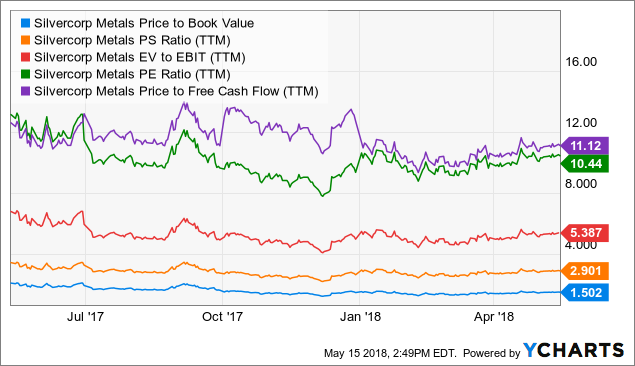 I typically look for an EV/EBIT of less than 8. Valued at a reduced EV/EBIT of 7, Silvercorp's enterprise value would be $508.62M implying a share price of $3.70 a 32% upside from it's current price. An EV/EBIT of 8 gives a share price of $4.11. Silvercorp is trading at a significant discount to fair value and has a health margin of safety.
The price to free cash flow implies a 9% free cash flow yield which is excellent. Last year Silvercorp took advantage of their low share price and used their free cash flow to retire 1% of their common shares.
Silvercorp is not a large miner, with a market cap of $477M and an enterprise value of $398M it is still considered a junior miner. One of the main reasons I like Silvercorp is their balance sheet. They carry a huge cash account and no long-term debt. The $0.67/share of cash could be used to incrementally develop their Ying mine or further increase their stake in New Pacific Metals (NUPMF) two promising reinvestment opportunities.
Compared with it's peers Silvercorp is cheap. Besides having the lowest operating cash flow multiple and price to earnings ratio they also have a market cap to Ag reserve ratio of 3.8, the second lowest of the comparable group.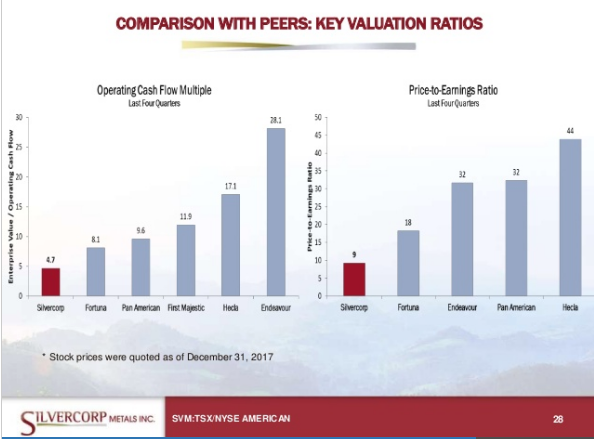 Notables
Silvercorp's CEO Rui Feng has been the Chairman of the Board since 2003 and holds 4,159,500 shares. I love seeing a CEO with that much skin in the game. He is also the president and a director of New Pacific Metals (NUPMF). Yikang Liu the former Deputy Secretary General of China Mining Association has served on the board since 2006; he owns 152,000 shares.
Silvercorp has operated in China since 2004 and is China's primer silver producer. The company has a long history of cooperative joint-ventures with Chinese partners and to their knowledge no Sino-foreign joint venture mining permit has ever been denied. Many investors are skeptical of foreign miners but Silvercorp doesn't have risk of being nationalized.
Results
From 2014 to 2017 revenue grew 51%, gross profit grew by 82% and cash from operations rose 123%. Silvercorp recorded a 54% gross margin in 2017, improving on past years. The company returned to positive earnings in 2016 after taking a heavy loss in 2015. In 2017 they recorded a solid $0.25 diluted eps.
Free cash flow totaled $43.2M in 2017 with a near record $20M coming from Q4 alone. Solid production of lead and zinc from their GC Project and increased pricing contributed significantly to their strong free cash flow. In Q3 lead & zinc sales overtook silver & gold sales for the first time.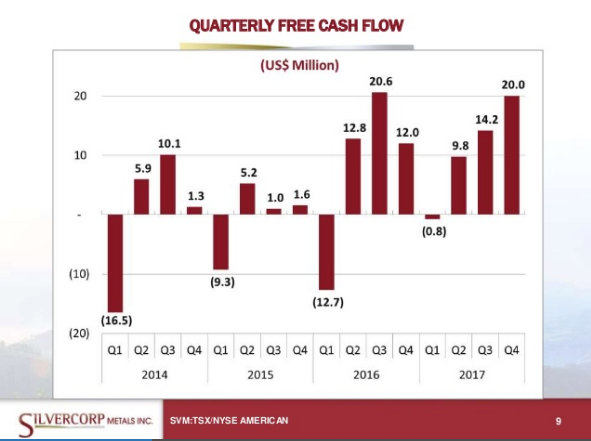 Net Income has consistently ranged form $10.9M - $13.5M over the past 6 quarters. I expect this trend to continue as the company executes on their steady operational performance.
Production and Pricing
Production has significantly grown since the opening of their GC mine in 2014. The GC mine is highly concentrated in zinc with lower head grades of silver and lead than Ying. Both mines have been more economical as of late, head grade improvement drove greater realized production in Q4 2017. Steady silver pricing coupled with stronger lead and zinc pricing drove profits higher.
| | | | | |
| --- | --- | --- | --- | --- |
| Production Data (Metal Sales) | FY2017 | FY2016 | FY2015 | FY2014 |
| Silver (in thousands of ounces) | 6,494 | 5,032 | 5,121 | 3,862 |
| Gold (in thousands of ounces) | 3.3 | 2.4 | 5.9 | 11.1 |
| Lead (in thousands of pounds) | 70,473 | 52,511 | 51,470 | 37,152 |
| Zinc (in thousands of pounds) | 18,294 | 17,457 | 15,940 | 8,446 |
| | | | | |
| --- | --- | --- | --- | --- |
| Pricing | FY2017 | FY2016 | FY2015 | FY2014 |
| Silver ($ per ounce) | 13.79 | 12.04 | 14.52 | 16.74 |
| Gold ($ per ounce) | 1,013 | 798 | 921 | 1,027 |
| Lead ($ per pound) | 0.81 | 0.67 | 0.7 | 0.76 |
| Zinc ($ per pound) | 0.72 | 0.54 | 0.69 | 0.61 |
| | | | | |
| --- | --- | --- | --- | --- |
| Head Grades (Consolidated) | FY2017 | FY2016 | FY2015 | Fy2014 |
| Silver (gram/tonne) | 242 | 216 | 208 | 207 |
| Gold (gram/tonne) | NA | NA | 2.7 | 3.4 |
| Lead (%) | 3.7 | 3.2 | 3 | 2.8 |
| Zinc (%) | 1.5 | 1.3 | 1.2 | 0.8 |
From 2014 to 2017 Silver production was up 68%, lead up 90% and zinc up 117%. Production estimates for 2018 are, 6.2M ounces of silver, 63.1M pounds of lead and 18.3M pounds of zinc. 2018 Production is essentially the same as 2017 except lead will lag by approximately 7M pounds. I am optimistic Silvercorp will exceed their 2018 production guidance, higher head grades and favorable pricing will provide the incentive to extract more ore.
Cost Leader, A Competitive Advantage
Silvercorp is a low-cost producer. Their All-In Sustaining Costs is the lowest among their peers, the cost advantage is attributed to the highly economical and extremely silver rich Ying mining district where Silvercorp mines approximately 90% of their silver. The district is also known for its very high concentrations of lead. Silvercorp is expecting between 275 grams/tonne of silver and 4.2% lead from the 650,000 tonne guidance for 2018 in the Ying district.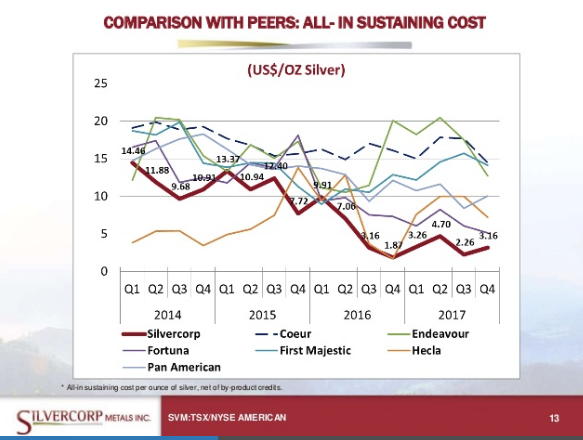 Silvercorp's history of lower than average All-In Sustaining Costs gives the company a competitive advantage over it's peers. The Ying mine makes Silvercorp an excellent metal producer over the next two decades before the mines retirement or it's life is extended.
No Company is Without Risk
Like other commodity producers, Silvercorp's business is cyclical. Silver is a volatile commodity, much more so than gold. Over the past year, talk about silver market manipulation has grown. Silver prices remained flat in 2017 while the market experienced a 'major' surplus for the second year in a row. Institutional buyers have gobbled up the surplus keeping momentum strong. If momentum weakens, prices will crash hard.
A global economic slow down or regional slow down will sharply reduce demand. A Chinese slow down would dramatically change the market equilibrium by reducing demand for metals.
Increased recycling efficiency buffers supplies. Higher pricing encourages recycling; this dynamic is a built-in market force that helps cap prices.
Lower head grades hurt the economics of mine operating. Silvercorp plans on processing a set amount of ore per year. Profitability suffers greatly when ore has a lower concentration of metals.
The company is currently limited to two mines, so downtime for maintenance or unforeseen incidents at one of the two mines will deeply hurt performance. If operations at the Ying mine are interrupted, approximately 80% of Silvercorp's revenue will disappear until the mine is at capacity again.
Large Upside, Small Downside
Silvercorp is the type of buy I love. Even with the five risk factors above considered, Silvercorp fits my risk/reward profile. Its huge upside is too hard to ignore. Any one or more of these factors will boost their share price:
Multiple appreciation.
Lead and zinc market demand outweighs supply.
Takeover/buyout offer.
Commodity metal pricing.
New Pacific Metals Silver Sand mine development.
Expansion in the Ying mining area or resumption of BYP gold mine.
I think several will contribute to capital appreciation.
The downside is limited by excellent balance sheet health, no long-term debt and significant cash to spend.
Production is expected to remain strong and if pricing does not severely deteriorate I remain bullish (I expect lead and zinc pricing to increase). The low-cost structure provides a solid competitive advantage. Shareholders will likely be rewarded via strong free cash flow and excellent reinvestment opportunities. Silvercorp will likely expand the life of their very economical Ying mine and benefit from their investment in New Pacific Metals.
At Silvercorp Metals' current price, it presents an adequate margin of safety and favorable investment conditions. The company is a strong buy.
Editor's Note: This article covers one or more microcap stocks. Please be aware of the risks associated with these stocks.