In the last entry of this series, we took a look at top ideas from Ra Capital Management, the best performing fund we've come across so far with heavily concentrated positions in their top ideas.
Going forward, I hope to continue to delve into the portfolios of successful hedge funds predominantly in the biotech sector, trying to place ourselves in the mindset of the managers and analysts. We do so humbly, knowing that we don't have access to their research or thought processes (and keeping in mind that positions are constantly changing) - nevertheless, it is an interesting exercise that I hope readers find useful.
Today's Fund: Opaleye Management
Founded: 2013
Manager: James A. Silverman
Strategy: Long, concentrated medium term time frame
Relevant Reading Material: My previous article from May of last year (they've grown considerably since then) (ROTY subscribers have full archive access)
Market Value: Around $350 million
Top 10 Holdings %: 66.13%
Turnover %: 60.53%
Time Held Top 20 holdings: 3.90 quarters
Performance 4/16- 2/18: 96.58%



Figure 1: Performance compared to S&P Total Return Index (source: Whale Wisdom)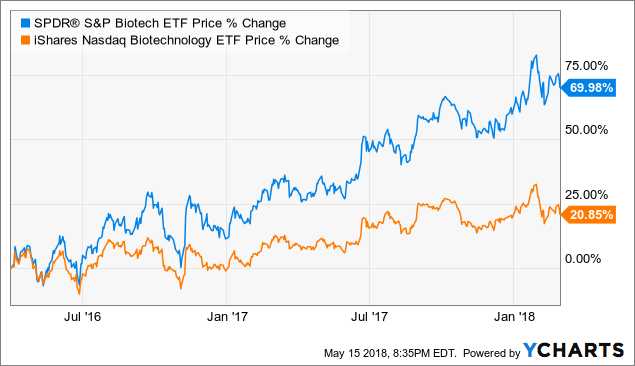 Top 5 Weighted Biotech Positions:
#1: AxoGen Inc (AXGN) @ 17.89% of portfolio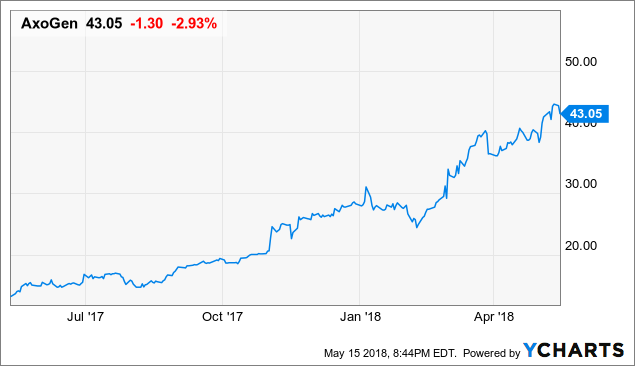 Possible 1 Sentence Thesis: Pricing and demand for the recent secondary offering bode well, 2018 revenue guidance was for 40%+ growth with continued high margins and they have room for further expansion in the peripheral nerve repair and regeneration markets via new products along with growth in existing ones.
Opinion: The stock had run up from $5 to $13 the last time I reviewed Opaleye's portfolio a year ago and I called it a good long-term idea while being too extended at the time (missed out on it unfortunately). Longer term this looks to have continued upside as they address a market opportunity of over $2 billion and is a strong M&A candidate.
#2: Blueprint Medicines (BPMC) @ 15.73% of portfolio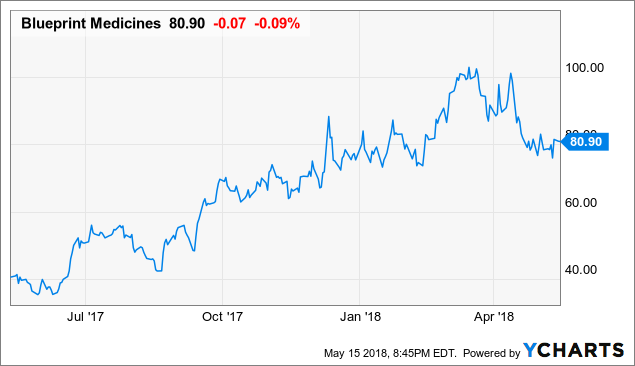 Possible 1 Sentence Thesis: They have a strong cash position following their December secondary and an attractive pipeline led by BLU-285 and BLU-667 with impressive efficacy demonstrated to date (makes for a compelling M&A candidate as well)- after the recent dip, the stock is again becoming an attractive purchase.
Opinion: Back at $26 and shortly after IPO, this was one of my favorite plays in the targeted oncology arena, a theme that has been very profitable for us. Management continues to execute and several data presentations throughout the year should drive additional upside. Updated data from the NAVIGATOR trial in the second half of the year is another catalyst to look forward to. I should also point out this is a holding in our Core Biotech 20 stock model account (multi-year time frame).
#3: Loxo Oncology (LOXO) @ 5.91% of portfolio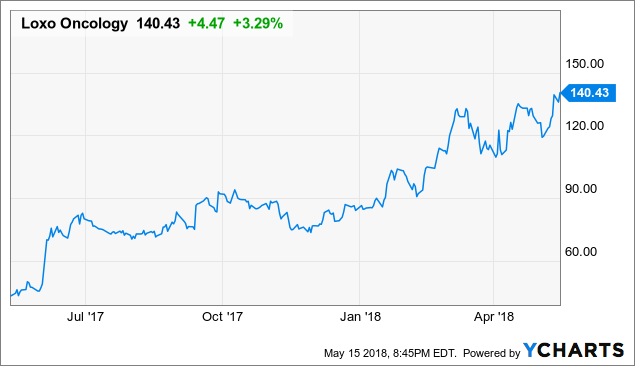 Possible 1 Sentence Thesis: Their RET market opportunity could result in even further upside, they are one of the frontrunners in the targeted oncology theme (larotrectinib peak sales could top $1.5 billion) and the lucrative partnership with Bayer (OTCPK:BAYZF) refilled cash coffers to continue progressing their pipeline.
Opinion: I initially rec'd this one in the $30s, recent collaborations with Illumina (NASDAQ:ILMN) and Vericyte are net positives and I am a big fan of the space they are operating in (we currently have a few stocks in the targeted oncology arena as part of the ROTY model account and Contenders List). Interim data from the ongoing Phase 1 trial for RET inhibitor LOXO-292 was accepted for oral presentation at ASCO, a development I look favorably upon.
#4: Codexis Inc. (CDXS) @ 5.34% of portfolio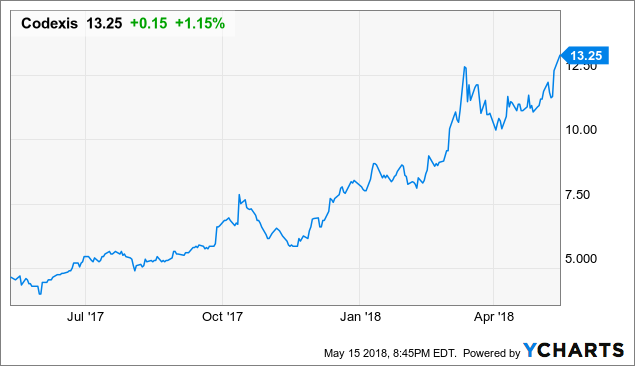 Possible 1 Sentence Thesis: The secondary offering in April significantly extended their operational runway, continued partnerships for their CodeEvolver protein engineering platform technology provide validation and a 76% increase in first quarter revenues driven by higher R&D revenue bodes well for long-term upside.
Opinion: This one would look more attractive on a pullback as it's already run up significantly. An increasingly diversified base of pharmaceutical customers and new opportunities in the $600 million and growing enzyme market for molecular diagnostics and molecular biology applications also add reasons for optimism. The novel Biotherapeutics discovery and development business should also be the subject of more attention going forward with six biotherapeutic programs in development (4 self-funded, 2 partnered with Nestle Health Science).
#5: FibroGen (FGEN) @ 4.75% of portfolio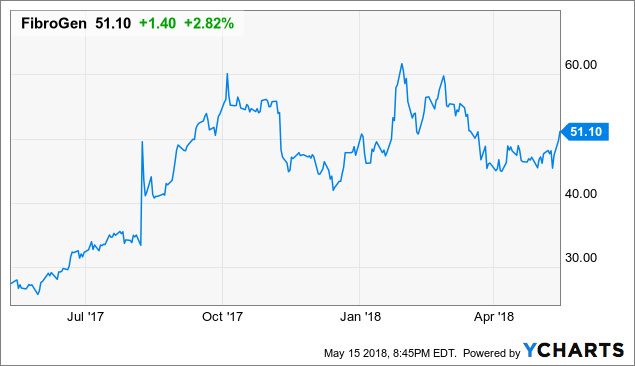 Possible 1 Sentence Thesis: The company has over $700 million of cash and key catalysts coming in the form of Phase 3 data for roxadustat in CKD and possible regulatory approval in China (both in the fourth quarter or near year-end)- IPF and other indications provide optionality, partnerships with AstraZeneca and Astellas provide stability, and peak sales for their lead drug candidate could exceed $2 billion.
Opinion: I'm partial to this one as it was one of my first ¨core biotech¨ ideas introduced back in late 2016 - I have a high opinion of management, their lead program and agree this is an attractive long-term story.
Commentary on Top Weighted Positions: Opaleye is significantly overweight in their top two positions, a strategy that is a double-edged sword when things go bad but has worked out very well for them. The fund has continued to grow significantly and their returns are extremely competitive (on the upper end of the funds we've looked at so far). This is definitely one to keep tabs on.
3 New Positions of Note:
Achillion Pharmaceuticals (ACHN) @ 1.16% of portfolio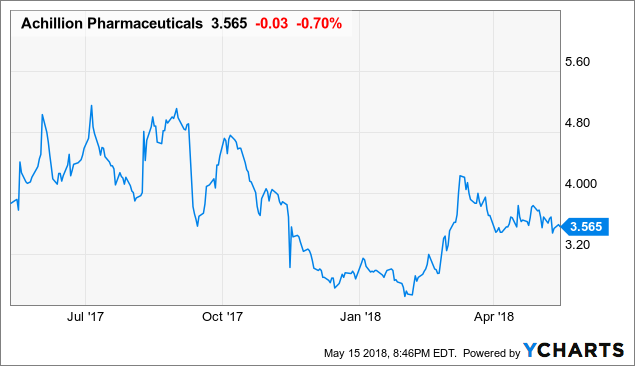 Possible 1 Sentence Thesis: The company has been struggling for quite a while and the departure of their CMO (and other executives) is not a welcome development - however, interim Phase 2 data for their lead drug candidate in C3G and PNH in the fourth quarter along with results for their next generation product candidates could be the first step in turning the ship around.
Opinion: Each time I looked at this company in the past I considered it an "also ran." With data readouts coming up perhaps it's time to give them a second look - however, with Alexion's recent strong results for ALXN1210 (uses Xtend technology from Core Biotech holding Xencor), I continue to believe there is less and less room for competition.
Amarin Corp. (AMRN) @ 1.5% of portfolio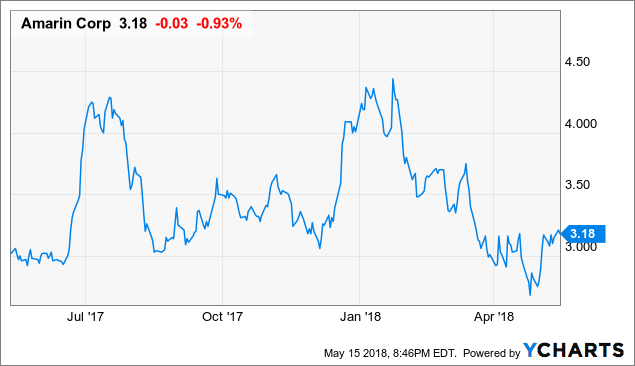 Possible 1 Sentence Thesis: Vascepa revenues grew nicely in Q4, January's financing will allow for increased promotional efforts in Q2 and top-line data in Q3 from the long-term cardiovascular outcomes study REDUCE-IT could open up a much larger market opportunity (potential blockbuster).
Opinion: The stock was also chosen as a conviction idea by a ROTY member in Idea Lab, where members are encouraged to contribute their top stock pick along with a One-Sentence Thesis to encourage debate and discussion. I also am optimistic on the outcome for REDUCE-IT.
Viking Therapeutics (VKTX) @ 1.37% of portfolio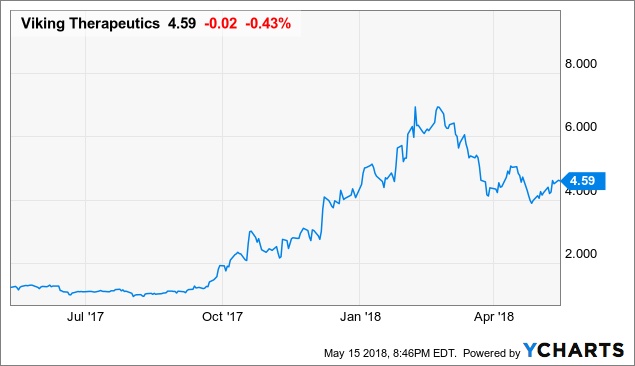 Possible 1 Sentence Thesis: Multiple secondary offerings have given them plenty of cash, the valuation gap with Madrigal Pharmaceuticals is enticing and prior data for their non-steroidal, tissue-specific selective androgen receptor VK5211 provides significant downside cushion.
Opinion: This one used to be a ROTY Contender, which we removed from the list after it achieved a near double on the run up. I'd prefer to be on the sidelines now until after data, although results for Madrigal Pharmaceuticals' (MDGL) thyroid hormone receptor MGL-3196 bode well for the prospects of their own drug candidate VK 2809.
3 Noteworthy Positions To Which They Are Adding:
AMAG Pharmaceuticals (AMAG) @ 2.41% of portfolio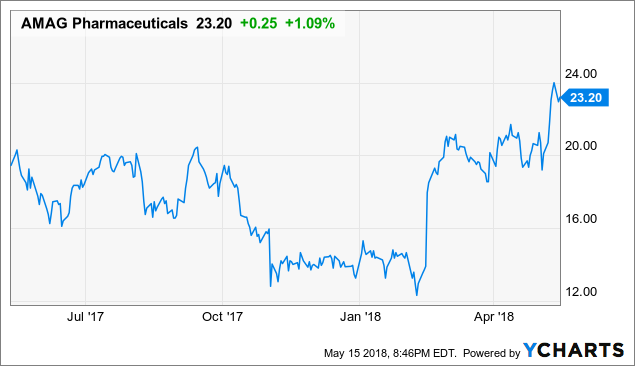 Possible 1 Sentence Thesis: The company continues to make strides toward creating a diversified Women's Health/Maternal core business along with monetizing their hematology/oncology assets - FDA approval for Makena subcutaneous and the broad label for Feraheme along with growth prospects for Intrarosa and a large market opportunity for bremelanotide bode well for future upside.
Opinion: In the Core Biotech (long term) portfolio, we have some exposure to this one via Antares Pharma (ATRS), as their technology is incorporated in subcutaneous Makena. While the stock has rebounded significantly since the beginning of the year, perhaps it's best to wait for a pullback. Be aware that they have quite a debt load, not an attribute that I appreciate and adds to risk.
Biofrontera AG (BFRA) @ 1.84% of portfolio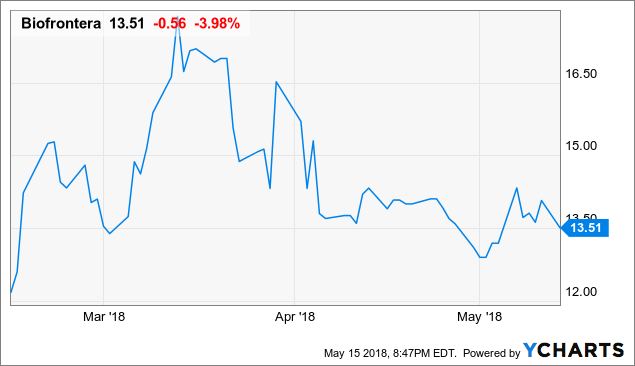 Possible 1 Sentence Thesis: The small German biotech is seeking to become a leader in the treatment of sun-induced skin cancers using photodynamic therapy, proceeds from their IPO will aid in their growth aspirations, the recent IND filing for basal cell carcinoma adds another expansion opportunity and recent approval in Europe should also boost revenues going forward.
Opinion: With several growth drivers including a possible advantage over competition (Sun Pharmaceuticals' Levulan) in efficacy and reimbursement (daylight PDT approval allowing Ameluz to be eligible for reimbursement in the self-applied topical market), this is definitely a story on which to do further due diligence. Including the basal cell carcinoma market the peak sales potential for Ameluz reaches over $700 million, when combined with the likelihood of taking away market share from Levulan and accelerating sales (aided by receipt of product specific J-code) this looks like a very interesting long-term Buy.
Deciphera Pharmaceuticals (DCPH) @ 2.09% of portfolio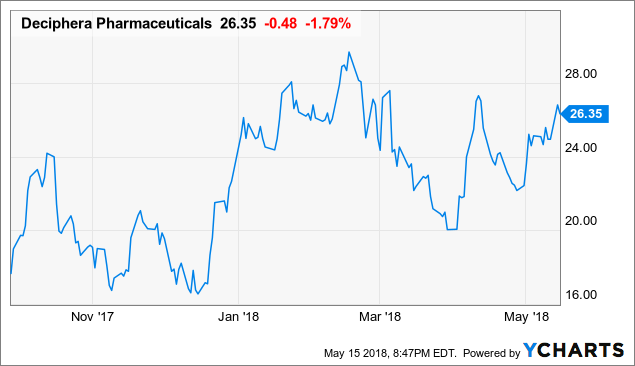 Possible 1 Sentence Thesis: The valuation gap with competitor Blueprint Medicines (BPMC) is compelling and management continues to execute with DCC-2618 entering its pivotal Phase 3 INVICTUS study in fourth line GIST and an additional pivotal study to be initiated later in the year.
Opinion: Investors shouldn't have to wait long, as data being reported later in the year from expansion study cohorts could drive additional upside. Encouraging early data in patients with glioblastoma multiforme (including one patient experiencing a 94% tumor reduction after 84 weeks on therapy) could bode well for future updates and provides optionality.
Bonus Section: Five 13G/13D Filings Of Note
With many of these bigger biotech funds, it's especially important to look into their recent 13G/13D filings (required when they buy up more than 5% of a company's shares).
For example, Baker Brothers' holdings in Idera Pharmaceuticals (IDRA) makes up less than 1% of their portfolio - however, it accounts for 18% of the company's shares and thus is quite significant.
Rocket Pharmaceuticals (RCKT) - owns over 6% (SEC Filing)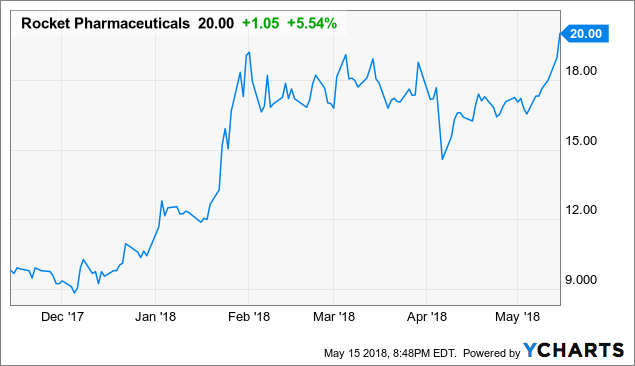 Thoughts: I did a recent Reader Inquiry article on this gene therapy pioneer that is still available for readers. Bright prospects for their lead candidate (including possible pursuit of accelerated approval), a shored up balanced sheet, depth and experience in their management team, institutional positioning and progress with other pipeline candidates makes this one very attractive. However, after the recent run up, I'm inclined to wait until the second half of the year (if we get a pullback) before reevaluating as a possible ROTY Contender.
#2 to #5- N/A
Conclusion/Final Thoughts:
As you can see, this is by no means a comprehensive piece and just covers a few of the fund's positions that stuck out to me or to which they were heavily adding.
I hope you found the above article useful. I look forward to reading your feedback in the comments section, including which stocks mentioned above that you own or also find attractive (along with your thesis and plan if you'd like to share with the Seeking Alpha community). Another interesting question to debate is which institutional investor we will choose next!
Disclaimer: Commentary presented is not individualized investment advice. Opinions offered here are not personalized recommendations. Readers are expected to do their own due diligence or consult an investment professional if needed prior to making trades. Strategies discussed should not be mistaken for recommendations, and past performance may not be indicative of future results. Although I do my best to present factual research, I do not in any way guarantee the accuracy of the information I post. I reserve the right to make investment decisions on behalf of myself and affiliates regarding any security without notification except where it is required by law. Keep in mind that any opinion or position disclosed on this platform is subject to change at any moment as the thesis evolves. Investing in common stock can result in partial or total loss of capital. In other words, readers are expected to form their own trading plan, do their own research and take responsibility for their own actions. If they are not able or willing to do so, better to buy index funds or find a thoroughly vetted fee-only financial advisor to handle your account. I am in a collaborative relationship with The Biotech Forum/Bret Jensen
Disclosure: I/we have no positions in any stocks mentioned, and no plans to initiate any positions within the next 72 hours. I wrote this article myself, and it expresses my own opinions. I am not receiving compensation for it (other than from Seeking Alpha). I have no business relationship with any company whose stock is mentioned in this article.
Editor's Note: This article discusses one or more securities that do not trade on a major U.S. exchange. Please be aware of the risks associated with these stocks.