A plausible scenario for the top cobalt juniors/developers that can reach 5,000tpa production by 2021/2022
My view is there are about 6 global junior cobalt miners (developers) that will be able to produce ~5,000 tonnes pa of cobalt by 2021/22, five are in Australia and one is in Canada. These companies have massive potential to each become ~AUD3b (or CAD 3b) market caps within the next 3-5 years. That would mean investors have a chance of earning multi-bagger returns, given all but one of these companies currently have market caps below AUD 300m, and some below AUD 100m.
The basis for my forecast is the following:
Cobalt demand remains strong due to the electric vehicle [EV] boom. My model forecasts a 20 fold increase in the number of electric cars produced per annum from a penetration rate of 0.88% end 2016 to 18% by end 2026. Cobalt demand to increase 3.7 fold from 122ktpa in 2016 to 453ktpa in 2026 (assumes only 12kgs of cobalt per electric car).
My cobalt demand v supply model suggests that between now and 2020 new supply from Glencore [LSX:GLEN] [HK:805] (OTCPK:GLCNF)/Katanga Mining [TSX:KAT] (OTCPK:KATFF) should go close to bringing the cobalt market back into balance from the current deficit.
Current producers will likely have difficulty expanding supply beyond current planned supply forecasts, especially given cobalt is mostly a by-product of copper and nickel mining.
From 2021 onward my model suggests we will need about 35,000 tonnes pa of new cobalt supply, and hence at least 4-6 new projects of 5,000 tonnes pa. By 2022 we will need another additional 35,000tpa and more cobalt juniors.
There are only a few junior cobalt developers that can meet this post 2021 demand and most of these are in Australia. For example eCobalt Solutions' [TSX:ECS] (OTCQX:OTCQX:ECSIF) plan is to produce ~1,088tpa, and Fortune Minerals [TSX:FT] (OTCQX:FTMDF) is ~2,000tpa. The top 6 cobalt miners below each have the resource capability and hence potential to produce at least ~5,000 tonnes pa of cobalt post 2021/22.
A 5,000 tonne pa cobalt producer can earn 5,000t x USD 60,000 (USD 85,000/t-USD 25,000/t) = USD 300m in EBITDA. If we deduct USD 70m pa for SS&A (USD 4m), interest expenses (USD 16m), and tax (USD 50m) we are left with USD 230m (~AUD 300m) in net profits. If we assume an earnings multiple of 10 we are looking at a company valuation of AUD 3b (or CAD 3b).
Note: The above is a general example only and is looking at an "optimistic but quite realistic" scenario to show the potential. Assumes cobalt selling prices remain elevated (~USD85,000/t), cobalt costs of production of USD 25,000/t. Dilution for initial CapEx can be factored in by adding it to current market cap. For example if a cobalt junior has a market cap now of AUD 100m and needs CapEx of AUD 450m then AUD 200m can be raised as equity, and AUD 250m (USD 200m) with debt. The market cap would rise to AUD 300m (100+200).
Note: Some projects will have higher CapEx such as those with laterite ore. Also royalties can vary depending on location.
Cobalt deficit forecast and price forecast (USD/t) - Current price is USD 88,000/t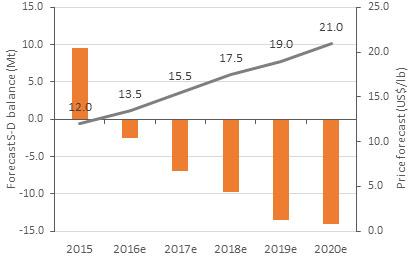 Source: ResearchInChina. 2016
Top 6 Cobalt Junior Miners To boom by 2021
Clean TeQ [ASX:CLQ] [TSX:CLQ] (OTCQX:CTEQF) - Price = AUD 1.25
Clean TeQ 100% own the Sunrise nickel/cobalt/scandium project in NSW, Australia. Clean TeQ has 132,000 tonnes contained cobalt in laterite ore at their Sunrise project. The company states that they are "uniquely positioned as one of the largest and highest grade sources of cobalt outside Africa."
Their Proved & Probable resource is 96m tonnes at 0.65% nickel, 0.10% cobalt. The resource is shallow (5m to 40m) and extends over a 2km horizon.
Clean Teq have already signed an off-take agreement for 20% of planned production with Beijing Easpring Material Technology Co.
The 2016 DFS results included:
Post-tax NPV 8% of US$891m (A$1,187m) and 25% post-tax IRR.

Assuming long term average nickel and cobalt price forecasts of US$7.50/lb and US$12.00/lb respectively.

Based on production of 18,730tpa of contained nickel metal equivalent and 3,222tpa of contained cobalt metal equivalent in years 3-20. 20+ year mine life.

C1 cash costs of US$0.89/lb nickel after cobalt by-product credits.

Capital cost of US$680m (A$906m) including US$62m (10%) contingency.
Catalysts:
End June 2018 - DFS to be released.
2018 - Possible further off-take agreements and possible project financing.
2020 - Possible producer.
Current market cap is AUD 848m. Analysts' consensus target is AUD 1.80, representing 40% upside.
Australian Mines [ASX:AUZ] (OTCPK:AMSLF)- Price = 0.111
Australian Mines 100% own their flagship Sconi nickel-cobalt-scandium laterite project in North Queensland, Australia. They also 100% own the Flemington cobalt-scandium-nickel project in NSW next to CleanTeQ's Sunrise project. The company also 100% owns tenements adjacent to Cobalt Blue, called their Thackaringa Cobalt Project.
The Sconi resource is 89 million tonnes of ore at 0.06% Co. Average feed grade of 0.11% cobalt and 0.81% nickel for the projected life of mine (20 years), with 54,500 tonnes of contained cobalt and 514,000 tonnes of contained nickel in resource.
The Flemington maiden resource is 2.7 million tonnes of ore at 0.101% cobalt and 403ppm scandium, for 2,744 tonnes contained cobalt.
The Sconi PFS only included scandium so is not really relevant, so the market is keenly awaiting their BFS by mid 2018 which will include cobalt, scandium and nickel. Flemington is still growing the resource towards the next stage being a PFS.
Australia Mines have already signed a binding off-take agreements for 100% of planned Sconi production with SK Innovation. The off-take agreement was for up to 60,000tpa nickel sulphate (~12,000tpa nickel metal) and up to 12,000tpa cobalt sulphate (~2,400tpa cobalt metal).
Upcoming catalysts include:
Flemington drill results and resource update. Later a PFS.
Mid 2018 - Sconi BFS.
Current market cap is AUD 282m. I was unable to find an analysts' consensus target price. Plenty of potential here, but investors need to remember laterite ores require a large upfront CapEx, so project economics need to be strong. All eyes will be on the mid-year Sconi BFS.
Investors can read my interview - "Australia Mines Managing Director Benjamin Bell Talks With Matt Bohlsen Of Trend Investing."
Aeon Metals [ASX:AML] - Price = AUD 0.27
Aeon Metals 100% own their Walford Creek copper-cobalt project in Queensland Australia. The company states they have - "The largest and most advanced cobalt sulphide deposit in Australia with a ~25km mineralized fault. World class size base metal system with 2012 JORC Indicated and Inferred Resources of 73Mt at 1.43% Cu equivalent containing: 296,000t of copper, 60,000 tonnes of cobalt, 623,000t of zinc, 626,000t of lead, 55moz of silver."
Walford Creek Resource (over a 4km zone) - as of 2015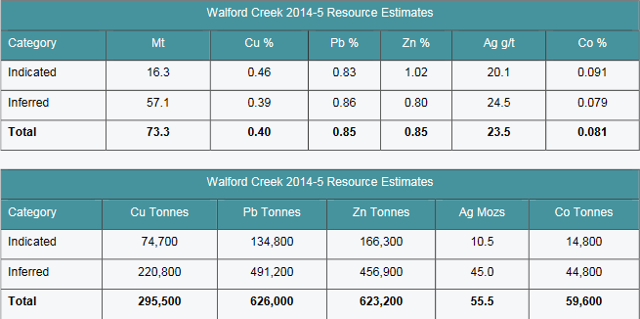 On January 24 Aeon Metals announced: "Doubling of copper resource at Walford Creek. This updated Resource shows Walford Creek to have one of the highest grade and largest tonnages of cobalt metal content among the cobalt sulphide deposits in Australia." Note the company has chosen here to increase the cut-off grades therefore the new total resource now has just 43,500 tonnes of contained cobalt at 0.13% (up from 0.081% in the table above). The details can be fully understood by reading here. In my view the company's previous DFS no longer has relevance, and I would expect an update via a FS in late 2018 early 2019.
Upcoming catalysts include:
2018 - Further drilling and drill results, further upgrades to the resource.
Current market cap is AUD 158m. Bell Potter recently released a broker report with a price target of AUD 0.48 and 4-traders shows a similar (maybe the same) target price. I like that Aeon Metals has a ploymetallic deposit (Cu, Pb, Zn, Ag, Co), is a sulphide ore, with large exploration upside.
Aeon Metals - Australian Cobalt miners compared - Walford Creek (sulphide ore) project (shown by the red dots)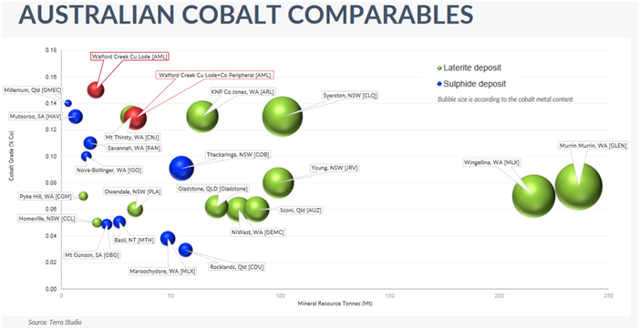 Source: Aeon Metals presentation
Ardea Resources [ASX:ARL] (OTC:ARRRF) - price = AUD 1.64
Ardea Resources 100% own the Kalgoorlie Nickel (laterite) Project (KNP) in Western Australia. Ardea state they have "Australia's and the developed world's largest cobalt resource."
Ardea's high grade zone (Goongarrie Nickel-Cobalt Project) has a resource of 65.7Mt of ore at 0.13% cobalt and 0.79% nickel. Ardea's total cobalt and nickel resource now stands at 405,000 tonnes contained cobalt (grade 0.05%), 5.46 million tonnes contained nickel (grade 0.7%). Their higher grade zone has 85,410 tonnes of contained cobalt. Added to this is their recent scandium discovery. Other projects include the Lewis Ponds zinc-gold-silver development project, and the Mt Zephyr Gold Project.
Upcoming catalysts include:
Q1 2018 - PFS results - KNP cobalt project (my estimate is an unrisked NPV8% of ~AU$1.1b) and Lewis Ponds project.
2018 - Possible off-take agreements.
End 2019 - DFS results - KNP cobalt project
2021 - Possible producer.
Current market cap is AUD 149m. Ardea certainly looks very appealing especially when comparing to their more advanced peers CLQ and AUZ.
My current target price for end 2022 based on reaching a 5,000tpa cobalt production target and selling @ USD 35/lb is AUD 8.51 or 5.2x higher.
Investors can view their latest company presentation here, and my interview " Ardea Resources Managing Director Matt Painter Talks With Matt Bohlsen Of Trend Investing."
Ardea Resources compared to Australian Mines and Clean TeQ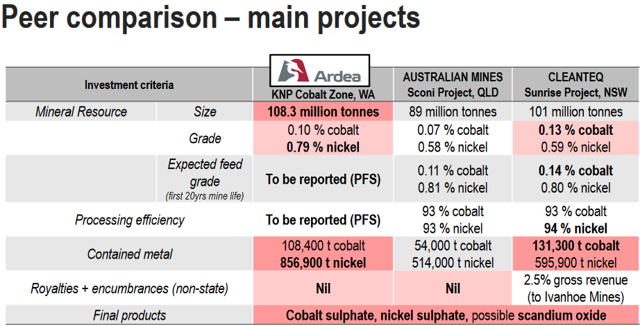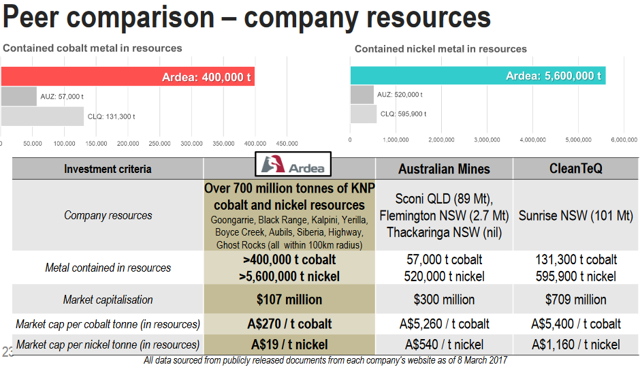 Source: Ardea Resources company presentation
Cobalt Blue Holdings [ASX:COB] (OTCPK:CBBHF) - Price = AUD 1.04
Cobalt Blue are optioned to 100% own the Thackaringa cobalt-pyrite sulphide project in NSW Australia. They are buying in from Broken Hill Prospecting [ASX:BPL].
Cobalt blue currently has a global Mineral Resource estimate of 72Mt at 0.0852% cobalt [Co], 9.3% sulphur [S] & 10% iron [Fe] for 61,000 tonnes contained cobalt (at a 0.05% cobalt cut-off). Note that 72% of the Mineral Resource is now in the Indicated category. Cobalt Blue is targeting a resource of 100 million tonnes at 0.084% cobalt for 84,000 tonnes of contained cobalt. That will support a 20 year operation at 4,000 tonnes pa, and make Cobalt Blue a top five global producer. It is quite possible this will move to a 5,000tpa production target prior to commencing production around 2021 all going well.
Cobalt Blue will have a low cost of production due to their ore type and a new way to process it using gravity separation. The company states - "The heavy sulphide separates easily. We therefore only need to process 20% of mined ore (sulphide) in a refinery." The graph below shows the huge advantage this potentially gives Cobalt Blue.
Most of the laterite deposits will need to refine the ore at 0.1-0.2%, whereas Thackaringa will be refining concentrate at 0.4-0.5% cobalt.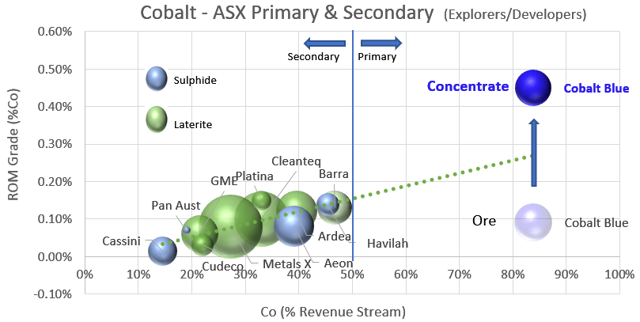 The company is currently working to prove up their resource with further drilling.
Upcoming catalysts include:
By 30 June 2018 - PFS to be released. My estimate is for an unrisked NPV8% of A$1.08b.
2018 - Possible off-take agreements.
By 30 June 2019 - BFS.
Current market cap is AUD 111m. Investors can view my interview - "Cobalt Blue CEO Joe Kaderavek Talks With Matt Bohlsen Of Trend Investing."
My current target price for end 2021 based on reaching a 4,000tpa cobalt production target and selling @ USD 35/lb is AUD 5.18 or 5x higher. This increases to AUD 6.59 or 6.3x higher if they make it to become a 5,000tpa producer. If we use current spot prices then respective target prices are closer to AUD 7 and AUD 9. Clearly at AUD 9 there is a ~9 fold gain on current prices.
I view Cobalt Blue as the best valued junior cobalt play and an outstanding buy opportunity still. The reason is they have a sulphide ore (lower CapEx), a way to massively reduce processing costs (lower Opex), a growing resource, and an exceptional valuation due to the early stage.
RNC Minerals [TSX:RNX] (OTCQX:RNKLF)(formerly Royal Nickel Corporation) - Price = CAD 0.25
RNC Minerals (formerly Royal Nickel Corporation) "RNC" is a Canadian explorer-developer looking to develop their flagship 50% JV (with private equity firm Warterton) Dumont Nickel-Cobalt project in Quebec Canada. The company also has a 100% share in the Beta Hunt gold-nickel producing mine in Western Australia, 30% in the Reed copper-gold producing mine in Manitoba Canada, and a 46% shareholding in gold explorer Orford Mining (US and Canada exploration).
The company states, "RNC's Dumont project in Canada has the world's 2nd largest nickel reserves, and the world's 8th largest cobalt reserves." Reserves are 3.1 million tonnes of contained nickel at 0.27%, and 126,000 tonnes contained cobalt at 0.0107%.
Global Cobalt projects compared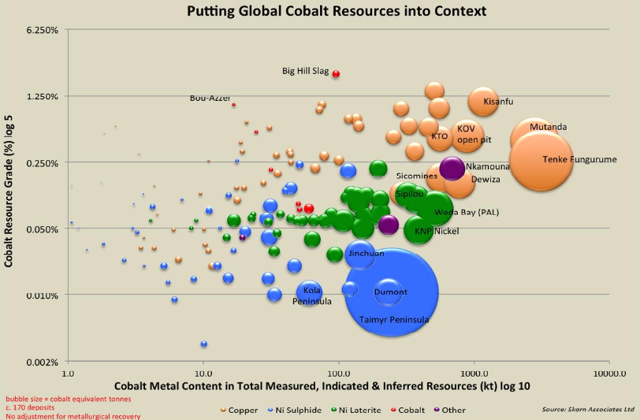 The 2013 FS result for the Dumont nickel project resulted in:
Post tax NPV8% of CAD 1.33b (USD 1.137b), IRR of 15.9%.
Based on average life of mine production of 41ktpa (90mlbs) nickel, 2ktpa (4mlbs) cobalt, and 19kOzpa PGEs. Nickel Net C1 cost of US$ 4.79/lb, and a nickel selling price of USD 9.00/lb, cobalt selling price USD 14/lb, platinum USD 1,800/oz, palladium USD 700/oz, CAD:USD of 0.90.
Initial CapEx was estimated at CAD 1.268b, with expansion CapEx at CAD 997m.
In January RNC Minerals announced that they have plans to allow a decision to begin construction of Dumont Nickel-Cobalt Project in 2019.
Catalysts - Off-take agreements, project financing. Possible 2020 producer if everything goes well.
Current market cap is CAD 89m. Analysts' consensus target is CAD 0.48, representing 90% upside. I have not yet modeled them.
Investors can view my CEO interview "RNC Minerals CEO & President Mark Selby Talks With Matt Bohlsen Of Trend Investing", or read my article "RNC Minerals Has A Very Large Low Grade Nickel-Cobalt Sulphide Project In Canada."
My view is RNC Minerals is a well valued speculative buy, and a strong optionality play on nickel prices (and to a lesser degree cobalt) rising. Their grade is low but they have a massive sulphide ore resource and a strong financial backing JV partner at Dumont. A rising nickel price and some patience required with a multi-bagger upside if everything goes right.
Summary table of the top 6 cobalt juniors who can reach 5,000tpa production
Price
Market Cap
Contained Cobalt (ore type)
Likely ~5,000tpa producer by
Clean TeQ
1.25
AUD 848m
132,000 (laterite)
2020/21
Australia Mines
0.111
AUD 282m
54,500 (Sconi only) (laterite)
2020/21
Aeon Metals
0.27
AUD 158m
60,000 (sulphide)
2021/22
Ardea Resources
1.64
AUD 149m

85,410 (high grade)

405,00 (low grade) (laterite)

2021/22
Cobalt Blue
1.04
AUD 111m
61,000 (sulphide)
2021
RNC Minerals
0.25
CAD 89m
126,000 (low grade (sulphide)
2020/21
Note: Sulphide ore projects generally have a lower CapEx and Opex.
Note: Each of the above miners can still grow their resources further, especially Australia Mines, Aeon Metals, and Cobalt Blue.
Note: The production start dates are estimates and some time is typically needed to ramp to full production. Full production may be a bit more or a bit less than my ~5,000tpa scenario.
The next tier juniors
I already mentioned eCobalt Solutions and Fortune Minerals as smaller volume near term producers. They do have benefits of good grades (eCobalt) and excellent by-products (Fortune) and a North American location. Highlands Pacific [ASX:HIG] [GR:HLW] (OTC:HLPCF) is already a producer but are valued as a junior due to owning only a smaller percentage of their PNG mine, and represent great value.
Others with solid potential include:
GME Resources [ASX:GME][GR:GM9] (OTC:GMRSF)
Metals X [ASX:MLX] (OTCPK:MLXEF)
Nzuri Copper [ASX:NZC] (OTCPK:NZRIF)
Celsius Resources [ASX:CLA] [GR:FX8]
Cassini Resources [ASX:CZI] [GR:ICR] (OTC:CSSQF)
First Cobalt [TSXV:FCC] (OTCQB:FTSSF)
Artemis Resources [ASX:ARV] (OTCPK:ARTTF)
Havilah Resources [ASX:HAV] [GR:FWL]
Castillo Copper [ASX:CCZ]
Bankers Cobalt [TSXV:BANC] (OTCQB:NDENF) [GR:BC2]
Cruz Cobalt Corp [TSXV:CUZ] (OTC:OTCPK:BKTPF)
Jervois Mining [ASX:JRV]
Australian cobalt miners compared by cobalt equivalent grade and contained metal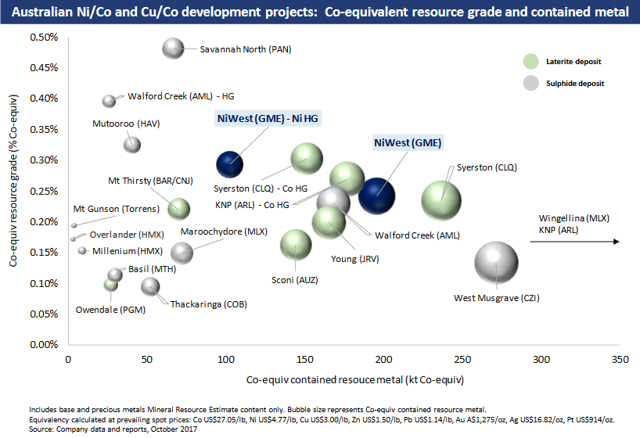 Source: GME Resources
Australian cobalt projects listed by resource size including grade
NB: Additional to the above, Aeon Metals has 60kt of contained cobalt at their Walford Creek project, and Australian Mines has 54.5kt of contained cobalt at their Sconi project. Cobalt Blue now has 61kt of contained cobalt.
Risks
The junior cobalt miners are a risky sector. Risks include:
Sovereign risk - All of my top 6 are in safe jurisdictions with the first 5 being in Australia and RNC Minerals Dumont being in Canada.
The usual risks of investing in small companies such as liquidity risk, poor management, dilution, financing, and mining risks.
Laterite ore cobalt mines require very high CapEx (Eg: CLQ's CapEx is US$680m (A$906m)) to get into production, so the resource and Feasibility Studies need to be compelling, and a strong funding source is required.
Cobalt prices may decline.
The copper and nickel price (or other metals) can be an important factor in the company's economics rather than just the cobalt price.
Best to buy on local exchanges to avoid liquidity issues.
Conclusion
The cobalt boom was the story of 2017; however the story should continue for many years. My model forecasts a potential 20 fold growth in electric cars between 2016 and 2026 (assumes a 18% market penetration by end 2026).
The opportunity for investors is extraordinary. Importantly each one of my top 6 cobalt junior developers has potential to be a ~5,000tpa cobalt producer by 2021 or 2022. This would mean potential to earn an EBITDA of USD 300m a year at current prices of USD 85,000/t and an assumed USD 25,000/t cost of production. This translates to a potential for these 6 stocks to each be worth AUD/CAD 3b or even USD 3b if one uses a 10 x EBITDA valuation model. Given the market caps are mostly (except CLQ) below USD 300m (AUZ, AML), and some below USD 150m (ARL, COB, RNX) then the potential upside is enormous. Think potential 5-10 fold gains over the next 4-5 years as entirely possible. Risk is there being juniors (but with low sovereign risk), however the potential rewards are spectacular. My view is it is probably wisest to buy all six of my top six.
The last time I made a forecast such as this was in the early stages of the lithium boom, and we know what happened next.
As usual all comments are welcome.
Some background articles
This article was first published on March 19; therefore all data is as of that date.
Trend Investing
Thanks for reading the article. If you want to go to the next level, sign up for Trend Investing, my Marketplace service. I share my best investing ideas and latest articles on the latest trends. You will also get access to exclusive CEO interviews and chat room access to me, and to other sophisticated investors. You can benefit from the hundreds of hours of work I've done to analyze the best opportunities in emerging industries, especially the electric vehicle and EV metals sector. You can learn more by reading "The Trend Investing Difference", "Recent Subscriber Feedback On Trend Investing", or sign up here.
My latest Trend Investing articles are:
Disclosure: I am/we are long GLENCORE (LSX:GLEN), KATANGA MINING [TSX:KAT], NORSILK NICKEL (LME:MNOD), HIGHLANDS PACIFIC [ASX:HIG], AUSTRALIA MINES [ASX:AUZ], FORTUNE MINERALS [TSX:FT], RNC MINERALS [TSX:RNX] , ARDEA RESOURCES [ASX:ARL], COBALT BLUE [ASX:COB], AEON METALS [ASX:AML], GME RESOURCES [ASX:GME], CASSINI RESOURCES (ASX:CZI) , HAVILLAH RESOURCES [ASX:HAV], CONICO LTD [ASX:CNJ], CRUZ COBALT CORP [TSXV:CUZ], BANKERS COBALT [TSXV:BANC], POSEIDON NICKEL [ASX:POS], ALLOY RESOURCES (ASX:AYR), CASTILLO COPPER (ASX:CCZ), CELSIUS RESOURCES [ASX:CLA]. I wrote this article myself, and it expresses my own opinions. I am not receiving compensation for it (other than from Seeking Alpha). I have no business relationship with any company whose stock is mentioned in this article.
Additional disclosure: The information in this article is general in nature and should not be relied upon as personal financial advice.
Editor's Note: This article covers one or more microcap stocks. Please be aware of the risks associated with these stocks.