Evidence is piling up that Northern Virginia may be the front-runner in the Amazon (AMZN) HQ2 sweepstakes. Northern Virginia offers many advantages to Amazon, including a business-friendly state, access to a world-class city in Washington D.C., and access to high-capacity airports. According to betting market Bovada, Northern Virginia is currently the favorite in that betting market. High traffic from internal Amazon sites to Arlington websites earlier this year is another data point.
The Washington Post identified the following potential sites for HQ2 in and around Washington D.C.: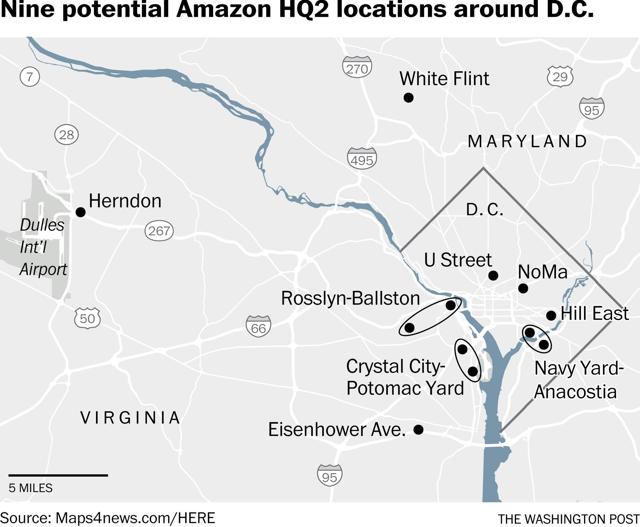 With an expected announcement later this year, here are a few investment ideas to play a potential HQ2 landing in Northern Virginia.
JBG Smith Properties
JBG Smith Properties (JBGS) is a mixed-use office and multifamily REIT that is focused almost entirely on D.C. and the surrounding markets. Moreover, it is very much in the investment stage, with around 10% of its commercial square feet under construction and nearly 40% of its multifamily units under construction, along with a very substantial development pipeline. So, if HQ2 lands anywhere in the D.C. area, JBGS will benefit substantially.
But a real home run would come if HQ2 were to land in Crystal City/Potomac Yard specifically. JBGS has around 37% of its square feet in Crystal City, some of which is vacant or otherwise underutilized.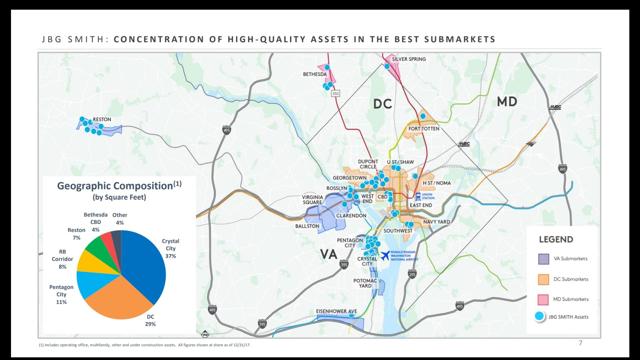 Green Street Advisors issued a report that JBGS would be worth $41 to $47 if Amazon picked Crystal City. I personally think this estimate is low because winning HQ2 is very likely to attract other tech businesses into the region in a virtuous cycle, with the overall population gain being several times the number of Amazon employees alone.
But clearly, a portion of the potential is being priced in already. JBGS is up slightly year-to-date versus VNO, SPG, and BXP, which are all down around 10%.
WGL Holdings and AltaGas
AltaGas (OTCPK:ATGFF) agreed to acquire WGL (WGL) in January 2017, and the acquisition is still pending regulatory approval in DC, which is expected mid-2018. WGL operates Washington Gas, the gas utility in the region. The interesting play here I think is AltaGas. It offers a fairly well covered 8.5%+ dividend but has been beaten down as a result of concerns over the price paid for the WGL acquisition and the debt it will be required to take on in the deal. If the WGL acquisition does not receive regulatory approval, it's very possible that AltaGas goes up. And if WGL is approved, it's obviously a much better acquisition if Amazon picks anywhere in the DC area, as that should fuel a significant population increase for the gas utility business (some estimates of up to 1 million over 10 to 15 years). The projected growth in the gas utility business can serve as the foundation for AltaGas' broader operations and allow them to finance debt at more attractive levels going forward. A mere re-rating to a market AFFO multiple would lead to substantial gains from the current 10-20% discount to market AFFO multiples, and a premium driven by the growth in Washington Gas could warrant a 10-20% premium to market AFFO multiples.
I'd be curious to hear any reader ideas for other ways to play the HQ2 move.
Disclosure: I am/we are long AMZN, JBGS, ATGFF. I wrote this article myself, and it expresses my own opinions. I am not receiving compensation for it (other than from Seeking Alpha). I have no business relationship with any company whose stock is mentioned in this article.
Editor's Note: This article discusses one or more securities that do not trade on a major U.S. exchange. Please be aware of the risks associated with these stocks.