The U.S. Treasury's reopening today of a 10-year TIPS generated a real yield of 0.934%, the highest for any 9- to 10-year auction since January 2011. There have been 44 auctions of this term over those 7-plus years.
This is CUSIP 9128283R9, which originally auctioned on January 18, 2018, with a real (after-inflation) yield to maturity of 0.548%, setting its coupon rate at 0.500%. Because today's auction resulted in a substantially higher yield, investors got this TIPS at a discount - about $97.13 for about $101.16 of value, after accrued inflation is added in.
Both nominal and real yields have been climbing sharply in recent months, as investors price in near-certain future interest rates moves by the Federal Reserve, combined with a surging federal deficit. Here is the trend for the 10-year real yield over the last two years: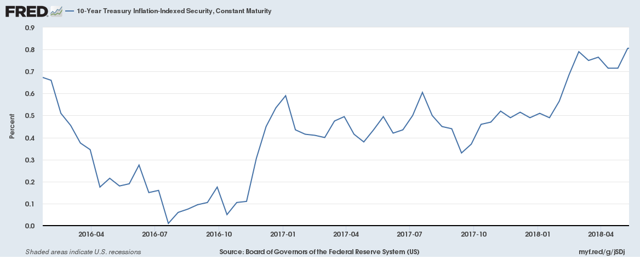 Today's after-inflation yield of 0.934% is the highest since a 10-year TIPS auctioned in January 2011 with a real yield of 1.17%. It is significant because it reflects a "more-normal" real yield after years of yield suppression through Federal Reserve policies. The first phase of quantitative easing launched in July 2011, and by January 2012, the 10-year yield had gone negative.
If the economy continues improving, both real and nominal yields should continue climbing, possibly as much as 50 basis points.
Inflation breakeven rate
With a nominal 10-year Treasury trading today at 3.11%, this TIPS gets an inflation breakeven rate of about 2.18%, the highest for any recent auction. That means this TIPS will outperform a nominal Treasury if inflation averages more than 2.18% over the next 9 years, 8 months. That seems like a reasonable assumption, but as recently as January 2016, 10-year inflation expectations had dropped to 1.3%. TIPS were an outstanding buy versus nominal Treasurys in early 2016, but are priced fairly today.
Here is the two-year trend in the 10-year inflation breakeven rate, showing the sharp rise since mid-2017: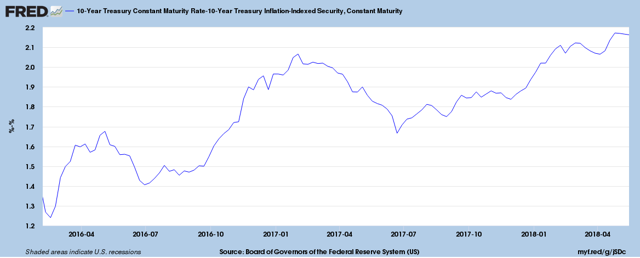 Today's auction yield of 0.934% was a bit higher than where this TIPS was trading on the secondary market Thursday morning, indicating that this auction might have received lukewarm investor support.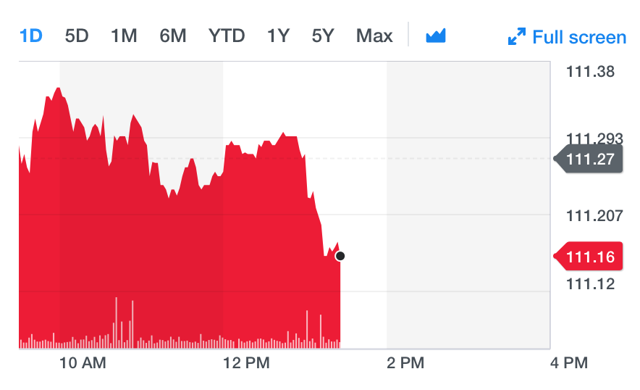 Immediately after the auction's close at 1 p.m., the price of the TIP ETF took a fairly sharp move downward, which indicates higher yields. That would match with the impression that today's yield was a mild "upside" surprise. Investors at today's auction are pleased, I am sure.
This auction closes out the history of CUSIP 9128283R9, which could end being a groundbreaking issue. In a four-month time span, its yield climbed 38 basis points, reaching a level we haven't seen in more than seven years.

A new 10-year TIPS will be auctioned in July, with reopenings in September and November.
Disclosure: I/we have no positions in any stocks mentioned, and no plans to initiate any positions within the next 72 hours.
I wrote this article myself, and it expresses my own opinions. I am not receiving compensation for it (other than from Seeking Alpha). I have no business relationship with any company whose stock is mentioned in this article.