Well, we argued not all that long ago that if we were forced to holding just one stock, it would be the leading Chinese brand e-commerce service provider Baozun (NASDAQ:BZUN).
One reason for that is simply this: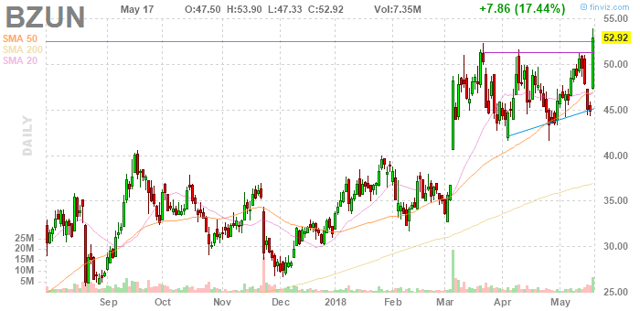 But that guarantees exactly nothing of course, so there are quite a few other reasons:
Tailwinds from the growth of Chinese middle classes, retail sales and the rising online part of that.
A change in business model from the distribution to the non-distribution model which, while optically slowing revenue growth, commands higher margins.
The platform business model which has ample opportunities for producing economies of scale, scope and network economies, as well as increasing the value of the platform and its stickiness in the process.
The company has ample runway to keep on growing, it can add new brands, profit from the growth of the brands it already has as clients, add additional services, expand to other markets, etc.
Given the company's growth far in excess of market growth, execution is very good.
Perhaps most of all, we really think the shares are not trading on the multiples they deserve. We'll get back to that below.
A possible boost from a possible Chinese listing. That's two 'possibles' but the odds are fairly good on both as the Chinese authorities have woken up to the fact that mainland Chinese investors cannot invest in some of their biggest growth stocks.
The company is already profitable and doesn't seem to have a cash problem.
Risks
In previous articles we have concentrated on the upside, investors should also consider what can go wrong. Here are what we see as the main risks:
The shares tend to be very volatile, especially around earnings. Swings of 20% in a matter of days are no exception. One disappointing quarter can knock the shares

off their socks, at least for a while, investors need to be able to stomach that.

The tailwinds could fade, the Chinese economy might slow down or even stall, for instance as a result of a full-blown trade war between China and the US.
The company

has announced that it will keep on investing, which could depress margins, at least temporarily.

Our valuation view isn't shared by the market, which puts lower multiples on the stock than we think the shares deserve. Our view might never materialize.
Investments
Let's look at the 'investment' risk in more detail. This SA news item from March perhaps sums it up best:
Chinese internet–related stocks continue to feel pressure from Tencent's (OTCPK:TCEHY -10%) plans to focus on investments rather than short-term margins and Naspers' $10.6B sale of Tencent shares.
We argued in a separate article, the American investor, or perhaps we should say the global investor in US financial markets does seem to have something of a bias against at least some companies that chose expansion over profit.
The most notable example here is JD.com (JD), which is also a holding in the SHU portfolio.
In general, these investments have positive and negative consequences. It's a little simplistic to argue they are a trade-off between short-term and long-term profitability, but that's what it comes down to.
To some extent, we understand that many investors do not like announcements (and quarterly results) of companies that keep on or even increase investments at the expense of margins.
The reason is simple, today's results are depressed, and unless investors afford the company higher valuation multiples (basically discounting future positive returns on these investments), the share price suffers.
But we think there are a number of circumstances under which investors should look beyond the short-term profitability and margins, and consider the longer term. More especially when:
The company is faced with many good investment opportunities.
The company has a good track record on past investment.
The company does not need to issue lots of debt or new shares in order to finance the investments.
We think all three of these conditions hold for Baozun. Given the growth rate of the company, this is pretty obvious. That growth rate might slow down, in fact that's what we expect simply as a result of the law of large numbers, but the latest figures that have just come out, those of Q1 suggest things are still rather buoyant:
Net revenues grew by 14.5% (don't be fooled by the optics here, this 'low' number is a result of the change in business model as we explained in our previous article).
GMV (gross merchandise volume) increased 66.2% y/y.
Distribution GMV declined by 7.6%, but this is the business model (in which it owns the inventory and hence register revenues for the sale as a whole, rather than just the revenues for the services provided) it is moving away from.
Non-distribution GMV increased 84.1% y/y. This is the business model which it is moving towards.
Service revenue grew by 50.3%.
The number of brand partners increased to 156 from 136 a year ago.
While it is difficult to ascertain what its addressable market is, the fact that it has 'just' 156 brand partners suggests it has plenty of space to run, so we are inclined to see this market as still in the early innings.
In fact, here is something from the earnings PR that we found rather interesting, here is CFO Beck Chen (earnings PR):
We believe the investments we are now making in innovation will enable us to expand our addressable market, further strengthen our long-term competitiveness, and provide more value to our brand partners over the long run.
Expand our addressable market, that is stuff we like to hear. One of these expansions is provided by the bifurcation in its platform software which now also allows smaller brands to participate, as of yet an untapped market by the company.
What are these investments? Well, here is Chen again (earnings PR):
During this quarter, additional investments in innovation and productization were for RMB13.5 million. We believe the investments we are now making in innovation will enable us to expand our addressable market, further strengthen our long-term competitiveness, and provide more value to our brand partners over the long run.
During its annual Global Brand E-commerce Summit, management stressed the use of big data and AI. And of course this is what a big platform tends to provide, and it is where the company can produce a difference for its clients.
So we think there is every reason for the company to keep investing, but what about the cost? Does this produce a big hit to earnings, cash flows, risk running up debt and/or dilution?
The cost of investments
We're looking at the main cost categories here, to get a more general picture, for easy reference, from the earnings PR:
The cost of products was RMB379.1 million (US$60.4 million), compared with RMB439.1 million in the same quarter of last year. The decrease was primarily due to the transition of a leading electronics brand partner's business from the distribution model to the consignment model in September 2017 and improved margins from product sales, which were partially offset by higher costs associated with an increase in product sales revenue.
Fulfillment expenses were RMB210.6 million (US$33.6 million), compared with RMB132.4 million in the same quarter of last year. The increase was primarily due to an increase in GMV contribution from the company's consignment model and warehouse rental expenses.
Sales and marketing expenses were RMB221.1 million (US$35.3 million), compared with RMB162.5 million in the same quarter of last year. The increase was primarily due to the recruitment of additional online store operational staff and an increase in promotional and marketing expenses associated with company-operated online stores.
Technology and content expenses were RMB50.3 million (US$8.0 million), compared with RMB28.8 million in the same quarter of last year. The increase was primarily due to increased investments in innovation and productization, including recruitment of additional technology-focused staff.
General and administrative expenses were RMB32.3 million (US$5.2 million), compared with RMB27.2 million in the same quarter of last year. The increase was primarily due to an increase in administrative, corporate strategy, and business planning staff.
That is, the cost of products actually declined, a result of the business model change. The increase in fulfillment expenses (+59%) is a little more worrisome, but it's still below the growth of GMV.
One could argue here that the company should invest in its own warehouses, rather than renting them. But that would require significant investments and reinforce the 'investment problem,' even if with time this would be a smart move.
S&M increased by just 36%, which indicates there is a considerable amount of leverage here. That's good news as this is a large line item.
Compared to S&M, technology and content expenses are just a quarter of that but they are rising rather fast, at 74.6% in the past 12 months. A little negative leverage, but these are the investments management is talking about.
G&A is also a much smaller line item and growth is rather moderate here, just 18.7% giving the company substantial leverage.
Margins
When we say leverage we measure it against the growth of GMV, which we think reflects the true rate of the company growth. But actual revenues are growing much slower because of the change in business model.
So at first sight one might actually expect a considerable margin compression, but this isn't the case. One should realize that the change in business model has two effects:
Revenues will grow much slower because moving away from the distribution model moves away from gross revenue (the sales of the product), towards just the revenues for services delivered.
Margins will increase, selling goods online is a low margin business (as investors in JD.com are aware off), assisting others and covering for services delivered is a much higher margin business.
But which effect dominates, the rising operational cost discussed above or the margin expansion that the shift in business model entails? Well, Q1 results clearly show the latter, from the earnings PR:
Operating margin was 3.1%, compared with 1.9% in the same quarter of last year.
Non-GAAP operating margin was 5.0%, compared with 4.2% in the same quarter of last year.
So the change in the business model allows the company to both invest in the future and expand margins at the same time. Of course, with less investment the margin expansion would be faster, but as long as they are expanding, and there are no serious cash flow problems, things should be ok.
Cash flow
Are there any cash flow problems? From the earnings PR:
December 31,
2017
March 31,
2018
RMB
RMB
ASSETS
Current assets
Cash and cash equivalents
244,809
533,545
Restricted cash
48,848
105,150
Short-term investment
312,614
175,714
Accounts receivable, net1
1,085,669
837,988
Inventories1
382,028
365,975
Advances to suppliers
88,881
82,431
Prepayments and other current assets1
214,636
121,124
Amounts due from related parties
88,795
72,156
Total current assets
2,466,280
2,294,083

As of March 31, 2018, the company had RMB709.3 million (US$113.1 million) in cash, cash equivalents and short-term investment, an increase from RMB557.4 million as of December 31, 2017, primarily due to the collection of accounts receivable during the first quarter of 2018.
It doesn't seem like the company has any serious cash flow problem. The company even managed to reduce a couple of liabilities:
A short-term loan was reduced from RMB 172M at the end of Q4 2017 to RMB 127.4M at the end of Q1 2018.
Accounts payable were reduced from RMB 583.5M at the end of Q4 2017 to RMB 485.3M at the end of Q1 2018.
On the other hand, there is a new long-term loan of RMB 63M, but that's just USD$10M, not really a cause for great concern. Otherwise, there are no debts.
Does the company have a history of dilution?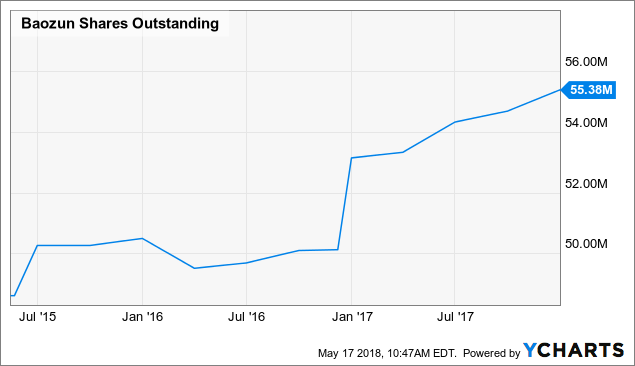 There has been a little over 10% dilution in three years, it's not unusual for a young company in a growth industry and not particularly worrying.
Valuation
Even despite this morning's rally, the shares keep selling at a fraction of those of Shopify (SHOP) which is perhaps its most similar comp. And to boot, Baozun is profitable, even in GAAP.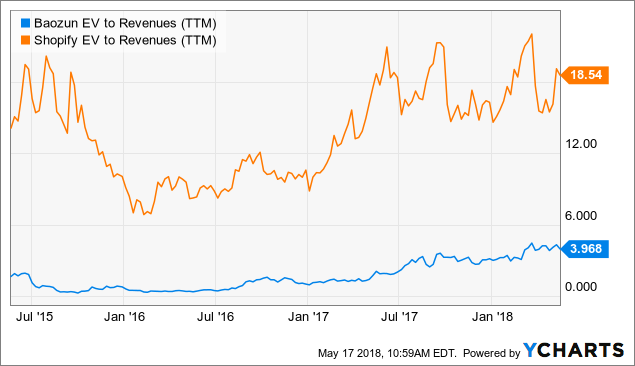 We are hard-pressed to come up with a sound reason for this tremendous gap in valuation beyond the proverbial China discount.
What could happen if Baozun starts listing in China is that some of this gap disappears. As the excellent Hayden Capital newsletter explained, Chinese investors can't invest in the company and US investors have never used the platform.
It is as if only Chinese investors could invest in Amazon (AMZN) while never being able to actually buy on Amazon.
This is of course a hypothesis, but we think it's pretty sound and there are plenty of shares on the mainland China exchanges which also list in Hong Kong, and the former generally trades at a premium.
Conclusion
We think the shares of Baozun, despite a 17% rally (pixel time) after Q1 results are significantly mispriced. Four times sales for an internet platform with the growth characteristics of Baozun, given the fact that it is already profitable, has basically no debt and no history of serious dilution, we think it could trade at double the multiple and still not be overvalued.
Worries about management investing too much at the expense of short-term margins and profits are overblown as these investments not only improve the longer-term outlook, margins are actually still improving as a result of the change in business model. The company can afford these investments.