Contrarian investing is branded as its own style. And I know some people who invest in momentum stocks or other types of growth stocks may disagree with the following characterization; so too might dividend investors. But at least in theory, every investment is a contrarian one. By buying a stock, you are disagreeing with the person who is selling it about the prospects for the future, and more importantly, you are disagreeing with the market. The market, you hope, will pay you more for the stock tomorrow than you paid today. So, there's a fundamental contrarian thesis to every investment.
My case there is reductive and ignores time horizons, personal investing goals, cash needs, and other issues. But I think about it when reviewing articles. Today's Editor's Notes looks at a few stocks that are contrarian in some way - on the short ideas, the stocks are going up and authors are arguing that will change, and on the long side, we have a few stocks that are either value traps or getting beaten up for other reasons. Each author is implying the market could be proven wrong over time. Which makes for the fun part of investing - seeing who will be right.
Source: Yahoo. Me every day in the market.
Welcome to Editor's Notes. I publish this twice a week - Tuesday or Wednesday and Friday. I'm thinking of making the mid-week edition a focus on an individual stock - see Wednesday's edition for an example - while the end of week scans all of our articles in the prior 7 days for a few highlights. If you have thoughts, comment below or send me a direct message and let me know what you think. Your feedback will be super helpful as we develop this.
Short Ideas
We have published 20 of these over the past 7 days. Only 4 (!) are about Tesla (TSLA). We are as usual skipping those. I'm also going to leave the Herbalife (HLF) article and the MiMedx (MDXG) article be. That gets us down to 14. Here's what stood out to me:
Why I'm Short Intelsat by Amit Ghate
Short Intelsat: Sound Investment Or Wild Speculation? by David Orr
Satellite equity stubs go up and down fast.
Intelsat (I) is one of the top performers in the market in 2018. To wit: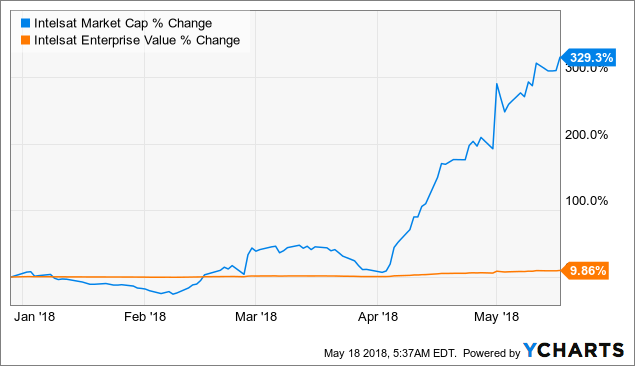 I love that. 300%+ market cap growth in 6 weeks and the EV has moved up less than 10%. Which means, of course, that Intelsat has a lot of debt.
Amit Ghate has a nose for stocks that rise suddenly and on potentially shaky grounds - you might remember him from hits such as Anavex Life Sciences: 5 Reasons Why I'm Short or Xunlei Limited: Day Trader Price Spike Soon To Reverse; though to be fair he's missed big on a few too, such as Updating My Proofpoint Short. Shorting is hard. It's not surprising to see him come to the Intelsat story.
His argument is that the pending approval of using C-band spectrum is not a sure thing, that it will take a while for I to benefit from this C-band spectrum if it plays out, and that the full benefit of this is already priced in. Throw in poor legacy operating metrics, and I is not in a great spot.
David Orr adds to that analysis in his first article on Seeking Alpha, developing the point on why I's legacy business is so unappetizing. He lumps the C-band issue in a series of ifs that are not adequately priced in.
The analysis is fairly compelling, and that sort of debt load adds in the possibility that I takes advantage and raises equity to lessen their burden, which wouldn't be good for shareholders. That said, lots of excitement around a new technology makes it tough to short, and this is subject to FCC approval; who knows what they might do.
Sentiment Analysis - George Kesarios has owned the Intelsat beat, entering and exiting with great success (and not for the first time). The only other author this year was Randy Durig looking at the bonds. Comments are mostly understanding of the short case or, if the commenter has a long position, acknowledging that this has been a fortunate run.
Santander Consumer USA: Doubling Down On Worsening Subprime by Matt Hylland
Everybody's favorite next big short - a status update.
Speaking of stepping in front of a moving train, the auto subprime short has been one of my favorite theses to follow over the past few years. Credit Acceptance Corp (CACC) is the battleground that I think is most evenly split between smart people on the short side and the long side, for example.
I really enjoyed Matt Hylland's analysis on Santander Consumer USA (SC) because it sort of sets up what the battle is. SCUSA is continuing to grow its auto loan book in the face of a potential turn in the auto cycle. They are reliant on leasing to Chrysler (FCA) customers but maybe competed out of that space. And interest costs are rising.
The bet in these companies as I can tell is basically what happens in a downturn? Bulls say that the companies that have enough balance sheet strength and competitive durability will swallow up share, while bears say they'll all be drowned in the flood. So, you can see how this story could be read as confirming the thesis on either side.
Sentiment check - We haven't published a long idea on SC since 2015. The stock has doubled since bottom in early 2016 and just popped on their latest quarter. As is, the market and Seeking Alpha readers/contributors disagree sharply.
Penney: This Growth Killer Is Hurting Starbucks by Hedgeye
Starbucks: Capital Allocation In Question by Michael Boyd
Cracks showing up in the story for Starbucks?
Hitting one last double story, Howard Penney of Hedgeye and Michael Boyd raise separate problems with Starbucks (SBUX) right now. Penney argues that Starbucks is making their menu too complex which is going to slow down their operations, a more important driver of growth than the new categories. Its implicit argument is Starbucks is sort of stuck because they want to grow but there's not much room left in the cafe vertical.
Michael Boyd's point is in some sense even simpler. He visited Hong Kong and mainland China recently, and China is considered a pillar in the growth story. He saw a lot of competition on the ground, and then made a more fundamental point: "If the pipeline for new Chinese store openings is so great, and rates of return are so strong, why on earth is management so intent on plowing capital into share buybacks with such low rates of return by comparison?"
Sentiment Check - The Boyd article had a really good discussion afterwards about a) SBUX's capital allocation and b) how to process the anecdotal evidence. The Hedgeye article got a little bit more of the reflexive 'don't touch this, shorty' reaction. Bullish contributors outnumber bearish ones at least 3 to 1 on SA so far this year.
Also, someone took a shot at Costa Coffee (OTCPK:WTBCY) which, hey! I like Costa! Watch for the spin-off! (Not investment advice).
Long Ideas
We published 272 long ideas in the past 7 days, as well as 105 dividend ideas and REIT articles. I'm going to pull from them together to look at four stocks that stand out.
Has L Brands Stock Fallen Far Enough? by L&F Capital Management
L Brands' 7%+ Yield Is Safe For Now by Josh Arnold
L Brands: Expectations Are Dire by Individual Trader
L Brands: A Call To Action To CEO Les Wexner And A Present by Investment Works
L Brands: So Much More Than Victoria's Secret by Belgian And Bullish
We have a lot of interest in L Brands (LB), so perhaps this becomes its own Editor's Notes article at some point. But I wanted to do a quick review here. A couple of these articles have a pinpoint focus - Individual Trader says the company is poised for a swing due to overly negative sentiment; Josh Arnold says the dividend is covered for now; L&F Capital Management says things are bad, but not so bad.
Investment Works digs a little deeper into the Bath & Body Works segment of L Brands. They argue BBW is worth more or less the entire enterprise value, so Victoria's Secret becomes a call option on whether they can stem the decline. Cut the dividend and pour on the buybacks, the author argues.
And Belgian And Bullish makes the fullest case for the company, similarly calling out the value of BBW. I get the sense that a spin-off is the more natural end point of B&B's thesis, but I don't want to put words in anyone's mouth.
I am promising to myself to be very, very, very cautious about investing in retail, value traps, or stories like this. But this certainly makes for interesting reading going into the Q1 report next week, with lots of ways this could go.
Sentiment Check - Good comment discussions on Arnold's, B&B's, and Investment Works' articles. 5 of the 8 articles we've published on LB this month have been bullish.
Central Puerto: "Winds Of Change" Are Propelling This Argentinean Power Generator's Turbines by Martin Maas
Nothing like investing in a new IPO based in Argentina, the company most subject to even-handed articles in the Economist explaining why everything has gone wrong. I know from experience if you know what I mean. (Long Corporacion America Airports (CAAP)).
Martin Maas published his first Seeking Alpha article on Central Puerto (CEPU), another new Argentinean IPO. This seems like a pretty classic frontier market story - on the one hand, much more growth than normally available to a utility company as they build out power generation in more distant parts of Argentina. On the other hand, the risks of changing regulations, of currency pressure - though secondary in nature since CEPU's payments are denominated in USD - and general economic bumpiness on both the macro and micro level. Certainly, fun to read about, even if it doesn't look very good in a portfolio from time to time.
Sentiment check - Comments are bullish and the author has a good start for # of followers. We've only had one other article on CEPU so far, and haven't published any news on the company, so it is still quite unsung.
The Land Of Wakanda Augments AMC Past Quarterly Estimates by Jeremy McKinzie
Jeremy McKinzie has been bullish on AMC Entertainment (AMC) for the past 9 months and provides a review of the company's Q1 results. It's a good overview as a starting point for where AMC is now. One thing I like about investing is it offers a frame to look at trends happening across the world, for example in this case what is going on with movie viewing. With the MoviePass story and the rise of viewing at home, there is a lot to watch for and several moving parts in the moving picture industry.
Sentiment check - 8 people have written about AMC so far this year, and 6 are bullish. I love it when an earnings call transcript gets a lot of comments, a sign of SA readers really being interested in what's going on.
AMC Networks: Q1 Wasn't That Good - But It Looks Good Enough For Now by Vince Martin
And we'll end looking at the other AMC, AMC Networks (AMCX). Vince Martin - a former colleague of mine at SA, full disclosure - writes up AMCX's quarter and if you didn't know better, you'd think he was short or staying away. He is quite up front that the picture doesn't look good with The Walking Dead nearing its end and the industry not offering a ton of relief. And yet, he's long because this is trading at something like a 7x 2018 P/E and because it's liable to be bought out. I have become less fond of these sorts of theses, but AMCX has kept its seat at the table, and I get the play here. Maybe worth digging into.
Sentiment Check - comments are positive on this article. Vince has been the main voice on the stock, turning bullish in 2016, and the articles we published in 2017 and earlier from other authors lean bullish.
Disclosure: I am/we are long CAAP.
I wrote this article myself, and it expresses my own opinions. I am not receiving compensation for it. I have no business relationship with any company whose stock is mentioned in this article.
Editor's Note: This article discusses one or more securities that do not trade on a major U.S. exchange. Please be aware of the risks associated with these stocks.