Introduction to Cheap Country Corner
Cheap Country Corner will be an ongoing series that identifies a country's stock market that has recently gotten declined and gives context for its current valuation. In the short-term country markets almost always decline for a reason, but these adverse conditions can also provide opportunities for long-term investors at favorable valuations. At Cheap Country Corner, our thesis is that overweighting cheap markets that have experienced recent selling provide an attractive risk-reward proposition over long time horizons. We select country stock markets for analysis that:
Are at least 20% off their 52-week highs in U.S. dollar terms.
Are trading at or near their 52-week lows.
Have trailing, forward, or normalized P/E ratios less than 15.
We then:
Investigate the factors that are causing cheapness.
Analyze and discuss the value of U.S. exchange traded indices for that country.
Look at 1 to 3 individual names listed on U.S. exchanges or with ADRs that we believe may have characteristics even more favorable than the index for enterprising investors.
Investing in falling, cheap countries is a bet against momentum and we are not looking to call a bottom or reversal. This discussion is designed for investors with a medium- to long-term time horizon looking to add global value to their portfolios.
Today's focus is on Turkey.
Why Is It Cheap?
Turkish stocks are at their cheapest in almost a decade. The Vanguard FTSE Emerging Markets ETF (VWO) has returned over 14% the past year, making the 13% fall in Turkish stocks (TUR) a striking comparison. In local currency terms, the Borsa Istanbul 100 Index has had a positive return of over 10% during this same time period, meaning that we can attribute much of the apparent fall in Turkish stocks to the local currency exchange rate with the USD:
The Turkish lira has been under tremendous pressure as weakness in the currency has been met with inflationary fiscal policy by President Erdogan. During a period where inflation in Turkey is exceeding 10%, Turkish announced plans to lower interest rates. This move is generally used by central banks to increase inflation, not to tame it. In an April interview on Turkish broadcaster NTV, Erdogan reiterated this position saying that "As soon as we lower interest rates...inflation will fall."
These new lows in the lira accompany a tumultuous economic and political background that came to a head in 2016 when the government cracked down on a failed military coup. While unemployment rates are off their 3-year highs of 13%, they still remain at an elevated 10.6% as of February. Youth unemployment, which has plagued many countries that have not fully participated in the last decade's global recovery, has fluctuated around 20% the last few months.
Turkey ranks near the bottom (#146) of the Global Peace Index in 2017, which also rated its deterioration in freedom of the press as among the worst in the world. Violence is reflected in decadal highs in deaths from terrorism in Turkey, and the estimated cost of violence in Turkey is estimated at $197B (12.2% of GDP).
How Cheap Is It?
After the recent closing of the Turkish Investment Fund (XTKFX), the iShares MSCI Turkey ETF (TUR) is the sole pure play Turkey fund that trades on an exchange. Exposure to Turkish stocks is limited to under 0.1% of the Vanguard Total World Stock ETF (VT) and under 1% of the Vanguard FTSE Emerging Markets ETF (VWO). A bet on Turkey is a bet that few people are making by definition since it is such a small component of the investable universe of stocks.
iShares MSCI Turkey ETF Key Characteristics (at $33.37/share)
| | |
| --- | --- |
| Expense Ratio: | 0.58% |
| Assets Under Management: | $244M |
| Dividend Yield (Trailing twelve months): | 3.06% |
| P/E Ratio (Trailing twelve months): | 8.54 |
| P/E Ratio (Forward): | 7.15 |
| Shiller P/E (10 year average): | 9.13 |
On a forward basis, the only major stock market that is cheaper is Russia (RSX). The dividend yield, which is paid out after ETF expenses, is about 3% or 66% higher than that of the S&P 500 (SPY). However, this does not take into account the recent weakness in the Turkish lira, which may be expected to reduce the payout in USD by about 20% at current exchanges rates.
Shiller CAPE, a measure that standardizes earnings over a 10-year period, currently reads at under 10. While not yet at absolute all-time lows of 8.24 as calculated by Mebane Faber, readings this low occur only about 10% of the time among major markets globally and on average have led to real 12 month returns of greater than 25% in the past. While history and averages are a guide and not a guarantee, Turkey is cheap on all accounts and could be a good choice for an investor with a high risk profile. This is not a country that is unduly cheap; it should be cheap. But if economic and political conditions improve in Turkey over time, now may be a good chance to place a bet.
Not all news out of Turkey is bad and some sights point to a gradually improving economy. Company launches in Turkey were up year-on-year by 33.1% in April, a period where less companies were going out of business as well. Further, Turkey exceeded IMF growth expectations in 2017, growing its GDP by nearly 7.5% in 2017 in real terms.
Individual Names
Few individual stocks are accessible to U.S.-based investors with reasonable trading volume, but one potential picks we like within Turkey is Turkcell (TKC). Over the past year, this stock has fallen in tandem with the iShares ETF (TUR), but has outperformed both the index and its largest holding, Guaranti Bank (OTCQX:TKGBY):
Turkcell (TKC) is the leading mobile phone operator in Turkey and a Fortune 2000 company. Total subscribers in Turkey are at 37.3 million as of the Q1 2018 (up 1.6 million on the year). It also has another ~14 million subscribers in other countries, mainly Ukraine and Belarus.
While mobile is Turkcell's primary business, there is also a well-diversified telecom and information technology company under the hood. Millions of monthly active users also use its instant messaging, eBook, music, TV, and cloud services as well as its Bing-powered search engine, Yaani.
The business metrics of Turkcell are strengthening: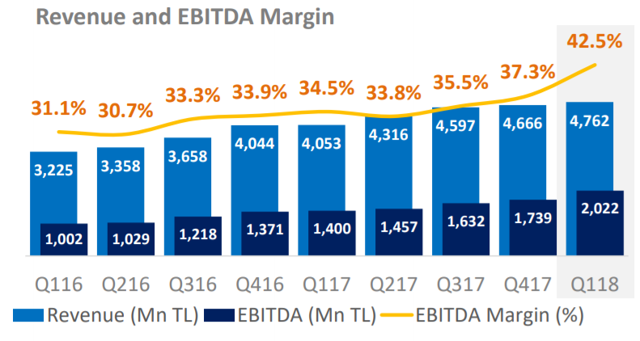 Revenues, EBITDA, and margins are all improving, although this must be taken in the context of a high inflation background. Nevertheless, user growth and usage of mobile data per user are all increasing so these results are not likely to be temporary. The strength of Turkcell's business has been noted by the bond market in its recent issuance of the only 2018 Turkish bond issuance in USD with an investment-grade rating: a $500 million 5.8% coupon 10-year bond.
Despite the stronger fundamentals and less dramatic decline of Turkcell over other index constituents, its valuation is only modestly richer. With a current P/E of 13.4 and a forward P/E of 7.9 at its current share price of $7.24, you are paying higher for current earnings but with high expected growth you are not paying much more for future earnings. This valuation is also roughly in line with other U.S.-listed emerging market telecoms such as China Mobile (CHL) and Mobile TeleSystems (MBT).
For additional commentary on Turkcell check out two recent articles by SA contributor Stephen Simpson here and here.
Follow our blog Weekly Wellspring for weekly updates on our pick performance, target prices, and dispositions.
Disclosure: I/we have no positions in any stocks mentioned, but may initiate a long position in TUR over the next 72 hours. I wrote this article myself, and it expresses my own opinions. I am not receiving compensation for it (other than from Seeking Alpha). I have no business relationship with any company whose stock is mentioned in this article.
Editor's Note: This article discusses one or more securities that do not trade on a major U.S. exchange. Please be aware of the risks associated with these stocks.