"Recession Proof" Dividend Stocks
Yes, it's time to talk about the "R" word. I don't claim to know exactly when the next recession is going to arrive. But what I do know is that a recession coupled with a bear market for stocks is coming. It could arrive as soon as 2019 or 2020, or a bit later perhaps, but history has shown that this is an inescapable fact of economic life.
Having invested and traded very actively throughout the 2008 financial crisis I know that many stocks will get hammered in the next significant stock market downturn. It's not inconceivable that the broader market could end up seeing another 40-50% decline from peak to trough, and the high flying FANGs will likely get hurt the most.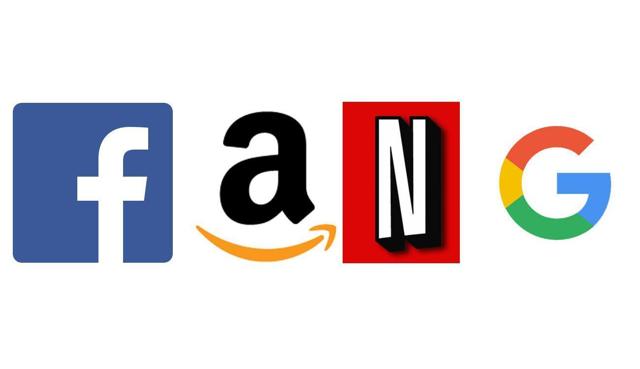 Source: SeekingAlpha.com
I continue to hold most of the FAANG+BAT stocks. In fact, the 9 stocks in my tech/Nasdaq segment account for about 35% of the entire portfolio's holdings. These names have increased substantially in recent years, and some have extensively stretched multiples. Thus, it is likely that the underlying names will experience substantial profit taking and significant loses when the next recession arrives.
Herein lies the dilemma, it seems imprudent to sell these names as they have been amongst the best performing stocks over the past years and are likely to continue to outperform going forward so long as the current bull market continues to charge higher. Also, no-one knows exactly when this bull market will end.
Chances are that by the time it becomes clear we are in a recession the underlying stocks will be 20% percent lower from their highs, possibly much lower even. The entire time between when the recession starts and when it becomes apparent the economy is actually in one will be a kind of a grey area, where people are debating whether this is indeed a recession/bear market scenario, or just a "healthy" correction. In fact, this is very similar to the scenario we've seen unfold over the past few months in equity markets.
It appears that it may be prudent to introduce a counterweight to the FANG stocks, and to most equities in general. A good counterweight is to build a basket of high quality "recession proof" dividend names to serve as a defensive counterweight in a high alpha portfolio. It is also a good idea to increase this portion of the portfolio as it becomes more apparent a recession is going to occur.
The overall position right now will be around 10% of the portfolio's holdings, however, this segment of the portfolio may eventually climb to 25% or higher, depending on the state of the economy.
Recession Proof Dividend Stock Watch List
Pfizer (PFE) – Obviously most people know Pfizer, one of the greatest drug manufacturers in the world. Many of the company's drugs are not tied to economic conditions and the company's sales should continue to thrive or at least remain stable even in a contracting economy. Moreover, there is the government element which subsidizes much of the healthcare industry regardless of the economic conditions.
PFE 3-Year Chart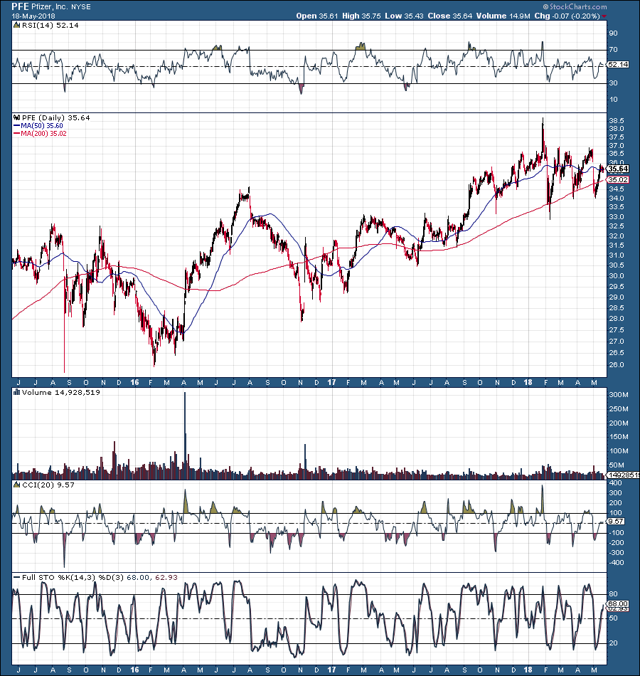 Source: StockCharts.com
So, with Pfizer you get a cheap stock trading at around a 10 P/E, slightly rising EPS estimates trend, slight revenue growth, and a 3.8% dividend, amongst other things.
Proctor and Gamble (PG) - P&G is one of the oldest and largest consumer goods companies in the world. The stock trades at a forward P/E of about 15 and provides a stable 4% dividend. The company is extremely diversified and derives more than 50% of its sales from outside the U.S. And no matter how bad a recession may get people will continue to wash their clothes with Tide, clean dishes with Fairy and Dawn, buy Pampers for their kids, and will continue to brush their teeth with Crest.
PG 3-Year Chart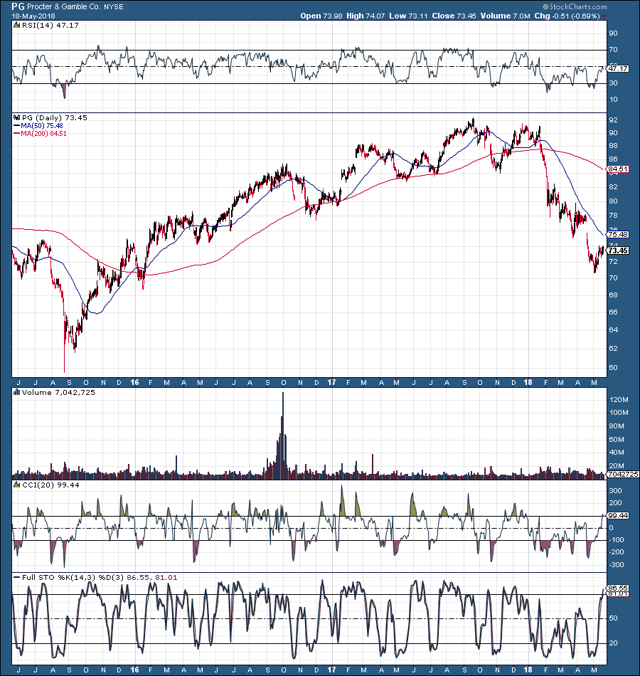 Moreover, PG just had a significant correction of about 25%, is trading at levels not seen in several years, and should have significant upside from here.
General Mills (GIS) - General Mills is an extremely diversified packaged goods company that has 7 different brands delivering sales of over $1 billion under its umbrella, including Cheerios, Haagen-Dazs, Yoplait, and others. Like the prior two stocks on the list GIS has a highly recession resilient business. The company benefits greatly due to its and its predecessors 100 plus year history, extensive prior marketing campaigns, deeply entrenched products, and long-standing relationships relevant to its business.
GIS 3-Year Chart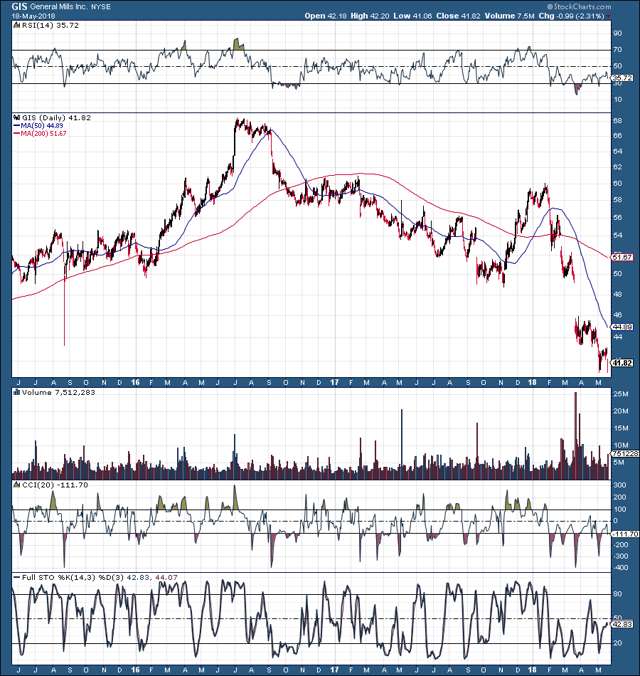 With General Mills you get a cheap company trading at a P/E of around 11, slight revenue and earnings growth coupled with a dividend of about 4.5%. Moreover, the stock is essentially on sale right now as the shares are trading almost 40% lower from their peak in 2016. This stock may have been out of favor the past couple of years but could have some significant upside going forward with the added bonus of having a recession resilient business.
The Bottom Line
Let's face it, we are very likely in the later stages of this bull market and no-one knows exactly when it will end. While the advance in many names (FANG and other highflyers in particular) has been phenomenal in recent years it is time to start positioning for a possible recession, which is likely to materialize within the next year or two.
This doesn't mean "sell everything", but instead suggests that at this stage of the economic cycle it is prudent to find an acceptable equilibrium in a portfolio so that when the "crash" comes your hard-earned gains stay intact and your portfolio experiences as little bloodshed as possible.
I like my FANG names very much, and they could have plenty of juice left in them, but at the same time it seems sensible to start preparing for what is inevitably ahead, another recession.
I always like to remind myself that it's not about how much money you make, but how much you keep at the end of the day.
If you enjoyed reading my article hit the "Like" button, and if you'd like insight into some of my future ideas press the "Follow" link. Thanks for reading and enjoy the ride!
Disclaimer: This article expresses solely my opinions, is produced for informational purposes only, and is not a recommendation to buy or sell any securities. Investing comes with risk to loss of principal. Please always conduct your own research and consider your investment decisions very carefully.
To receive more detailed insight into this idea and others please consider joining Albright Investment Group. Subscribe now and receive the best of both worlds, alerts about significant value opportunities coupled with top performing growth strategies. I disseminate large quantities of information, perform diligent research, and do most of the heavy lifting so you don't have to. The end result culminates in the generation of extremely high-quality investment ideas. Join now and receive access to full articles, my best investment ideas, and AIG's top performing core long portfolio.
This offer is 100% risk free, as you can cancel anytime during your free two-week trial-period.
Disclosure: I/we have no positions in any stocks mentioned, but may initiate a long position in PFE PG GIS over the next 72 hours.
I wrote this article myself, and it expresses my own opinions. I am not receiving compensation for it (other than from Seeking Alpha). I have no business relationship with any company whose stock is mentioned in this article.