Diverging Trends In The Retail Space
A sizable portion of the consumer space, and the retail industry, in particular, has been partially disrupted by the fast expansion of pure e-commerce players with aggressive business models. You will not be surprised to know I am talking about Amazon (AMZN) and other online retailers that replicate, at least in part, Amazon's business model. The threat of Amazon and its aggressive business model where the company sacrifices all the profits in order to gain market share is well known. ECommerce growth doesn't show any signs of deceleration, and all the traditional retailers have to deal with the secular growth of online commerce by building their own eCommerce capabilities. All the large and mid-sized retailers have invested huge resources in building online and omnichannel capabilities in order to limit market share losses to online pure players.
Unfortunately, even those who have been successful in this space have to deal with the lower margins of the business and the dilutive effect that eCommerce's secular growth has on profitability. While this is not generally a problem for brands and their own e-commerce capabilities, as they can offset the rising eCommerce costs (when they are higher than store costs) by cutting middle-men costs, eCommerce growth is a problem for third-party retailers, which have to bear significantly higher variable costs (shipment, fulfilling, returns, customer care, etc.). In this context, the department store segment has faced even more issues, since the significant excess capacity and the lower foot traffic at malls has exerted further pressures. Despite the improvements of the past few quarters (improving foot traffic, rising consumer spending, and higher retail sales), not every department store operator is showing the same success. Macy's (M) has reported a good quarter with solid comps growth (+1.7% excluding non-recurring items), reported a 70bps growth in gross margin, a 20bps increase in EBIT margin, with a much better improvement if we excluded non-recurring items, and lifted full-year EPS guidance to $3.75 to $3.95 vs. $3.60 consensus.
Competitor Nordstrom (JWN) hasn't shown the same improvements. Gross margin and EBIT margin fell roughly 20bps and EBIT guidance was lowered to $885M to $940M vs. $895M to $940M consensus, which implies a further deterioration of margins despite the improving conditions in the industry. It shouldn't be a surprise that the market welcomed Macy's results but punished Nordstrom for the weak outlook.
Another competitor, Dillard's (DDS), managed to reduce SG&A by 10bps but reported a significant contraction in gross margin (-66bps), highlighting how the company is unable to take advantage of the improving conditions in the industry and is losing pricing power despite the lower promotions.
J.C. Penney (JCP) also reported a weak quarter, with a lower-than-expected revenue and a lowered guidance. The troubled department store operator also reported comps up only 0.2% against a consensus estimate for a 2.1% rise. It now sees full-year EPS of -$0.07 to $0.13 vs. prior guidance of $0.05 to $0.25 and $0.17 consensus.
It's important to understand how retailers are dealing with the eCommerce threat and what effects the secular growth of digital commerce is having on their business, especially because eCommerce still accounts for just 10% of total retail sales and has many years of growth ahead, supported by significant technological improvements such as AI-based algorithms for targeting consumers more effectively, virtual shopping assistants, and more efficient logistics networks.
The recent evidence suggests that many third-party retailers are still having big troubles when dealing with eCommerce growth, while brands such as Michael Kors (KORS), Tapestry (TPR) or PVH (PVH), to name a few, have posted solid rebounds in the past few quarters. This evidence confirms our approach to investing in the current retail environment, as we preferred names that were less exposed to the threats of eCommerce. This approach has been successful in every area of retail we have operated in, including sportswear. As Consumer Alpha members know, our decision to go long Nike (NKE) and avoid third-party retailers with an excessive exposure to the United States such as Foot Locker (FL) and Dick's Sporting Goods (DKS) has worked awesomely so far.
I continue to believe that department stores and other third-party retailers in the United States don't constitute the best picks in the current environment. For two main reasons:
They are third-party retailers, so they are exposed to the negative effects of the brands' growing direct-to-consumer channels, which continue to gain market share driven by the fast growth of eCommerce. They are also exposed to the margin dilution of their own eCommerce platforms and their higher variable costs.
They are not exposed to the less troubled markets, mainly in Asia, Latin America and Middle East, as they are largely dependent on North America, a region characterized by a significant excess capacity in the retail space. It's estimated that retail space per capita in the United States is 5-6x higher than in other developed markets, such as Germany, France or Japan.
It's still a good idea to maintain exposure to the retail space through players that show a higher geographical diversification and a lower exposure to the negative effects of eCommerce growth, since the recent results from the department stores segment confirm the turnaround is not working for everyone.
GameStop's Flash In The Pan
Shares of GameStop (GME) were rising on the news that the company received a letter from Tiger Global Management, which invited the management to pursue a deep strategic change in order to facilitate a turnaround. The stock traded back to the $12 area on an analyst downgrade. The main problem is that Tiger Global Management, or those who bought the stock on the news, think that a strategic shift can change GameStop's fate. Many investors think that an activist may be able to address the current problems better than the current management. That's probably just an illusion. The management is aware of the secular decline in physical video games and the need to diversify the business to gradually shift to other product categories, such as VR headsets and collectibles. They are expanding their product range as best as they can, and no activist can make this process faster or smoother. The reality is that in the short-medium term, GameStop's fate is in Sony's (SNE) hands and the launch of PS5, together with the expansion of virtual reality devices in the gaming industry. Unless Sony wants to play with us and make a surprise on E3, we can be sure that the PlayStation 5 won't appear at E3 2018 during Sony's conference. During his recent appearance on PlayStation Blogcast, Sony's Shawn Layden firmly said that there will be no new hardware announcements from Sony at the E3 2018.
Digital Trends and Disruption
We talked about retail and video games, but those are not the only spaces internet is disrupting. There are very interesting trends in other areas of the consumer space, such as in the restaurant industry. As I discussed in a recent SA marketplace roundtable, the restaurant industry is benefiting from the increasing utilization of mobile apps through the delivery segment, which has driven growth for many important players such as McDonald's (MCD), Domino's Pizza (DPZ) or, more recently, Chipotle (CMG). As Yum! Brands' (YUM) recent investment in Grubhub (GRUB) demonstrates, the increasing adoption of digital order and delivery is a strong force in the restaurant world. Although I don't expect this trend to disrupt the space as eCommerce is doing, it's reasonable to expect a lift for those restaurant operators that lead in the respective niches at the expense of smaller and less efficient players.
Another Trend in the ecommerce space besides Amazon's market share growth and leading position as a first-choice search platform for shopping searches is the increasing penetration of social networks in the eCommerce space. An increasing share of purchases is done through Facebook (FB) or Instagram, which is obviously a positive force for the social media giant. According to the data about consumer shopping habits by Avionos, 55% of online shoppers have made a purchase through social media last year, like Facebook, Instagram, or Pinterest.
The last trend in the consumer space I want to discuss is consumers' increasing preference for services at the expense of goods. This trend has been clear for a few years now. In the chart below, we can see how spending on experiences as a percentage of the total has been on a moderate uptrend: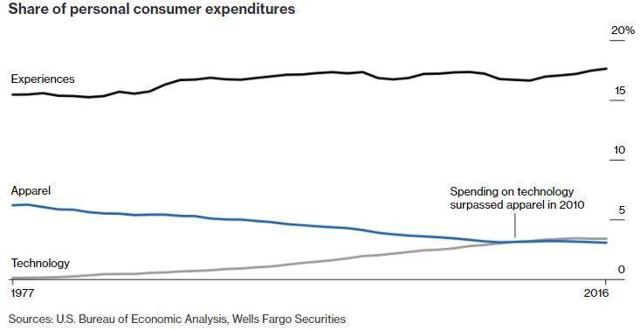 Restaurants, entertainment and travel are top categories in terms of growth, as they all benefit from this trend. We can also see that spending on tech items has grown even faster, mainly as a result of growing smartphone sales. Unfortunately for Apple (AAPL) and Samsung, there are several signs that indicate a deceleration in the smartphone market, especially in the regions that were supposed to be the new source of long-term growth, such as China, where the smartphone market has fallen for the first time in 2017 after eight years of growth, with annual shipments down by 4%, according to data from research firm Canalys. The maturity of the smartphones market and its potential saturation not so far in the future may be a positive force for other segments of the consumer space, as people will have more money to spend elsewhere. One of the sectors that I expect to grow the most is the travel sector. This sector experienced a deceleration in the past few years due to a combination of negative factors, such as recessions in emerging markets such as Russia and Brazil, a temporary slowdown in China, and concerns about terrorism in important tourist destinations in Europe. It has only recently started to rebound. The interest for traveling is also steadily increasing. The chart below shows a 30-day moving average of the YOY variation in search interest on Google for the words "best travel destinations" (yellow for global searches, red for searches in the United States), which is just one of the proxies we can use to monitor people's interest towards traveling: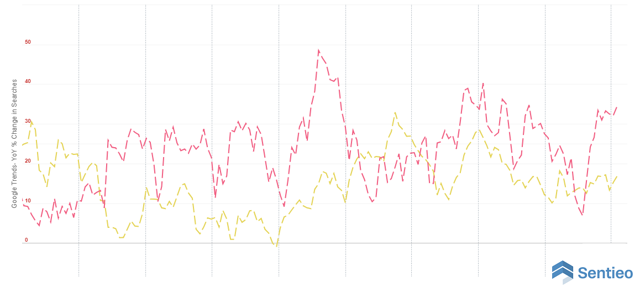 Source: sentieo.com
As we can see, growth is largely and constantly in positive territory. With ongoing economic improvements in many emerging markets, lower concerns about terrorism, more money available and the airlines' focus on expanding low-cost flight options, the travel industry can be one of tomorrow's big winners. Potential winners in this space are TripAdvisor (TRIP), Expedia (EXPE), Ctrip.com International (CTRP) and Booking Holdings (BKNG), to name a few.
There is a lot going on in the consumer space nowadays, with many opportunities to make money if we know where to look.
Thanks for taking the time to read the article. If you liked it, click on the follow button at the top of the page. You will get my articles as soon as they are published. I am available to further discuss the topics of this article in the comments section.
Kenra Investors uses a rigorous fundamental research and alternative datasets to generate market-beating returns in the stock market. If you want to access Kenra Investors' best long and short ideas in the consumer and tech sectors, please consider joining Consumer Alpha. A two-week free trial is currently available.
Disclosure: I am/we are long KORS, NKE.
I wrote this article myself, and it expresses my own opinions. I am not receiving compensation for it (other than from Seeking Alpha). I have no business relationship with any company whose stock is mentioned in this article.