Here's a chart you may have seen before. The Federal Reserve's balance sheet versus the S&P 500 stock market. I've indexed both to December 31, 2008. It shows the Fed balance sheet and the stock market moved largely in step with one another until November 2016. The market rises when the Fed expands its balance sheet. It corrects or trades sideways when the Fed does not. It falls when the balance sheet shrinks. Moreover, the percentage change is eerily similar.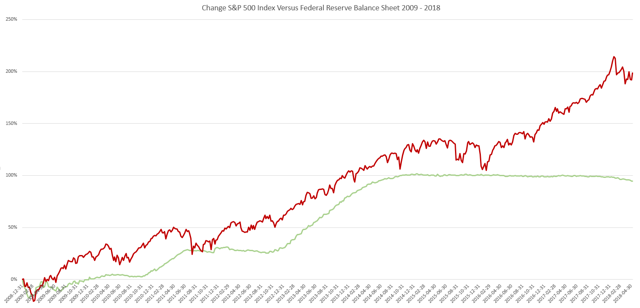 S&P 500 Index versus Federal Reserve Balance Sheet
Early 2009: The market dip into the 2009 low was accompanied by a shrinking Fed balance sheet. There's the first piece of evidence for the Fed balance sheet affecting or signaling market direction.
March 2009: QE1 was officially launched in December 2008, but only when the Fed expanded QE1 to $1 trillion on March 18 did the balance sheet take off.
March 2010: QE1 concludes. A sovereign debt crisis in Greece is already underway. In early May, the stock market suffers a "flash crash." Stocks stabilize near their lows.
August 2010: Then Fed Chairman Ben Bernanke gives his Jackson Hole speech pre-announcing QE2. The program launches in November 2010. Stocks rally.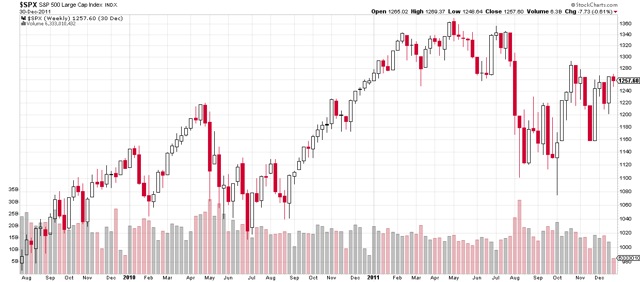 June 2011: QE2 ends. Markets promptly decline. China's real estate market was in trouble in June, Europe still struggles with sovereign debt, and in the U.S., there's worry about a U.S. Treasury default.
September 2011: The Fed announces Operation Twist, but no new quantitative easing program.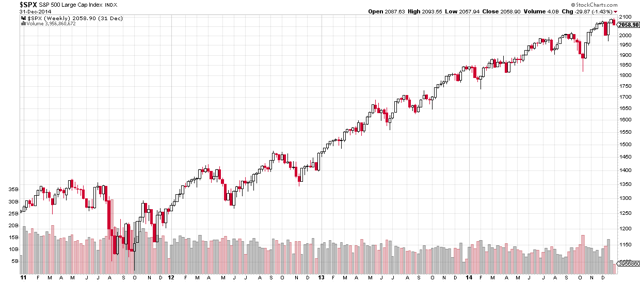 September 2012: The S&P 500 Index has gained less than 5 percent since the QE2 ended (15 months earlier). The Fed announces the start of QE3 and stocks begin a 2-year rally.
Stocks dip when the Fed announces a plan to taper QE3 (the Taper Tantrum in May 2013), when the taper begins at the end of 2013 and at the end of QE3 in October 2014.
The S&P 500 Index is at 2010 in October 2014 before the official end of QE3. By November 2016, it has gained less than 5 percent.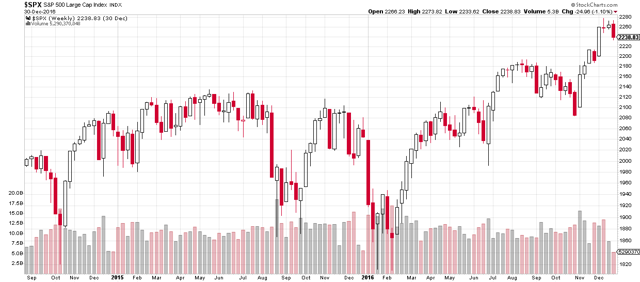 Over the two years from 2014 to 2016, the global economy would experience a collapse in oil prices, a "surprise" depreciation in the Chinese yuan, the start of a U.S. dollar bull market (not a good sign for global economic growth), a rise in credit spreads, fear of mass bankruptcies among shale oil drillers, a collapse in long-term bond yields to new multi-decade lows, and major political changes in Britain and the United States.
What About China, Inflation, and the Trump Rally
Up to this point, I've been focusing on the Federal Reserve. There is plenty of other evidence from around the world and in other markets. The most important comes from China, where the currency had been showing signs of depreciation starting in 2011. (The only thing that surprised me about the yuan's depreciation was how long it took.) Global central banks were on the same page, and as the above charts show, the Fed was always at the center of the action.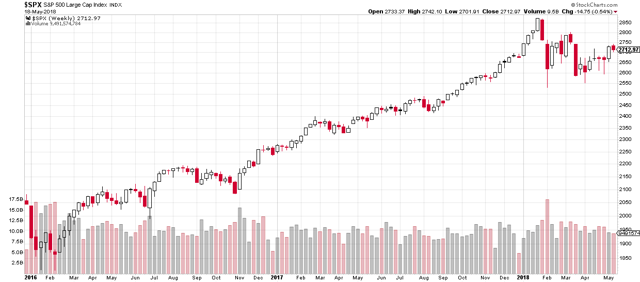 Not so in 2016. Then it was China's turn to take the baton in what's been dubbed the Shanghai Accord. I don't need a "Shanghai Accord" to prove China saved the global economy though. China ramped up credit growth in late 2015 and early 2016.
China explains the rise in the S&P 500 despite the Federal Reserve balance sheet holding steady. The "Trump Rally" started in February 2016. Unless you believe markets were psychic, most of the forces attributed to Trump such as rising commodity prices and inflation expectations actually correlates better with Chinese monetary and credit policy.
By spring, Chinese commodity prices are soaring. By April 2016, regulators are already cracking down on futures markets to stem the speculative fervor. See: China commodity exchanges crack down on speculation as rebar volumes soar.
Chinese real estate prices would also take off in the following months. Land prices soared. In some cities, land sold for more than the nearby housing. (If the developer built an apartment complex and sold all of it for the then going rate, it would only recoup what it paid for the land. The Chinese described the phenomenon as "flour costs more than bread.")
This is also the third iteration of a cycle that, like the Fed's balance sheet changes, goes back to 2008. That year China launched a monster 4 trillion yuan stimulus plan equivalent to 12.5 percent of GDP and would invest all of it over 2 years. (A similar U.S. plan would have cost about $1.8 trillion). Heading into 2011, China tightened to curb real estate speculation. Copper and gold peaked that year.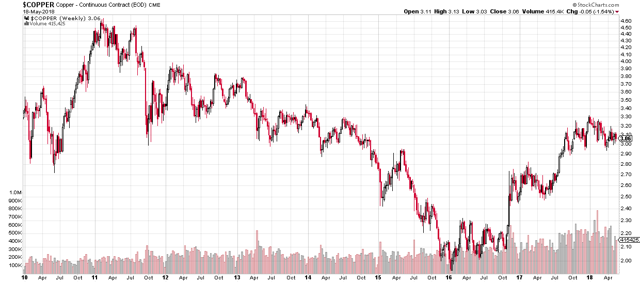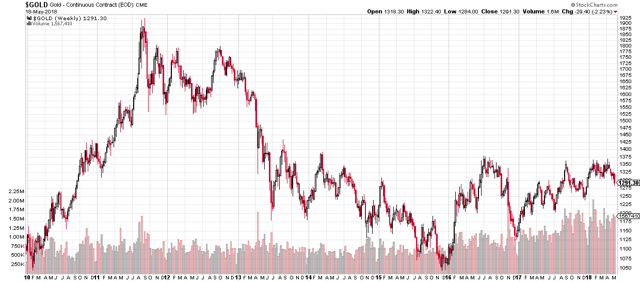 China panicked and eased, and another housing bubble grew. Heading into 2014, China was tightening again trying to curb real estate speculation. Crude oil peaks.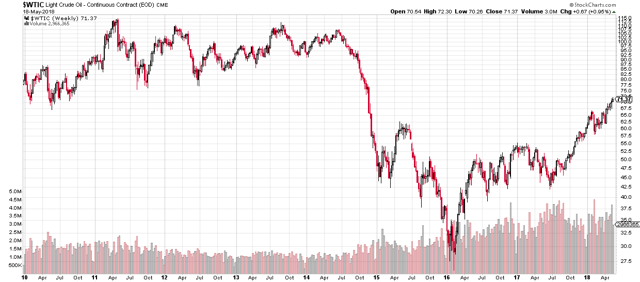 China panics in 2015 and 2016, and here we are.
Whether you attribute China's economic cycles to internal policy or a reaction to the Federal Reserve's policies and its effects, there's similar timing with Chinese credit cycles, commodity prices, and the yuan's exchange rate.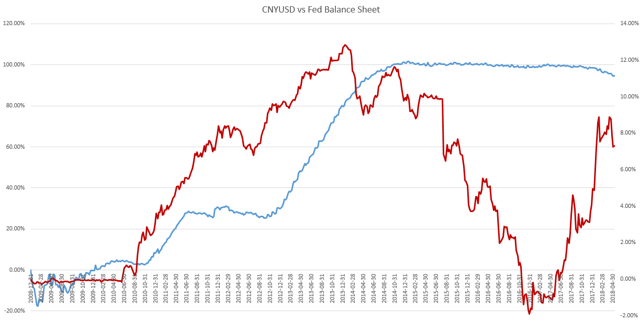 The Chinese yuan started depreciating versus the U.S. dollar in 2008 and China quickly re-instituted the peg. In late 2011 and into 2012, offshore Chinese yuan (CNH) depreciated versus the U.S. dollar. In 2014, the yuan started depreciating versus the dollar, there was the "surprise" depreciation in 2015 that was a surprise to no one paying attention, and this didn't stop until well into 2016.
2018
It's all happening again.
Last year, China began a "deleveraging" effort. Credit growth is positive, but they're tightening shadow banking and cutting off credit flows into real estate. Home prices have peaked in top-tier cities. In May, the government started cracking down on the remaining cities where prices are rising. As in 2011 and 2014, one or more important commodities will suffer.
In October 2017, the Federal Reserve began rolling bonds off its balance sheet to the tune of $10 billion a month, but the Fed only reduced its balance sheet by about $15 billion in Q4 2017. The real decline starts in 2018 as Janet Yellen hands the baton to Jerome Powell at the Fed.
Federal Reserve starts rolling $20 billion per month in maturing bonds off their balance sheet each month from Jan.-Mar., increasing to $30 billion from Apr.-Jun. The balance sheet reductions are lumpy, based in part on when Treasury bonds mature, but they're sticking to the plan on a quarterly basis.
And how has the stock market responded? Its movement tracks with the Fed's balance sheet.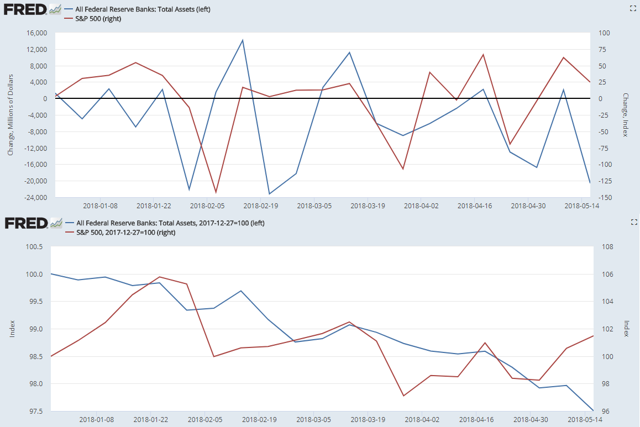 Maybe the Fed's balance sheet reduction and the correction in stocks is coincident, but there's a lot of coincidences over the past 9 years.
Conclusion
Stocks rose with the Fed's balance sheet. Stocks are falling as it shrinks. Starting in October, the balance sheet will decrease by more than 1 percent per month. If the Fed's balance sheet determines the direction of equities and the Fed stays on plan, the bear market is already underway.
Although many will argue central banks will intervene again, I don't think they will have as much power this time around. This bull market was not like prior ones accompanied by broad-based growth in the real economy. Asset prices are far out of line with economic reality because central bankers have created an illusion with market intervention. In a vacuum, they could theoretically keep this going for a long time.
Voters aren't playing along though. In the U.K., the U.S.A., and now Italy, voters are striking back at the political establishment. They're behaving as if 2016 and 2018 were worse than 2008, threatening to enact multi-generational reform in major policy areas such as currency and immigration policy. They are voting in ever-increasing numbers for parties far outside of the established mainstream. The European Union and euro are very likely doomed if the current trajectory continues. The European Central Bank can't intervene if it doesn't exist.
Fertility rates are also a sign of public mood. Fertility is in a long-term decline in many nations, but they plunged to their lowest point in 30 years last year: U.S. Births Dip To 30-Year Low; Fertility Rate Sinks Further Below Replacement Level.
I'm not saying the economy really is worse than 2008; it isn't. But there hasn't been a booming recovery as in prior recessions. Central banks can maybe kick the can for another three years, but establishment politicians may not have that much time.
History is repeating, and last time central bankers didn't intervene until there was much greater pain in global markets. Even if you expect the central bank to step in and have success again, they probably won't step in until asset prices are lower.
Disclosure: I/we have no positions in any stocks mentioned, and no plans to initiate any positions within the next 72 hours. I wrote this article myself, and it expresses my own opinions. I am not receiving compensation for it (other than from Seeking Alpha). I have no business relationship with any company whose stock is mentioned in this article.